11 Best Ammonia-free Hair Dyes Of 2021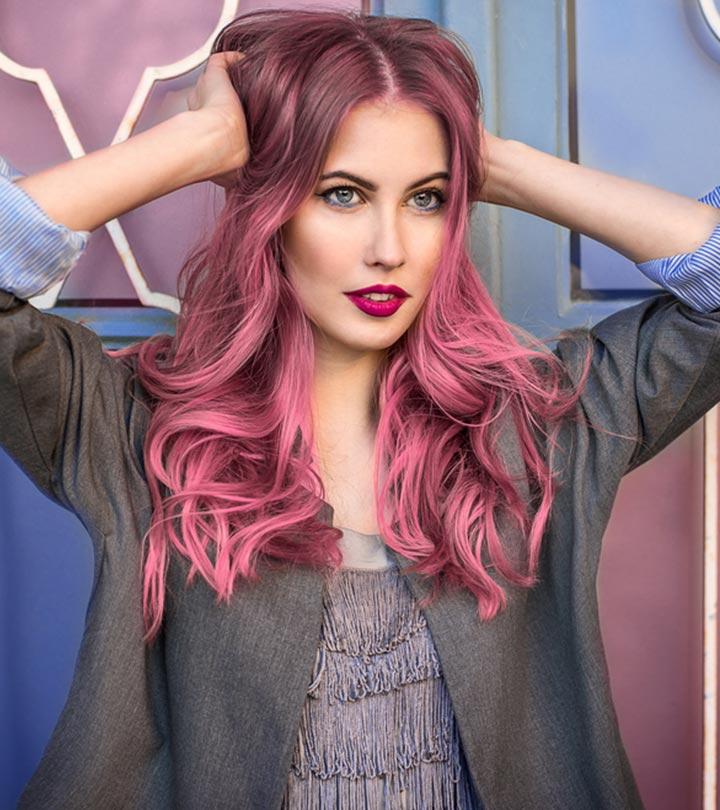 Dyeing hair is one of the most common things practiced in almost every part of the world. Whether you want to add some flair with bold and confident highlights or color your hair from root to tip, you still need to decide upon the kind of hair color you will use. Did you know that the first place one is likely to look at when in a conversation with you is your hair or shoes? Well, it's true! How your hair looks might feel more important now. If it does, you're on the right track!
When it comes to coloring your hair, there is a lot to consider than just the hair color and brand. Pay close attention to whether or not the hair dye uses ammonia. While ammonia-based colors are still widely used, the popularity gained by ammonia-free hair dyes have gradually risen, and rightly so. Sadly, a common misconception is that all hair color is bad for hair. However, what if we told you that it wasn't true? Ammonia-free hair dyes eliminate many of the harmful effects that arise when using ammonia-based hair dyes.
What Is Ammonia-free Hair Dye
Ammonia-free hair colors are hair dyes that do not use ammonia. Instead of ammonia, they incorporate other chemicals and natural ingredients. These hair dyes are less harmful to the hair. Ammonia-free hair dyes do not cause the hair follicles to lose moisture and protein. Furthermore, they are also gentle on the hair and skin. If you want to color your hair without worrying about your hair getting damaged, no-ammonia hair color is what you should use. Here's our guide for the best ammonia-free hair dyes of 2021 in the market.
Top 11 Best Ammonia-free Hair Dyes – Reviews And Guide Of 2021
This hair color by Revlon is one of the best when it comes to ammonia-free hair dyes. The box contains the cream color developer, ammonia-free colorant, and an after-color conditioner. The company's 3D Color Gel Technology not only ensures complete coverage but also natural-looking hair. This Colorsilk hair dye enriches your hair while making it look fabulously attractive. This hair color is available in shades of black, brown, red, and blonde.
Pros
Long-lasting
100% gray coverage
Available in many colors
Enriched with keratin and silk amino acid
Cons
The Para-Phenylenediamine (PPD) may cause allergic reactions.
This Garnier Olia hair color incorporates a 60% oil blend to give your hair the nourishment and radiance it needs. This long-lasting ammonia-free color is easy to apply and makes hair silky and up to 3 times shinier. So, how has Garnier managed to accomplish this? Well, a new formula with flower oils is the secret behind its success. The kit includes a cream developer, colorant, after-color conditioner, gloves, and an insert. You will certainly not run out of color options as there are 34 shades to choose from.
Pros
Has a pleasant fragrance
Makes hair silky and 3x shinier
Uses natural flower oils
Moisturizes tough and dull hair
Cons
This vegan and no-ammonia hair color is enriched with natural plant and seed oils. It is a blend of olive oleic acid, meadowfoam seed oil, quinoa, organic shea butter, and baobab proteins. The culmination of these ingredients results in better moisturized, shiny, and damage-free hair. Naturtint claims that its hair color has been dermatologically tested to provide the best results. This product is bundled with a natural colorant, color developer, multi-care mask, protective gloves, and an instructional leaflet. This hair dye is available for purchase in 32 different color shades. If healthy, strong, and well-colored hair is what you want, this is the best ammonia free hair dye for you.
Pros
Long-lasting
Completely vegan
100% gray coverage
Available in numerous colors
Enriched with 99% natural ingredients
Cons
May cause skin irritation for some
The absence of ammonia and parabens makes this hair color a healthy choice for your hair. This hair dye contains coconut oil and aloe vera that form a perfect blend for rich and thick hair. Like most other hair dye kits, this too does not come with an applicator or gloves. Inside the kit are the bare bone essentials, consisting of the color enhancing cream, color activator, and after-color conditioner.
Pros
Makes hair radiant and shiny
Can be used for all hair types
Made from 80% naturally derived ingredients
Gentle hair color reduces the chances of allergies
Cons
This Schwarzkopf product is truly a color without compromise. Not only is the mixture free of ammonia, but it is also made without the use of ethanol alcohol. Included in the box are the color cream, conditioner, applicator bottle, gloves, and an instructional leaflet. This formula has been tested and proven to be gentle on the scalp. This Simply Color concoction includes botanical oat milk, soy protein, and argan oil to ensure rich and healthy hair.
Pros
Long-lasting
Does not irritate the skin
Does not contain silicone or ethanol alcohol
Sustainable packaging
Cons
It contains PPD and may cause allergic reactions.
Why only color your hair when you can moisturize it at the same time? Thanks to this Just 5 Permanent Hair Color, you can now add color to your hair without having to sacrifice hair quality. This formula is specially crafted to enrich and revitalize your hair, making it strong and fabulous. The kit includes the color, developer lotion, and enriched conditioner to give your hair the gloss and beauty it deserves.
Pros
100% gray coverage
Protects hair from dryness
Quick process of 5 minutes
5 super-rich after-conditioners
Cons
Contains ingredients that may cause skin irritation
If natural beauty and color are what you're looking for, look no further. This ammonia free professional hair color is perfect for you and has earned its position on our list of the best ammonia-free hair dyes. The absence of harsh chemicals allows your hair to breathe, grow, and become softer. The organic ingredients, coupled together with an easy and revolutionary application, make it one of the best ammonia-free hair colors. The company has included everything you need in the box. Its contents include the color gel, colorfix, shampoo, conditioner, plastic gloves, bonnet, and an instruction leaflet.
Pros
Organic
Cruelty-free
A vegan product
Provides 100% coverage
Long-lasting color
Cons
May cause skin irritation
Have you ever been afraid of having an allergic reaction to hair color? If your answer is yes, then this Herb Speedy hair color is certainly for you. This anti-allergy hair color does not use PPD, a chemical known for causing allergic reactions. The herb extracts used in this naturally made coloring agent help prevent hair loss and promote rich and lustrous hair. The kit consists of the hair color, cream, and a brush-like applicator.
Pros
Odorless
Allergy-free hair dye
Short coloring time
Made from natural ingredients
Protects hair from discoloration
Cons
May not be concentrated enough
This 1+1 mix may appear to be quite underwhelming when looking at it for the first time. However, looks are known to be deceiving. Don't deny your hair the natural brown color it deserves. This Loreal no ammonia hair color formula designed to condition hair and give it a brilliant shine. The two tubes, coupled together, will work its magic on your hair and transform it into something you can feel proud of.
Pros
Long-lasting
Good gray hair coverage
Even color from root to tip
It seems to have a natural color.
Cons
Does not come with an applicator
This product boasts of natural ingredients that are used to protect and condition your hair. This ammonia-free hair color can reveal the natural beauty of your hair in just 5 minutes. Since it is henna-based, it also nourishes your hair and makes it shine like never before. The sheer brilliance of it lies in its ability to be used for coloring your full hair as well as quick root touch-ups. This 60 g pack consists of 6 pieces, each of which is 10 g.
Pros
Herbal ingredients
Makes hair shine
100% gray coverage
Quick coloring process
Cons
May lead to allergic reactions
The uniqueness of this hair color no ammonia no peroxide, and PPD, unlike most other hair colors in the market. Thus, CoSaMo Love Your Color hair dye is highly unlikely to cause any damage to your hair. This no ammonia hair dye kit of 3 includes a conditioner that has been specially designed to nourish and revitalize your hair.
Pros
No PPD
No peroxide
Made with natural ingredients
Uses a revitalizer conditioner for stronger hair
Cons
The color may not last for very long.
Using ammonia-free hair color just because someone told you to do so, isn't reason enough. Here are some of the benefits and reasons to choose no-ammonia hair color products over ammonia-based ones.
Benefits Of Choosing Ammonia-free Hair Dye
1. It's gentle on the scalp
One of the most common effects of using ammonia in hair color is itching or scratching sensation on the scalp. If you've felt this before, you've been using an ammonia-based hair dye. Technology has truly revolutionized this process and replaced the ammonia with other chemicals, resulting in ammonia-free hair dyes. Fortunately, ammonia-free hair colors are less harmful and are gentle on the hair and scalp.
2. Healthier hair
One of the main reasons to use ammonia-free hair colors is to eliminate the harmful effects that ammonia has on the hair. Ammonia hair dyes make your hair dry and rough. The loss of protein due to increased hair pH levels by ammonia is also commonly seen. You can safely bid farewell to this with ammonia-free hair colors. They make your hair healthier by revitalizing and nourishing it. To top it off, they also make your hair look shinier.
3. Does not cause sinus problems
The good thing about ammonia-free hair dyes is that they do not cause sinus issues during application. The smell released as a result of chemical reactions in ammonia-based hair dyes causes severe irritation to the nasal cavity. Thankfully, using an ammonia-free hair color doesn't result in any such irritation.
4. Natural ingredients
Since no-ammonia hair colors do not resort to using ammonia, they adopt natural options as an alternative. Most use a blend of numerous oils and conditioning elements to replace ammonia. Together, this results in a safer and healthier hair coloring experience at home.
How To Best Apply Ammonia-free Hair Dye
Step 1: Perform a skin test at least 48 hours before applying the color to ensure that your skin is not allergic to it.
Step 2: Squeeze out the colorant from the bottle into the developer bottle.
Step 3: Make sure to shake the developer bottle well.
Step 4: Use gloves and an applicator brush to apply the mixture evenly. To ensure the best results, apply the dye to dry and unwashed hair.
Step 5: Keep the colorant on as per the instructions given on the box.
Step 6: Last but not least, rinse your hair and use the conditioner provided with the hair dye.
Now that you've had a look at the top 11 best ammonia-free hair dyes of 2021, are you convinced that they are as good or even better than ammonia-based hair dyes? Have you been able to select the best professional ammonia free hair color brands for yourself? When it comes to hair coloring, the options are endless, so choose the one which best complements your hair and make sure it's free from harmful chemicals like ammonia.
Frequently Asked Questions
Is ammonia-free hair dye safe?
Simply put, ammonia-free hair dyes are a safer alternative to ammonia hair dyes. They are safer and less damaging. However, it is worth noting that not all ammonia-free hair dyes are completely free of chemicals.
How long does ammonia-free hair dye last?
Most ammonia-free hair dyes last for a month or two. They are temporary solutions and alternatives to hair color that utilizes ammonia. However, this also largely depends upon the manufacturer. While some last for a couple of months, others do not last for more than a few weeks.
Can I use ammonia-free hair dye when pregnant?
Yes, you can use an ammonia-free hair dye when pregnant. They are not dangerous or toxic and will not have adverse effects on your baby. However, when it comes to something as important as the health of your baby, it's best to clarify this with your physician.
Does ammonia-free hair dye damage hair?
No, it does not damage hair and is the safest type of hair color to use. In fact, most ammonia-free formulas are a mixture of various natural oils that nourish and revitalize hair.
Recommended Articles