11 Best Insoles For Standing All Day & Cushioning Your Feet (2023)
Say goodbye to aches and pain, because these feet accessories are here to protect you.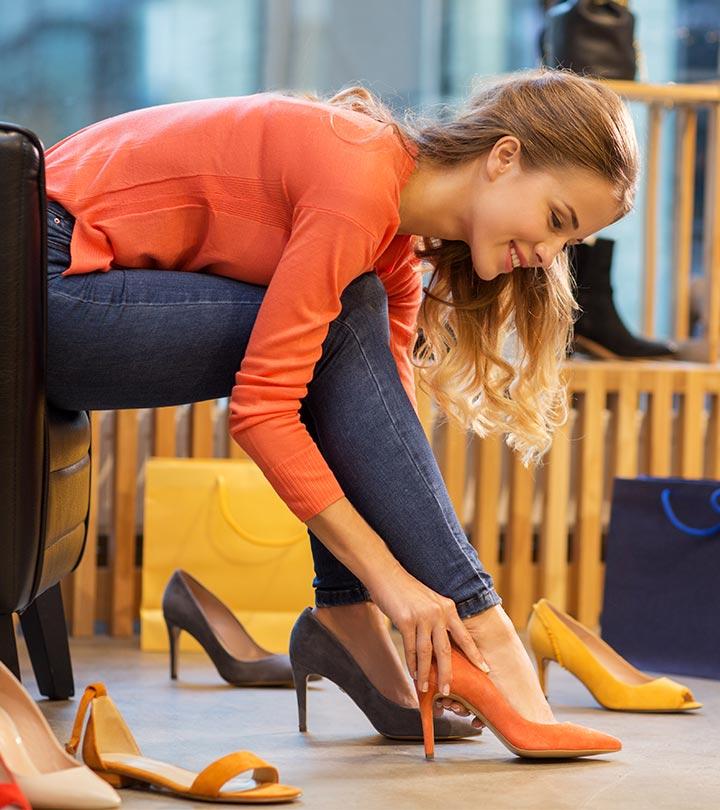 If you are someone who is on her toes all day, here's something for those feet. The best insoles for standing all day will ensure that your feet are taken care of in the gentlest of ways. Being on your feet all day or a majority of the time, especially if you suffer from foot-related problems, can cause quite the pain. Our feet play a big role in keeping us up and about, living our lives, and doing our jobs. To help you care for your feet while leading a busy life, we have a list of the best insoles for standing all day that you can start using as soon as possible! So, go ahead and take a quick look!
Top Picks
What Do Insoles Do For Your Feet?
Insoles are basically the shape of the base of your footwear and are inserted to sit at the bottom. As foot shape and condition varies from person to person, regular shoes are not equipped to help relieve pain or pressure.
"Many shoes don't come with great built-in arch support, so many people need to add an insole. When you walk or run, your foot pronates (flattens) slightly to help absorb shock. You don't want too much or too little pronation though. In general, people with flat feet or people who overpronate need semi-rigid arch support to help prevent overpronation when walking or running.  Conversely, people with high arches or the ones who deal with over-supination need a cushioned orthotic that fills their high arch and helps absorb shock since they lack pronation," states Dr. Dave Candy, a board-certified specialist in orthopedic physical therapy.
When you choose shoe inserts, they are designed to elevate certain areas and provide cushioning so you can remain comfortable. At the same time, the material used helps absorb shock and reduce impact, thus reducing potential future damage to feet. Inserts are constructed to realign your feet in such a way that there is minimized pressure on your ankles and knees when you walk or stand. This also helps correct posture and eliminate muscle fatigue. Conditions like plantar fascia strain, achilles tendonitis, fallen arches, flat foot, ball of foot pain, and chronic pain can be taken care of to a certain extent with good-quality orthotic foot inserts.
11 Best Insoles For Standing All Day That Will keep Your Feet Happy
Pros
Available in wide range of colors
Foam layer for cushioning
Breathable and anti-friction fabric
Built-in silicon for shock absorption
Orthotic arch pain support
Reduces impact
Cons
Some may find the foam to compress with use
Price at the time of publication: $18.99
Pros
Non-slip
Thin design
Double-layered cushioning
Shock-absorbing
Realign feet
Reduce muscle fatigue
Cons
Price at the time of publication: $14.31
4.8
Are you suffering from plantar fasciitis, bunions, and flat feet because of standing all day long? Get rid of the pain with Easyfeet Orthotic shoe insoles. Use these arch supports inside closed shoes by cutting them perfectly to your size. The orthotic inserts are made of thermoplastic, gel, and medium-hardness PU foam that offer maximum support and cushioning to the feet. A velvety breathable cover keeps the feet sweat and bad odor free. It corrects postural issues and makes standing, running, and walking effortless and comfortable. These insoles use Anti Pronation Biomechanical Reinforcement Technology with shock absorption and air capsules for balance and cushioning to provide stability.
Pros
Strong arch support
U-cup heel fixation
Offers pain relief
Good cushioning
Customizable
Cons
Not suitable for heels or dressy shoes
Pros
Roomy for toes
Cushioning at heel and ball of foot
¾ length fits in any shoe
Contours to feet's movements
Reduce impact
No trimming required
Cons
Price at the time of publication: $8.97
Pros
Ultra-light
Self-molding
Comforting
Pain-relieving
Customizable
Cons
Price at the time of publication: $8.99
Pros
Rigid arch support
Enhances stability
Aligns bones
Multi-layer cushion
Breathable and moisture-wicking fabric
Non-slip
Cons
The color might bleed onto socks
Price at the time of publication: $19.99
Pros
Thin cushioning
Reduces impact
Absorbs shock
Minimizes pressure
Low arch
Cons
Some might find the cushioning to be insufficient
Price at the time of publication: $20.99
Pros
Suitable for all types of shoes
Strong arch support
Ergonomic design
Suitable for everyday wear
Cons
Price at the time of publication: $25.99
Superfeet's best insoles for fallen arches use sculpted deep heel cups to assist with pain and naturally absorb shock. With a high-density closed-cell foam layer your feet are given a maximum amount of cushion to release tiredness. For extra support, a stabilizer cap is added at the bottom while the moisture-wicking fabric coating gets rid of any odor-causing bacteria. Reducing fatigue, the Superfeet Shape keeps your knees, feet, and ankles completely stress-free.
Pros
Sculpted heel cups
Shock-absorbing
High density foam cushioning
Moisture-wicking
Coated to eliminate odor-causing bacteria
Reduces stress on joints
Cons
Might not fit easily into all kinds of shoes
Price at the time of publication: $54.99
Pros
Eco-friendly
Moisture-wicking
Flexible yet sturdy arch support
Repositions bones for comfort
Conforms to foot shape
Absorbs shock
Cons
Might make a squeaky sound when walking
Price at the time of publication: $59
Vionic's sole inserts for boots are podiatrist-designed and help combat excessive pronation that is caused by flat feet. Made with the innovative Three-Zone Comfort technology, you can find deep heel cup stability, arch support, and forefoot cushioning. At the forefoot, 1st Ray technology is used to improve flexibility beneath your big toe area. These contact points help reposition your feet to relieve any strain. The top cloth is made of 100% nylon coupled with Shield technology to rid you of odor-causing bacteria.
Pros
Helps combat overpronation
Repositions feet
Eliminates odor-causing bacteria
Forefoot cushioning
Increases flexibility and stability
Lowers strain on joints
Cons
Some might find these to be thick shoe inserts
Price at the time of publication: $33.75
Now that we've looked at some of the best insoles for standing all day long, let's learn how you can pick the right ones for your feet.
How To Choose The Right Insoles For Standing All Day
The shape of the insole you're about to purchase must be the same as your footwear. For example, wide work boots cannot accommodate a narrow insert. Additionally, you also need to think about how your shoes fit you at the moment. If they happen to be a tad bit loose, opt for a thick insole and vice versa. It goes without saying that you must remove the already existing insoles to put in your orthotic ones. Some fit right out-of-the-packet but some might need trimming, so you can choose whatever is preferable.
An insole can fit well into your footwear but it must also fit your foot. Walk around in your insole and ensure that it doesn't feel too constricting. Keep in mind that no toes should dangle in the front nor should your heel stick out the back. The ball of your foot should be in line with the arch support with no gap. Another option is molded inserts that conform to your foot's shape for an exact fit. Some can also be heated for the same.
Cushioning and shock absorbency
Gel is good at absorbing shock while foam relieves foot pressure and offers cushioning. To get the best of both worlds, look for insoles that feature both of these materials at strategic places. Gel added at the heel and ball of the foot is helpful when in contact with the ground. Foam can be present throughout the insole for maximum comfort.
Moisture and odor control
Standing for long hours can cause increased sweating in your shoes, which can further lead to trapped unpleasant smells. To combat this, some shoe inserts use moisture-wicking fabric that have an antimicrobial and anti-bacterial coating that gets rid of odor-causing bacteria. Repelling sweat, this feature also keeps your feet dry and fresh.
Your feet can have arches that are low, medium, or high and depending upon this you can choose your insert. While medium arches are okay, high and low ones can cause you pain. Cushioned arch support can be the best choice if you're on your feet for long hours on end. But other foot-related conditions like overpronation and supination might require you to use semi-rigid support for better stability.
Why Trust StyleCraze?
Priyam Gupta is a makeup and fashion enthusiast. She has a passion for enhancing her readers' lives by bridging the gap between their needs and the right products at the right time. Here, she highlights the best insoles that allow you to stay comfortable and relaxed on your feet for longer without a hassle. She conducted in-depth research and checked online reviews to recommend the best products to her readers.
Frequently Asked Questions
Do insoles cure foot problems?
No, but they can aid in comfort. Orthotic inserts, on the other hand, are designed to correct and realign your feet to ease foot-related conditions.
Can you put 2 insoles in shoes?
No, as you need only 1 to be able to walk comfortably. If you use 2, there might be no room remaining for your feet to move and breathe.
How long should you wear insoles?
It is recommended to start off by wearing your insoles for about an hour every day and go on adding an hour to this daily. In the long run, insoles must be replaced every 6 months.
How long does it take for insoles to work?
This depends on the person but on average 1 to 2 weeks is sufficient for you to break into and get used to your shoe inserts.
Will insoles make shoes tighter?
Yes, which is why they're a great option at making loose shoes work. However, they shouldn't be so thick that your feet don't have room to move and flex, cutting off blood flow.
Should orthotics be worn all the time?
Orthotics can be worn all the time and when worn regularly they can help reduce strain if you're on your feet a lot.
What's better: gel or memory foam insoles?
Gel insoles are good for high intensity activities as they absorb shock and are quite durable. Moderate-level intensity activities like walking require lightweight, soft or semi-rigid insoles made of memory foam.
Do height insoles damage your feet if I wear them every day?
Yes, height insoles make you appear taller while also offering support and cushioning. However, this can shorten the muscle-tendon structure by raising your heel and cause them to contract. Additionally, this puts pressure on the forefoot area and the toes.