7 Best ghd Flat Irons To Prevent Hair Damage – 2023
Get perfectly straight hair in an instant and flaunt the extra length today!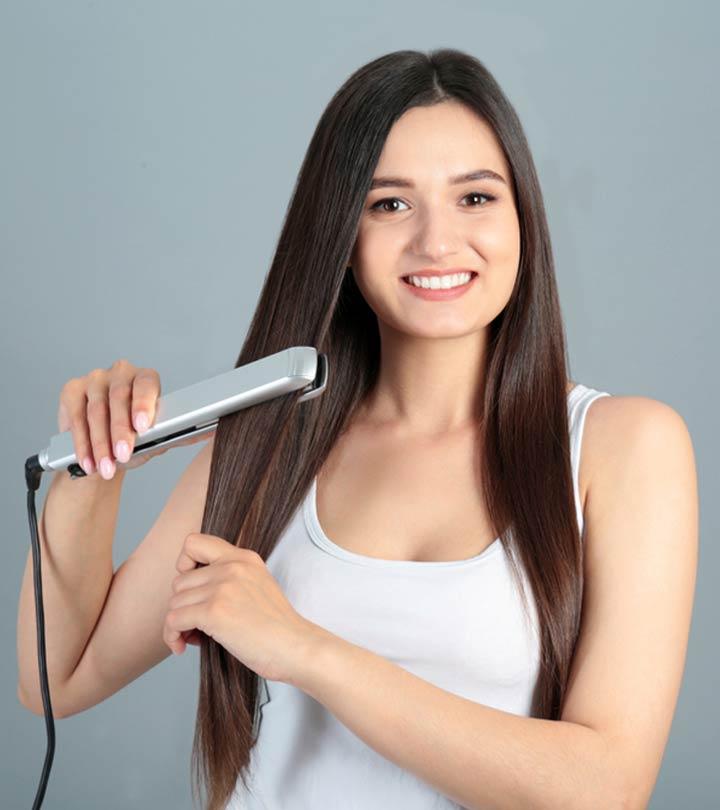 Your hair can become dry and frizzy while straightening your hair if you choose the wrong flat iron. To avoid this damage, you must start using the best ghd flat irons. Like how our body loves and reacts to healthy, nutritious food, our hair also feels lively when it is properly taken care of. While it is impossible to stay aloof from dust, stress, and pollution, the least we can do is discard compromises while maintaining our hair.
Knowing that hair follicles are sensitive to heat, we must choose the best flat irons that emit the right heat consistency without causing damage. Apart from that, the advanced technology, plate material of the iron are also some factors to consider for healthy hair treatment. ghd (good hair day) is one such consumer-friendly brand that has a wide range of flat irons with different specifications for all hair types. Find the 7 best ghd flat irons of 2023 right below.
Top 7 Best ghd Flat Irons In 2023 For Straightening Hair
Looking for a styling tool to tame your frizz? Then, this ghd 1-inch hair straightening iron is the right choice. This straightener offers styling at an optimum temperature of 365ºF and thus ensures safety. With its ceramic heat technology, it lends you smooth, silky, and frizz-free hair. Don't we all wish for a flat iron that glides effortlessly along with our hair? The floating plates, along with a 9-feet swivel cord and rounded barrel design, makes for easy styling, helping you achieve snag-free hairstyles with perfection. This video takes you through a tester's experience with the product and its specific details.
Pros
Universal voltage
Protective plate guards
Suitable for all hair types
Beep sound indicating readiness
Quick heat-up mechanism (within 30 secs)
Automatic sleep mode (with 30 mins of non-usage)
Cons
The cord might be slightly thin.
Price at the time of publication: $169.0
Curls, waves, flicks, straight hair — you can achieve it all with this ghd gold flat iron! What we love the most are the two next-generation heat sensors, one across each plate, which helps in maintaining a constant temperature right from near the roots to tips effectively. Made of ceramic, the dual-zone technology delivers a sleek and smooth finish ensuring 70% less breakage and 2x color protection. Hair damage is no longer a problem with this ghd ceramic flat iron, as it offers an optimum temperature of 365ºF for styling. It is highly suitable for professional styling as it ensures quick heating within 25 secs. Go through this video to gain a better understanding of the product through the reviewer's experience.
Pros
Rounded barrel for easy styling
Floating plates for better control
Gloss coating to enhance shine
Versatile design with a 9-feet swivel cord
Heat monitoring mechanism (250 times per second)
Automatic sleep system (within 30 mins of inactivity)
Cons
Might not include temperature adjustment settings
Price at the time of publication: $254.0
Here is a uniquely designed ghd flat iron ideal for all hair types! The ultra-zone predictive technology keeps the temperature stable and consistent on every section of hair, avoiding overheating. One of the main benefits of this ghd platinum+ hair straightener is that it offers personalized results by identifying your hair needs based on the thickness and styling opted. The ceramic plates with the heat-resistant protective guards offer a shiny finish while the universal voltage feature makes it compatible with various power outlets. One of the best ghd hair straighteners in the market, it comes with an automatic sleep mode feature (with 30 mins of non-usage), that will help you save electricity as well! Check this video to learn more about the product along with the tester's experience of using it.
Pros
Ensures frizz-free hair
Heat monitoring technology
9-feet swivel cord for better grip
Optimum styling temperature of 365ºF
Easy and quick heating (within 20 secs)
Wishbone hinge for firm plate alignment
Cons
Price at the time of publication: $279.0
Do you have long, thick hair and are looking for the best ghd flat iron to style the same? Then, we would recommend you to try out this ghd Max straightener, a product highly praised by many satisfied reviewers. With its ceramic heat technology, it can maintain an optimum styling temperature (365ºF) from root to tip, which reduces hair damage and breakage to a minimum. Styling is effortlessly perfect and snag-free with its rounded barrel and 1 ½-inch contoured floating plates. The automatic sleep function that shuts off the tool within 30 mins of inactivity and universal voltage feature are the additional benefits of this ghd 2-inch flat iron.
Pros
Protective guards
Gloss coating to boost shine
Swift heating (within 25 secs)
Wide plate iron ideal for thick hair
7 m swivel cord for secure grip
Tames frizz in naturally coily and curly hair
Cons
Might not be long-lasting
Price at the time of publication: $199.0
Do you want a unique design and little color on your styling tools for that extra spark? Then, this ghd professional hair straightener is for you! This ghd flat iron platinum+ is the result of an innovative collaboration with one of the most famous tattoo artists of Chicago named David Allen. It comes in a floral-inspired design with a hint of dusted pink at the plates, giving it a trendy and stylish look. All while the ultra-zone technology predicts your hair needs in terms of thickness and styling speed, offering personalized results. The precision plates and rounded barrel facilitates convenient styling, resulting in flawless straight tresses, voluminous curls, or wavy flicks.
Pros
Universal voltage
Automatic sleep feature
Optimum styling temperature
Heat supervision (250 times per second)
Protective guards with a 9-feet swivel cord
Wishbone hinge to ensure plate alignment
Cons
Price at the time of publication: $249.0
Want to achieve smooth and frizz-free hair without compromising on hair quality? Then, this ghd gold professional flat iron may be excellent for you. It ensures convenient styling free of hindrances, thanks to its contoured plates. With its rounded body, you can easily glide this iron along every section of your hair without any damage and breakage. The advanced ceramic heat technology not only maintains optimum styling temperature but also ensures healthy-looking hair in just a swipe!
Pros
Portable travel pouch
Features protective plates
Includes wishbone hinge
Suitable for all hair types
Boosts volume and shine
Automatic shut-off within 30 mins
Cons
May lack temperature adjustment settings
Price at the time of publication: $169.0
Are you looking for a handy tool to style your hair? Then, this ghd professional straightener for short hair may suit your needs! Achieving healthy-looking hair with almost zero damage has become easier with this ½-inch ghd flat iron, as the dual-zone sensor maintains styling temperature at an optimum level. The 9-feet swivel cord, along with the floating plates, helps you reach out to every strand of hair with ease. In addition to all these features, the slender and versatile design of this styling tool makes it one of the best ghd flat irons in the market.
Pros
Compact
Ceramic heat technology
Gold accents to enhance shine
Can create curls, flicks, and straight tresses
Narrow plate iron for styling short hair and fringes
Cons
Might not be humid-resistant
Price at the time of publication: $204.25
Understanding the properties and the right way to use a ghd flat iron needs some analyzing skills. Here are a few factors that you need to consider.
How To Choose The Best ghd Straightener For Your Hair Type
Ghd flat irons come in varied sizes, designs, and materials. Hence, you need to make the right choice for your particular hair type to prevent damage and breakage.
1. Fine hair
Sleek and fine strands are prone to damage, and thus, you should opt for a temperature-controlled flat iron with multiple settings so that you'll be able to manage the heat. Straighteners with ceramic plates are best for this hair type since they distribute heat to all sections of hair evenly. They also give a long-lasting effect in terms of texture and shine.
2. Thick hair
If you are a person with long and thick tresses, opting for a flat iron with higher heat settings is recommended for achieving smooth and frizz-free results in just one or two strokes. This will prevent hair follicles from damaging. Flat irons with either ceramic or titanium plates are ideal for this hair type.
3. Curly and coily hair
Curly and coily hair types are most commonly prone to frizz and hence, can be slightly difficult to straighten. In that case, you can opt for a straightener with wider plates that provide a comfortable and secure grip while styling. You can use either a ceramic or tourmaline flat iron for taming your curls as they offer convenient styling without drying out your hair.
4. Damaged hair
You need to be extremely cautious before choosing a flat iron for such hair type. Make sure to pick a straightener with heat settings and rounded barrel as they ensure snag-free styling to boost shine and volume. Also, using a heat protectant along with the tool is recommended to protect the cuticles from damage due to heat.
Features Of ghd Flat Irons
1.Dual-zone technology
These ghd flat irons come with a dual-zone technology where heat sensors are integrated across each plate. They maintain the same temperature right from the roots to tips, preventing you from dealing with hot and cold zones. They also adapt to various hair types by adjusting heat to provide desired results in terms of texture and shine, preventing damage.
2. Optimum styling temperature
Don't we all get frustrated with fluctuating temperatures of flat irons? These ghd professional straighteners have got you covered! They offer optimum styling temperature at 365ºF, which remains uniform at all sections of the hair. With this, you need not stress about excessive heating or limited results.
3. A rounded barrel and floating plates
The rounded barrel facilitates locking in curls easily and tames frizz. Thus, it makes the ghd flat irons ideal for styling naturally curly and coily hair. The floating plates are an added advantage as they easily glide through the hair for snag-free salon-quality styling.
4. Automatic sleep mode
This is one of the most useful features of ghd flat irons! At times, you may forget to switch off the straightener after use and end up increasing your energy bills. Apart from this, there is also a risk of overheating. Fret not! Most ghd flat irons have an integrated automatic sleep function where the flat iron gets switched off after 30 mins of inactivity.
5. Universal voltage
This is a bonus point for people who love traveling. The dual voltage feature allows the straighteners to be compatible with various power outlets. They also include longer cords to provide a convenient distance range.
How To Use ghd Straightener
Straightening techniques may slightly differ from hair to hair. For thicker hair, styling needs to be slower to reach all parts of hair while it is comparatively easy to glide along thinner hair. Here are a few basic steps that you need to follow during styling with a ghd flat iron:
Step 1: Use a ghd heat protection spray over your wet/damp hair before drying and styling to prevent breakage and damage.
Step 2: Plug in and switch on the ghd flat iron and set your required temperature for styling according to your hair type.
Step 3: Start styling with the ghd straightener by working through every section of your hair, starting from the back of your neck to the sides, and then finally the front. For this step, you can make use of sectioning clips for better convenience.
Step 4: The angle you use for styling decides your finish — be it curls, flicks, or straight tresses! Hold your styler towards your face and style in a downward direction for curls, and hold it away from your face for flicks. If you are looking forward to a straight finish, glide the styler straight down over every section.
Step 5: After usage, allow the flat iron to cool down and then store it by folding the cord neatly.
Frequently Asked Questions
Are ghd still the best straighteners?
Yes. With a wide range of fast-styling flat irons in varied specifications and designs, they are among the favorites in the market! The best parts about these ghd professional straighteners are their quality and longevity. They are great hair straighteners that provide desired results by adapting to different types of hair and ensure a long-lasting effect.
Is ghd Platinum better than Original?
All of the ghd straighteners are of good quality. Undoubtedly, ghd Original is suitable for use on all hair types, thanks to its ceramic technology. This affordable ghd hair flat iron is also equipped with floating plates that will give you hair a glossy and smooth finish. Whereas, the uniquely designed ghd Platinum flat iron comes with added features of predictive technology and heat monitoring mechanism. This helps in strengthening hair (70% more than before) and provides 2 times more color protection too.
How long do ghd straighteners last?
They would last longer if maintained properly. You need to clean the plates periodically with a damp cloth to get rid of dirt and dust. Do this only when they are cool and switched off.  Also, store them in a heatproof container for added durability.
How often should you replace ghd straighteners?
There are a few signs that indicate you should replace your ghd flat iron — lifted plates, constant flashing of the heat indicator light, and need for a repeated application for desired results. You should replace your ghd flat irons every 2-3 years for a better finish.
What's the difference between Gold and Platinum ghd straighteners?
1. Both straighteners provide an optimum styling temperature, but platinum flat iron is equipped with a predictive mechanism to understand specific hair needs.
2. The ghd gold straighteners come with a pin hinge, whereas the platinum one has a wishbone hinge for a better grip.
3. The heating time is faster in platinum (20 secs) than gold (25 secs)
Recommended Articles