10 Best Titanium Flat Irons
No more heat-damaged hair strands! Only salon-finish and silky straightened tresses.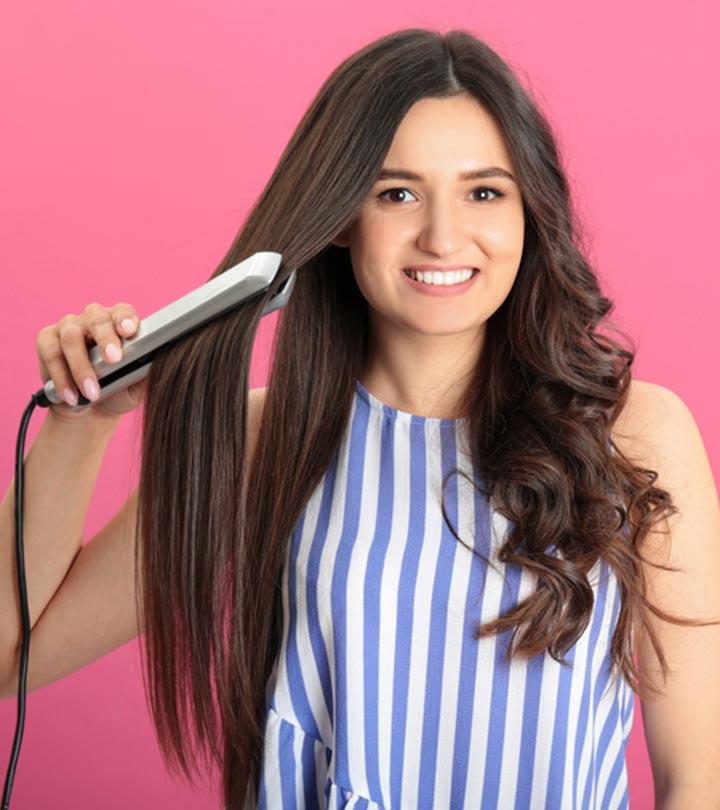 Owning the best titanium flat irons gives you the hair you have always dreamt of. Who wouldn't like to flaunt silky smooth hair that makes all your photos perfect! To take the cat out of the bag, all the celebs you have admired your life for their gorgeous hair are not 100% natural! They also take the help of tools to keep their hair manageable and smooth. No matter what your hair texture is, owning the right hair straightener will help you take your hair strands and make them look perfect with a high-gloss finish, every time you get ready. For the main question, won't the heat eventually ruin your hair? Well, it's true excess heat on your cuticle can damage your hair strands, but not if it is done the right way and with the help of professional tools. Want to know which tools to go for? Here is a list of 10 titanium flat irons that will keep your hair protected from the heat and give you a salon finish hair every time.
What Is A Titanium Plate And What Are The Benefits Of Titanium Flat Iron
Let us first understand what titanium is. It's a metallic element found in igneous rocks and is known for its strength and durability, and also for its super heat conductivity. The ceramic titanium plates in a flat iron emit negative ions, which help in retaining the natural moisture of your hair, keeping it shiny, and reducing static. Let us now look at some of the benefits of a titanium iron:
Titanium plates emit a lot of negative ions, which help in reducing frizz.
It has exceptional heat transferring properties.
It can reach high temperatures quickly, so these irons also work well for extremely curly hair.
Titanium plates are extremely strong, especially in comparison to ceramic plates.
They are durable and scratch-resistant.
It evenly distributes heat throughout the plates.
Titanium Vs Ceramic Flat Irons
Let's take a look at the basic differences between titanium and ceramic flat irons:
Both titanium and ceramic plates heat up at different speeds. Ceramic irons heat up quickly from the inside to the outside, while titanium plates do the opposite. However, titanium plates heat up faster.
Titanium irons use more negative ions than ceramic ones, which helps in eliminating frizz quicker and better.
Titanium flat irons are always a little more expensive than ceramic ones, due to its superior quality and durability.
While both plates are quite scratch-resistant, titanium irons hold up much better.
Due to its high-speed advanced heat technology, titanium flat irons are better suited for coarse, unruly, and curly hair.
10 Best Titanium Flat Irons
Reduce frizz and seal the moisture with the VANESSA Titanium Flat Iron. This hair straightener and curler comes with an auto shut-off and dual voltage feature with a durable design. It is equipped with adjustable temperature settings (265℉ to 450℉), that give you polished and stylish hair. The titanium plate flat iron moisturizes your hair, transforming your dull and frizzy hair into shiny hair. In addition, the swivel cord design ensures a tangle-free cord for faster, and safer hairstyle. You may check more about this product in this video.
Pros
Digital LCD display
Suitable for all hair types
Easy to use
Durable
Lightweight
Swivel cord
Cons
None

Price at the time of publication: $39.99
BaBylissPRO Nano Titanium Hair Straightener is one of the best titanium flat irons for black available in the market. Its slim design allows for easy handling and also styling flexibility. Not only does this flat iron straighten the hair to perfection, but its nano titanium anti-damage technology also protects hair from damage. It is exceptionally light and the 5" plates help wider sections to be straightened quickly. This ultra-thin beauty by BaBylissPRO features 50 heat settings that go up to 450°F, and the plates resist corrosion. As it is sleek, one can even use the iron to create natural-looking, beachy waves. Check out this video to learn more.
Pros
Its ultra-sleek design makes for easy handling
Lightweight
Available in three widths (1, 1.5, and 2 inches)
Nano titanium technology
Long cord length
Cons
Price at the time of publication: $154.99
Ask any professional hair stylist why they love this hair straighter so much, and they will not be able to stop listing down its fantastic qualities. Let's talk about some of them here. Its ceramic coated heating plate is not only infused with titanium, but it also contains argan oil and tourmaline. These elements lock the natural moisture of the hair to help avoid frizz for a smooth hair shaft. It comes with six temperature options. So, if you want to decrease or increase the temperature, you simply have to rotate the end of the straightener. This professional kit also comes with a travel pouch, a heat-resistant glove, one salon comb, and two salon hair clips. Watch this video for more information about the product and how to use the versatile styling options.
Pros
9-foot cord with 360° swivel
Digital LCD for six temperature settings
MCH heating feature (fast heating and recovery in seconds)
Shuts off automatically if not used for 60 minutes
Dual voltage compatible
2-in-1 iron for straightening and curling
Cons
May not work well on extremely curly hair
Price at the time of publication: $59.99
The perfect confluence of practicality and luxury, this salon-quality flat iron provides the ultimate comfort and styling experience. It's light, ergonomically designed, and the floating plates glide smoothly. The titanium plates lock in moisture and reduce static as well. It's also known for being one of the safest hair irons as the ventilation system in this iron releases excess heat to prevent any damage. When not in use for several minutes, the temperature of the titanium plates drops to 180°C automatically. With the help of advanced ceramic technology, it claims to be 60% faster and more effective than other competing flat irons.
Pros
Salon-grade flat iron
Compact design for easy handling
Lightweight
Dual voltage capability
Automatic shut off in 30 minutes
Provides consistent heat during use
Cons
Price at the time of publication: $129.98
This mini titanium flat iron and curling tool by Furiden is not only easy to use but is also durable. Ideal for both beginners and hair professionals, it can heat up quickly to help you achieve glamorous hair. This high-performance flat iron can reach maximum heat in 15 seconds or less, and comes with 20 heat settings. All you have to do is rotate the bottom of the iron to switch between your desired temperatures. The floated and narrow 3D titanium plates heat up evenly, so you won't be hard-pressed for time, nor will you have to iron the same strands of hair multiple times. The perfectly rounded outer shell provides straightening and curling versatility, ideal for styling hair into large, voluminous curls.
Pros
Light
20 heat settings
Heat is distributed evenly in the titanium plates
2-in-1 curler and straightener
Helps retain moisture in the hair
Can reach maximum temperature in 15 seconds or lesser
Cons
Some may find the size of the heat plates a little too short
Price at the time of publication: $47.97
Mixcolor's professional 4-in-1 heating plate is what makes it one of the best travel-friendly flat irons. Its titanium, tourmaline, nanosilver, and ceramic heating plates make it stand a class apart. But this isn't the only reason why it makes its 3D floating plates so impressive; they are also dust and water-proof. Right below the wheel of the temperature setting, one can find a quick release safety lock as well. You can keep an eye on your heat settings with the help of its dual digital LCD panel. This salon-grade kit contains a flat iron, a heat-resistant glove, a comb, four salon hair clips, all of which come enclosed in a trendy storage case.
Pros
Affordable
4-in-1 heating plate
Doesn't damage hair
Can be used for curling or straightening
9-foot-long cord
Cons
Requires a universal adapter
Price at the time of publication: $21.99
This sleek and effective titanium flat iron is one that you will rave about to your friends and family. It's not just the value for money aspect that makes this product worth buying, it's also the nano titanium wide plates and an advanced metal ceramic heater that ensure a rise to 450°F in less than 30 seconds. The innovative vent design channel steam makes it safe to be used on damp hair as well. Designed with 2x smoother glide for a polished finish, this wonder iron works on all hair types for precise styling. With five different temperature settings, it makes hair straightening a piece of cake.
Pros
Affordable
Heats up to 450°F in 30 seconds
Suitable for all hair types
2X smoother glide for zero pinching and snagging
5 heat settings
Large plates
Cons
Requires a universal adapter
Price at the time of publication: $28
Now here's something we don't see every day – a flat iron with a rainbow finish. Create sleek, silky, and shiny hair with this iridescent beauty, which glides effortlessly and protects hair from damage. The ion generator in this iron eliminates static while fighting frizz. It comes with six precision heat settings and heats up to 455°F in 30 seconds with temperature lock technology, making it ideal for all hair types and textures, and is one of the best titanium flat irons for thick hair. With its 6-foot professional swivel cord, one can rest assured that it cares for your safety.
Pros
Cool rainbow-colored titanium plates
Glides smoothly without pulling hair
Tames frizz
Extra-long plates for easy ironing
Cons
One has to pay close attention to a soft clicking sound to know that the flat iron is working
Price at the time of publication: $26.99
It's time to say "C(h)iao' to unruly, unmanageable hair with the help of this compact and sleek flat iron from Chi. The titanium-infused ceramic plates go the extra mile in ensuring that you have beautiful, smooth, and protected hair. It only takes about 40 seconds for the ceramic heater to reach the maximum temperature of 425°F. To keep an eye on how high your heat is set at, you can check the preset temperatures in a multicolored digital LCD panel. It also comes with a long durable cord and turns off automatically after 1 hour of inactivity.
Pros
Suitable for all hair textures
Can be used for straightening and curling
Multicolored digital LCD panel
11-foot heavy-duty cord
Dual voltage
Cons
Price at the time of publication: $60.0
Make your hair shiny and healthy with the Bcway Professional Hair Straightener. It features a 360° rotational cord, titanium iron plates, and adjustable temperature settings. The device allows you to set the temperature from 248°F to 450°F. Additionally, it comes with a quick heat-up feature and takes only 30 seconds to heat up. The extra-wide titanium plates help to lock in moisture to prevent frizz and give you a sleek look.
Pros
Quick heating
3D floating plates
Easy to use
Hanging loop
5 adjustable temperature settings
Suitable for all hair types
Cons
None
Price at the time of publication: $23.19
Titanium Flat Iron Buying Guide
Types Of Titanium Technology
It is an exceptional conductor of heat and maintains stability in ultra-high temperatures as well. It emits negative ions to smooth out the positive ions in your hair, making it frizz-free and anti-static. It also helps in retaining your hair's natural moisture.
Mirror titanium is best for thick hair and curly hair. It is an advanced titanium technology that doesn't cause hair damage and keeps the heat uniform and under control. It also has powerful smoothing properties.
Tourmaline is a crystalline mineral used to coat the plates of a flat iron for the best titanium flat iron silk press. A tourmaline-coated titanium flat iron gives you anti-frizz and smooth hair when ironing as it is a significant source of negative ions.
Ceramic plates help in even distribution of heating and have a lower potential to burn hair. Ceramic plates heat from the inside to the outside.
An isotherm titanium plate also distributes heat evenly while ironing hair. This means that it will glide through smoothly without snagging hair.
What Does Ionic Mean?
All titanium flat irons use ionic technology in their plates. It emits negative ions to fight the positive ions in your hair, thereby retaining the natural moisture of your hair and reducing frizz.
Plate Sizes In Flat Irons
Plate sizes differ from iron to iron and brand to brand. Anything larger than a one-inch plate can be classified as large iron, and larger plates are great for thick hair. Plates that are less than an inch is also ideal for curling hair. Many brands also make irons with 1.25, 1.5, 1.75, and 2 inch flat plates. Some even go up as high as 2.5 inches. The size you pick depends entirely on your preference.
Plate Material
Titanium, pure ceramic, ceramic-coated, and tourmaline plates are the ones that are most commonly used.
Temperature Setting
The heat and temperature settings differ from iron to iron, but most good flat irons come with three or five preset heat settings and can go upto 425°F or more in 30 seconds or less.
Infrared Technology
As compared to a regular flat iron, an infrared flat iron uses gentler heat, yet is able to penetrate the hair better. They also use special wavelengths to heat hair evenly from the inside while protecting your hair cuticles. So, lesser heat directly means lesser damage to hair.
Auto Shut-Off
When buying a flat iron, make sure you buy one with an automatic switch-off button for when the machine has not been in use for 30-60 minutes, because safety comes first.
Why Trust Stylecraze?
Medha Deb writes articles on skin and hair care products and is keen on providing her readers with reliable reviews. Therefore, she created this list of best titanium flat irons after studying product descriptions and customer reviews published on many websites. The products in this list are suitable for all hair types, efficient, and easy maintenance. For your convenience, Sneha has also described the features of each product along with a buying guide section.
Frequently Asked Questions
Which titanium straightener is the best?
The Bcway Professional Hair Straightener is the best titanium straightener. It comes with a 360° rotational cord and adjustable temperature settings. In addition, the high-quality titanium plates lock the moisture in your hair and tame the frizz.
Are titanium flat irons good for your hair?
Yes. Titanium flat irons get heated up quickly and tame the unruly tresses in no time. These straighteners smoothen the tresses while holding the moisture in.
Is a titanium or a ceramic straightener better for hair?
Titanium straighteners are ideal for quick styling. They get heated up quickly and can straighten hair with just a few passes. They distribute the heat evenly and deliver a smooth texture to your hair. On the other hand, ceramic plates, even though are non-damaging, require more time to tame hair.
Who needs a titanium flat iron?
People with coarse, thick, and stubborn hair can use a titanium flat iron. Titanium plates distribute heat evenly to the thick tresses and tame them in no time.
What is the ideal temperature to straighten natural hair with a titanium straightener?
A temperature between 250°F and 375°F is ideal for straightening natural hair with a titanium straightener. If you have thin hair, set it lower and and increase it while using the titanium flat irons for 4c hair and similar coarse hair textures.
Are titanium flat irons damaging?
No. Titanium flat irons do not damage the strands. They evenly distribute the heat throughout your hair and provide an excellent smoothening effect. However, using the straightener incorrectly can make your hair brittle and dry.
Which is better for hair – titanium or tourmaline?
The straightening effect of tourmaline straighteners does not last long. The smoothing effect in the hair wears out much faster. A titanium straightener keeps your hair smooth and sleek for a long time and therefore is better in that sense.
Is ceramic or titanium better for frizzy hair?
Titanium straighteners get heated up quickly, ideal for taming stubborn, thick hair. But, the quick heating technology can damage fine hair and turn the texture frizzy. Therefore, opt for ceramic straighteners if you have fine frizzy hair.
What kind of flat iron is the best for natural hair?
Use a titanium straightener if you have thick, coarse, and stubborn tresses. And, pick a ceramic straightener for fine, thin, easy-to-manage hair.
Recommended Articles