11 Best Bronzers For Acne-Prone Skin For That Sun-Kissed Glow
Get a sun-kissed glow effortlessly without suffering from an outburst of acne.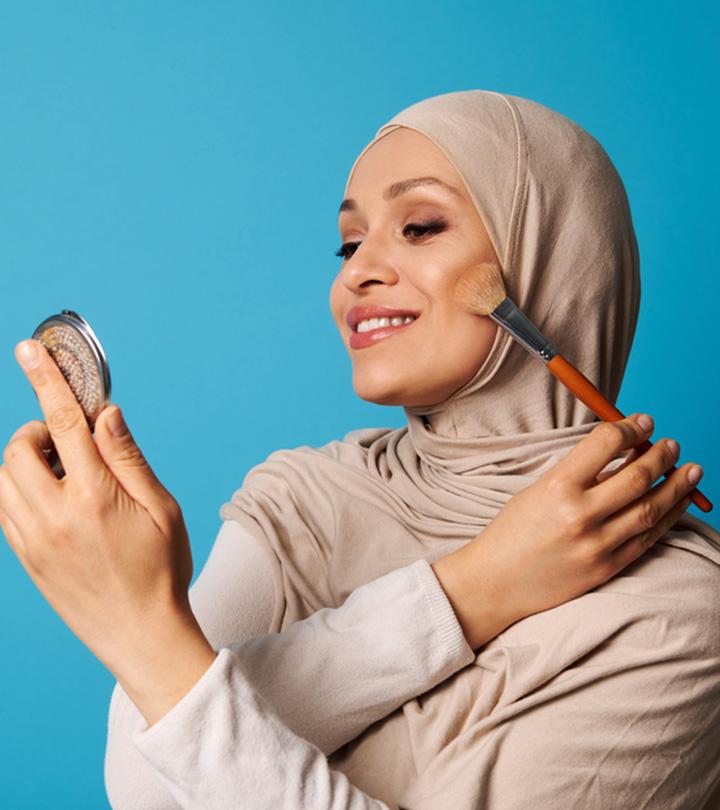 If you are looking for the best bronzer for acne-prone skin, you have come to the right place. We all love a lovely summer tan on our skin, but too much exposure can lead to acne and skin damage. Other factors such as the kind of food we eat, sleep, and constant exposure to pollutants can make our skin more prone to developing acne. Imagine you are getting ready for a nice vacation or the party of the season and your skin decides to betray you and break out in acne. Next thing you know, you are spending hours putting in tons of concealer to cover them up.
So how do we get smooth and acne-free skin? A nice bronzer can give you a smooth and glamorous look. Bronzers are powders or liquids applied to your skin to give you that glowing and healthy tan. They have become a part of every woman's daily skincare routine. When you are going for a bronzer that is sensitive to acne, going for bronzers that contain organic ingredients is your best bet. Staying away from substances that irritate your skin is essential as that can lead to more acne outbreaks. Don't worry. We have compiled a list of the top bronzers out there to say goodbye to acne and give you an excellent glowing look!
Add A Natural Warmth To Your Features With The 11 Best Bronzers For Acne-Prone Skin
The ultimate Brazilian goddess glow is now possible with the Physicians Formula Butter Bronzer! Its silky smooth texture makes it a cream-to-powder bronzer that graces your skin for a lit-from-within look. Enriched with softening butters like murumuru, cupuacu, and tucuma, the fatty acids and vitamins deeply condition skin and moisturize it. You'll find that the non-comedogenic bronzer formula melts into your skin and seals it with moisture for lasting hydration. The ultra-refined and soft-focus pigments in this baked bronzer even out skin texture. This non-shimmer bronzer for fair, sensitive skin also helps brighten the overall complexion. If you need more convincing, feel free to check out this review of the bronzer on YouTube.
Pros
Vegan
Cruelty-free
Dermatologist-tested
Paraben-free and gluten-free
Non-comedogenic
Hypoallergenic
Cons
Some may find the coconut scent to be overbearing
Price at the time of publication: $9.73
The Tarte Amazonian Clay Matte Waterproof Bronzer can be effectively used for flake-free applications and multiple hours of pigmented wear. It features a moisture-rich powder that offers an even, buildable glow or a streak-free contour to enhance the skin tone. It is created using Amazonian clay. This lightweight powder can improve your skin's texture and clarity, ultimately leaving your skin glowing and healthy from the inside. The product also contains essential vitamins, such as A, C, and E, that fight free-radical damage to prevent premature aging. It also brightens, soothes, and softens your skin.
Pros
Vegan and cruelty-free
Dermatologically-tested
Medium coverage
Gluten-free
Sodium-free
Cons
Price at the time of publication: $32
St. Tropez combines hydrating skincare with self-tanning in this no-rinse Self Tan Purity Bronzing Water Face Mist. A single spritz of the tropical-scented mist gives you a natural golden glow that also instantly boosts the hydration of your skin. This bronzer for sensitive acne-prone skin is infused with hyaluronic acid that hydrates skin, hibiscus extract with antioxidant properties to strengthen the skin barrier, and green mandarin water for a refreshed feeling. With no pore-blocking ingredients and a lightweight formula that doesn't leave behind any streaks, we reckon this is the best bronzer for acne-prone skin types. You can take a look at this honest review from a makeup enthusiast to know more about this bronzer's merits and demerits.
Pros
Vegan
Non-comedogenic
Transfer-proof
Suitable for sensitive skin
Quick-drying
Lightweight formula
Strengthens skin barrier
Cons
Tan may not be very long-lasting
Price at the time of publication: $30
Any makeup that comes in a powder form has oil-absorbing benefits for oily and acne-prone skin. The Season To Season Bronzer by Physicians Formula is a lightweight powder that goes on smoothly for a natural-looking tan. The buildable formula allows you to customize a tan that you're comfortable with and it's super easy to blend, too! Infused with unique Glow Activators, which are a blend of vitamins, antioxidants, and moisturizers, your skin is going to emit a warm glow like never before. With a light-to-medium coverage, this bronzer for oily, acne-prone skin lasts all day without looking too orange.
Pros
Doesn't leave streaks
Odor-free
Hypoallergenic
Safe for sensitive skin
Gives a natural-looking tan
Contains a nourishing blend of ingredients
Cons
Some may find the bronzer to be lightly pigmented
Price at the time of publication: $12.21
Although suitable for all skin types, Bronze Tan's Face & Body Tanning Water is especially gentle on acne-prone skin. Bronzed and radiant skin is only a spritz away as this tanning water contains refreshing ingredients like cucumber and aloe vera. Not only do these natural ingredients hydrate skin, but they also give you a boost of freshness every time you spray some of this drugstore bronzer for acne-prone skin. For deep conditioning effects, you'll also find vitamin E, kakadu plum, and witch hazel in this lightweight mist. Once you start using this liquid bronzer for acne-prone skin regularly, you'll see results that lend a beautiful golden glow.
Pros
Streak-free
Gentle formula
Contains hydrating ingredients
Quick-drying
Odor-free
Cons
Might turn slightly orange
Price at the time of publication: $14.99
Scheduling an appointment to get a tan might feel like a chore for some, which is why self-tanning products are a lifesaver! Norvell's Self Tanning Mist For Face comes in super handy when you want a quick golden glow on the go. A single spritz of this liquid bronzer is enough for even application as it goes on seamlessly for a velvety smooth complexion. To give your skin 24-hour hydration, the formula contains an exclusive Active Natural Sunless Complex that binds moisture. With a unique dermal barrier, the top layer of your skin is locked, so that the color stays put for long periods without streaking or fading.
Pros
Non-comedogenic
Sulfate-free
Gluten-free
Paraben-free
Cruelty-free
Odor-free
Cons
Some may find the fragrance overpowering
Price at the time of publication: $15.99
With Mineral Fusion's Bronzer, you can totally fool your work friends into thinking you were in Hawaii all summer! It imparts the softest sun-kissed glow and with its shimmery finish, your face will be glistening. Mineral Fusion's powder bronzer for acne-prone skin is infused with pomegranate and red and white tea that safeguard your skin from free radical damage while aloe vera works to soothe and refresh it. The velvety powder glides on smoothly and covers the skin with a healthy tan without all the hours spent in the sun!
Pros
Cruelty-free and vegan
Hypoallergenic
Paraben-free and phthalate-free
Gluten-free and talc-free
Fragrance-free
Shimmery bronzer
Cons
May be too shimmery for pale skin tones
Price at the time of publication: $17.5
Eco Tan's Face Tan Water gradually works on your skin to give a healthy and radiant glow. Its non-greasy formula is filled with hyaluronic acid for optimum hydration and as it is non-comedogenic, you can use it on acne-prone skin with no worries. The lightweight Face Tan Water moisturizes skin, covers blemishes, and reduces redness. Formulated without any harsh chemicals, Eco Tan's product is a sure winner on our best non-comedogenic bronzer list!
Pros
Vegan
Cruelty-free
Sulfate-free
Paraben-free
Non-greasy formula
Contains moisturizing ingredients
Cons
Price at the time of publication: $39.99
Perricone MD No Makeup Bronzer is a broad-spectrum bronzer with SPF 15. It is a weightless, blendable formula that helps you create that warm, sun-kissed glow with a universally-flattering shade. It has a sheer and buildable formula that provides skin with a veil of natural warmth while protecting and brightening skin tone over time. This bronzer is perfect for creating a natural, sun-kissed look without the sun damage. It is a serum formula that makes it easy to apply and blend into the skin. It is infused with vitamins, minerals, and antioxidants. It is ideal to use on all skin types.
Pros
Weightless
Easy to apply
Provides sun protection
Natural glow
Infused with vitamin C and ginger extract
Universal shade
Sheer formula
Cons
None
Price at the time of publication: $24.5
Enhance your skin with Glo Skin Beauty's Bronzer for an envy-worthy sun-kissed radiance with the shimmery finish that gives you a soft shine. The mineral powder is non-comedogenic, which means that it's a treat for oily and acne-prone skin types. With vitamins A, C, E, and antioxidants like green tea extract infused into the formula, you'll find your skin deeply nourished and softened. The ultra-blendable powder is talc-free and you can also use it to contour your facial features.
Pros
Natural-looking finish with medium coverage
Non-comedogenic
Talc-free
Contains an antioxidant-rich blend
Shimmery finish
Easy to blend
Cons
Price at the time of publication: $44.05
The Guerlain Meteorites Perles Powder color corrects and illuminates your skin tone. The stardust technology with a light-creating polymer imparts an endless glow on your skin. The gentle formula infused with diamond powder helps create a soft-focus halo. The light-correcting nacres harmoniously blend together for perfectly tailored luminosity. This lightweight powder smoothens, softens, and even tones your skin.
Pros
Covers redness
Paraben-free
Talc-free
Pleasant fragrance
Long-lasting
Value for money
Cons
Not suitable for all skin types
Price at the time of publication: $45.67
Now that we've looked at some of the best bronzers for acne-prone skin, let's look at how you can choose the right one for your skin type and needs.
How To Choose The Right Bronzer For Acne-Prone Skin
Knowing your skin tone before purchasing a bronzer allows for a smooth finish that doesn't end up looking patchy. Light and fair skin will look natural with bronzers that have peach and rose hues, as this depends on what shade your skin shows after exposure to sunlight. Medium skin tones will look good with earthy bronzer tones while chocolate or terracotta hues suit darker skin tones due to their warmth. A soft brown shade is ideal if you have cooler undertones, golden brown bronzers suit warm ones, and a natural brown looks good on neutral undertones.
Bronzers are available in the form of lotions or creams, pressed powders, and mists or waters. While picking a particular type depends on your personal preference, each type comes with its own benefits. Powders are ideal for oily skin and if you want to build on your tan. They are lightweight and are available in shimmery or matte finishes. If your skin is slightly oily, you can opt for shimmer but if you want to control the oil in your skin, a matte finish would be beneficial.  Powders generally last a day and sit atop makeup. While powders help oily skin, cream-based powders serve dry skin better. Bronzers that come in the form of lotions have a thicker consistency and regular use of this formula can gradually develop a tan. Self-tanning creams or lotions can be applied to the entire body. Tanning mists or waters have a lightweight consistency and as they come in a spray form, they're super easy to travel with. They lightly coat the skin with a bronzer active and dry quickly. A bonus of this type of bronzer is that you can spritz them midday for a refreshing feel.
Picking a bronzer for acne-prone oily or combination skin is tricky because you must make sure it doesn't contain any pore-clogging ingredients or oils as this can lead to a buildup of dead skin cells. Additionally, oil-absorbing ingredients like kaolin clay, salicylic acid, and green tea will help with excess sebum production. As even dry skin types can have acne, hydrating ingredients like hyaluronic acid, aloe vera, and tea tree will prevent moisture loss from the skin. You must also ensure that your makeup doesn't contain any harsh chemicals like parabens, sulfates, synthetic fragrances, mineral oils, or phthalates. Unscented products are generally great for skin types that suffer from insensitivities.
After you've purchased the right bronzer for your skin type, let's look at how you can apply it for the most natural and healthy-looking radiance.
How To Use Bronzer For Acne-Prone Skin
Step 1: Follow your regular skincare routine and don't forget to apply sunscreen.
Step 2: Complete your base makeup of an acne-fighting foundation, concealer, and eye makeup as well.
Step 3: Tap a makeup brush (a large and fluffy one such as a kabuki brush should do the trick) in the bronzer pot and sweep it along your cheekbones on both sides. Blend it softly, so that it doesn't look like a harsh brown line.
Step 4: Sweep the bronzer on your temples and forehead — high points of your face where the sun hits.
Step 5: Ensure to blend lightly for a seamless complexion.
Step 6: With whatever product is left on the brush, you can sweep it on your chin, nose, and neck for a warm finish.
Why Trust StyleCraze?
Chaitra Krishnan, the author, loves all things makeup and gives you an insider's perspective on the best bronzers for acne-prone skin that you should have in your makeup collection. According to her, bronzers give you a healthy tan without compromising your skin's health. She compiled a comprehensive and detailed list of the top products after surveying almost every product review on the market. With bronzers, you'll be able to get that perfect tan that complements your stylish outfits.
Frequently Asked Questions
Does a bronzer help acne?
Bronzer powders that are free of talc, fragrance, and other harsh chemicals like parabens and sulfates can help control acne. Additionally, if a bronzer is non-comedogenic and contains ingredients like kaolin clay, aloe vera, and tea tree, it will be beneficial for acne-prone skin.
Does a bronzer make you break out?
Bronzers that are non-comedogenic and contain harsh ingredients like talc, mineral oils, and parabens can lead to breakouts. Products containing fragrance must also be avoided for acne-prone skin as they may aggravate skin conditions like redness and inflammation.
Does a powder bronzer clog pores?
Powder bronzers that are not non-comedogenic have pore-clogging oils or mineral oils that can lead to congested pores and breakouts. You must ensure that a bronzer is non-comedogenic before purchasing it, especially if you have oily or acne-prone skin.
Which bronzer is non-comedogenic?
The Neutrogena Healthy Skin Blends Natural Radiance Bronzer and the St. Tropez Self Tan Purity Bronzing Water Face Mist are some good non-comedogenic and oil-free bronzers.
Recommended Articles