15 Best Cantu Hair Products For Curly, Wavy, And Coily Hair!
Turn your natural, textured hair into the bouncy and healthy hair of your dreams.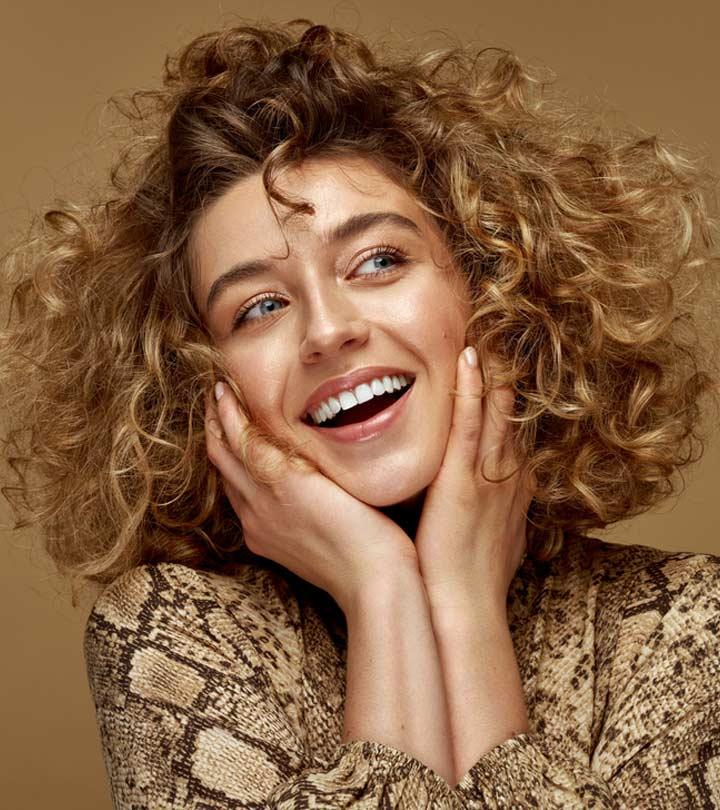 It goes without saying that textured hair needs extra care. But, making this task effortless, manageable, and satisfying for all are Cantu hair products! Curly, coily and wavy hair issues, Cantu caters to them all. And owing to this ultra-pampering service, it has been bagging many awards too. The brand offers an extensive range of effective products that can eliminate your mane problems without you having to go through any hassle. So, if you are looking for hair creams, conditioners, and shampoos that can combat all your hair issues and give you gorgeous locks, Cantu is here for the rescue. And to make your find easier, we have lusted 15 most-amazing Cantu hair products that you must purchase right now! So, what are you waiting for? Go ahead and check it out! Pick the best fit, make your wish to have beautiful tresses a reality, and flaunt them like never before!
Care For Textured Hair With 15 Best Cantu Hair Products! (With Reviews)
Are you dealing with split ends? Or frizzy, dry, and damaged hair? Trust this leave-in conditioner to bring back the lost shine! Why deal with unmanageable hair when this shea butter and essential oils infused conditioning cream can do the trick and revive the gorgeousness instantly? Guaranteeing a spa-like experience with every use to help your hair relax and rejuvenate, it boosts intense moisture, repairs breakage, and strengthens fragile strands too. Indulge to witness the change! Learn more about this product in this video.
Pros
Ultra-moisturizing cream
Improves manageability
Leaves hair silky-smooth and soft
Ideal for keeping overnight for intense conditioning
Suitable for dry, coarse, permed, natural, African-american, texturized, relaxed, and colored hair
Cons
Applying too much might turn hair greasy
Price at the time of publication: $6.48
Your colored curls and waves deserve some TLC post-shampooing too. Hence, we have this intense conditioner for you. Boosting hydration from roots to tips, it also invigorates hair to look healthy by retaining natural oils. So, if your hair turns dull, dry, and coarse after every wash, this ultra-hydrating conditioner might be the fix you need to restore the optimum suppleness! Try it. This video will provide you with added insights about the product.
Pros
Sulfate-free conditioner
Boosts softness
Strengthens hair and prevents breakage
Improves elasticity and manageability
Suitable for natural, low porosity, wavy, curly, and colored hair
Cons
Not ideal for sensitive scalp
Price at the time of publication: $5.24
Not a fan of masks and creams? Then how about a revitalizing spray for a change? Just what you need to define and revive your curls, this effortless spray will also leave them soft, shiny, and frizz-free. Packed with moisturizing benefits to perk up the curls and waves instantly, it's a great option for workaholics and travelers to uplift their tresses on the go. Take a look at this video to know more about the product.
Pros
Ultra-refreshing spray
Adds a touchable hold
Defines their natural shape
Suitable for coily, curly, and wavy hair
Cons
Slightly sticky
May not condition evenly
Price at the time of publication: $6.48
No more tears, only happy curls! Watch your little one fall in love with the curls as this one promises intense care and conditioning. Free from harsh chemicals and infused with ingredients such as coconut oil, honey, and shea butter, Cantu ensures to care for your kid's hair as much as you do. Strengthening, defining, and reducing the frizz, let your baby enjoy the softest and manageable curls with every use. Yep, add it to the cart already!
Pros
Ultra-nourishing cream
Moisturizes strands intensely
Protects hair and prevents breakage
Free from sulfate, parabens, gluten, silicone, phthalates, and more
Cons
Price at the time of publication: $4.28
Shampoo, but make it ultra-moisturizing! Here's a cleansing cream by Cantu that'll tickle your fancy for gorgeous and bouncy hair. Eliminating all the impurities with its intense yet gentle cleansing, it also moisturizes the strands with the infused shea butter. A great option for those who end up skipping the conditioner due to time constraints, this sulfate-free cleanser will do the job of two that is cleansing and conditioning— all in one go. Try it!
Pros
Award-winning formula
Ensures a rich lather
Prevents breakage
Improves hair quality
Eliminates heavy buildups and dirt
Suitable for wavy, curly, and coily hair
Cons
May not tame the frizzies well
Price at the time of publication: $5.38
Did you know frequent heat styling or exposure to harsh weather can strip the natural moisture of your hair? But worry not! If your tresses do feel dry, brittle, or thirsty, you need something like this oil moisturizer infused with shea butter for some intense TLC. Penetrating deep into the strands, it moisturizes, strengthens, and restores the natural shine with every use. Stimulating your hair to be healthy and stunning again, give your hair the pampering it deserves with this one. Hurry!
Pros
Restores optimal moisture
Leaves hair smooth and soft
Prevents breakage and damage
Eases tangles and reduces frizz
One of the best cantu products for low porosity hair
Suitable for colored, textured, permed, and relaxed hair
Cons
Price at the time of publication: $4.97
Not your ordinary oil, this one ensures an intense oil therapy with every use! Give your hair a break from everyday stress and heat styling with this formula that contains tea tree oil, jojoba oil, and shea butter. Penetrating deep into the strands, it moisturizes intensely to revitalize and strengthen hair from the core. And besides moisturizing, it nourishes the dry scalp too, thus stimulating hair growth. Now, who's up for healthy and bouncy tresses?
Pros
No-drip formula
Leaves hair stronger and shinier
Improves elasticity and prevents breakage
Safe to use on wigs, weaves, and extensions
One of the best Cantu products for natural hair growth
Suitable for dry, damaged, and brittle hair
Cons
It may weigh down your hair.
Price at the time of publication: $5.97
This creamy, rich, and moisturizing combo is formulated to satisfy the curl goddess in you! Yes, eliminate the impurities with the shea butter-infused shampoo that claims to leave your hair clean, shiny, and soft. And then, follow it up with an ultra-moisturizing shea butter conditioner that soothes, replenishes, and softens your hair more to leave them manageable and stunning. Still, want to miss this combo?
Pros
Cleanses and conditions intensely
Eliminates buildups and residue
Strengthens hair and improves manageability
Suitable for colored, permed, and relaxed hair
Cons
Not suitable for dry hair
Price at the time of publication: $18.09
Smoothen your frizzy hair with the Cantu Shea Butter Edge Stay Gel. This gel is specially formulated to define curly ends and maintain a strong hold for long-lasting style. It contains shea butter that conditions your hair, and a blend of castor oil, jojoba oil, and cocoa butter makes your hair smoother and manageable. Just apply it on your ends, and comb it out to give your frizzy and unmanageable flyways a sleek look.
Pros
• Lightweight
• Paraben-free
• Sulfate-free
• Flake-free
• No mineral oil
• Gluten-free
• Phthalate-free
Cons
Price at the time of publication: $4.24
Define your wavy and curly hair without the crunches with the Cantu Natural Hair Wave Whip Curling Mousse. This lightweight mousse adds volume and shine to your hair without making them stiff. It also hydrates your hair, conditions, and keeps it healthy. You can style your hair in many ways with this whip cream and embrace your natural texture proudly. The mousse is ideal to be used for a perm rod set and leaves a frizz-free finish for beautiful curls.
Pros
Weightless
Flake-free
Paraben-free
Sulfate-free
Silicone-free
No mineral oil
Cons
Does not provide strong hold for very thick curls
Price at the time of publication: $2028.0
Groom those curls and waves for a salon-worthy bounce! This hairdressing pomade by Cantu is a great pick if you love styling your hair. From defining the natural shape of your tresses to making them manageable instantly, get ready to enjoy some envy stares as you flaunt your hair with confidence. Want more? It seals in natural moisture, thus protecting your hair while it bounces and shines with every use. Try it!
Pros
Ultra-moisturizing formula
Adds a lift and texture
Holds hard styles in place
Nourishes intensely with shea butter
One of the best cantu products for 4c hair
Suitable for curly and coily hair types
Cons
Slightly greasy for oily hair
Price at the time of publication: $8.25
When it comes to extra care, Cantu's Avocado Leave-in Repair is a must-try. Whether you are dealing with parched, damaged, dry, or coarse tresses, this ultra-nourishing formula will attend to your hair woes with a blend of avocado, aloe vera, shea butter, and olive oil. Working intensely to revive the optimal health of your tresses, it mends and conditions like a healer, thus leaving your hair happy and rejuvenated. Try it!
Pros
Ultra-hydrating cream
Leaves hair soft, shiny, and smooth
Improves manageability and texture
Free from silicone, mineral oil, parabens, paraffin, and phthalates
Cons
Price at the time of publication: $5.49
Tangles are no less than nightmares. Turning every brush session into painful and frustrating moments, sometimes you can't help but give up, right? But, not anymore. This conditioning and creamy hair lotion guarantee to soften and ease the tangles like magic. No, seriously, get ready to run your hand through your hair without getting stuck, for this one ensures to minimize tangles with every use. Give it a try!
Pros
Ultra-conditioning
Adds a shine and bounce
Leaves hair healthy and manageable
Paraben-free and mineral oil-free
Suitable for natural, curly, and wavy hair
Cons
Hair may turn greasy after a few hours
Price at the time of publication: $5.79
Oil therapy but with a chicer take! Why indulge in messy, tacky, and oily hair sessions when this spray by Cantu can make it effortless and quick for you? All you have to do is spray it on your tresses and watch the formula nourish your curls and leave a healthy shine. Infused with essential oils such as jojoba oil and shea butter, it penetrates deep into your hair to moisturize and boost suppleness too. Shining curls, anyone?
Pros
Lightweight formula
Conditions intensely
Leaves hair soft and smooth
Protects from heat damage
Suitable for colored, permed, and chemically-treated hair
Cons
Price at the time of publication: $13.5
Adding a decadent shine to your hair, try this super-shine serum at your own risk! Leaving your tresses silky-smooth and so soft that you can't keep your hands off them, its lightweight formula will not weigh your hair down too. Also, it is a must-try for those who style their hair frequently as this one protects from heat damages as well. Promising an enviable shine, you think you can handle it?
Pros
Non-tacky formula
Repairs split ends
Prevents breakage
Leaves hair manageable and smooth
Shines without leaving build-ups
Cons
The effect may not last long.
Price at the time of publication: $8.99
Heaven for your textured locks, isn't it? There you go, those were the 15 best Cantu hair products for curly, wavy, and coily hair. Are you still unsure about which products to choose or how to use Cantu products on your hair? We've explained it all in our buying guide below.
Buying Guide:
How To Choose Cantu Hair Products For Hair?
Look out for the following features while choosing a Cantu hair product for your hair:
Hair Type: The product must suit your hair type. Cantu hair products are available for curly, wavy, coily, and straightened hair. Hence, figure out your hair type first and then go on to pick a product that best suits your hair for satisfying results.
Hair Condition: We all have hair woes; textured hair too. So, whether you are dealing with damaged, dehydrated, dry, permed, colored, or chemically-treated tresses, Cantu has a product to solve all your hair troubles. Hence, choose accordingly.
Nourishing formula: Nourished curls are always better than dry ones, aren't they? And textured hair requires more nourishment compared to other hair types to stay bouncy, healthy, and refined. So, choose a formula that is intensely nourishing to give your hair a shiny, smooth, and healthy look.
Frizz-free & tangle-free: Why endure the frizz or those stubborn tangles when Cantu has products to banish them forever? Yes, pick a product that also combats frizz and tangled hair for a holistic pampering experience.
Improve Manageability: Lastly, when choosing a product, inspect if it guarantees high manageability. After all, managing curls, waves, or coily tresses can be a task at times, which can be simplified with the help of the right product. So, pick wisely!
How To Use Cantu Products For Natural And Curly Hair?
Here's a hair care routine you can follow using Cantu Products if you have natural or curly hair:
Start with a moisturizing shampoo such as Cantu Sulfate-free Cleansing Cream Shampoo or Cantu Moisturizing Cream Shampoo that ensures clean, supple, and nourished hair.
Post shampooing, you follow up with Cantu Shea Butter Hair Hydrating Cream Conditioner for regular nourishment or a leave-in conditioner— Cantu Avocado Leave-in Repair for intense moisturizing.
Are you into heat styling? If yes, then apply a heat protect serum— Cantu Shea Butter Super Shine Hair Silk first.
Are you dealing with a frizz problem too? You can spray on Cantu Comeback Curl Next Day Curl Revitalizer as it tames the fly a ways and frizzies instantly.
Also, if you are dealing with dry, damaged, or dehydrated hair, then you can add Cantu Shea Butter Daily Oil Moisturizer or Cantu Shea Butter Conditioning Creamy Hair Lotion to your routine too.
Lastly, dress up and style your hair and give it a perfect hold with Cantu Shea Butter Hair Dressing Pomade.
Why Trust StyleCraze?
Vaishnavi Kothuri, the author of this article, is a hair care enthusiast with a great understanding of haircare products. She is a fan of Cantu, a renowned brand that offers excellent haircare products. On a mission to find the best Cantu hair products, she has thoroughly evaluated their offerings and extensively examined numerous user reviews. The shortlisted products she has reviewed at length are perfectly formulated to eliminate the challenges of curly, kinky, and coiled hair.
Frequently Asked Questions
Are Cantu Hair Products Good For Your Hair?
Yes, Cantu hair products are great for textured hair, be it coily, curly, wavy, or straightened hair. Also, they are infused with shea butter and other essential oils to provide intense nourishment as well. Try it.
Are Cantu Hair Products Sulfate-free?
Yes, most of the Cantu Hair products are sulfate-free, such as Cantu Sulfate-Free Cleansing Cream Shampoo and Cantu Shea Butter Hydrating Cream Conditioner.
Are Cantu Hair Products Cruelty-free?
No, unfortunately, Cantu hair products do not state whether they are PETA-friendly or cruelty-free.
Will Cantu Hair Products Ruin Your Hair?
It depends. If you end picking a product that does not suit your hair type or condition, you might end up with dissatisfying results. Hence, it's important to inspect the suitability to witness favorable changes.
Is Cantu Leave-in Conditioner Bad?
Not at all! Cantu Leave-in Conditioner, especially Cantu Shea Butter Leave-in Conditioning Repair Cream, and Cantu Avocado Leave-in Repair are great for mending and conditioning dry, brittle and damaged hair.
Can You Use Cantu Hair Products On Relaxed Hair?
Absolutely! You can use Cantu Leave-in Conditioning Repair Cream and Cantu Daily Oil Moisturizer on relaxed hair.
Is Cantu Suitable For All Hair Types?
No, Cantu hair products are most suitable for textured hair such as curly, wavy, coily, kinky, relaxed, and straightened types.
Recommended Articles:
Best Products For Type 4 Kinky And Coily Hair
Type 3C Hair – Best Products For Type 3C Curls
Best Products To Use When Transitioning To Natural Hair
Best Products For 2B Hair