5 Best Gel Polishes That Don't Require A UV Light – 2023 Update
Get a salon-like finish at home with these chip-resistant and fast-drying gel polishes.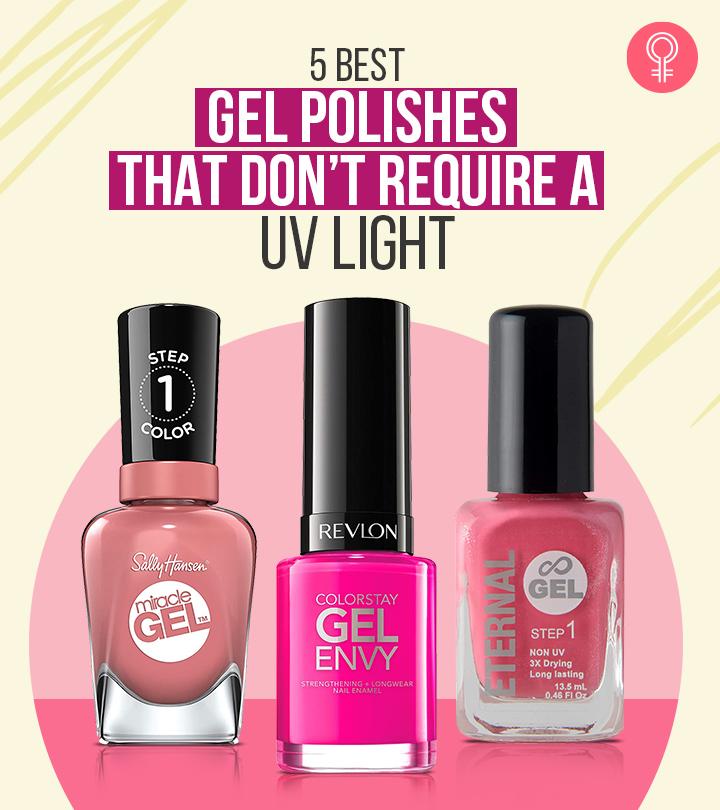 The biggest advantage that comes from using the best gel polish without UV light is that you can easily get a salon-like manicure done right within the comfort of your home. We all know how challenging a DIY manicure can be. It takes time to shape your cuticles, trim your nails, apply your nail polish and the hardest part (seriously)— to wait and let it dry without smudging! And after all that hard work, you may just end up with chipped nails within a couple of days.
To save you from all this hassle, gel polishes have arrived. They last long, are super easy to apply, and the best part? They dry quickly, without needing a fancy UV lamp for drying. If you want to get one of these gel polishes, check out our curated list of the top 5 gel polishes that do not need UV light to set.
5 Best Long-Lasting Nail Polishes That Don't Require AUV Light
This professional-quality gel nail polish by Sally Hansen is long-lasting and can stay put for up to 8 days! It is formulated to be chip-resistant and is also fast drying. This polish comes in a gorgeous pastel mauve shade that suits all skin tones. It is perfect for formal or daily wear. This video review will help you understand more about the product.
Pros
Smooth application
Easy to use
Easy to remove
Sheer finish
Smear-proof
Cons
Price at the time of publication: $7.05
Revlon Color Stay Gel Envy offers rich and impeccable shine for up to 7 days without fail. It delivers a salon-like, high-impact finish. The nail paint is infused with shea butter and oils, which provide conditioning effects to the nails. Its wide-angle brush ensures easy application and smooth finish. The formula is self-levelling and dries into a smooth, hard finish. It is easy to remove and does not damage your nails. Pair this nail paint with the Revlon Gel Diamond Top Coat to add shine.
Pros
Smooth application
Dries instantly
Chip-resistant
Vegan
Cruelty-free
Cons
None
Price at the time of publication: $7.99
This salon-quality gel polish by Duri adds a vibrant shine to your nails! This gorgeous purple shade with a hint of lavender is super glossy, opaque, and provides full coverage. It is equipped with a unique wide-angle brush that gives you a smooth and bubble-free application. This polish also delivers a high-impact color, as it is infused with a built-in base coat.
Pros
Easy application
Vegan
Cruelty-free
Paraben-free
Formaldehyde-free
Formaldehyde resin-free
DBP-free
Toluene-free
Camphor-free
Triphenyl Phosphate-free
Xylene-free
Ethyl Tosylamide-free
Cons
Price at the time of publication: $9.49
This classic gel polish set by Essie is a must-have in your vanity. It gives you a salon-quality finish without the use of UV lamps. The top coat is equipped with a patent-pending curve nail hugging brush that gives you a seamless and precise color coverage. This fast-drying formula is super long-lasting and can stay for up to 14 days. It does not require a base coat but provides you a flawless and shiny finish. It can be removed easily and does not require any harsh scrubbing, soaking, or scraping.
Pros
Smooth application
Lasting-wear
Ergonomic brush
Self-levelling
Cons
Price at the time of publication: $22.88
This glossy nail color by Eternal Store comes with a top coat that ensures durability. It is a dermatologist-approved formula that is easy to apply and adds a superb mirror shine to your nails. What's more interesting is that you don't need acetone to remove this nail polish. It is soak-free and keeps your nails from getting damaged or dehydrated.
Pros
Scratch-resistant
Chip-resistant
Lasts long
Vegan
Cruelty-free
Paraben-free
Formaldehyde-free
DBP-free
Toluene-free
Camphor-free
Xylene-free
Gluten-free
Cons
None
With an abundance of gel nail polishes and brands in the market, gel polishes are increasing in popularity in the manicure world. With the various formulations, it gets hard to pick the right gel polish that is fit for you. Here are a few features to consider in order to select the best gel polish that does not require UV light.
How To Choose The Best Gel Polishes That Don't Require A UV Light
1. Ingredients
Nail polishes can have certain toxic ingredients, which affect your health, as well as the environment. Make sure to stay away from toxic ingredients like:
Formaldehyde: This may also be listed as formalin or ethylene glycol and is the common cause of asthma, nausea, and even cancer.
DBP: DPB formulas in nail polishes, can help reduce chipping but are connected to several side-effects like organ damage and endocrine disruption.
Toluene: Toluene has harmful fumes, which can cause problems like impaired breathing, neurological damage, nausea. and even hearing damage.
2. Production Date
Usually a gel polish has a life of up to 3 years. Choosing a gel polish with an early production date, will have a harder and thicker texture, which can ruin the blushing effect. It is best to choose a gel nail polish, with a late protection date.
3. Brush
The ideal gel nail polish brush is flexible, slim, and spreads the polish throughout your nails evenly and easily. Avoid thick or wide brushes, as the nail polish can bleed during application.
4. Consistency
Choose a gel polish with a moderate consistency. If the polish is dripping too fast, it means it has a low consistency and if it is too slow, that means it will be too thick and hard to apply.
5. Coating Layer
The ideal gel nail polish gives an even coating over your nails, and provides some elasticity. It should also be highly pigmented, in order to provide flawless coverage. Also make sure the coating is smooth, and does not cause any wrinkles, bubbles, or shrinkage.
6. Gloss And Shade
One of the main pointers in choosing a gel polish is the color and the shade. Yet, it is hard to determine the color by looking at the shade online, as the picture and lighting can create a slight color difference. Check for reviews online to get an idea of the exact shade. Also, take into consideration the gloss of the gel polish. If the nail polish has a good gloss, it means that the polish has superior quality raw materials.
Why Trust StyleCraze?
Baishali Bhattacharya is a product writer and holds a certification in makeup artistry. She's also a certified image consultant and a nail art fanatic who makes sure her readers get the best product suggestions. For this post, Baishali picked some of the best gel polishes for nails that don't require UV-light processing after carefully analyzing user feedback on multiple forums. She has also included a detailed description of each product to help you pick the best.
Frequently Asked Questions
Can you use gel polish without UV light?
Yes, you can use gel polish without UV light. But make sure you are using a gel polish formula like the ones mentioned above, which do not require UV drying.
How long is non-UV gel nail polish supposed to last?
Non-UV gel polishes can last up to 1 week without chipping.
Does gel polish harden without UV?
Yes, you can harden gel nail polish without UV light. Alternatives include using a drying agent like a cooking spray or putting your nails in ice water. You can also sit under the sun to dry your nails.
Can you air dry gel nail polish?
No, it is not recommended to air dry gel nail polish. Air does not let the molecules in the gel bind together, which further stops the nail polish from hardening.
Recommended Articles