13 Best Agility Ladders For Speed Training – Reviews & Buying Guide
Get rid of all the unnecessary calories by performing more effective cardio exercises.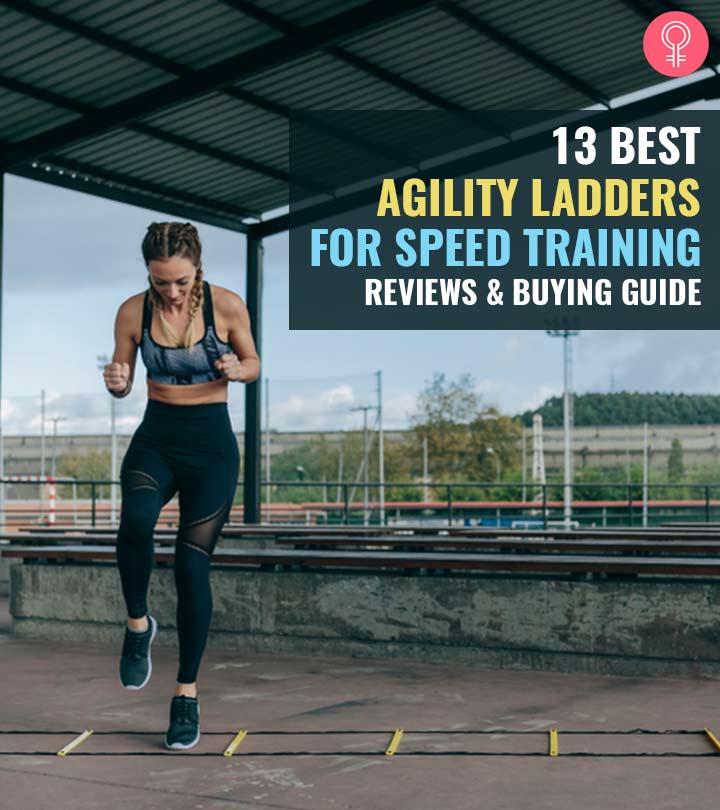 The best agility ladders are made for fitness enthusiasts to get their hearts racing by doing various agility drills. This piece of equipment notably improves one's footwork, agility, coordination, and balance. It's also a great way to burn calories and strengthen joints and ligaments. With a plethora of agility ladders out there, it can seem overwhelming, when it comes to purchasing. To help you out, we have compiled a list, from which you can choose the one that suits you the best.
Top 13 Agility Ladders To Boost Your Fitness Levels
This agility ladder is available in three different lengths and has three options for the number of rungs. It is lightweight, and the rungs are made of durable plastic. All the rungs can be adjusted up to 15 inches for high-intensity training. It comes with a carrying bag, so it is easy to carry and store.
Specifications
Length: 11, 15, 25 feet
Number Of Rungs: 8, 12, 20
Pros
Durable plastic rungs
Adjustable
Available in multiple sizes
Heavy-duty nylon straps
Storage bag
Cons
The rungs do not lie flat on the floor.
This is a 15 feet long and 17-inch wide agility ladder. The design is called the Quick Ladder. This agility ladder comes in yellow and black colors, the combination that is usually used in competitions. It has 11 heavy-duty plastic rungs. The straps are made of durable nylon. You can use it to improve your acceleration and lateral speed while maintaining balance and body control.
Specifications
Length: 15 feet
Number Of Rungs: 11
Pros
Durable
Good quality
Comes with a storage bag
Lies flat on the ground
Cons
Does not stay in place when used indoors (best for outside use).
This is an extremely compact agility ladder. It has 12 rungs, each measuring 16.5 inches in length. This is a versatile ladder. The space between the rungs can be adjusted up to 15 inches. Even the nylon straps can also be adjusted to meet your workout demands. It's easy to carry and comes with a storage bag.
Specifications
Length: 20 feet
Number Of Rungs: 12
Pros
Durable material
Adjustable straps
Extra metal buckles (to connect with another ladder)
High-density nylon straps
Cons
Tends to tangle in the storage bag
The distance between straps is not pre-adjusted
The Ohuhu Agility Ladder is made with high-quality PP material. It is durable and designed in a way that the ladder will last for years. This 19 feet ladder has 12 rungs, and each is set up at a distance of 15 inches. The rungs can be moved and changed as per your needs. This ladder is available in multiple lengths.
Specifications
Length: 19 feet
Number Of Rungs: 12
Pros
Multiple length options
Adjustable rung distance
Comes with a carrying bag
Durable PP material
Lasts long
Perfect for all types of training
Cons
If you want a complete set for improving your agility and speed, then go for this set. The set includes a 15 ft long agility ladder and 12 disc cones, 4 metal ground anchors, and a  zipper storage bag. This is a professional-grade agility ladder. Both the ladder and the cone set are heavy-duty.  The ladder has thick and durable rungs with riveted straps. The rungs are pre-spaced, and the straps are tangle-free.
Specifications
Length: 15 feet
Number Of Rungs: 12
Pros
High-quality material
Storage bag
Pre-spaced rungs
Tangle-free straps
Two free agility drill e-books
Cons
Many users didn't get the free e-book (check before you order).
This is an all-weather adjustable agility ladder that you can use at home or outdoors. For outdoor use, the ladder has rust-resistant pegs that help you secure it on the grass. The set also includes an illustrated double-wall chart that shows footwork drills for agility for each fitness level. The set includes 8 drill cones and a carry bag with ample storage space.
Specifications
Length: 20 feet
Number Of Rungs: 12
Pros
Set of cones and ladder
Comes with a chart of exercises
Adjustable rungs
Rust-resistant pegs
Heavy-duty nylon straps
Cons
The straps get tangled easily.
This 15 feet long agility ladder comes with multiple options for the number of rungs. You can pick between 8, 12, and 20 rungs, whichever number of rungs you need to match your fitness level. You will also get a free E-book and a carry bag. The e-book is a 12 page (PDF) book containing instructions on how to use the agility ladder. It also has a 30-day replacement warranty and 2-year warranty along with lifetime customer support.
Specifications
Length: 15 feet
Number Of Rungs: 8/12/20
Pros
Made with heavy-duty PP material
Heavy-duty plastic rungs
Carry bag
Free E-book
2-year warranty
30-day replacement warranty
Cons
Straps get twisted easily.
This is a complete fitness set for improving your speed, resistance, and agility. It includes a 20 feet adjustable agility ladder, 6 disc cones, 1 resistance parachute, 4 stakes, and a storage bag for carrying all this equipment. The resistance parachute helps build strength while you are running or training. If you are into sports like football, basketball, and softball, this set can be extremely helpful. The parachute fits waists up to 41 inches.
Specifications
Length: 20 feet
Number Of Rungs: 12
Pros
Resistance parachute
Drawstring storage bag
Compact
Good quality
Cons
The ladder gets tangled while adjusting.
This high-quality agility ladder is ideal for all athletes and is also suitable for beginners. The set includes 1 carry bag, 4 pegs, and an exercise book containing instructions for 12 exercises for speed training. It is made of durable material and offers a 1-year warranty.
Specifications
Length: 4 feet
Number Of Rungs: 12
Pros
Durable
Carry bag for storage
Adjustable
Sturdy rungs
Cons
Adjusting the distance between the rungs is a bit tough.
This set of agility ladder and cones is ideal for beginners and professional athletes. The set has 10 premium quality cones and 4 metal pegs. The 12 rungs are pre-assembled, easily adjustable, and do not tangle. The ladder is made with high-quality plastic and straps. The ladder has enough weight and doesn't slide easily during the workout.
Specifications
Length: 20 feet
Number Of Rungs: 12
Pros
Durable plastic rungs
High-quality nylon straps
Comes with a carry bag for easy storage
Cons
The quality of the pegs or spikes is not that great.
This  agility ladder measures just a little over 22 feet and has 13 rungs at a distance of 15''. The rungs are adjustable to suit your needs. You can use this ladder to improve leg strength, balance your body, agility, and accelerate your speed. This ladder is made of high-quality PP material and comes with a carry bag for easy storage.
Specifications
Number of rungs: 13
Length: 9 feet
Pros
Durable nylon straps
Flexible rungs
Easy to fold
Carrying bag
Cons
None
The set includes an agility ladder, a speed chute, 4 adjustable hurdles, 12 disc cones, 4 steel stakes, and a drawstring bag for storage. The entire set can be used for improving agility, speed, building strength, balance, and footwork. The parachute is made of compact polyester and has a nylon webbing belt for providing resistance during running. The rungs of the ladder can be easily adjusted to meet your training needs.
Specifications
Length: 45 feet
Number Of Rungs: 8
Pros
Speed resistance training parachute
High-quality polyester and PVC ladder
Adjustable straps
Cons
Ladder needs to be assembled.
The XGEAR Speed Agility Training Set contains everything that you will need to start training. It comes with a TPE Agility Ladder, 1 resistance parachute, 12 disc cones, 4 steel steaks, and 2 drawstring bags. The agility ladder is made with TPRE material and is flexible and adjustable. It has tangle-free straps that you can secure in place with rust-resistant metal pegs for uninterrupted training. The parachute can be secured with a heavy-duty adjustable nylon belt and is 52 inches in diameter. It can be used by anyone who is involved in any kind of sports and wants to improve their strength and agility.
Specifications
Length: 13 feet
Number Of Rungs: 9
Pros
Comes in a complete set
Flexible and durable TPE rungs
Heavy-duty nylon straps
Snaps at the end of the straps to attach another ladder
Durable
Cons
The parachute may not provide enough resistance.
Agility ladders are easily available and not very expensive. Before you pick one, look for a few factors to ensure you are buying the best product.
Things To Check Before Buying An Agility Ladder
Usually, all agility ladders are of the same height. However, the number of rungs might differ – between 8 to 15 rungs. The more the rungs, the smaller the space between them. A ladder with less number of rungs is ideal for beginners.
A good agility ladder is made of durable material with strong straps. The rungs should be made of strong plastic so that they do not snap.
Check whether the ladder can be attached to the ground or not. This is to make sure that it stays in its place during training.
Check if the space between the rungs can be adjusted. This will help you add versatility to your training routine.
An agility ladder is not a complex tool to use. But if you are using it for the first time, keep the following tips in mind.
A Few Tips To Consider Before Use An Agility Ladder
Lay the agility ladder properly on the ground before you start exercising. Make sure the distance between the rungs is perfect for you.
Stretch before exercising. This helps prevent any injury.
Start slowly. Do not increase your speed all of a sudden when using agility ladders. Start at a relaxed pace and gradually increase the speed.
Frequently Asked Questions
What muscles do agility ladders work?
It depends on what type of drills you are doing. You can use agility ladders to target the abs, lower back, quadriceps, triceps, biceps, calves, glutes, hip flexors, and hamstrings.
Recommended Articles