8 Best Jimmy Choo Perfumes That Hit All The Right Notes
Create a long-lasting impression with these seductive, vibrant, and divine fragrances!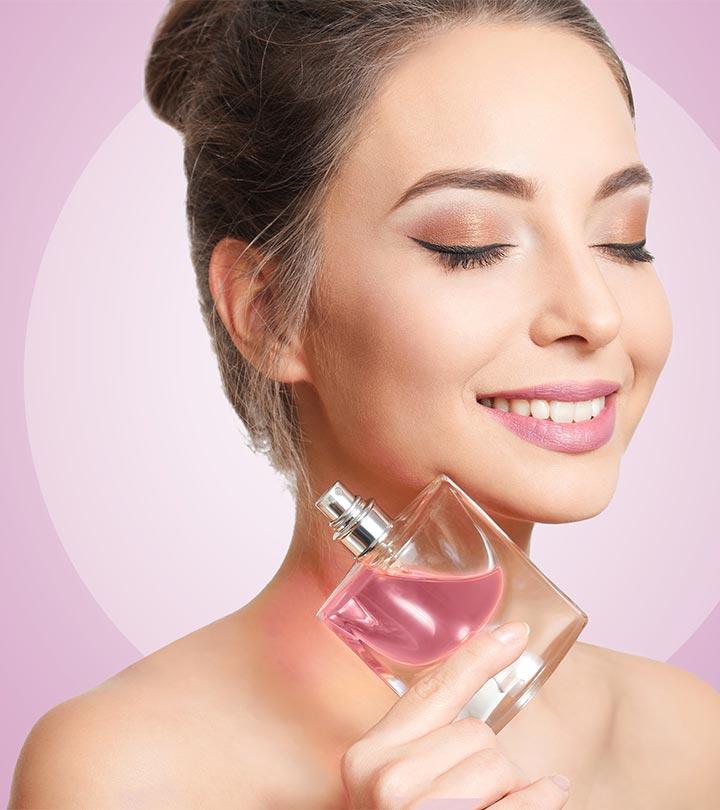 Perfumes often reflect your personality. They might have a sweet floral scent to a woody fragrance, but they help uplift your mood despite their kind. The best Jimmy Choo perfumes come with divine fragrances offering a long-lasting stay. They are intoxicating and vibrant and strike a perfect balance between freshness and sensuality. The perfumes are crafted with a beautiful blend of natural ingredients to provide a unique scent.
The celebrity-endorsed Jimmy Choo brand offers perfumes for both women and men. They come in a uniquely and beautifully designed glass bottle. The rich fragrance makes you feel fresh and confidently carry on with your day. However, selecting a perfect fragrance that matches your preferences is a personal journey. Finding the right fragrance can be challenging when we have a wide collection of fragrances on the market. In this article, we have curated a list of some awesome Jimmy Choo perfumes that can create a long-lasting impression. These perfumes have all kinds of fruity, floral, and woody scents. Keep scrolling to check them all out!
8 Best Jimmy Choo Perfumes You Must Add To Your Cart Right Away
Taking a page from the book of timeless floral fragrances, this signature scent of Jimmy Choo was birthed, with fruity top notes of pear and Italian orange blossoms harmoniously mixed with bottom notes of toffee and Indonesian patchouli, this exquisite and latest Jimmy Choo perfume is tied by the powerful notes of Tiger orchids. This signature perfume is an ideal pick for a day out with your soulmate; it ensures you smell your best at all times with moderate sillage. Enveloping you in warm blends that are warm, rich, and carnal, each spritz of this sensual fragrance will transport you to a mystical wonderland.
Pros
Fruity, rich fragrance
Long-lasting
Not overpowering
Value for money
Cons
The fragrance may be too light for some.
Trust us when we say you cannot miss out on this ethereal, fresh fragrance that has gained itself a prized position on our list of the 8 best Jimmy Choo perfumes of 2023. Starting with ginger and bitter orange notes, it reveals a hypnotic scent of rose and sambac jasmine. Ideal for the woman on the go who wants her perfume to surround her all day, the aroma of this floral Jimmy Choo perfume settles onto the skin with a honey-amber and sandalwood mix. Intoxicating and incredibly inviting, several reviewers attest that this feminine fragrance will ensure you are flooded with compliments every time you decide to take this one out for a spin.

Pros
Not heavy
Floral, musky notes
Sophisticated scent
 Ideal for all occasions
Cons
Capturing the spirit and exquisite sensibilities of the modern women, this fragrance adds depth and character. A perfect companion for all your wild nights in the town, this nighttime perfume is not for the faint-hearted. This is one of the best romantic feminine fragrances that encapsulates the scent of black plum nectar, the fragrance settles into a bold, vibrant and deliciously sweet fragrance of tonka beans. Strung together by the heart notes of heliotrope, this addictive perfume for women with a heavy sillage will have you and everyone around you captivated.
Pros
Long lasting
Perfect nighttime perfume
Bold, vibrant, and sweet
Juicy notes
Cons
May be too sweet and heady to some
Are you tired of reaching into your handbag to touch-up your perfume? Well, bid farewell to this menace forever! Equal parts fun and feminine, this Jimmy Choo blossom perfume lasts you through your morning meetings, and all the way through your awaited dinner. Opening with prominent notes of light yet lasting red berries, it flourishes into a tempting blend of white musk and sandalwood. At its heart are notes of roses and sweet peas that will have everyone going "wow". Reviews on online forums suggest spraying this classic fragrance on your pulse points, and you're good to go from day to night.
Pros
Ideal for night and day
Lasting scent
Fruity and playful
Travel-friend size
Cons
May not be the best choice for colder months
Taking inspiration from the audacious and spirited moments of life, this Jimmy Choo pink perfume evokes feelings of love and happiness. This soft, delicate scent for spring ensures an unforgettable experience. It has top and heart floral notes of bergamot, hibiscus flower, nectarine, and peony flower. This authentic Jimmy Choo perfume has a captivating fragrance that is perfect for perfume enthusiasts as it settles with musk and cedarwood base notes that are a vanity bag essential! Reviewers with sensitive skin highly recommend this perfume and its soft, non-powdery scent is all you need when you're heading out to win hearts!
Pros
Non-powdery
Soft, delicate scent
Safe on sensitive skin
Subtle yet empowering scent
Cons
Some may find the scent a little too musty for their liking
They say looks can be deceiving, but this isn't true for the I Want Choo by Jimmy Choo.  Tabatha Farnel, a fragrance expert, says, "I Want Choo by Jimmy Choo is a sweet, peachy, and creamy vanilla fragrance that has been steadily growing in popularity since its release." This is one of the best celebrity fragrances and its elegantly shaped haven of a bottle encapsulates one of the most enchanting fragrances made from notes of vanilla and the uplifting and delicious fragrance of jasmine sambac. Before bursting into a fruity fragrance of sparkling mandarin juice and velvety peach, it playfully whisks you away for a moment with the scent of red spider lilies. Ideal for the day and night, add this one to your neck, behind your ears, and other perfume points for a scent that never disappoints.
Pros
Ideal for the day and night
Can be layered with other scents
Subtle, airy fragrance
Lasts a long time
Cons
May not be too potent for some
It wouldn't be fair to the world if we left out this floral Jimmy Choo perfume from our list of the 8 best ones of 2023. Taking inspiration from the beauty and eternal glory of blooming flowers, this one comes with opening notes of tangerine and bergamot combined with sweet pea and apricot blossom middle notes. This aromatic fragrance ends with woody notes that make it ideal for the winter months.

Pros
Floral scent
Woody notes
Ideal for gifting
Suitable for winter months

Cons
Might need to be reapplied frequently
Last on our list of the 8 best Jimmy Choo perfumes is this pretty little fragrance that opens with lychee and grapefruit with the base being sandalwood and tonka bean. The captivating scent is the perfect embodiment of living in the moment, this hits all the notes of a strong and radiant floral scent. Just spray a whiff of this feminine scent in the morning and we're sure you'll be smelling it way past bedtime.
Pros
Long-lasting
An indulgent fragrance
Ideal for the day and night
Suitable for all seasons
Cons
May not be the one for you if you have irritated skin
*The prices provided in this article are based on the latest available information. However, they may vary due to changes in pricing by the seller and/or promotional offers.
And there you have it! Our list of the 8 best Jimmy Choo fragrances! If you're still unsure on how to settle on your next purchase, keep reading as our buying guide has all the information you need and more.
How To Choose Your Next Jimmy Choo Perfume
If you're like every other woman on the planet, you too hate reaching for your bag to rewear your perfume. Lucky for you, most Jimmy Choo perfumes are perfect for fragrance lovers as the scent is expertly crafted with premium ingredients that ensure your perfume lasts long. However, some do miss the mark, leaving you disappointed. As a safe bet, Jimmy Choo Signature Eau De Parfum and Jimmy Choo Blossom are both incredible options if lasting perfumes rank high on your list.
The best Jimmy Choo colognes and perfumes all range from being floral, to fruity, musky, woody, and more. Depending on your personal scent preferences and likes, you can add one to your existing fragrance collection. If you're a fan of floral scents, you can select the Jimmy Choo Illicit Eau De Parfum Spray. This is one of the best scent profiles that contains inviting aromas of jasmine and rose that will make it your perfect match. If you'd rather go with a fruity fragrance, we suggest you grab the Jimmy Choo Fever perfume that contains black plum nectar.
Why Trust StyleCraze?
The author, Priyam Gupta, is a makeup enthusiast with a keen interest in beauty products. As any look is incomplete without a spritz of perfume, she has undertaken the quest to uncover the best Jimmy Choo perfumes. She has done in-depth research on the different perfumes from this brand by going through product specs, compositions, fragrance profiles, and user reviews to curate this shortlist. These intoxicating and vibrant perfumes are crafted with a beautiful blend of natural ingredients to provide a divine scent with a long-lasting stay.
Frequently Asked Questions
Which Jimmy Choo perfume smells the best?
Wish we could answer this for you, but unfortunately can't because purchasing a perfume depends entirely on your likes and dislikes! Whether you want a fruity or oriental fragrances, light and inviting or potent and long-lasting, Jimmy Choo offers a wide range that won't let you down.
Is Jimmy Choo perfume any good?
Absolutely! Touted to be the crème de la crème of fragrances, they are made of premium ingredients.
How long do Jimmy Choo perfumes last?
Jimmy Choo perfumes last anywhere between 6-18 hours.
Are Jimmy Choo perfumes cruelty-free?
No, Jimmy Choo perfumes aren't cruelty-free.
How many Jimmy Choo perfumes are there?
There are over 35 Jimmy Choo perfumes
What age group is Jimmy Choo perfume for?
Jimmy Choo perfumes are suitable for all ages.
Is Jimmy Choo perfume a luxury brand?
Yes, Jimmy Choo is a leading luxury perfume brand. This UK-based brand is widely known for catering to women' needs worldwide. Their fragrances add to the strength, glamor, and appeal of a woman.
What's the difference between Jimmy Choo perfume and toilette?
The Jimmy Choo perfumes last longer than the toilettes because the Eau de toilettes have lower concentrations of fragrance oils and higher concentrations of alcohol, making them evaporate faster.
Recommended Articles: