11 Best Patchouli Perfumes That Smell Amazing – 2023
These unique and versatile perfumes must find a place in your fragrance collection.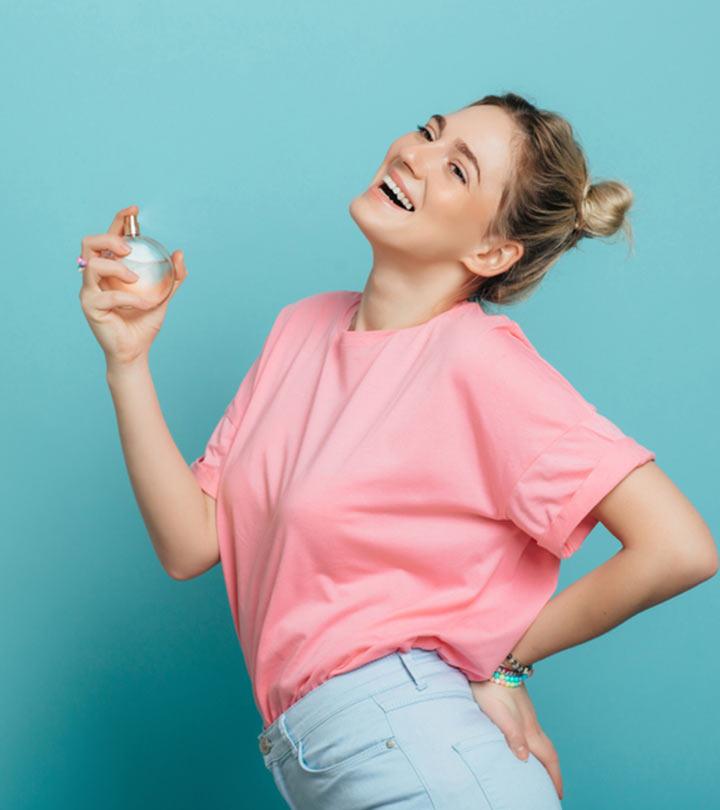 Patchouli perfumes are famous for their signature 'musky-spicy-sweet' scent. Because of their earthy notes, they are a hit among men. However, their sweet and spicy hints make them a favorite among women too. Just a few sprays or dabs of this fragrance can make you feel fresh and leave you with a lingering sweet-musky note. They also have a chic minty undertone that intoxicates your nostrils, leaving you wanting more! You can pair patchouli perfumes with other fragrance sprays, mists, oils, and perfumes. Their deep earthy fragrance blends very smoothly with other ingredient notes like vanilla, orange, pine, and many more. Some people also say that they have that wonderful smell of wet soil after a rainy day.
So if you're a fragrance fiend, you know that a patchouli perfume is a must-have. Scroll down and take a gander at the 11 handpicked patchouli perfumes curated specially for you.
We're Absolutely In Love With This Range Of Patchouli Perfumes!
The Pacifica Himalayan Patchouli Berry Micro-Batch Perfume is a blend of scents including grapefruit, white patchouli, sugar notes, and geranium. Infused with natural and essential oils, this fragrance is completely free from toxins, parabens, and petroleum. The micro-batch perfume is hand-poured using the grain-derived natural, plant-based alcohol, making this vegan and cruelty-free product an absolute fragrant wonder. Rest assured, you can count on the explosion of mesmerizing scents that this patchouli berry perfume has to offer. Click here to check out this YouTuber's unbiased review.
Pros
100% vegan
Cruelty-free product
Contains essential oils
Made from corn-based alcohol
Does not contain parabens, phthalates, and petroleum
Cons
Some may find the perfume to be a bit watered down.
Unlike ordinary perfumes, the Clinique Aromatics Elixir Perfume Spray is an intriguing classic designer fragrance crafted especially for women. Subtle, yet enough to make a statement, this perfume spray has top notes of chamomile, clary sage, coriander, geranium, Brazilian rosewood, and bergamot blend to name a few. Its base notes are patchouli, oakmoss, incense, vetiver, sandalwood, and musk which give you a fresh and woody scent. This women's perfume with patchouli is often an important ingredient in all perfumes with chypre or citric top notes. Here's a video that details the tester's experience of using this product.
Pros
High-quality product
Can be worn all-year-round
Has a long-lasting citrus perfume top note
Subtle scent
Cons
It may not be suitable for sensitive skin types.
The RASASI Daarej Pour Femme Eau De Parfum is crafted for the lady who wishes to smell subtly fruity and floral. With a unique top note of bergamot, orange, green notes, and peach, and base notes of patchouli, sandalwood, amber, vetiver, caramel, and musk, this energetic, oriental perfume comes in a classy bottle that captures the eye. With the romantic middle notes of lily, jasmine, tuberose, heliotrope, and orchid, this everyday wear perfume will leave you feeling dreamy and relaxed. It is probably the best perfume for summer. Click here to check out a detailed take of the reviewer's experience with the product.
Pros
Undertones of patchouli
Subtle fruity and floral fragrance
Can be used daily
Unique top note with orange and peach
Great gifting option
Cons
The fragrance may not linger for too long.
This celebrity-endorsed brand's perfume- Tom Ford White Patchouli is a chypre floral fragrance, specially crafted for women. The modern and chic scent has base notes of patchouli, incense, and woody notes that truly capture elegance and sophistication. With sleek and fresh middle notes of musk mallow, notes of rose scent, and jasmine blend and top notes of white flowers, coriander, peony, and bergamot, this floral blend has a retro-classic touch that leaves a lasting impression.
Pros
Chypre floral fragrance
Has top notes of white flowers and bergamot
Bohemian, chic scent
Lasting effect
Cons
It may not be suitable for sensitive skin types.
The Reminiscence Patchouli Eau De Toilette has an oriental woody fragrance crafted for women. Launched in the 1970s this scent is infused with a blend of patchouli, sandalwood, vetiver, vanilla, tonka bean, labdanum, tolu balsam, and musk. Not only is this perfume spray suitable for sensitive skin, but it also has a lasting and comforting scent. With essential oils of Virginia cedar, this scent has an amber undernote that can be worn all-year-round.
Pros
Oriental woody fragrance
Suitable for sensitive skin
Contains essential oils
Can be worn all-year-round
Cons
The fragrance may be too intense for some.
The Reminiscence Patchouli Elixir Eau De Parfum Spray is a captivating scent that has a powerful oriental woody fragrance that immediately captures your attention. For the contemporary woman, this soft patchouli scent has top notes of Morrocan geranium and clove extracts, middle notes of tolu balm, tonka bean scent, and patchouli, and base notes of labdanum, sweet musk, and vanilla. Suitable for both men and women, this long-lasting fragrance is a blend of patchouli, inspired by the 70s. This one is a favorite among reviewers who absolutely love its lush fragrance and delightful feel!
Pros
Suitable for both men and women
Long-lasting fragrance
Smooth scent
Oriental woody scent
Cons
The Swiss Arabian Al Waseem is a dynamic blend of aromatic green and floral scents, crafted with warm and spicy notes. The perfume spray has base notes of cedarwood scent, musk, and patchouli in rich oil levels that make for the perfect 24-hour freshness that you need. The rich perfume comes from the Swiss Arabian range of exotic and concentrated perfumes, which are often based in Oudh. This oud perfume contains grass, lily, and white flowers as its top note that make this long-lasting scent with oriental elements the perfect blend for the modern-day gentleman.
Pros
All-day fragrance
Concentrated scent
Oriental fragrance
Cons
Some may find the scent too subtle.
The Molinard Vanille Patchouli Eau De Parfum is a perfume spray that is crafted for both men and women. A rich oriental and woody fragrance, this scent contains top notes of African orange flower, vanilla, and caramel, along with middle notes of patchouli and spices. The warm vanilla perfume has base notes of musk and sandalwood fragrance which may add to the depth of the scent without taking away from the stronger vanilla and patchouli.
Pros
For men and women
Deep scent
Lasts longer
Has an earthy fragrance
Cons
It may irritate your skin if applied directly.
The TerraNova Patchouli Perfume Essence is infused with essential oils that are known for their soothing properties when used in perfumes. The rich chypre scent has a woodsy and mysterious aura that is attractive and long-lasting. The subtle, yet definitive perfume has a sensual vibe that it gives off, as it leaves you smelling sublime all-day. So, add this perfume to your collection and get ready to leave a long-lasting impression with the beautiful notes. Reviews on online forums assert that the product exudes a pleasant patchouli scent that rejuvenates the senses and proves to be an ideal gifting choice!
Pros
Infused with essential oils
Has soothing properties
Long-lasting
Can be worn every day
Cons
Some may find the scent to be overbearing.
The Patchouli Garden Patchouli Love For Women is a velvety blend of quality ingredients like sweet and warm amber, sandalwood, vanilla, and jasmine. With 100% pure Indonesian patchouli essential oil as its base, this statement-making scent is soft, sensual, and long-lasting. Indulge yourself with this enticing earthly amber fragrance blend that comes in an aluminium bottle with a spray cap to feel the fragrance linger on your skin with every spray.
Pros
Smooth spray
Strong and long-lasting scent
Quality ingredients
Contains a 100% pure Indonesian patchouli oil base.
Cons
Some may find the perfume to be greasy.
The Acorelle Roll-On Perfume is a French fragrance that contains 100% natural oils and organic alcohol. The roll-on perfume is convenient to carry and is easily portable, so it's all the more reason for you to pamper your senses when you're on-the-go! With patchouli and labdanum essential oils, this sensual scent can be applied onto your skin with its massage ball that not only enhances the effects of the essential oils but also instantly lights up your mood. With top notes of labdanum, myrrh perfume, mid-notes of opoponax, and clary sage, and base notes of vanilla, amber, vetiver fragrance, and patchouli, you can stay confident and woke all day long.
 
Pros
100% natural ingredients
90% certified organic ingredients
Easily portable
Contains essential oils
No synthetic fragrance or phthalates
Cons
Some may find the consistency watery.
*The prices provided in this article are based on the latest available information. However, they may vary due to changes in pricing by the seller and/or promotional offers.
The stereotypical patchouli scent was associated with the hippie trend in the past, but a lot has changed since they have been included in perfumery. Now that you know about the best patchouli perfume brands available in the market, you can choose one that you think will match your needs. The best patchouli perfumes are loaded with health benefits and leave you feeling strong and confident. Take a look at our buying guide to help you figure out which perfume to choose!
How To Choose The Best Patchouli Perfume?
Choose your patchouli perfume based on the seasons. Some fragrances are more prominent for summers, while some others for winters. The perfect time to wear a patchouli-based cologne is between the seasons of fall and spring. It may be sufficient in the summer, but the warming notes and full-bodied scents of patchouli are better enjoyed in colder seasons. Patchouli is seldom mild, even if it isn't the main note.
Feminine scents and fragrances are usually associated with women's perfumes, whereas masculine scents are associated with men's perfumes. Typically, men's perfume fragrances are aromatic, citrus, oriental, woody and the fragrances for women fall under floral, citrus, chypre, and oriental categories. Patchouli is considered an androgynous fragrance that falls under the woody-oriental category and can be used by both men and women.
All types of scents can be categorised into 3 types based on their concentration. Perfumes and eau de cologne, which have the highest concentration are followed by eau de parfum, and eau de toilette, with the lowest concentration. While perfumes and eau de parfum are ideal for grand occasions, parties or social events, eau de toilette and eau de cologne are ideal for daily use.
Warm, sweet, and a little spicy, oriental scents are exceedingly pleasing to the senses. Oriental fragrances are a more opulent fragrance family that includes floral oriental, soft oriental, and woody oriental scents. This fragrance family is rich and sensual, with notes of cardamom, cinnamon, vanilla, jasmine, orchid, and orange blossom, as well as sandalwood, patchouli, resin, and spices, making it appropriate for both men and women.
Perfume often gets intertwined with our natural odors and, as a result, the perfume's scent is influenced by our skin's pH value, skin type, and hormones. When choosing a patchouli perfume, make sure that you select one depending on your skin type. You will find that almost all perfumes fit oily skin types. Citrus, peach, and zesty orange scents are your best bet if you have oily skin. If you have sensitive skin, it is important to avoid chemical fragrances and instead opt for natural scents or essential oil-based perfumes. Winter perfumes with woody scents offer exceptional results and are best suited for dry skin types.
While patchouli makes for an amazing element in perfumes for its captivating aroma, there's so much more to it than just being a pleasant fragrance. With that said, scents with notes of patchouli have health benefits that you should probably know of.
Health Benefits Of Patchouli 
Actual patchouli has been known for its numerous health benefits including being an effective antidepressant, which is why it is often used in aromatherapy to treat stress-induced depression.
Patchouli oil is proven to be beneficial for treating skin irritations and inflammations. It also has antiseptic properties that aid in treating wounds and preventing further infections.
As an essential oil, it helps dry up cuts and wounds while also helping your skin barrier by eliminating scars and fading away any marks left behind by acne, boils, or other difficult skin conditions.
As an astringent, patchouli essential oils have anti-aging properties to prevent the loosening of the skin. It aids in the regeneration of skin and keeps you looking healthy and young.
The Bottom Line
Why Trust StyleCraze?
Srijita De is a makeup and fashion enthusiast. She loves to experiment with different fragrances that make one feel fresh and confident. Chaitra read numerous online reviews and customer feedback to compile a list of the best patchouli perfumes available on the market. All the fragrances she curated in the list are subtle yet long-lasting and can be used throughout the year.
Frequently Asked Questions
Can you wear patchouli oil as a perfume?
While you may use patchouli oil as a perfume, you may not get the desired results as patchouli oil is very subtle.
What are some of the most exotic patchouli fragrances?
Patchouli leather perfume, spicy vanilla perfume, and gourmand fragrance are among the most exotic patchouli fragrances.
Recommended Articles
Great-Smelling Chypre Perfumes To Keep You Fresh
Best Spicy Perfumes That Are Simply Oriental Yet Supremely Exotic
Best Sandalwood Perfumes To Check Out
Best Solid Perfumes For Long-Lasting Freshness