11 Best Estee Lauder Perfumes To Keep You Smelling Divine In 2023
Spray these luxe fragrances and surround yourself with their invigorating aroma.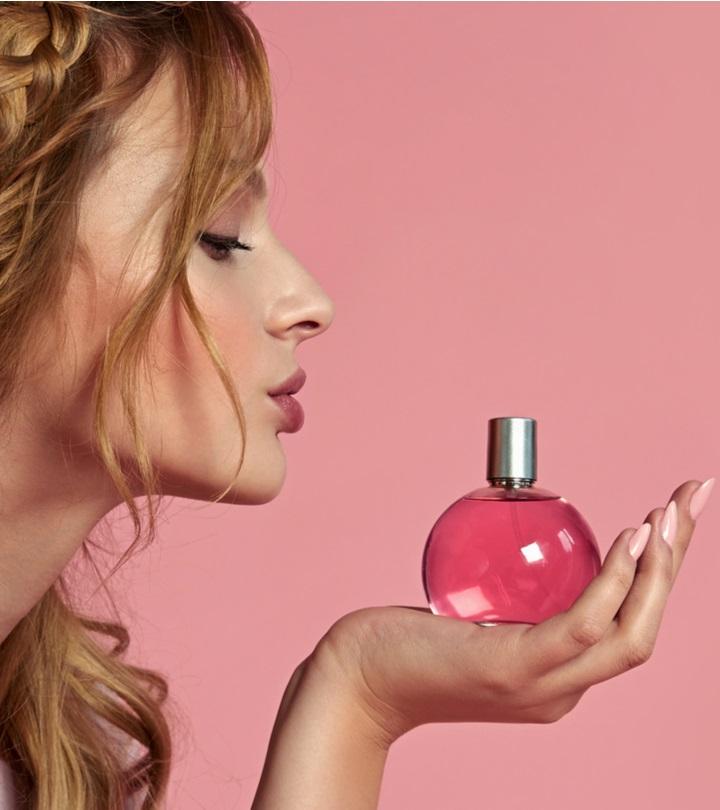 A lavish-smelling aroma can thoroughly change your whole mood and presence. An example of such a fragrance would be in the shape of a bottle of the best Estee Lauder perfume. Offering an insight into your character, a great aroma can be your best adornment. However, let's be honest — the aroma has to be sublime, just anything ordinary simply won't be enough. For instance, a vintage aroma can make you nostalgic and bring back old recollections, or a tropical fragrance can cause you to feel like you're at the sea with its invigorating scent. Since fragrances have the capacity to both raise our state of mind and transport us to otherworldly places, it is important to pick them wisely. Regardless of whether you need a botanical, tropical, musky, woody, oriental, citrusy, or even vanilla-based scent, you can get an Estee Lauder perfume that's the perfect match. Perfectly packaged with painstakingly formulated fragrance profiles, all Estee Lauder aromas and colognes can win over your heart with their great and dependable wear. Simply apply a bit on your warm pressure points before you head out for any significant occasion, and you are ready! We've collected 11 of the top Estee Lauder perfumes to make it more straightforward for you to pick a favorite.
11 Best Estee Lauder Perfumes For A Divine-Smelling Sillage In 2023
There's no way you won't come across this pick when scrolling through an Estee Lauder perfume list. The joyous feeling you get when skipping around on a warm sunny day is bottled in the Estee Lauder Pleasures perfume. The elegant floral scent is airy, almost whimsical with a blend of white lily, violet leaves, and green accents on top. As the top notes fade to make way for heart notes, you can't help but notice the sweetness of pink and baie roses, jasmine, white peony, black lilac, and karo-karounde blossoms. To add some warmth to this scent profile, sandalwood and patchouli make an appearance and elevate the senses. The Pleasures Estee Lauder perfume is one of their best-selling options and you can spritz this perfume by Estee Lauder for an instant boost of positivity. In this YouTube video, you will find a detailed review of this product.
Pros
Sweet floral fragrance
Sandalwood adds a woodsy touch
Ideal for nighttime events
Scent is not overpowering
Perfect scent for spring months
Cons
Price at the time of publication: $61.99
One of the first ever Estee Lauder fragrances, Youth Dew is a warm oriental scent that is ideal for when you want to spice things up. No, literally! This Estee Lauder classic perfume combines rose, lavender, and jonquil with middle notes of jasmine, muguet, and wait for it, spices! To aid this naughty twist come along moss, vetiver, and patchouli to seal things up with a sexy aroma. Not only is this captivating Estee Lauder jasmine perfume perfect for a sensual feeling, it amps up your confidence, so you can feel like the boss you are. Check out this video on YouTube for a detailed understanding of the product.
Pros
Suitable for evening wear
Rich spices add a twist
Oriental and warm fragrance
Perfect for gift-giving
Long-wearing
Cons
Some people may find the scent to be overpowering
Price at the time of publication: $37.9
When you're browsing for Estee Lauder perfume names, there's a slim chance that the Modern Muse won't be at the top! The sleek bottle designed to replicate the powerful aura of the modern, independent woman houses a floral-woody hybrid that doesn't disappoint. A spritz reveals jasmine in its full glory with a hint of mandarin orange. The jasmine goes on to have an affair with the rest of the flowers in this scent profile like the honeysuckle, tuberose, or lily. For an added essence of warmth, you will find amber wood and soft musk that complement the sweetness perfectly. You will also notice the scent of musk, vanilla, and patchouli lingering in the air, making sure you've made your mark. Be ready to receive compliments wherever you go with this Estee Lauder new perfume. If you want to know more about this product, check out this video on YouTube.
Pros
Balances shy florals with woodsy ones
Vanilla adds a tinge of sweetness
Ideal for year-round wear
Subtle and pleasant
Cons
Price at the time of publication: $79.19
We believe the perfect day involves lounging around in clean, freshly-washed sheets on a sunny Saturday morning. The carefree feeling you have, aided by a floral scent is what this Estee Lauder perfume for women captures in a beautiful bottle. As soon as the Bulgarian rose, jasmine and muguet fade away, you're introduced to violet and orris, which lie in the warm embrace of amber, moss, and vetiver. Not only will this Estee Lauder women perfume make you feel elegant, it also brings about a sense of calm. Wear this vintage Estee Lauder perfume before any stressful workday to keep you level-headed and fresh.
Pros
Fresh and crisp scent
Floral fragrance
Perfect for casual wear
Not overkill
Woodsy base notes balance the florals
Cons
May not be ideal for people looking for a conventional strong floral scent
Price at the time of publication: $54.97
If you're wondering what it feels like to bury your head into a huge bouquet of flowers, this Estee Lauder women's perfume is how. Perfect for romantic date nights, you'll find a blend of rose, tuberose, lily, mandarin, and marigold, which rests on orange flower, ylang ylang, jasmine and muguet. To make the sweetness of the florals a little warm, you can rely on sandalwood, amber and vetiver. Spritz this Estee Lauder ladies perfume on to feel sensual before a long night out with the one you love. Why wait to receive flowers when you can smell like them? The Beautiful Estee Lauder perfume can also be the perfect gift for the special women in your life.
Pros
Rich floral fragrance
Has slight woodsy notes
Ideal for date nights
Perfect for summer months
Long-lasting scent
Cons
Might be a little too heady for some people
Price at the time of publication: $58.99
One of the most alluring fragrances by Estee Lauder, Sensuous is perfect for when you're feeling bold but still want your feminine traits to shine through. To leave behind a warm and woodsy sillage, count on this scent that combines amber with molten woods. For that feminine kick, there are middle notes of jasmine, ghost lily, magnolia and ylang ylang. Sealing the deal with a luminous essence, you will find black pepper, sandalwood, honey, and mandarin orange pulp for that naughty and citrusy twist. Spray this tantalizing fragrance to channel your grace, charm and strengths – qualities that make you truly sensuous. This is definitely a crowd-favorite Estee Lauder perfume!
Pros
Perfect balance of floral and woodsy
Has a slight tinge of citrus
Ideal for winter months
Long-lasting fragrance
Smells clean and fresh
Suitable for day or night
Cons
Some people might find it to be a little strong
If you know, you know! Knowing, one of the best Estee Lauder perfumes, is a woody-floral hybrid scent that combines rose, tuberose, mimosa, plum, and pittosporum that gently lies on top of jasmine, patchouli, and orange flower. Warmly hugging these accords, you'll find oakmoss, vetiver, sandalwood, and amber. which add a brooding finish to an otherwise sweet smell. This classic fragrance feels like you're basking under the sun in a field full of flowers. We totally see why this is the one most popular Estee Lauder perfumes!
Pros
Ideal for evening wear
Lush floral scent
Woody notes balance the sweetness
Has a clean aroma
Lasts all day
Cons
Some may find the spray a little to musky for their liking
Price at the time of publication: $81.49
A little old-school floral never hurt anyone, as proved by this luxurious, beautiful Estee Lauder perfume.Top notes of honeysuckle, jasmine, and citrus mingle with orange flower, ylang ylang, and coriander for a fresh, earthy essence. Lying at the bottom are sandalwood and patchouli, which captivate the senses and help balance out the sweetness. You will find this classic scent to be somewhat of a treasure – you might not want to share it with anyone. And you know, what? Some things are best kept as secrets.
Pros
Suitable for year-round wear
Floral notes
Contains woody accents
Coriander lends a spicy and fresh smell
Long-lasting
Cons
May not be suitable if you're looking for something light
Price at the time of publication: $102.5
The surprising notes in the Estee Lauder perfume Beyond Paradise will transport you to a whole new world. Want to feel like you're at the ocean without actually stepping foot outside your home? Experience tropical intoxication like never before with blue hyacinth, Eden's mist, orange flower, templar, and jabuticaba fruit on the top. Lying patiently in the middle are laelia orchid, crepe jasmin, mahonia japonica, and pink honeysuckle to give you a sugar rush for the senses. At the base, natal plum blossoms, ambrette seed, zebrano wood, and golden melaleuca bark linger for an added woody zest. This exquisite and intriguing fragrance is going to turn heads no matter where you go, earning you showers of compliments!
Pros
Sweet-smelling floral fragrance
Fresh and clean scent
Underlying spice notes
Tropical and aquatic accents
Subtle and pleasant smell
Ideal for springtime
Cons
May not be very long-wearing
Price at the time of publication: $71
Embracing your femininity is a milestone that can be achieved with a luxurious spritz of your favorite fragrance. What better way to celebrate womanhood than by gracing your olfactory sense with a classic, Estee Lauder signature scent? Estee by Estee Lauder perfumes starts off by introducing notes of jasmine, rose, and muguet and paving the way for coriander, ylang ylang, and orris. And if you dig deeper, you're going to feel warm in the presence of sandalwood and moss that strike a complementary balance. In the Estee perfume by Estee Lauder, the vividness of the florals is mellowed down by soft and earthy undertones. Perfect for making a statement at day or night, wear this perfume to feel powerful and unleash your inner boss.
Pros
Warm floral scent
Woodsy undertones
Feminine, yet bold scent
Perfect for evening wear
Not overpowering
Cons
The scent may fade after a while
Price at the time of publication: $53.55
Even if you don't have a million dollars in the bank, you can definitely smell like it! A couple spritzes of this Tuberose Gardenia will leave you feeling luxurious and elegant, like the belle of the ball. The 2 main characters tuberose and gardenia come together wonderfully in this matrimony of the florals. Top notes of lilac, neroli, and rosewood combine with tuberose, gardenia, jasmine, white lily, and orange flower. A final greeting comes in the form of carnation and vanilla bourbon that ooze sweetness, so be prepared for a sugar rush! These rich and lush florals are high-quality and timeless, best worn for a night out. Leaving your fragrant trail behind is the best way to remain unforgettable, don't you think?
Pros
Rich floral fragrance
Long-lasting
Ideal for nighttime events
Suitable for winters
Cons
Price at the time of publication: $64.98
Now that we've gone over the best Estee Lauder perfumes, let's look at how you can choose the best one for yourself.
How To Choose An Estee Lauder Perfume
Some Estee Lauder fragrances last all day, while a few need to be frequently sprayed on to refresh the smell. You can opt for their casual perfumes like White Linen for a timed event like a brunch or a date and for full-day events like weddings or company trips, reaching for a long-wearing perfume like Sensuous or Beautiful will be ideal.
When you're rummaging through your dresser for a scent to spritz on before you leave the house, it's important to know what type of event you're heading out for. Light floral perfumes like Pleasure and Knowing are perfect for day time and you might want to spice things up with something a little woodsy or musky like Youth Dew and Eau De Private at night. And when it comes to seasons, a light, fruity fragrance like Beautiful works wonders in the summers and spicier scents like Youth Dew and Sensuous can carry you through cold winter nights. Pleasures and Beyond Paradise are super-great picks for the warm and breezy spring months.
As individuals, we all have a certain type of fragrance we gravitate towards. This should play a big role in whatever perfume you're picking out, as you're going to be the one rocking it all day. And wearing a good perfume can also heighten your confidence and give a sense of empowerment, so it's all the more necessary to choose the right signature scent. Estee Lauder offers a wide array of perfumes from oriental to woodsy to floral and vanilla, so make your pick according to what you love smelling on yourself.
The scent profile of a perfume comprises top, middle, and base notes, which means that when you spritz it the scent opens up with a specific scent and settles into another scent, while transforming again before fading away. so when you spray it, the scent evolves, or comes to be. Top notes are usually citrusy while middle or heart notes are mostly well-rounded with scents like cinnamon and rose. Ingredients that are rich and warm can usually be found in base notes such as vanilla, cedarwood and musk.
Why Trust StyleCraze?
Chaitra Krishnan is an experienced product writer and makeup fanatic who has a knack for selecting the best fragrances. She has systematically combed many user reviews and perfumer opinions to collate a list of the best Estee Lauder perfumes. Chaitra has selected each perfume for this list after carefully considering its fragrance note and staying power. In addition, she mentioned every perfume's pros and cons to help her readers make a well-thought-out choice. The products on the list have timeless, classy fragrances that will keep you smelling divine.
Frequently Asked Questions
What does Estee Lauder Pleasures smell like?
Pleasures is a sheer floral scent that combines lily, peony, jasmine, baie rose, and karo-karounde blossoms.
How long do Estee Lauder perfumes last?
Since perfume's staying power also depends on your body's chemistry, Estee Lauder fragrances can last anywhere from 4 to 12 hours.
What ingredients are in Estee Lauder perfume?
Estee Lauder perfumes contain alcohol denat., with flowers such as roses, peonies, white lilies, tuberoses, gardenias and jasmine. Woodsy scents contain sandalwood, amber, musk, moss and some even have vanilla and orange.
What is the best smelling Estee Lauder perfume?
The best smelling Estee Lauder perfume is the Estee Lauder Pleasures Eau De Parfum Spray which comes with sweet floral notes that rejuvenate your senses.
What is the oldest Estee Lauder perfume?
The oldest Estee Lauder perfume is the Youth Dew, created in 1953. It came in the form of a bath oil, which also doubled as a perfume.
How can I restore an Estee Lauder perfume?
You can restore any perfume, including Estee Lauder perfumes, by keeping them in dry and dark places. Clean the spray nozzle with microwaved water and dry it with tissue paper to avoid water from getting into the perfume bottle. However, it is better not to restore perfumes that have crossed their shelf life of three to five years.
Recommended Articles