15 Best Korean Moisturizers For Achieving Spotless And Smooth Skin
If K-pop is your thing and Korean beauty is your wish, these are your must-haves.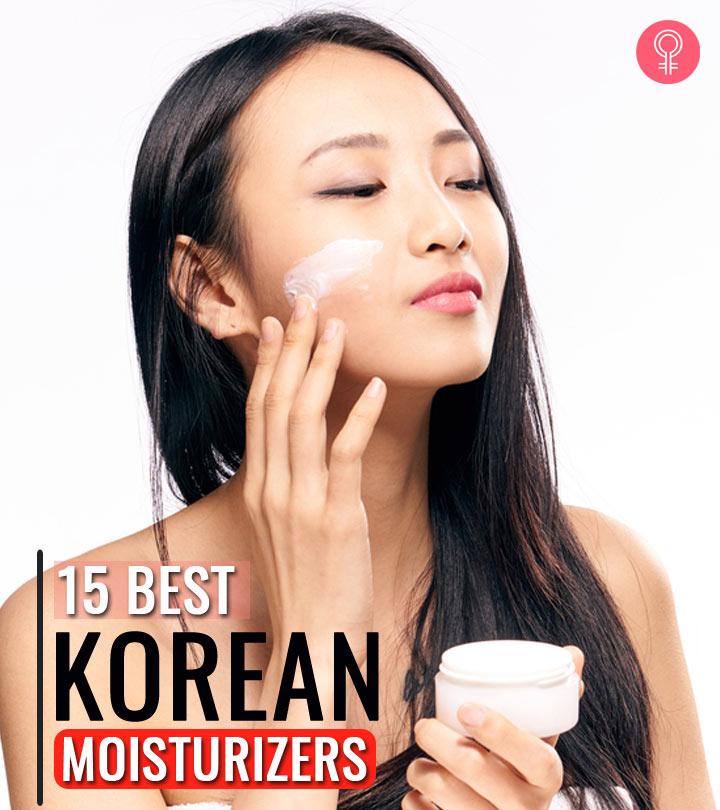 A good moisturizer is highly essential for achieving spotless and smooth skin. Recently, Korean moisturizers have been a rage in the skin care circles, which brings us to the question — which is the best Korean moisturizer? Most Korean moisturizers use skin-friendly ingredients and offer the best hydration to the skin.
According to a study, K-beauty products contain the highest quality anti-aging and skin-brightening properties that make the skin look youthful (1).
In this article, we have shortlisted the 15 most popular and effective Korean moisturizers you must try. Check them out!
15 Best Korean Moisturizers
The SeoulCeuticals Korean Skincare Snail Repair Cream is designed to restore youthful radiance. It is formulated with a higher concentration (97.5%) of snail mucin extract, a humectantrich in hyaluronic acid that seals moisture. It has antibacterial properties that fight against acne-causing bacteria. The glycollic acid in the snail mucin provides gentle exfoliation, unclogs the pores, and absorbs excess oil for clean, supple skin.
This snail repair cream is also infused with 72% organic shea butter, aloe, jojoba oil, and vitamin E that offers an excellent humidification base to your skin. The fatty acids present in the natural botanical extracts offer a protective shield and build the skin's natural oil barrier. This natural moisturizing cream corrects dark spots and blurs the signs of premature aging.
Key Ingredients: High concentration of snail mucin extract
Pros
Non-comedogenic
Naturally antibacterial
Cruelty-free
Non-GMO
97% natural
72% organic botanical extracts
Reduces wrinkles and dark circles
Corrects dark spots
Cons
May cause allergic reactions
Thick, greasy consistency
Price at the time of publication: $20.0
The CosrxOil-Free Ultra-Moisturizing Lotion is a daily moisturizer containing 70% birch sap (or willow bark water). This ingredient can calm and soothe irritated skin. The product also contains natural salicylic acid, a versatile ingredient that has anti-inflammatory and antibacterial properties. It helps clear pores and alleviates acne and irritation. This skin-friendly product is packed with 11 amino acids and antioxidants that calm, nourish, and treat irritated skin. The lotion is quickly absorbed into the skin without leaving any greasy residue. It makes the skin feel fresh, soft, supple, and nourished.
Note: It contains tea tree oil; if you are allergic to it, avoid application.
Key Ingredients: Willow bark water
Pros
Hypoallergenic
Non-greasy
Paraben-free
Cruelty-free
Dermatologist-tested
Penetrates deep into the skin
Whole-day moisturizer
Lightweight
Oil-free
Gets absorbed quickly
pH-balanced formula
Cons
None
Price at the time of publication: $25.0
The belifMoisturizing Bombhas a whipped cream-like texture that offers lasting hydration for up to 26 hours. It is loaded with botanical extracts, and feels extremely soothing and comfortable on the skin. The main ingredient in the cream is comfrey leaf extract that reduces inflammation and offers intense hydration to keep the skin healthy. It also improves skin firmness and elasticity.
Key Ingredients: Comfrey leaf extract
Pros
Paraben-free
Sulfate-free
Dermatologist-tested
No mineral oil
No synthetic chemicals
Petroleum-free
Cruelty-free
Clinically tested
No added chemical formula
Fragrance-free
Cons
None
Price at the time of publication: $22
The RNW DER. SPECIAL Ceramide Cream is a facial moisturizer cream containing five ceramides and three layers of hyaluronic acid that help the skin retain moisture, stay hydrated, prevent the loss of firmness, and maintain the skin's health.
It also contains meadowfoam seed oil, Oligopeptide-1, and D-panthenol that gently moisturize and soothe the skin, reducing the appearance of fine lines and wrinkles to reveal smoother-looking, youthful skin. The lightweight formula gets easily absorbed into the skin. It also replenishes the skin, restores its health, and reveals a dewy complexion.
Key Ingredients: Ceramides, Hyaluronic Acid
Pros
• 9-free formula
• Lightweight
• Hypoallergenic
• Gets easily absorbed
• Suitable for sensitive, troubled, and dry skin types
• Dermatologically tested
Cons
None
Price at the time of publication: $22.75
The 2B Beautiful Anti-Aging Snail Repair Cream is formulated with 92% snail extract that renews the skin, reduces wrinkles, and makes skin supple. The snail mucus is rich in hyaluronic acid, a humectant that hydrates the skin. The snail extract is also claimed to smoothen creases and wrinkles and reduce acne breakouts. It has antibacterial effects that fight against acne-producing bacteria. It also promotes elastin and collagen production for a clearer skin tone and texture.
This multi-functional skin moisturizer is also infused with Panax ginseng and other botanical extracts that restore youthful skin radiance and glow. The Panax ginseng root extract boosts skin hydration, repairs uneven skin tone, and reduces wrinkles by firming the skin. This moisturizer is effective for both men and women.
Key Ingredients: 92% snail mucus extract
Pros
Natural organic ingredients
Paraben-free
Phthalate-free
No artificial colors added
Sulfate-free
Fast absorbing cream
Suitable for all skin types
Non-GMO
Cruelty-free
Suitable for both men and women
Helps reverse wrinkles
Increases skin elasticity
Regenerates skin
Cons
None
Price at the time of publication: $17.45
The Luminositie Skincare Collagen Boosting Cream is infused with snail mucin extract that fights the signs of aging. The snail mucin acts as an antimicrobial that halts the growth of microbes, clears out the pores, and helps prevent acne development. It is rich in elastin, a protein that firms and tightens the skin and helps repair the body's tissues. This snail repair cream contains glycolic acid, a gentle exfoliator that buffs away dead skin and moisturizes it. It calms irritated skin and reduces breakouts. The antioxidants infused in this lightweight moisturizer remove toxic substances and protect the skin cells from free radicals.
Key Ingredients: Snail mucus
Pros
Reduces fine lines and wrinkles
Restores healthier and youthful glow
Tightens pores
Lightweight
Regenerates skin cells
All-natural ingredients
Paraben-free
100% organic
Cons
The Wonjin Effect Water Bomb Cream is a dermatologist-recommended product that intensifies skin with blasts of water. The Wonjin hydro-technology recovers and refreshes dry, dehydrated, and flaky skin. It delivers moisture deep into the skin and seals it. The cream contains Jeju green complex, Jeju mineral water, Jeju green tea, Jeju honey, Jeju camellia oil, and Jeju gardenia seeds that deeply moisturize the skin and leave it clean and smooth. The 8 complexes in the cream, including the Jeju oxygenated water, aloe vera, marine collagen, oatmeal, brown algae, kelp, bamboo water, and hyaluronic acid improve skin tone, maintain skin elasticity, and promote skin recovery.
Key Ingredients: Wonjin hydro-technology,Jeju green complex, 8 waterful complexes
Pros
Cleans and detoxifies skin
Promotes skin recovery
Quickly absorbs into the skin
Smooth as water
Improves skin elasticity
Refreshes skin
Cons
May cause allergic reactions
Price at the time of publication: $26.95
I Dew Care Say You Dew Vitamin C-Rich Moisturizing Cream is a dual-layered formula that helps hydrate, nourish, and rejuvenate the skin. It is infused with lemon extract, a vitamin C booster, and banana extract that restore skin radiance. Vitamin C is a powerful antioxidant that helps protect the skin. It is one of the key ingredients needed for collagen formation. The lemon extract prevents the appearance of skin imperfections and skin aging. The banana extract is rich in potassium and moisture. The product hydrates and moisturizes the skin leaving it supple, soft, and smooth.
Key Ingredients:  Vitamin C, lemon extract, banana extract
Pros
Paraben-free
Sulfate-free
Free from phthalates, formaldehyde
Toxic chemical-free
Protects the skin from environmental aggressors
Blurs the signs of aging
100% vegan formula
Safe for all skin types
Cons
Consistency could be too watery
Price at the time of publication: $22.28
The Prettian Moisturizing Snail Cream targets aging symptoms and moisturizes dry, dehydrated skin. The smooth, creamy gel is infused with the snail mucus extract that is rich in protein, vitamins, and minerals. It adds life to dull, flaky skin. This all-in-one powerful nourishing gel is formulated with aloe leaf extract, adenosine, macadamia seed oil, citrus fruit extract, and organic shea butter for healthy and resilient skin.
Key Ingredients: Snail mucus, aloe leaf extract
Pros
Blurs wrinkles
Absorbs quickly
A refreshing feeling
Penetrates deep into the skin
Improves skin shine and elasticity
Cons
None
The PuclairRevitalizing Snail Cream provides a protective barrier that seals skin moisture. It contains 97.5% snail mucin that acts as a moisturizer and a collagen booster. It is a trusted K-beauty ingredient that protects the skin from chemical and environmental aggressors. It also triggers the growth of new cells and collagen for younger-looking skin.
One of the key ingredients of the snail mucin is all a to in that heals and calms skin irritation, smoothens skin, and stimulates skin cell regeneration. It is loaded with vitamins and minerals that boost skin radiance. This ultra-lightweight moisturizer absorbs quickly into the skin and leaves it feeling soft and healthier. Massaging the cream on the skin promotes blood circulation, improves skin elasticity, and smoothens rough skin.
Key Ingredients: Snail mucin
Pros
Absorbs quickly
Anti-wrinkle function
Enhances skin elasticity
Blurs the signs of aging
Cons
None
The be Flat Hydro Youth Moisturizer is lightweight. It is infused with flower and herb extracts for a smoother skin tone. It contains oleic acid and glycerin that offer a hydrating finish. The cabbage extract is rich in vitamins B and C that enhance skin metabolism. The beta-carotene in the product helps fight aging signs and brightens skin tone. The chamomile extract improves skin resilience by boosting the formation of collagen and natural hyaluronic acid
Key Ingredients: Flower extracts and essential oils
Pros
Lightweight
Non-greasy
Infused with 100% natural ingredients
Firms and tones the skin
cGMP-certified
Cruelty-free
Suitable for all skin types
Boosts skin healing
Cons
None
The meebak Cica Cream Age Repair Moisturizer is enriched with Cica (Centella Asiatica) that helps rebuild the natural barrier of your skin. It contains madecassoside, Dioscorea Japonica root, retinol, peptides, hyaluronic acid, and niacinamide that reduce fine lines and wrinkles. Cica even tones your skin and boosts collagen production. Retinol helps eliminate dark spots and signs of aging. Hyaluronic acid plumps the skin, and Dioscorea Japonica root treats inflammation. The rich formula also helps nourish and soothe damaged skin.
Key Ingredients: Centella Asiatica
Pros
Cruelty-free
Paraben-free
Sulfate-free
Phthalate-free
Non-toxic
Cons
None
Price at the time of publication: $19.97
The Maroa Aqua Bomb Intense Luminator is infused with 10 rejuvenating herbal extracts that improve skin radiance and restore its youthful glow. The product contains meadow foam seed oil, a natural ingredient that protects the skin from cellular damage. The meadow foam seed oil contains myristic acid that has anti-inflammatory properties that soothe irritated skin. It deeply nourishes the skin, promotes skin firmness, and improves skin elasticity. It is a clinically-proven formula that is suitable for dry, combination, sensitive, and oily skin.
Key Ingredients: Meadow foam seed oil
Pros
Clinically-tested
Deeply nourishes the skin
Improves skin elasticity
Suitable for all skin types
A boon to aging skin
Leaves a dewy finish
Cons
None
Price at the time of publication: $8.6
The Neogen Vita Duo Joan Day And Night Cream is a dual cream system that deeply hydrates and soothes skin. The Joan day cream contains green tea and vitamin C that revitalize skin and protect it from cellular damage. Green tea is a calming, antioxidative, and skin-purifying ingredient that protects and comforts the skin. Vitamin C boosts collagen formation and improves skin elasticity.
The Joan night cream is infused with lavender and vitamin E that refresh and rejuvenate the skin for the long night hours. Lavender is a soothing ingredient that reduces skin acne, lightens skin, and fades wrinkles. The rejuvenating aroma refreshes the mind and uplifts mood. Vitamin E strengthens the skin barrier. It also is a potent antioxidant that protects the skin from photodamage.
Key Ingredients: Green tea, lavender extract, vitamins C and E
Pros
Lightweight
Dual nourishing formula
Brightens skin tone
Protects the skin from toxins
Soothes and hydrates all night long
Paraben-free
Free from artificial fragrances and colors
Cons
None
Price at the time of publication: $28.0
The Nella Ultra Moisture Snail Cream is infused with rich snail mucin and honey that provide deep nourishment to the skin and regenerate it. The rich, creamy formula enriched with snail extract works like a miracle on the aging symptoms by reducing fine lines and wrinkles. It also enhances skin elasticity and resilience and seals skin hydration. The snail extract is a natural activator that stimulates the production of collagen and elastin and helps heal damaged aging skin. The honey, shea butter, macadamia nut seed oil, vitamin E, adenosine, and hyaluronic acid act as humectants that moisturize, regenerate, and soften the skin.
Key Ingredients: Snail mucin extract
Pros
All-in-one formulation
Fades fine lines and wrinkles
Tones the skin
Stimulates collagen synthesis
Protects the skin from aggressors
Cons
Not suitable for sensitive skin
Price at the time of publication: $20.95
These are the top 15 Korean moisturizers for all skin types. In the following section, we will see why you need to pick a Korean moisturizer in the first place.
Why Choose A Korean Moisturizer?
Korean skincare moisturizers are infused with natural ingredients that protect the skin from damage. The main USP of any Korean skincare moisturizer is snail mucin. This mucin fades scars, blurs aging signs, and treats hyperpigmentation while nourishing the skin. Korean moisturizers are pocket-friendly and provide intense hydration, which is a key factor in any skincare regime.
If you want to protect and nourish your skin, always use a moisturizer that is made specifically for your skin type. There are certain points you need to remember before picking a moisturizing product for your skin. Check them out below.
How To Pick The Best Korean Moisturizer For Your Skin Type
If you have dry skin, you will need something that provides intense hydration. Check for products that contain butter (shea or cocoa), hyaluronic acid, and lanolin.
If you have oily skin, avoid oil-based moisturizers. Opt for oil-free creams. Look out for ingredients such as hyaluronic acid and glycerin. These will keep your skin moisturized without producing excess oil.
If you have combination skin, picking the right product can be tricky as you have both dry and oily areas on your face. You can choose a lightweight and gel-based moisturizer for an overall moisturizing effect. Use creams meant for dry skin only on the dry areas of your face.
If you have sensitive skin, choose moisturizers that are hypoallergenic and free from artificial colors and fragrances. Check for products that contain aloe vera and chamomile – these help soothe sensitive skin.
If you have normal skin, you can pick any moisturizing cream that feels comfortable on your skin.
Ingredients: Choose ingredients that are 100% natural, vegan, and skin-friendly. Some of the natural ingredients are baobab oil, birch sap, aloe vera, oatmeal, and green tea that soothe, protect, and nourish the skin. The product must also be free from chemical ingredients.
The product should fit your budget.
Why Trust StyleCraze?
Oyendrila Kanjilal is a certified skin care coach who recognizes that K-beauty is making its way into everyone's beauty regime. She can help you narrow down your search for the right moisturizers to help you maximize these products. She has meticulously researched Korean moisturizers and examined online reviews to find the best ones. These moisturizers contain snail mucin, which fades scars, diminishes signs of aging, and combats hyperpigmentation.
Frequently Asked Questions
Which Korean moisturizer is best for eyelids and under-eyes?
The belif The True Cream – Moisturizing Bomb offers long-lasting hydration and is very soothing and comfortable for the eyelids and under-eyes.
Is Korean moisturizer shiny on purpose?
Yes, most Korean moisturizers are slightly shiny because they impart a dewy finish to your natural skin tone.
Which Korean moisturizer is best for summer?
The CosrxOil-Free Ultra-Moisturizing Lotion is the best for summer. It is extremely lightweight, gets easily absorbed, and leaves the skin soft, supple, and nourished.
When do we use Korean moisturizer for best results?
Use Korean moisturizers twice daily as the fourth step in your skin care routine after double cleansing and applying toner and serum.
What products go well with a Korean moisturizer?
Skin serums, essences, and hydrating or pore-tightening toners go well with a Korean moisturizer.
Recommended Articles