13 Best Products To Use While On Accutane – 2023
The best products to complement and enhance the acne-fighting properties of Accutane.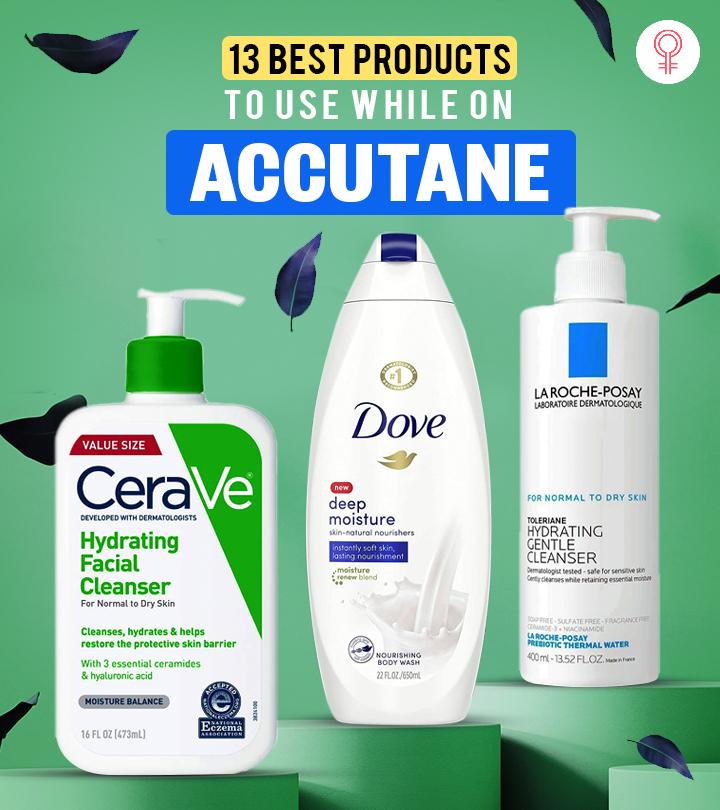 Acne-prone skin is not just a skin imperfection. It comes with pain, itch, and irritation as well. Accutane does the magic of curbing acne, but along with it, you also need the best products to use while on Accutane to make sure you get all-round benefits and can avoid extreme dryness. The special Accutane-complementing formulae hydrate and soothe your skin and keep it healthy. In this listicle, you will find the 13 best products that can be used while you are also using Accutane. Scroll down to check them out!
Top Picks
Does Accutane Cause Dry Skin?
Accutane causes dry skin issues, such as flakiness, itchiness, redness, and peeling skin. The face tends to become more irritable. Many people taking accutane also experience chapped lips and are prone to sun sensitivity.
Read on to know about the 13 best products that can be used while you are on accutane.
13 Best Products To Use While On Accutane
Pros
100% natural
Non-toxic
No artificial colors
No synthetic fragrances
Filler-free
Cons
None

Price at the time of publication: $34
Pros
Absorbed quickly
Non-comedogenic
Oil-free
Dye-free
Fragrance-free
Dermatologist recommended
Suitable for daily use
Cons
Price at the time of publication: $19.57
Pros
Dermatologist-tested
Allergy tested
Non-comedogenic
Paraben-free
Sulfate-free
Soap-free
No synthetic fragrances
Suitable for sensitive skin types
Cons
Price at the time of publication: $11.99
Pros
Long-lasting
Non-comedogenic
Paraben-free
Fragrance-free
Lightweight
Absorbed quickly
Cons
None

Price at the time of publication: $14.99
The Kiehl's Lip Balm soothes chapped and cracked lips and protects them from wind and cold weather. The dermatologist-tested formula keeps your lips soft, smooth, and moisturized. This lip balm contains soothing emollients, such as squalane, lanolin, sweet almond oil, and vitamins A and E.
Pros
Provides sun protection
Long-lasting
Value for money
Available in 3 fragrances
Cons
Price at the time of publication: $9.99
The Health Kandy Skinphoria helps reduce pimples, acne, and breakouts. It regulates excess sebum production and prevents enlarged pores. This health supplement is enriched with niacin that improves your skin texture. It heals scars and clears toxins from the skin. This supplement improves blood circulation and makes your skin youthful.
Pros
Suitable for adults and teens
Vegan
Cruelty-free
Gluten-free
Suitable for all skin types
Cruelty-free
GMO-free
Sodium-free
Sugar-free
Starch-free
Yeast-free
Soy-free
No artificial colors and flavors
Cons
Price at the time of publication: $29
The Eau Thermale Avène contains plant-based ingredients that relieve skin irritation caused by environmental aggressors and harsh cosmetics. This no-rinse cleanser helps remove makeup from the eyes and face. The Thermal Spring Water soothes the skin and makes it soft. Parcerine prevents redness and restores the damaged hydrolipidic barrier of the skin. This product is suitable for intolerant, sensitive, and irritated skin and the under-eye area.
Pros
Gentle formula
Suitable for hypersensitive skin
Soap-free
Oil-free
Fragrance-free
No added colorants
Paraben-free
Cons
Price at the time of publication: $24.0
The Dove Deep Moisture Nourishing Body Wash contains plant-based ingredients, such as lipids and glycerin, that moisturize the skin. The gentle formula keeps your skin soft and smooth. This body wash penetrates the skin and keeps it healthy.
Pros
pH-balanced
Gentle formula
Cruelty-free (PETA certified)
Sulfate-free
Dermatologist recommended
Cons
Price at the time of publication: $36.45
Pros
Non-foaming
Suitable for all skin types
Paraben-free
Fragrance-free
Soap-free
Non-comedogenic
Non-drying
No synthetic fragrances
Can be used daily
Gentle formula
Cons
None
Price at the time of publication: $14.57
The Blistex Lip Medex relieves pain, irritation, and itching in your lips. It helps restore the moisture balance of your lips and keeps them healthy. The medicated ingredients deliver a cooling action to treat sore lips. This product helps moisturize chapped and cracked lips and protects them from dry winds and cold weather.
Pros
Long-lasting
Value for money
Cons
None
Price at the time of publication: $5.36
Pros
Long-lasting
Clinically proven
No synthetic fragrances
Non-comedogenic
Steroid-free
Fragrance-free
Cons
Price at the time of publication: $14.17
The Aquaphor Lip Repair contains vitamins, shea butter, and chamomile essence that soothe and relieve dry, chapped, and cracked lips. The nourishing formula seals moisture, imparts shine to the lips, and keeps them healthy.
Pros
Adds shine to the lips
Preservative-free
Fragrance-free
Paraben-free
Cons
Price at the time of publication: $3.97
The CeraVe Hydrating Mineral Sunscreen has a subtle tint and adds a healthy glow to your skin. It contains SPF 30 that protects the skin from harmful UVA and UVB rays. The three essential ceramides (1, 3, 6-II) restore the skin's natural barrier and lock in moisture. The gentle formula blends seamlessly into the skin without any white residue. This product can also be worn under makeup as a tinted primer.
Pros
Lightweight
Non-greasy
Allergy tested
Non-comedogenic
Contains SPF 30
Oxybenzone-free
Paraben-free
Fragrance-free
No chemical filters
Suitable for sensitive skin
Can be used daily
Cons
None
Price at the time of publication: $13.42
Well, if you are not sure about what to look for in products you can use while on the medication, here's help. Just make sure you go through the guidelines before purchasing any product.
What To Look For In Products You Can Use While On Accutane
Keep your cosmetics as natural as possible. Avoid harmful chemicals or steroids that can further dry out your skin. Go for paraben, sulfate, preservative-free products whenever you can. Products that have been dermatologist-tested are a good choice.
Don't buy products with added colorants. They tend to make your skin irritated and could cause a mild rash.
Since you already have acne-prone skin, always opt for non-comedogenic products. They are less likely to make your skin breakout.
To combat the dryness and irritated skin that comes with accutane, choose deeply hydrating products. If you have oily skin, go for lightweight serums that offer hydration. For this, water-based formulas are great options.
If you are going to wear your skincare product while out and about during the day, choose one that provides sun protection. It should have an SPF of at least 15.
Opt for pH balanced products as far as possible. The product should match your skin's pH levels. If you plan to wear the product all day, make sure it provides long-lasting results so that you don't have to carry it around and reapply.
Don't buy any cosmetics with fragrance. If you are already trying to heal your skin, there is no point in causing further damage to it by putting on unnecessary ingredients on your face.
The side effects of accutane on your skin depend on the dosage. Here are a few side effects of accutane that you should be aware of.
Accutane Side Effects On The Skin
Some common side effects of accutane are:
Dry skin
Itching
Dry lips
Dry eyes
Rashes
Accutane is a clinically proven anti-acne therapy. While undergoing this medication, use gentle and hydrating skin care products. The products mentioned above are non-irritating and help soothe your skin. Scroll up and pick your favorite one from the list.
Why Trust StyleCraze?
The author, Oyendrila Kanjilal, is a certified skin care coach. She relies on products that do not contain harmful chemicals and are safe for the skin. So, she browsed hundreds of reviews to provide you with the best products to use while on Accutane. The products listed above are non-toxic and non-comedogenic and protect your skin by keeping it healthy and conditioned.
Frequently Asked Questions
What can you not take while on accutane?
Do not take supplements that contain vitamin A while you are on accutane.
Is it OK to exfoliate while on accutane?
No. Accutane makes the skin sensitive, and exfoliation can lead to skin redness and sores.
Can you use acne cream while on accutane?
No, do not use acne creams while on accutane. Isotretinoin or accutane has a drying effect on the skin and mucous membranes. Acne creams usually contain benzoyl peroxide, salicylic acid, or tea tree oil that can further aggravate dryness and skin irritation.
What can I use to moisturize my face while on Accutane?
For a moisturized face, use a non-comedogenic product such as the Neutrogena Hydro Boost Gel-Cream to keep your skin nourished and rejuvenated for a long time.
Is hyaluronic acid safe while on Accutane?
Yes. Accutane is an exfoliating medication, so you must always keep your skin hydrated. Try the hyaluronic acid-based product, CeraVe Hydrating Facial Cleanser, to achieve moisturized skin for an extended period.
Can I use serums while on Accutane?
Yes, you can use vitamin A serum and other hydration products while on Accutane. But avoid vitamin C serum as it can trigger skin irritations and sensitivity.
Does Accutane permanently change your skin?
Yes, Accutane can permanently stop acne breakouts and help manage acne-prone skin better.