13 Best Oil Cleansers For Dry And Dehydrated Skin
Gently formulated cleansers that are revitalizing and suitable for drier skin types.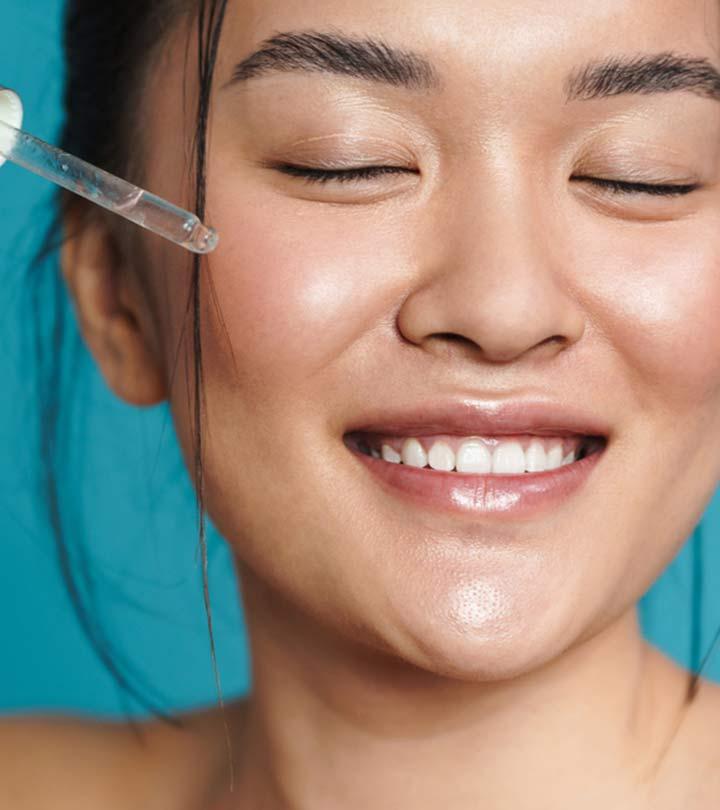 If dirt and oil residues in your skin are troubling you, what you need is to look at some of the best oil cleansers for dry skin. Yes, a cleansing oil can eliminate them from the skin and prevent dryness and dehydration. It is basically a mix of oils that are formulated without emulsifiers or surfactants. It is an essential product for your skin since it can offer you a soothing effect while fully moisturizing your skin. As a result, your skin gets a radiant glow too. To this end, we have made a list of the 13 most effective oil cleansers that are worth trying. We are sure that you will achieve excellent results with the listed products. As the market is brimming with endless options, take this article as your buying guide. So, go ahead and check it out.
Top 13 Best Oil Cleansers To Fight Dryness
A water-soluble formula that rinses dirt and impurities from your face thoroughly, the DHC Deep Cleansing Oil is rich in vitamins and has anti-oxidizing property due to the presence of antioxidants such as vitamin E, rosemary extracts, and olive oil. Olive oil helps break down dirt and removes waterproof makeup to clean your face, while unclogging pores. It also helps in preventing the harmful effects of environmental aggressors that cause premature aging of the skin. Rosemary leaf oil present in the cleansing oil soothes the inflamed skin, while imparting a refreshing scent. This highly-rated product cleans your skin without making it dry or causing any irritation and protects your skin from free radicals with the essence of vitamin E. Cherish your softer, smoother, and clean your congested skin using one of the best natural oil cleansers for dry skin. You can quickly rinse it off and have no buildup left on the skin. Look at this video for a demo and view the reviewer's experience of DHC Deep Cleansing Oil.
Pros
Suitable for all skin types
Removes stubborn makeup
No added fragrance
Vegan
Gluten-free
Fragrance-free
Nourishes and hydrates skin
Cons
Some may find it slightly greasy.
When our skin becomes excessively dry, we like to blame it on the wintertime and chilly winds. But who do we blame on a hot, sunny day? You no longer have to look for a culprit because we have discovered the best solution for dry skin.Use the best-selling Bioderma Atoderm Ultra-Nourishing Anti-Irritation Shower Gel to bless your skin with hydration and softness. Vitamin B3 in this cult-favorite cleansing oil helps in repairing your skin's natural barrier, prevents dryness. The coco and flower bio lipids infused in this cleansing product enhances the hydration effect on your skin. The product's smooth consistency allows it to spread easily without leaving a greasy film. Check out this video to learn more about the Bioderma Atoderm Ultra-Nourishing Anti-Irritation Shower Gel.
Pros
Suitable for all skin types
Suitable for dry skin, eczema, and chafing
Non-greasy
All-day moisture
Cons
Some may find the scent too intense.
We've all heard about the numerous skin and hair benefits that rice offers, so why not use products that are formulated with them? This top-rated cleansing oil helps brighten and moisturize the skin and is formulated without mineral oil. This lightweight, daily cleansing oil dissolves all the impurities from your skin with a little help from jojoba oil. It also contains vitamin A, B, and E, ceramide and minerals that help nourish and brighten your dry skin. It has an infusion of moringa oil that helps remove makeup and purifies your skin by getting rid of impurities and residues. This product is very gentle on the skin and can also be used if you have sensitive skin. 
Pros 
Sulfate-free
Removes impurities
Makes skin soft and supple
Evens out skin tone
Suitable for all skin types
Cons 
Some may find the floral smell overpowering.
If you haven't tried this cleansing oil, let us tell you that you're missing out on a lot. It is gentle on your skin and deeply cleanses it too. This dermatologist-tested product is formulated with creamy cocoa butter and a natural moisturizer for your skin as it softens your skin. It is infused with vitamin E, a powerful antioxidant that improves the appearance of scars, imperfections, and marks on your skin, and evens out skin tone. On the other hand, the sesame oil in this product helps deeply moisturize and hydrate your skin. It also contains rosehip oil that improves the overall health of the skin by rejuvenating cells. Check out the detailed review of the Palmer's Cocoa Butter Formula Skin Therapy Cleansing Oil in this video. More than a thousand public reviewers tested this product and their positive feedback advocates for the product's visible results.
Pros
Deep cleans and brightens the skin.
No mineral oil
Paraben-free
Ideal for all skin types
Prevents dryness
Removes makeup and product buildup
Affordable
Cons
It may take a few rinses to wash off.
The Burt's Bees Cleansing Oil is formulated to hydrate your skin to make it look healthy and supple. It does not leave an oily residue; instead, it makes your skin soft and smooth. This dermatologist-recommended product helps dissolve dirt and makeup and keeps the skin's natural protective barrier protected. Formulated with coconut and argan oils, this lightweight face cleansing oil allows your skin to glow and does not clog any pores. It also helps in removing fine lines and smells great too! This is the best opportunity you can grab to get supple and silky skin.
Pros
Gentle formula
100% natural
Paraben, phthalate, petrolatum, and SLS-free
Dermatologist-approved
Cons
It may irritate sensitive eyes when removing waterproof eye makeup.
Are you looking for a new cleansing oil? If yes, you should give the Organys Cleansing Oil a shot. Made primarily as a makeup removal oil, it cleanses your face by getting rid of dirt and impurities. This product is gentle on the skin and penetrates the pores to unclog it and remove product buildup. It also helps in getting rid of blackheads, hence providing you a flawless look. This product is infused with olive oil and vitamin E that melts away the impurities from your skin to keep it soft and healthy. With its antioxidizing property, this antioxidant-rich product protects your skin from environmental damage as well. Its low-lathering and non-irritating formula is what makes this product a desirable one. Additionally, no animal testing was done in the making of this product.
Pros
Vegan
No parabens, sulfates, or other harmful chemicals
Hydrates skin
For all age groups and skin types
Cruelty-free
Cons
Might not be suitable for sensitive skin.
Have you tried this face cleansing oil that not only removes makeup but also hydrates and softens your skin? The Neutrogena Ultra Light Cleansing Oil effortlessly attracts impurities and oil and helps in getting rid of it. This easy-to-find product helps to dissolve other oils and does not strip your skin of its natural oils. You can now easily cleanse your skin with this ultra-hydrating formula enriched with rosemary and glycerin, which also soothes your skin. The product is dermatologist-recommended.
Pros
Non-greasy residue
Non-comedogenic
Non-stripping formula
Lightweight
Makes skin healthy
Dermatologically-tested
Cons
Some may find the consistency runny.
As we all know, vitamin E is said to have numerous benefits and is known to combat the effects of free radicals, thus protecting your skin from damage. The Era Organics cleansing oil contains vitamin E, fatty acids, and argan oil that moisturize the skin and restore the skin's barrier to improve skin elasticity. It is also enriched with rosemary that smells great and eliminates eczema, oily skin, dermatitis, and acne. Sunflower oil is rich in fatty acids and is present in this product helps prevent water loss and dryness. This product also jojoba oil that stimulates collagen production and prevents wrinkles and fine lines. This cleansing oil for dehydrated skin helps in removing makeup and provides anti-inflammatory properties. This product makes your skin look plump and provides protection from damage by maintaining the natural barrier of the skin.
Pros
Cruelty-free
Sulfate-free
No mineral oils, parabens, or toxins
For dry and sensitive skin
Treats acne
Provides softness
Cons
Might be challenging to wash off.
Try this bareMinerals Oil with the best cleansing ability that helps dissolve makeup and dirt. It nourishes the skin and provides it with the care it truly needs. This product is rich in minerals and vitamins that allow your skin to feel rejuvenated. It is blended with cucumber, sunflower oil, and mineral-rich sea salts that hydrate and purify the skin. Borage oil infused in this product allows you to fight against environmental stresses as it offers an antioxidant defence system to protect your skin. 
Pros
Lightweight
Suitable for all skin types
Makes skin smooth and healthy
Prevents dryness
Pleasant fragrance
Brightens the skin
Cons
Bless your skin with hydration and nourish it with one of the best facial oil cleansers for dry skin. Vera Botanics Oil Cleanser And Makeup Remover is made of essential ingredients that are gentle to the skin and provide numerous benefits. This product helps remove waterproof makeup and deeply penetrate the pores and clean oil residues and buildup. It helps clean and hydrate your skin with the goodness of olive oil that also kills acne-causing bacteria found on the skin. This product deeply penetrates the pores and helps in getting rid of blackheads too. No harsh chemicals are added in this product, which makes it absolutely safe to use.
Pros
Cruelty-free
Vegan
For all skin types
Geranium oil for scent
No harsh chemicals
Cons
It may not effectively remove waterproof eye makeup.
Do you know the benefits of sunflower seed oil on your skin? This hero ingredient is an excellent source of vitamin E. This formula has antioxidant properties that help combat skin issues such as inflammation, redness, acne, and skin irritation. It also helps in retaining the moisture of your skin. Formulated with sunflower seed oil, this product smells great, has no synthetic fragrance, and aids in melting away impurities and purifying the skin without drying it. Argan oil, along with sunflower seed oil, olive oil and pomelo grapefruit, allow your skin to replenish its natural oils and offer it optimum moisture levels.
Pros
Cruelty-free
Mineral-oil free
Paraben, phthalate, sulfate and gluten-free
PEG and formaldehyde-free
Vegan
Non-greasy
Cons
Might not remove sunscreen/ might be too thick to spread.
Restore your skin's natural beauty and health with this oil helps restore your skin's natural balance and makes it glow. This unscented cleansing oil, made with natural ingredients, works gently on the skin and soothes it. It helps eliminate dead skin cells, impurities, grease buildup and dirt accumulated on your skin. Get deeply nourished and clear skin without the fear of drying. This product has the formulation of castor oil and apricot that reduces irritation and fights impurities. Whereas, the sunflower and olive oil in this product play an important role in making your skin look clean and balanced. It is also enriched with organic jojoba oil, sea buckthorn extract, and organic baobab oil that enhance this product's nourishing power.
Pros
No artificial ingredients
Petroleum-free
Gluten-free
Cruelty-free
Good for acne-prone skin
Cons
The Camellia Cleansing Oil from Tatcha deep cleanses and nourishes the skin. It is infused with Japanese camellia oil that moisturizes your skin and protects it against free radical damage. This product is formulated with a rich complex of rice, green tea, and algae that improve skin texture. It also contains lactic acid and essential amino acids that hydrate the skin and strengthen its barrier. The non-comedogenic formula also works as a makeup remover. This cleanser absorbs excess oils and removes waterproof makeup from your skin. It is free of mineral oil, so the product emulsifies without oily residue. Moreover, it is not tested on animals.
Pros
Non-drying
Leaves no residue
Non-comedogenic
Dermatologist-recommended
Cruelty-free
Mineral oil-free
Paraben-free
Phthalate-free
No synthetic fragrances
Sulfate-free
DEA-free
TEA-free
Urea-free
Cons
*The prices provided in this article are based on the latest available information. However, they may vary due to changes in pricing by the seller and/or promotional offers.
Here is a buying guide that will help you make the best selection when buying an oil cleanser for dry skin. These tips will help you understand what different cleansers do and which one is most suitable for you to add to your cleansing routine.
How To Choose The Best Cleansing Oil For Dry Skin
 Read the label 
Not all cleansing oils have the same ingredients. Hence, you must understand the role each element plays and identify any harmful chemicals added to the product to avert any sort of skin infection. You must look for products with botanical extracts such as olive oil, coconut oil, rosemary etc. Avoid products with parabens, sulfates, phthalates and other toxic ingredients. It is essential to read the label as it will help you know which oil is lighter in consistency and is suitable for your skin.
Non-comedogenic 
Ensure that the cleansing oil does not clog the pores. Instead, it should help stretch the pores to make it larger to remove all the dirt trapped in it.
Type of skin 
For those with oily skin, avoid products with coconut oil, olive oil and avocado oil added to it as these can make the skin more oily by further clogging the pores. Instead, you must look for oil-based cleansers that have peppermint oil  and tea tree oil present in it. If you have dry skin, you must look for nourishing ingredients such as argan, shea, or camellia oil. These help to hydrate the skin and moisturize it too. You must avoid lemon and tea tree oils as these can cause dryness of the skin. For acne-prone skin, use products that don't have any irritants, here too, you must look for a non-comedogenic product.
How To Use An Oil-Based Cleanser 
Here are a few steps you must follow to use the oil-based cleansers effectively:
Step 1: Wash your hands and face and allow it to dry.
Step 2: Take a few drops of oil and apply it to your skin.
Step 3: Massage your dry skin in a circular motion; it improves blood circulation.
Step 4: You can now wet your hands and continue massaging it on your face; the product will turn creamy and remove impurities.
Step 5: Rinse your skin with warm water and pat dry.
However, keep in mind that overusing oil cleansers may not be the right way to go. Dr. Anna H. Chacon, a board-certified cosmetic dermatologist, says, "If you use an oil cleanser too often, you'll remove too much of the skin's natural sebum, which can put your sebaceous glands in a panic and make them feel like they need to produce more sebum."
Why Trust StyleCraze?
Krati Darak, who authored this article, is a skincare aficionado and loves to provide assistance to her readers in picking the right skincare products. To this end, she went ahead and read many product details and customer reviews to compile a list of the best oil cleansers for dry skin. These items that have been listed can remove dirt and oil residues from your skin.
Frequently Asked Questions
Are oil cleansers good for dry skin?
Yes, oil cleansers are great for dry skin as these don't strip the skin of its natural oils. Instead, these oils can hydrate your skin. These cleansers can help in making your skin moisturized and soft.
Should you double cleanse If you have dry skin?
If you use a good oil cleanser, you don't need to double cleanse. However, there is no harm in using a double cleanser. You need to keep your skin type and the ingredients you use in mind.
Do oil cleansers clog pores?
It depends on the ingredients of your cleanser. It is also essential to conduct a patch test before using the product to ensure that it suits you well. You should look for argan oil, grape seed oil, safflower oil, sunflower oil, sesame oil, pumpkin seed oil and sweet almond oil.
Recommended Articles