13 Best Oil Cleansers For Acne That Help Prevent Pesky Breakouts
Cleanse the face without stripping the healthy microbes that protect against acne.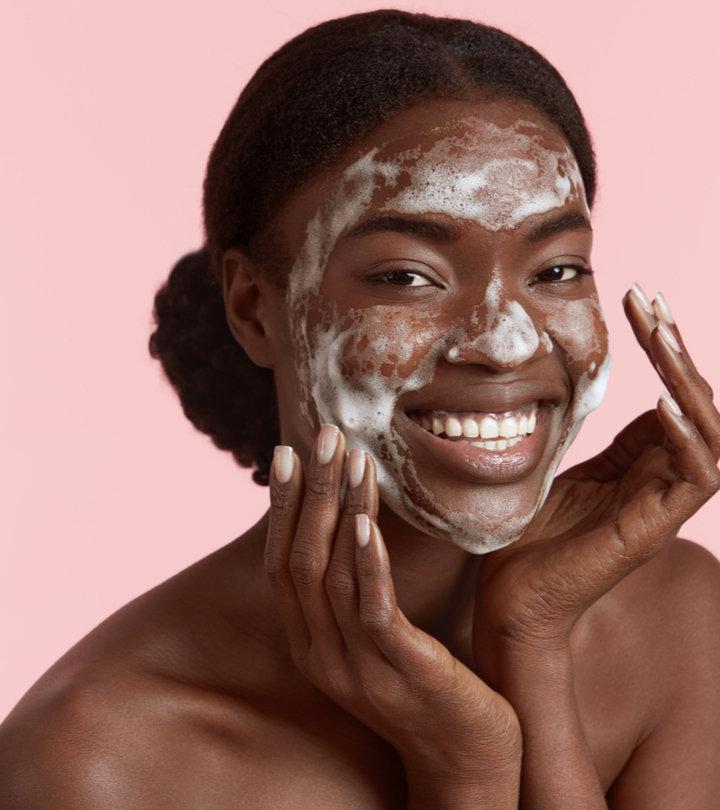 If you have oily and acne-prone skin, you must be aware of how hard it is to deal with the persistent or occasional zits or severe acne breakouts. Therefore, if you deal with acne, you need to be picky about the products you choose to include in your skin care regimen. With the best oil cleanser for acne, you don't have to worry much about breakouts or residue on the skin during the makeup removal process. Cleansing your face with an oil-based cleanser might sound counterintuitive. Still, it is quite helpful in effectively removing all the traces of makeup, excess sebum, and buildup from your face without stripping off the natural facial oils from your skin.
You might be wondering, if excess oil is the root cause of having acne problems, how can it help cleanse your skin? Oil-based cleansers work actively in eliminating the excess sebum from your skin. Traditional, foam-based cleansers might strip off the vital oils from your skin and leave it dry and inflamed, whereas oil cleansers work differently. Besides deeply nourishing your skin, unclogging the pores, and preventing breakouts, they help maintain your skin's pH balance. These cleansers also help strengthen the barrier of your skin. Keep scrolling to check out the best oil cleansers for acne available on the market!
13 Best Oil Cleansers For Acne To Keep Pimples At Bay
Pros
 Free from parabens, sulfates, phthalates, alcohol, mineral oil, or artificial coloring
 Balances skin's moisture levels
 Soothes irritation
 Ideal for sensitive skin
 Mild and pleasant scent
 Contains natural ingredients
Cons
 Might not effectively remove waterproof makeup
Price at the time of publication: $23.25
Pros
 Contains nourishing ingredients
 Brightens skin
 Vegan
 Lightweight and silky texture
 Non-stripping
Cons
 Some may find the scent to be strong
Price at the time of publication: $17.75
Pros
 Nourishes and hydrates skin
 Contains natural ingredients
 Gentle formula
 Doesn't disrupt the skin's moisture balance
 Dermatologist and ophthalmologist tested
 Doesn't leave behind an oily residue
Cons
 Some may find the fragrance to be overpowering
Price at the time of publication: $13.79
The best cleansing oil for acne comes in the form of a smooth and richly-textured oil from The Face Shop that works like a charm for dry skin types. It dives deep into the skin to gently remove makeup and other residue for a refreshed feel. Enriched with rice extract along with rice bran, jojoba, and kukui seed oils, your skin is moisturized and brightened with a subtle glow. You can be one step closer to glass-like skin with this Korean cleansing oil for acne-prone skin.
Pros
 Smooth texture
 Gentle formula
 Refreshing feel
 Moisturizes and brightens skin
 Effectively removes oil-based impurities
 Helps reduce hyperpigmentation
Cons
 Might have an overpowering scent
Price at the time of publication: $20
If you're new to oil cleansing for acne-prone skin, you should try this Japanese formula that gently removes makeup without making your skin feel taut and uncomfortable. Blended with olive oil and 2 types of hyaluronic acid, these moisturizing agents gently restore the health back in your dehydrated skin. The mild oil can also be used to remove stubborn waterproof eye makeup without you having to tug at the skin for an effective cleanse. We believe this oil face cleanser for acne is a star addition to your double cleanse routine.
Pros
 Free of fragrance, alcohol, mineral oil, and artificial colorants
 Removes waterproof and stubborn eye makeup
 Deeply moisturizes skin
 Mild and gentle formula
 Doesn't require tugging
Cons
 Some may not like the thin consistency
Price at the time of publication: $13.45
Pros
 Lightweight formula
 Suitable for sensitive skin
 Contains skin-friendly oils
 Moisturizes skin
 Aids cell renewal
 Makes skin soft
Cons
 Might leave behind an oily residue
Price at the time of publication: $39.95
Pros
 Paraben-free and cruelty-free
 Lightweight and non-greasy
 Non-stripping
 Non-comedogenic
 Protects against free radicals
 Ideal for dry, sensitive, and inflamed skin
Cons
 Some may find it to be too mild
Price at the time of publication: $22.0
Pros
 Reduces blackheads
 Gently exfoliates skin
 Controls sebum production
 Ideal for oily and combination skin types
 Contains a blend of nourishing oils
 Deep cleans pores
Cons
 Might increase skin sensitivity in the sun owing to the BHA
Price at the time of publication: $12.99
Pros
 Softens and smoothes skin
 Moisturizing
 Improves blood circulation
 Boosts skin hydration
 Minimizes the appearance of pores
Cons
 Might make the skin feel tight
Price at the time of publication: $61.81
Pros
 Reduces signs of aging
 Lightweight
 Hydrates skin
 Non-greasy
 Reveals a healthy complexion
Cons
 Some might find skin to become taut
Price at the time of publication: $30.0
Pros
 Non-comedogenic
 Cruelty-free
 Free of parabens, sulfates, phthalates, gluten, fragrance, silicone, and other irritants
 Deeply moisturize skin
 Made with natural extracts
 Smoothes down skin
Cons
 Might be irritating on the eye area
Price at the time of publication: $32
Powered with the Shiseido original Gentle Quick-Removing Technology, this lightweight and comfortable formula can be used on both dry or wet skin. To thoroughly rid your skin of makeup, oil, and dirt, the oil goes deep into the pores. With the nourishing effects of glycerin and grapeseed oil, moisture is restored for a strong skin barrier. Gliding onto skin like silk, this oil can be rinsed quickly without being greasy and will lend your skin a healthy, dewy finish.
Pros
 Suitable for all skin types
 Dermatologist-tested
 Ophthalmologist-tested
 Moisturizes skin
 Non-greasy
 Gives a dewy finish
Cons
Price at the time of publication: $34.62
Pros
 Unclogs pores
 Reduces sebum
 Tones and brightens skin
 Has a soothing effect
 Free of fragrance and colorants
 Ideal for oily skin types
Cons
 Might not be ideal for sensitive skin types
Price at the time of publication: $27
Now that we've looked at some of the best oil cleansers on the market, let's look at how you can pick the right one for yourself.
What To Look For In An Oil Cleanser For Acne
Acne doesn't discriminate based on skin type, so, it's important that you treat it with products formulated for yours.
Oily, combination and acneic skin types should choose oil cleansers that contain hydroxy acids or BHAs like salicylic acid as it effectively unclogs pores and clears away dead skin cells. Dry skin types will do well if their cleansers are supplemented with squalene, hyaluronic acid, and aloe vera to retain lost moisture. Castor oils and sunflower seed oils can help too. Those with normal skin should focus on acne-fighting ingredients such as tea tree, witch hazel, honey, and green tea. Calendula, chamomile, and shea butter are good ingredients for sensitive skin types owing to their soothing and anti-inflammatory properties.
Catie Wiggy, a licensed Master Esthetician and natural product formulator, says,  "Individuals who are prone to blemishes and regular breakouts or blackheads should avoid oil-based cleansers with heavy amounts of coconut, soybean, and wheat germ oils, which are all considered high on the comedogenic scale".
Always stick with gentle and lightweight formulas as they are kind to the skin. Harsh and thick oils can clog pores and cause you to break out even more. Don't forget to check the label and confirm that the product you're purchasing is indeed 'non-comedogenic' as it won't clog pores and lead to acne, blackheads, and whiteheads.
As with every beauty product, ensure that the oil cleanser you're picking out is formulated without the use of any irritants like parabens, SLS, phthalates, gluten, fragrance, colorants, or mineral oils. These chemicals can wreak havoc on your skin especially if you suffer from any skin insensitivities.
Why Trust StyleCraze?
Vaishnavi Kothuri, the author of this article, is eager about skin care products. She browsed hundred of reviews and conducted detailed research about various cleansers to provide the best oil cleanser for acne. The cleansers listed above are gentle on the skin, have a smooth texture, and deeply moisturize the skin. In addition, these cleansers are non-greasy and formulated without any harsh chemicals.
Frequently Asked Questions
Are oil cleansers good for acne?
Oil cleansers can effectively remove makeup, dirt, and grime from your skin without stripping it of its vital oils. They also contain ingredients that can help the occurrence of breakouts.
Does oil cleansing cause acne?
If you're beginning to use oil cleansing in your routine, you might notice new pimples, blackheads, and whiteheads in a process called purging. After a couple uses, your skin will calm down and if it doesn't, you might need to switch to another product.
Can you use cleansing oils for oily skin?
Yes, cleansing oils gently dissolve the dirt in the form of skincare products, makeup, and sweat which can be easily rinsed off with water. Sebum and dirt that clogs your pores is extracted and acne is reduced.
Are oil cleansers good for fungal acne?
Oils can lead to an aggravation in fungal acne. If you want to try oil cleansing, it is best to speak to your dermatologist beforehand.
Does DHC cleansing oil clog pores?
No, as it is non-comedogenic, it will not clog your pores.
Should I use an oil cleanser everyday?
Yes, use an oil cleanser daily to keep your skin clean while removing buildup and impurities and reducing the appearance of pores.
How long does it take an oil cleanser to clear acne?
It takes two to three weeks for an oil cleanser to clear acne. It might take longer, depending on your skin issues and lifestyle.
Can oil cleansing help cystic acne?
Yes, oil cleansing helps treat cystic acne. The process leaves your skin with good bacteria and microbes, preventing skin infections.
Recommended Articles: