13 Amazing Facial Pore Cleansers For Clogged Pores And Blackheads
For well-cleansed pores that do not come in the way of a perfect complexion..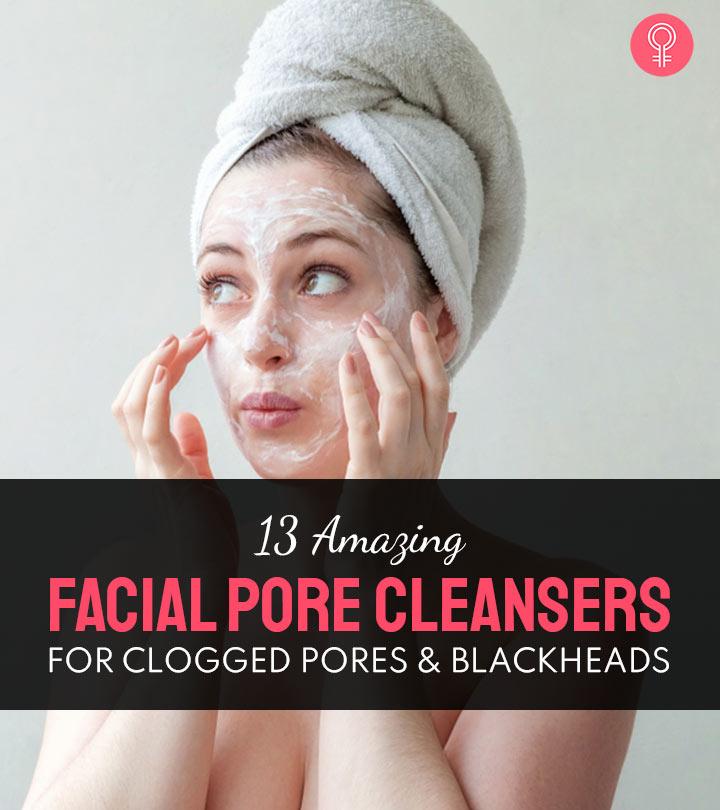 Dust, pollution, and other contaminants are some of the skin aggressors that damage your skin by getting into the pores and clogging them. This leads to breakouts and makes your skin appear oily. But with the best pore cleanser for clogged pores in place, you can say goodbye to these problems now. Splashing clean water over the face is an obvious choice, but it may not always be helpful. A purifying cleanser can open your clogged pores with solid suction and release oil and dirt. We have curated the 13 most effective pore cleansers that can eliminate your skin's impurities and act as a natural exfoliant, control excess sebum formation and reduce pore diameter.
13 Best Pore Cleansers
As the name implies, this facial cleanser contains a plethora of natural ingredients like vitamin C from citrus fruits extracts, aloe vera, coconut water, green tea extract, hibiscus flower extract, meadowfoam seed oil, cucumber fruit extract, chamomile fruit extract, and willow bark extract.
This natural facial cleanser helps in deep purifying, leaving your skin look fresh and relaxed. The most active ingredient of this cleanser is vitamin C. The antioxidant helps clear and unclog pores and treat breakouts and blemishes. It also may slow down signs of aging, tighten and tone the large pores, and maintain the skin's natural moisture levels. The ingredients of the Insta Natural Vitamin C Facial Cleanser remove dead skin cells and even out the skin complexion by blurring the spots caused by sun damage. With more than 17,500 reviews, this facial cleanser is an Amazon favorite. Check out this video to better understand the functions of this product.
Pros
Suitable for all skin types
Protects from sun damage
Made with high-quality extracts, oils, and botanicals
Cruelty-free
Paraben-free
SLS- and SLES-free
Mineral oil-free
Synthetic dye-free
Petroleum-free
Polythene-glycol free
DEA/MEA/TEA-free
Formaldehyde releaser-free
Cons
Poor quality push dispenser.
Price at the time of publication: $24.95
The Bioré Deep Pore Charcoal Cleanser is among the best pore cleansers infused with Japanese skin purifying technology. This oil-free cleanser is ideal for oily skin. It helps in deep purifying the skin and removes impurities from clogged pores.
The charcoal powder in the cleanser helps remove blackheads. It achieves this with its powerful suction technique. It draws out the pore-clogging toxic materials, like dirt, oil, and bacteria, and gives you instant visible results. This video offers a deeper insight into the functions and effects of the product discussed.
Pros
Provides 2 times more cleansing effect
Oil-free
Non-comedogenic
Hypoallergenic
Cruelty-free
Dermatologist-tested
Vegan-friendly
Paraben-free
Good for combination/sensitive skin
Cons
May leave skin dry.
Poor quality pump
Price at the time of publication: $5.99
The COSRX Good Morning Gel Cleanser is a natural skin care exfoliant with over 10,600 reviews on Amazon. It is a low pH morning gel cleanser with natural BHA (Betaine Salicylic Acid) that cleanses and maintains optimum skin pH balance. The tea tree formula in the cleanser helps protect skin from outside irritants with its unique suction power.
This low pH formula is gentle on the skin. It reduces excess sebum formation, but does not cause any irritation. It does not dry the skin out. The 5% Styrax Japonicus Branch/Fruit/Leaf Extract clarifies the skin without stripping it of its essential oils. Here's a personal review video to help you get a better understanding of the product.
Pros
Hypoallergenic
Dermatologist-tested
Cruelty-free
Paraben-free
Sulfates-free
Phthalate-free
Alcohol-free
Completely vegan
Mild
Cons
Has a faint smell of tea tree oil.
Price at the time of publication: $7.0
The First Aid Beauty Skin Rescue Deep Cleanser helps draw out impurities and excess oil by strong suction power. It is made with natural ingredients for real solutions and offers better results for your skin.
Red clay is one of the key ingredients in the cleanser. It helps absorb impurities, cleanses the pores, and purifies the skin. The cleanser also contains rosemary leaf oil that helps unclog pores, reduces pore diameter, and tones skin. Bisabolol and glycerin help hydrate the skin and create a soothe and fresh skin appearance. The FAB antioxidant boosters in the cleanser help stave off environmental aggressors and dust particles. The licorice root, feverfew, and white tea extract also help in this regard.
Pros
Alcohol-free
Artificial fragrance-free
Mineral-oil free
Paraben-free
Hypoallergenic
Completely vegan
Suitable for sensitive skin
Nano-free
Cons
None
Price at the time of publication: $24
The Differin Daily Deep Cleanser offers the power of maximum strength benzoyl peroxide with less irritation and redness. The cleanser is specially formulated for sensitive skin.
It is a complete, micronized skin care formula that cleanses the skin by penetrating deep into the pores. With its strong suction power, it removes excess oil and moisturizes to give smooth, matte skin. This cleanser has over 19,400 reviews on Amazon and is one of the bestselling products for cystic acne and acne in general.
Pros
Can be used daily
Exfoliates the skin
Dermatologist-tested
Penetrates deeply
Kills acne-causing bacteria
Reduces inflammation
Cons
Price at the time of publication: $10.97
The Deep Cleanse oil-free gel by Tatcha lathers into a white foam to remove excess dirt, oil, and impurities without drying your skin. With over 2,000 reviews on Amazon, it is a great pore cleanser and a good solution for uneven skin tone. The amino acid derivatives from silk protein cleanse the skin deeply, leaving it soft, refreshed, and comfortably hydrated.
This cleanser contains Japanese luffa fruit, Wild Rose, and Leopard Lily that offer a complete skin care regimen. It exfoliates, removes impurities and excess oil, and conditions your skin. The cleansing foam helps smooth skin texture and leaves your face soft and hydrated.
Pros
Oil-free
Non-comedogenic
Non-irritating
Non-sensitizing
Dermatologist-tested
Cruelty-free
Paraben-free
Mineral oil-free
Phthalate-free
Urea-free
No DEA/TEA
Cons
Price at the time of publication: $39.0
This warming charcoal gel cleanser reduces large pores and removes excess dirt and impurities. The dynamic duo of activated charcoal and vitamin C absorb excess oil and make your skin look refreshed.
The activated charcoal in the cleanser absorbs dirt and excess oil, detoxifies, and exfoliates the skin. It refines the appearance of pores instantly. The artichoke leaf extract reduces the pore size, tightens pores, inhibits hyperpigmentation, and brightens the pore wall. The vitamin P (Alpha Glucosym Hesperidin) in the cleanser helps to enhance blood circulation.
Other botanical extracts of boscia, like jojoba and willowherb, help protect your skin from free radical damage. They also calm skin inflammation and reduce redness and irritation while nourishing the skin completely. Apply the cleanser to damp skin and gently massage it onto the face in a circular motion. Follow by rinsing with normal water.
Pros
Made with botanical extracts
Preservative-free
Best for sensitive skin
Long-lasting freshness
Affordable
Cons
Price at the time of publication: $34.0
Discover healthy and nourished skin with the OZNaturals Vitamin C Face Wash. It is a well-formulated cleanser infused with powerful ingredients like vitamin C, hyaluronic acid, vitamin E, rosehip oil, aloe vera leaf juice, cranberry fruit extract, green tea leaf extract, Lycium Barbarum fruit extract, Euterpe Oleracea fruit extract, chamomile flower extract, and grapefruit peel oil.
The antioxidant vitamin C helps restore skin collagen and protects it from free radical damage. Vitamin C, along with aloe vera extract, helps in the exfoliation of the skin. The natural ingredients help in deep cleaning of clogged pores, extract dirt and impurities from the pores, reduce blemishes, and blur pigmentation. The hyaluronic acid deeply moisturizes and plumps skin, whereas the rosehip oil and vitamin E extract strengthen the skin's barrier and prevent dehydration. This facial cleanser has over 1,000 reviews on Amazon and is perfect for all skin types.
Pros
Paraben-free
Alcohol-free
Cold-pressed natural ingredients
Non-GMO formula
Made with bio preserve complex
Antioxidant-rich
Provides radiant complexion
Locks skin's moisture
Long-lasting
Cons
Price at the time of publication: $16.0
The Paula's Choice Skin Balancing Cleanser improves skin freshness by 95%, reduces oiliness by 93%, and improves skin texture by 90%. The aloe extract locks skin hydration and soothes redness and irritation. The key ingredients of the cleanser effectively remove the skin's dirt, oil, and maintain skin integrity.
The concentrated cream to foam formula blurs large pores, removes blackheads, and restores balance. This formula can be used both in the morning and evening without having to worry about dehydrated skin.
Pros
Cleans, smoothens, and tightens large pores
Fragrance-free
Paraben-free
No harsh chemicals
Long-lasting
Cons
Price at the time of publication: $19.0
With over 8,700 reviews on Amazon, this facial cleanser is formulated with 2% salicylic acid that dissolves oil easily and targets breakouts for effective results. It also treats acne, acne scars, blackheads, and prevents further breakouts. Apart from this, the creamy lather washes off the face gently without over-drying it while the pink grapefruit scent feels invigorating. Additionally, vitamin C in the formula reveals clear and bright skin instantly.
Pros
 Lightweight
 Creamy lather
 Deep pore cleansing
 Pleasant scent
 Dermatologist-recommended
 MicroClear technology
Cons
May be too drying for dry skin
Price at the time of publication: $8.68
This foaming face wash deeply cleanses pores to remove impurities and trapped sebum. It minimizes the appearance of pores while taming breakouts.
The olive oil extract rich and coenzyme Q in the cleanser help revitalize, nourish, and protect the skin. The extract of grapefruit, orange, and tangerine, and the AHA from pear juice provide natural exfoliation. The calendula flower extract soothes the skin. The cleanser also contains horsetail kelp that is rich in amino acids and vitamins. These help moisturize the skin by retaining skin hydration.
Pros
Ideal for oily and acne-prone skin
Fragrance-free
Artificial colorant-free
Long-lasting
Cons
Price at the time of publication: $18
This is a pore purifying cleanser with AHA (glycolic and lactic acids) formula to absorb excess oil and unclog pores. It is a perfect formula to balance skin and remove excess dirt and impurities.
The cleanser is infused with a green fusion complex, which is a blend of potent active botanicals like green tea, eucalyptus, algae (kelp), and Irish moss extracts. These, along with the natural antiseptic neem seed oil, help reduce bacterial growth in the large pores and reduce breakouts.
Pros
Purifies pores
Non-comedogenic
Paraben-free
Sulfate-free
Phthalate-free
Best for acne-prone skin
Cons
Price at the time of publication: $32.0
The Medik8 Pore Cleanse Gel contains a blend of pore-tightening active ingredients. It is an effective exfoliant and glycerine that refines and hydrates skin. Aging and excess sebum formation can lead to clogged, open pores. This problem is addressed by the Medik8 Pore Cleanse Gel. The AHAs easily buff away the upper layer of the skin and remove any blockages through natural exfoliation. The BHAs break down any impurities, excess dirt, and toxic materials on the skin.
Other botanical extracts, like the red clove extract, help reduce sebum production and act as a natural astringent to minimize pore size. The cooling mint and lavender in the gel cleanser keeps you refresh. The salicylic acid in the cleanser decongests pores, removes excess oil, and reduces blemishes. Glycerin is a natural humectant that traps water within the skin.
Pros
No artificial fragrances
Paraben-free
100% vegan
No synthetic colors
Preservative-free
Phthalate-free
Alcohol-free
Cruelty-free
Cons
None
Price at the time of publication: $34.57
These are the top pore cleansers on the market. These are specifically known as deep pore cleansers for their powerful action. In the following section, we will discuss why you need to choose a deep pore cleanser.
Why Choose A Deep Pore Cleanser?
Your facial skin is daily exposed to dirt, pollution, sun damage, allergens, and bacteria. This often leads to the opening of pores, excess sebum formation, and oil production, ultimately damaging your skin. The environmental aggressors lead to breakouts, acne formation, clogging of pores, and pigmentation.
A good facial pore cleanser helps unclog pores, removes oil, dirt, and unwanted debris, and makes your skin clean and clear. The natural blending of botanical oils and extracts helps lock in skin hydration and reduces inflammation and blemishes.
Choose the best pore cleanser for your skin and enjoy the benefits. You should also know how to use a deep pore cleanser for immediate effective results. We have covered that in the following section.
How To Use A Pore Cleanser To Get Visible Results
Step 1: Splash plain water over your face to moisten your skin.
Step 2: Take a drop of creamy or gel facial cleanser on your palm. Add some water and rub your palms to form a lather.
Step 3: Rub it on your face in a gentle circular motion. Do not rub harshly.
Step 4: Splash plain water and clean the lather off. You can use lukewarm water for a relaxing effect.
The main challenge is to choose the correct pore cleanser, one that is especially suitable for your skin. Read on to find the factors that you need to consider before choosing the right pore cleanser for you.
Choosing The Best Pore Cleanser
Check the ingredients and always choose those that contain natural botanical extracts and are free of chemicals.
Your pore cleanser should be free of parabens, artificial fragrances, and preservatives. It should be non-comedogenic.
It should contain antioxidants like vitamins E, C, and A for protecting the skin from free radicals.
It should preferably contain hyaluronic acid for effective cleansing of pores.
Check for glycolic acid or salicylic acid. They are natural exfoliants with a powerful suction power capable of removing impurities and dead skin cells.
Check for glycerin that can trap water and keep your skin hydrated.
It must suit your skin type.
If your cleanser is not appropriate for your skin type, you may experience some adverse effects. Talk to a dermatologist for treatment. Some adverse effects pore cleansers may cause include the following.
Pore Cleanser Side Effects
High concentrations of salicylic acid or glycolic acid may cause skin redness, itching, and flaky skin.
Some pore cleansers may make the skin too dry and lead to a burning sensation.
If you have any skin disease or are under any treatment for clogged pores or acne, check with your dermatologist for a suitable cleanser. This can give you maximum results.
Why Trust StyleCraze?
Oyendrila Kanjilal is a professional skincare coach and an experienced product writer who believes in providing her readers with high-quality product evaluations. She has curated a list of the best pore cleanser for clogged pores to help your skin look clean and fresh after reviewing several customer evaluations and product listings on various forums. She also included thorough instructions on using a deep pore cleanser, applying it, and a detailed description of each product listed. The buying advice was also prepared with your needs in mind to help you choose the best pore cleanser.
Frequently Asked Questions
How often should you cleanse your pores?
Cleanse your pores with a facial pore cleanser two to three times a week. This will keep your skin clear and healthy.
How do you deep cleanse your pores?
• Wash your face with a deep cleansing face wash twice a day.
• Exfoliate your skin with a mild exfoliator 1-2 times a week.
• Steam your face or let the steam glide on your skin as you shower.
• Apply a mask preferably a clay mask to your skin.
• Moisturize the skin with a lightweight formula.
How do you open clogged pores?
• Apart from using a pore cleanser, other ways of opening clogged pores are:
• Use an exfoliator or face scrub
• Use baking soda to cleanse the face
• Use pore strips
• Use clay or charcoal masks.
Does hot or cold water open pores?
Neither hot nor cold water can open pores. Instead, washing your face with lukewarm water can actually help cleanse your pores off all the dirt and grime.
Recommended Articles