10 Best Korean Wash-Off Masks For Glowing Skin – 2022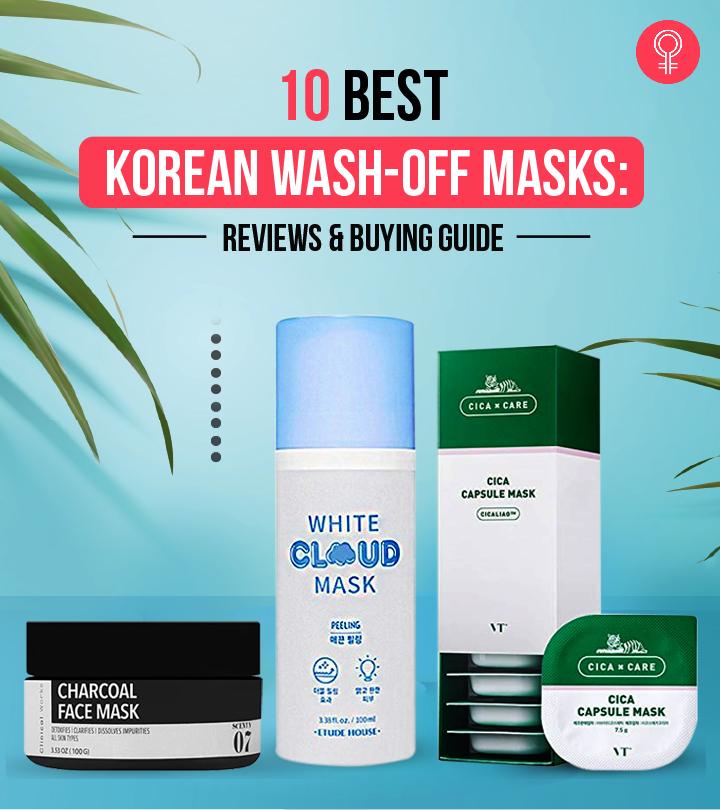 Korean beauty products are changing the skin world for the better. The latest K-beauty product you should know about is the wash-off mask. Keep reading to check out the best Korean wash-off masks available. These face masks are instant skin cleansing treatments. They are made with active ingredients that transform dull and blemished skin into smooth and healthy skin. They also soothe inflammation and diminish fine lines. They are the one-stop solution for all your skin care needs. The best part is that these wash-off masks are available in multiple types – peel-off masks, mud masks, and overnight masks. Check out these incredible Korean wash-off masks and pick your favorite today.
What Is A Wash-Off Mask?
As the name indicates, wash-off face masks are applied on the face and washed off after a specific time. You need only water to remove them and not follow up with a cleanser unless mentioned by the manufacturer. These masks are loaded with active ingredients and are available in different forms that are discussed later in the article.
Let's now take a look at the best Korean wash-off masks to include in your skin care routine.
The Top 10 Korean Wash-Off Masks Of 2022
The SKINFOOD Black Sugar Strawberry Mask Wash-Off is a rich facial mask loaded with minerals and beneficial vitamins. It contains a blend of organic black sugar, strawberry seeds, and strawberry seed oil. This blend of special ingredients in the mask exfoliates the skin, brightens it, reduces sunburns and tan, and leaves it fresh, hydrated, supple, and smooth. To use it, massage the exfoliating face mask for a few minutes, leave it on for 10-15 minutes, and wash it off.
Pros
Organic ingredients
No harmful chemicals
Gentle
Pleasing fragrance
Suitable for all skin types
Cons
Contains phenoxyethanol
Contains artificial color and fragrance
The I Dew Care Mini Scoops is a pack of ice-cream-inspired wash-off face masks. The package contains three wash-off masks of different flavors – Cake My Day, Berry Groovy, and Matcha Mood. It is a 100% vegan, natural, and organic product. Each flavor targets different skin woes.
Berry Groovy is a glycolic acid-based wash-off mask for skin brightening. It contains raspberry extract and strawberry seeds for exfoliation and has a gelato-like texture. Cake My Day is a hyaluronic acid-based mask for hydration with a soft-serve texture and yummy birthday cake scent. Matcha Mood is a skin-soothing green tea wash-off mask. It contains vitamin B3, fresh cooling glacier water, and has a sorbet-like texture. These masks are suitable for all skin types.
Pros
Paraben-free
100% natural ingredients
Gentle formula
Travel-friendly packaging
Sulfate-free
Formaldehyde-free
Oxybenzone-free
Cons
If you are looking for a brightening and pore-tightening wash-off mask, go for this product. The Crazy! Lifting Mask by Crazy Skin is a 2-step mask. The package contains a wash-off sheet mask and an eye cream.
The sheet mask is saturated with a serum containing amino acids, albumin, green tea, rosemary, and resurrection plant extracts. It thoroughly cleanses the skin pores and tightens them, smoothes wrinkles, and improves skin elasticity. The eye cream contains hydrolyzed collagen, hyaluronic acid, and multi-peptides that reduce fine lines and brighten your eye area. To use it, apply the sheet mask and remove it after 5-6 minutes. Let the serum on your face dry and then wash it off with lukewarm water. Follow up with the eye cream. This mask is best suited for mature skin.
Pros
Removes excess sebum
Lifts saggy skin
Minimizes skin pores
Cons
The VT Cosmetics CICA Capsule Mask is specially formulated to manage redness, itchiness, rashes, blemishes, and similar skin issues. This capsule mask is enriched with Centella asiatica extract (Centella 4X Complex), green propolis extract, and three types of hyaluronic acid. It strengthens the skin's natural barrier and calms and rejuvenates it. This wash-off mask has a clay-base, and unlike other clay masks, it has a moisture texture-cream like formula that does not cause dryness.
Note: This mask is not suitable for skin conditions like eczema and dermatitis.
Pros
Hydrating
Removes dead skin cells
Non-irritating
No harmful chemicals
Cons
None
If you have dull, tanned, and blemish-prone skin, this wash-off mask is for you. The SKINFOOD Rice Daily Brightening Mask Wash Off contains 20% Cherowon Odae rice bran water and has an instant brightening effect. It also contains Rice Nuruk Fermented Water that gently exfoliates the skin, improves its texture, and makes it smooth. The mask has a mochi-like bouncy texture that gently massages your skin without irritating it.
Pros
Suitable for all skin types
Instant results
Mild exfoliator
Dermatologically tested
Cons
Not suitable for sensitive skin
Contains phenoxyethanol
The Clinical Works Charcoal Face Mask is a detoxifying and cleansing mask. It contains activated charcoal that draws out dirt, excess oil, impurities, and dead skin cells from your skin, leaving it smooth and fresh. This product is beneficial for oily and acne-prone skin. To use it, apply the mask, leave it for 10-15 minutes, and then wash off.
Pros
Suitable for oily skin
Cruelty-free
Paraben-free
User-friendly
Easy to wash off
Cons
May cause a burning sensation
The Etude House White Cloud Mask contains AHA and BHA for gentle and effective exfoliation. This double peeling mask forms small bubbles when applied on the skin and takes out dirt, excess sebum, and dead skin cells to leave your skin soft, supple, and refreshed. This product is best for those who have oily and acne-prone skin. To use it, apply the mask to your face and wait for the bubbles to form. Gently rub it and then wash off.
Pros
Safe for the skin
Environment-friendly
Affordable
Cons
Not suitable for daily use
The Bonajour Dead Sea Mud No Sebum Mask is a one-of-a-kind solution for deep pore cleansing and blackhead removal. The mask contains fresh, natural, mineral-rich mud from the Dead Sea and charcoal that nourishes the skin and cleanses the skin pores and removes excess dirt and sebum. Dead Sea mud has healing properties and helps improve skin elasticity. This mask has a soft cream-like texture and is best suited for oily skin.
Pros
Gentle
Fast drying
Not tested on animals
Non-irritating
Cons
None
The VT Cosmetics Progloss Gold Capsule Mask contains a unique combination of gold and honey extracts. This mask is both soothing and nourishing and helps improve skin radiance. It has a rich gel-cream texture that cleanses and exfoliates the skin without making it dry. It is suitable for all skin types and people of all age groups.
Note: Avoid the product is you are allergic to pollen, beeswax, and honey.
Pros
Contains real gold
Moisturizing formula
Imparts glow
Cons
Contains mica
Contains artificial color and fragrance
No proper usage instructions
The masque BAR Grey Clay Wash Off Mask contains charcoal powder and has a healing and exfoliating formula. The kaolin and bentonite clays clarify the skin pores, improve texture, control excess oil, and brighten the skin. This face mask soothes irritated skin and detoxifies it without removing the natural oils.
Pros
Soothes the skin
Easy application
Cruelty-free (Leaping Bunny Certified)
Cons
These are the 10 best wash-off masks that you can use to cleanse and clarify your skin. However, before you pick one, here are a few things to consider.
How To Choose The Best Korean Wash-Off Mask
Choose one that suits your skin and meets your skin care requirements. If you have dull, oily, and acne-prone skin, check for an exfoliating face mask. If you have dry and sensitive skin, check for a nourishing face mask. You will get specific wash-off masks addressing concerns like brightening, skin tightening, pore cleansing, and clarifying the skin.
Check the ingredients. If you have oily skin, pick a clay-based mask. If you have dry skin, choose one that contains moisturizing and nourishing ingredients like aloe vera and oils. If you have sensitive skin, choose on that does not contain any harmful chemicals and allergens.
Check whether all the ingredients are skin-friendly and of top quality. Look for a product that is natural, vegan, and paraben-free. Check whether the mask is manufactured by a reputed company dealing exclusively with skincare and has sufficient knowledge and experience.
There are several types of wash-off masks available on the market. Each of them serves specific purposes and has benefits.
Types Of Wash-Off Masks
1. Clay Masks
These are mainly for sebum control, exfoliation, and skin brightening. These masks contain clays like kaolin, bentonite clays, or Dead Sea mud. They enrich the skin with essential vitamins and minerals and are perfect for oily skin and sensitive skin with enlarged pores.
2. Nourishing Masks
Nourishing masks contain special ingredients that restore moisture, balance sebum production, and even out the skin tone. These masks contain skin repairing and nourishing active ingredients that have anti-aging benefits and boost hydration levels and collagen and elastin formation. Most of these nourishing masks are gentle on the skin and suitable for all skin types.
3. Hydrating Masks
Hydrating masks are specially meant for dry skin. These masks contain ingredients like hyaluronic acid and nourishing oils to restore the skin's natural ability to stay hydrated.
Why Trust StyleCraze?
The author of this article, Shiboli Chakraborti, is a certified skin care coach. She listed the best Korean wash-off masks after extensive research and going through numerous product reviews on brand websites and trusted platforms. These products contain active ingredients that help make your skin smooth and healthy.
Frequently Asked Questions
Is the Korean wash-off mask only for single-use?
No. The wash-off masks can be used like any regular facial mask.
What to do after using the Korean Wash-Off mask?
After using a Korean wash-off mask, apply a lightweight moisturizer or follow your regular skin care routine.
When to use wash-off masks?
Follow the manufacturer's instructions for this. You may also use a mask after cleansing and before toning your skin.
Recommended Articles