13 Best Glycolic Acid Pads Of 2023 For Brighter Skin
Brighten your skin with natural ingredients with this skincare essential.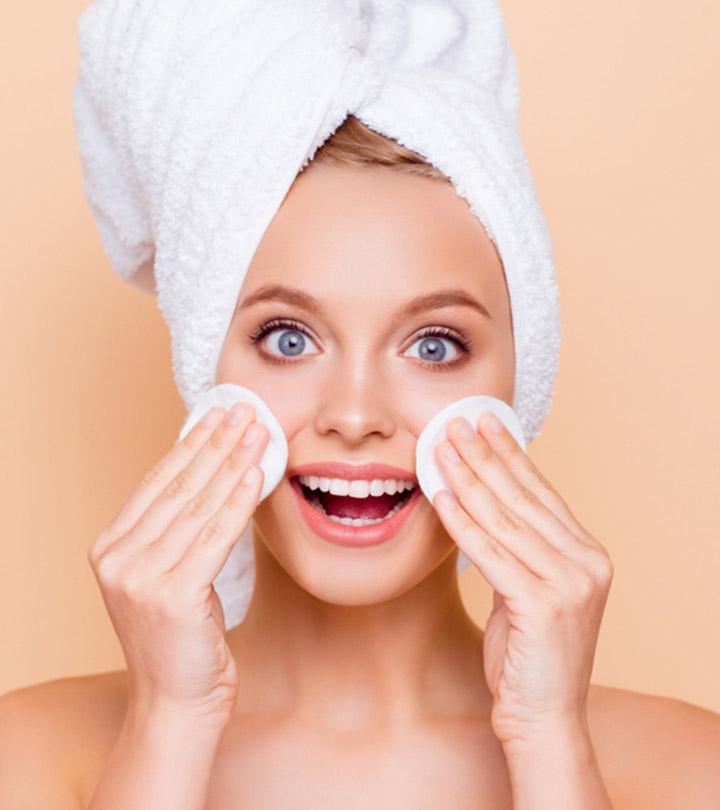 All of us pray for perfect skin every day, and sometimes we are willing to go to any lengths to get it. Getting regular facials at a salon can be an expensive affair. That is why using the best glycolic acid pads is an affordable way to attain this goal. While glycolic acid is commonly packed into lotions, gels, and toners, glycolic acid pads are pre-soaked in a saturated solution with other ingredients like witch hazel or aloe vera to boost and brighten your skin. These portable pads of goodness can be swiped all over your face and your body, giving you the same benefits of an old-school facial.
Glycolic acid is a time-tested exfoliator that removes dead skin and unclogs your pores, giving you clear and smooth skin. Like any other exfoliant, using it a few times a week is perfect as using it regularly can lead to dry skin. To ensure that your skin does not dry out after using these pads, apply a moisturizer to keep it hydrated. Check out our list of the best glycolic acid pads given below. Scroll down!
Top 13 Glycolic Acid Pads Of 2023 – Our Top Picks
Pining for younger, smoother, and hydrated skin? This pack of 50 pads comes fully saturated with a solution of 20% pure glycolic acid so that they don't dry out. Made of a soft non-woven material with a waffle shaped, textured surface, they gently cleanse and exfoliate the skin. Each pad has a convenient finger notch that makes it easier to pick it up from the jar. These pads exfoliate and reduce the appearance of scars, bumps, fine lines, and wrinkles, and boost collagen production that is responsible for skin cell turnover. Boosted with potent antioxidants vitamins B5, C, and E, they improve skin hydration, reduce photo-damage, and skin tone issues, leaving the skin looking younger and more radiant. They are also infused with allantoin that helps to soothe and protect the skin and green tea plus calendula extracts which act as anti-inflammatory and antioxidant agents. These professional grade glycolic acid pads are definitely worth a try!
Pros
Cruelty-free
Paraben-free
Silicon-free
Eco-friendly packaging
Cons
May not suit extremely sensitive skin
Price at the time of publication: $19.95
For your skin to look smooth and glowing, this product comes in a pack of 60 pads of 55 mm diameter and targets excess oil and clogged pores. Fab glycolic acid pads are extreme night pads, are quite potent, and contain 5% glycolic acid, further enhanced by hyaluronic acid and salicylic acid. Glycolic acid is a gentle exfoliator and helps to fade discoloration, acne scarring, and pigmentation. Salicylic acid penetrates deep into the skin pores and unclogs them, thus helping to combat blackheads and blemishes. Hyaluronic acid, the ultimate hydrator, improves skin hydration and keeps skin feeling soft and plump. For best results use these facial exfoliating pads 2-3 times a week at night, but if you have an extremely sensitive skin type, use it just once a week.
Pros
Contains natural ingredients
No toxic chemicals
Non-comedogenic
Effective for acne-prone skin
Cons
Contains artificial fragrance
Contains EDTA
Price at the time of publication: $13.14
The innovative Glycolic Acid Pads from Lumiwill Cosmetic exfoliate dead skin cells, excessive sebum, and other impurities to make your skin look nourished and glowing. The alpha-hydroxy acid peel pads reduce blackheads, clogged pores, and acne breakouts, leading to soft, smooth skin. Glycolic acid is one of the safest and most effective exfoliators that can slow down the appearance of aging signs. Apply a pad once daily to get a bright and even skin tone. The container has 50 pads that are infused with natural ingredients like Vitamin B5, C, and E, menthol, calendula, and witch hazel that soften, soothe, refresh, and plump the skin and help fade acne scars.
Pros
Paraben-free
Alcohol-free
Phthalate-free
GMO-free
Suitable for all skin types
Cons
None

Price at the time of publication: $19.9
These facial peel pads help in resurfacing dull, uneven tone and rough texture of your skin to reveal youthful looking skin and reducing the appearance of wrinkles. Formulated with glycolic acid, which is a gold standard in skin brightening, these glycolic acid peel pads renew and hydrate your skin. For daytime use, always follow up with a moisturizer with SPF. Available in a pack of 30 multi-ply textured pads, this 10% glycolic complex is infused with vitamin C, citric acid, and HEPES that visibly improves skin clarity and refines skin tone. If you're giving glycolic acid a first try, this product is worth investing in.
Pros
Dermatologist-tested
10% glycolic complex
Good for acne
Suitable for all skin tones and types
Cons
Some may find these pads a bit sticky.
Price at the time of publication: $20.79
If you are seeking a gentle yet effective exfoliator to achieve supple, youthful skin, look no further than Majestic Pure Glycolic Acid Pads. These pads offer the perfect combination of toning, hydration, and exfoliation. They contain 20% glycolic acid that exfoliates the skin effectively without causing dryness. This results in the reduction of fine lines and wrinkles, providing a refreshed and rejuvenated appearance.These pads remove dead cells, toxins, dirt, and pollution from your pores, detoxifying and hydrating your skin.
Pros
Cruelty-free
Easy to use
Gentle formula
Suitable for all skin types
Long-lasting
Cons
None
Price at the time of publication: $13.79
The WINDSOR BOTANICALS Glycolic Acid Peel Pads are all-natural exfoliating products that gently remove dead skin cells and clear makeup while unblocking pores. These glycolic acid toner pads contain a powerful chemical exfoliant that reduces the appearance of fine lines and wrinkles in just a few swipes. These pads are pre-soaked with calming herbs so you can enjoy an at-home chemical peel without harsh irritants or allergens.
Pros
Vegan
Paraben-free
Hypoallergenic
Cruelty-free
Long-lasting
Cons
Not suitable for hypersensitive skin
Price at the time of publication: $16.99
These effective glycolic acid pads contain 20% glycolic acid with a pH of 3.5, and require no neutralizer or rinsing after use. These pads are perfect for removing dullness, hyperpigmentation, melasma, unclogging pores, removing acne, scars, fine lines, and wrinkles, and ensure that you have even skin tone and texture. These pads exfoliate dead skin layers to reveal smooth, radiant, and even toned skin. They restore healthy, glowing skin by preventing moisture loss and dryness, and significantly boost collagen production. This product understands that people with sensitive skin may suffer skin irritation with glycolic acid and so it has cucumber, chamomile, comfrey, and green tea extracts to provide your skin with moisture protection with their anti-irritant, anti-inflammatory, and antioxidant properties.
Pros
Cruelty-free
Phthalate-free
Sulfate-free
Alcohol-free
Oil-free
Paraben-free
No dyes
Non-comedogenic
cGMP-compliant
Cons
May not be suitable for extremely sensitive skin
Price at the time of publication: $18.99
These ultimate complexion perfecting detox pads contain alpha hydroxy acids and beta hydroxy acids that help even skin tone and diminish large pores. A blend of lactic acid, salicylic acid, and glycolic acid gently exfoliate the skin and unclog pores, prevent breakouts, and firm the skin while reducing fine lines and wrinkles. The antioxidant, anti-inflammatory, anti-bacterial, and anti-fungal properties of these glycolic acid exfoliating pads help keep your skin protected. A proprietary retinol-like product without the drawbacks of retinol, it brightens the skin, giving it a fresh glow. This just might be the answer to your skin woes.
Pros
Cruelty-free
Vegan
Paraben-free
Gluten-free
Mineral oil-free
Cons
Some may find it harsh on sensitive skin
Price at the time of publication: $49
The Remedial Glycolic Acid Pads offer a unique blend of skin care benefits that make them stand out from other exfoliants and dark spot correctors. These facial care pads are gentle on the skin yet effectively eliminate dead skin cells and unclog pores without harsh scrubbing. The moisturizing effects of this product promote the emergence of new cells, offering you a flawless skin tone. These pads nourish the skin, clear pores, and soothe damaged skin. They contain essential vitamins and minerals that soften fine lines and wrinkles and treat discoloration.
Pros
Reduces enlarged pores
Non-comedogenic
Gentle formula
Suitable for all skin types
Value for money
Cons
None
Price at the time of publication: $16.89
These unique glycolic acid pads contain 10% of glycolic acid and 2% of salicylic acid to treat breakouts, remove bacteria and excess oil, unclog pores, and even out skin texture and tone. Suitable for acne-prone skin, these convenient glycolic acid pads help remove dirt, oil and other impurities without drying out your skin. These pre-moistened medicated pads are gentle on the skin, pH balanced, and have a soap-free formula. They contain witch hazel extracts to smooth and tone the skin and skin conditioners and natural plant extracts to hydrate irritated skin. Green tea polyphenols effectively soothe the skin and reduce inflammation. This product is also available in 2% and 5% concentration of glycolic acid, so pick whatever suits your skin the best.
Pros
Non-comedogenic
Natural ingredients
Suitable for acne-prone skin
Trusted by dermatologists
Cons
Price at the time of publication: $29.75
These effective glycolic acid pads deliver visible anti-aging results. They come in a pack of 50 waffle-shaped, textured pads steeped in 20% glycolic acid and 0.5% salicylic acid. These therapeutic acids in these exfoliating pads penetrate through the layers of skin, removing dead skin cells and unclogging pores. They reduce skin bumps, lines, and wrinkles and create a smooth and even skin texture. These pads are also great for removing that excess dirt and oil that we seem to collect on our skin through the course of the day, reducing dark spots, hyperpigmentation, and melasma. These pads have a pH of 3.25 which enhances penetration and absorption, giving you that brighter and more radiant complexion you have been craving for.
Pros
Cruelty-free
Vegan
Paraben-free
Oil-free
Alcohol-free
No dyes
No fragrance
No fillers or preservatives
Suitable for acne-prone skin
Cons
It may leave behind a sticky residue
Price at the time of publication: $14.97
If you're experiencing hyperpigmentation, irritating red bumps, large pores, or excessively oily skin, you're not the only one! These medical grade glycolic acid pads come in a pack of 50 pads and contain 20% glycolic acid, making it an ideal exfoliating pore minimizer. These glycolic acid exfoliating pads slough off dead skin that dulls your complexion, and you will notice the difference after just one use. This product is rich in natural, unaltered ingredients that are scientifically proven to improve skin tone, shrink pores, and treat acne and scarring. Glycolic acid and lactic acid infused with chamomile, witch hazel extract, and vitamin C penetrate deep into your skin and rejuvenate it. Get ready to welcome a new you!
Pros
Natural ingredients
Cruelty-free
Medical grade glycolic acid
Good for acne-prone skin
Cons
May not be suitable for extremely dry skin
Price at the time of publication: $15.99
Inspired by effective spa-grade treatments, these gentle glycolic acid pads are packed with antioxidants, calendula flower extract, witch hazel, glycerin, vitamin E, and licorice. These pads help to reduce visible signs of premature aging. These advanced formula pads gradually release 10% glycolic acid and vitamin E into your skin while you sleep, targeting fine lines, scars, discoloration and blemishes. Each pad is wrapped individually in it's own package and there's no need to rinse your face after using it. These pads are infused with soothing botanicals to help reduce any inflammation and enhance moisture retention so that you wake up with more radiant-looking skin. These convenient, no-rinse pads are easy to use at home and are suitable for all skin types.
Pros
Vegan
Cruelty-free
Paraben-free
Silicon-free
Phthalate-free
Cons
It may take some time to witness the results.
Price at the time of publication: $22.49
Now that you have been through our review of the 13 best glycolic acid pad of 2023, we will give you a few tips on what to look for while choosing a product for yourself so that you can make a well informed decision.
How To Choose Glycolic Acid Pads
Condition of the area to be treated
While choosing glycolic acid pads, you need to consider the use for which they are intended and your expectations from it. Makeup, daily cleansing, environmental pollutants, and blemishes can all contribute to your skin looking dull and lifeless. The best glycolic acid pads remove build-up and residue and leave your skin bright, clear, and smooth.
Glycolic acid concentration
Glycolic acid pads are available in concentrations ranging between 20% to 55%. If you are using them daily, it's best to use lower concentrations. For deep exfoliation or severe acne, concentrations of 10% to 15% work best. Chemical peel pads for deeper exfoliation have a concentration of 20% and may also be used by people who haven't had success with lower concentrations. Chemical exfoliation shouldn't be done too frequently.
People with sensitive skin types, light wrinkles, and mild or no acne should use glycolic pads with a lower concentration, while those with normal skin, sun damage, or excessive build-up due to product use should try moderate concentrations. Always start with glycolic acid pads of a lower concentration for a few weeks and gradually increase the concentration and frequency till you get the desired results.
Always test the glycolic acid pads on the inner arms before using them on the face. If you experience irritation, go for a lower concentration pad or a formula for sensitive skin.
After you have picked the right product for yourself, it's important to know how to use it correctly so that you are able to draw the maximum benefits for your skin. So, here's a little guide on how to use glycolic acid pads the right way.
How To Use Glycolic Acid Pads
Most glycolic acid pads are dual textured, so you should use the softer side on the face and the side with added texture on the neck, shoulders, and chest. It usually tingles when you first swipe it on, but the sensation soon fades. If it's a leave-on, you can just sleep off and let it do its magic. Otherwise, rinse it off your face with water and pat your face dry with a towel.
Apply a moisturizer after a few minutes if you've got dry skin, as glycolic acid can dry it out even more.
After using a glycolic acid pad it's good to follow up with an antioxidant like vitamin C and a sunscreen moisturizer. A word of caution— don't use glycolic acid peel pads just before applying retinol or retin-A, as this can lead to significant irritation and sometimes even inflammation.
Always read the directions before using glycolic acid pads and start with a low concentration and the fewest number of applications. Using too much may cause excessive peeling. If you are not sure about which concentration to use, consult your dermatologist.
Why Trust Stylecraze
Vaishnavi Kothuri, the author of this article, is a skin care enthusiast who loves reviewing new products that can help her readers look and feel their best. After carefully researching multiple products and sifting hundreds of user reviews on trusted online forums, she compiled this list of the best glycolic acid pads. The glycolic acid present in the shortlisted products helps even the skin tone and removes dead skin cells.
Frequently Asked Questions
Are glycolic acid pads effective?
Glycolic acid pads are very effective and are the most popular ingredient in peel pads since they unclog pores, hydrate, brighten, and smooth the tone and texture of your skin.
Can you use glycolic acid pads every day?
It's not recommended to use glycolic acid products every day, but it depends on the product you're using. If it's a rinse-off product, then using it everyday is fine.
Should you moisturize after using glycolic acid?
Glycolic acid, like any other exfoliator, can dry out the skin. To counter that, you should use products that contain moisturizing ingredients. You can also apply your regular moisturizer after using a product with glycolic acid in it. It's important to moisturise your skin after applying glycolic acid as you are removing the top layer of dead skin cells, and may have some peeling or flaking.
Can I leave glycolic acid on overnight?
Glycolic acid products are best used at night as they make your skin more sensitive to the sun's UV rays. It can be left overnight if it's a leave-in product, otherwise usually 10 minutes are enough.
How long does it take glycolic acid pads to work?
Glycolic acid pads take a few weeks to show positive results like an even skin tone and fewer blemishes.
What do you put on your face after a glycolic acid peel?
Apply a lightweight moisturizer after using a glycolic acid peel. Do not over moisturize, or the damaged skin will stop flaking. In addition, use a cool compress to soothe and calm your skin after peeling.