14 Best Organic Facial Peels For Healthy And Glowing Skin
Get rid of dead skin cells and look young again with these affordable skin care products.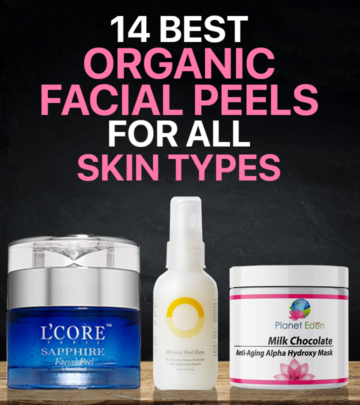 Facial peels enhance the effectiveness of one's skin care regimen. Such peels comprising organic ingredients have added advantages. The best organic facial peels have a mild exfoliating effect and are enriched with beneficial natural acids like BHAs and AHAs. These acids dissolve the debris and dead skin by penetrating the skin surface. When used regularly, they also reduce the appearance of pores. They have a moisturizing, hydrating, and repairing effect on the skin. In this article, we have listed the 14 best organic facial peels available on the market. Check them out.

14 Best Organic Facial Peels
The Black Mask Vitamin C from O'LINEAR is an organic peel-off mask formulated with natural bamboo charcoal. The deep pore-cleansing mask also contains vitamins C, E, B3, and B5 that remove blackheads, promote collagen production, and purify the skin. The organic ingredients like wheat protein and apple, rice, and aloe extracts pamper the skin while gently removing dirt and impurities. This mask is suitable for normal and sensitive skin types.
Key Ingredients: Organic bamboo charcoal, Aloe vera, Hydrolyzed wheat protein, and Vitamin C 
Pros
Quick-drying
Paraben-free
PEG-free
Cruelty-free
Mild fragrance
Cons
May sting
Messy application
Not easy to peel off
Price at the time of publication: $9.79
O.R.G. Skincare presents a mineral peel-off mask that exfoliates the face and prepares it for other facial therapies. The stay-on peel-off mask removes impurities from the skin and smoothens the texture. The skin brightening agents (licorice root and milk thistle) give the face an instant natural glow.
The formula is enriched with grapefruit seed, jojoba oil, mugwort extract, and patented SP-powder mineral that soothes and calm the facial skin. The organic enzymes in the peel help remove dead cells and promote cell regeneration. This peel-off face mask comes in spray form.
Key Ingredients: Aloe vera, Jojoba oil, Glycerin, Cucumber fruit extract, Grape fruit extract, Jojoba seed extract, Tocopheryl Acetate, Grapefruit seed extract, Retinol, Hyaluronic acid, Licorice root extract, Thistle extract, and Mugwort extract 
Pros
Paraben-free
Sulfate-free
Alcohol-free
Cons
Expensive
Dries into chunks.
May cause redness.
Price at the time of publication: $31.5
Give your skin a turnover with the Perfect Image Pineapple Pumpkin Enzyme Skin Peel. Packed with fruit enzymes, this chemical peel is loaded with anti-aging and skin enhancing properties. It tackles skin concerns like dark spots, age spots, pore refinement, dehydrated and dull skin, dryness, dermatitis, eczema, psoriasis, and rosacea. Enhanced with pumpkin extract, papaya extract, and alpha hydroxy acids from pineapple, this chemical peel also contains 5% glycolic acid and 5% lactic acid.
The pumpkin extracts help in increasing the skin cell turnover rate, promotes healthy collagen, improves elastin production, and helps in enhancing skin's texture. Papaya extract acts as a natural exfoliator to eliminate dead and damaged skin cells. Pineapple extract contains natural AHA and enzymes that help in visibly reducing signs of aging, moisturizes and purifies skin for clear complexion, improves hydration and elasticity. Glycolic acid and lactic acid together cater in improving the skin's texture, enhancing radiance, and reducing signs of fine lines and wrinkles. This potent combination of enzymes maintains the protective lipid layers and provides essential nutrients to your skin to prevent dryness and dullness.
Pros
Improves elasticity
Boosts hydration
Offers skin turnover
Anti-aging properties
Restores natural radiance
Brightens dull and dehydrated skin
Beginner-friendly
Suitable for all skin types
Ideal for eczema and psoriasis
Gluten-free
Cruelty-free
GMP-free
SLS-free
Phthalate-free
Paraben-free
Cons
None
Price at the time of publication: $29.95
The Resurfacing Exfoliator Powder by the Herbal Power Peel is a green sea pack suitable for professional and home use. This product is infused with green algae and herbs and acts as an exfoliator, scrub, and mask. The bioactive ingredients help treat conditions like acne, oily skin, enlarged pores, wrinkles, fine lines, photoaging, and hyperpigmentation.
This product promotes collagen and elastin production and helps make your skin younger-looking. The enzymes in this mask dissolve dead skin cells from the epidermis and control microscopic irritations. It heals wounds and naturally restores tissue health with increased blood circulation. This powder peel makes the skin soft, smooth, and clear. 
Key Ingredients: Green algae, Bladderwrack, Seaweed, Kelp, Willow bark powder, Nettle, Neem, and Licorice root powder 
Pros
Natural
Chemical-free
Acid-free
No preservatives
No fillers or additives
Cons
Strong fragrance
Messy application
The Pumpkin Peel is made of natural pumpkin enzymes, which exfoliate the skin and give it a smooth texture. It is hand-crafted in small quantities and contains 5% glycolic acid extracted from sugarcane. This mask helps reduce wrinkles and fine lines and gets rid of dead skin cells. With a scent of fresh pumpkins, the gentle peel effectively gives the face a radiant and youthful appearance.
Key Ingredients: Organic pumpkin, Indian turmeric oil, and 5% glycolic acid 
Pros
Vegan
Cruelty-free
Paraben-free
Sulfate-free
Phthalate-free
No artificial fragrances
Cons
Expensive
May cause redness or irritation.
Price at the time of publication: $36
The Milk Chocolate Anti-Aging Alpha Hydroxy Mask from Plant Eden is infused with 15% lactic acid, which helps exfoliate dead skin cells and give you younger-looking skin. The kaolin clay in this formula detoxifies congested pores and removes toxins and impurities. It shrinks enlarged pores and gives the skin a smoother, firmer texture. The rich milk chocolate and exotic rosehip oil moisturize and soften the skin.
Key Ingredients: Chocolate, Kaolin clay, Rosehip oil, Lactic acid, Organic goat milk powder, Organic honey powder, and Apricot kernel oil 
Pros
Chocolaty fragrance
Natural preservatives
Paraben-free
Sulfate-free
Cruelty-free
Cons
Can irritate sensitive skin.
Can cause skin purging.
Price at the time of publication: $13
The White Naturals Black Mask is perfect for a relaxing spa day at home. It is formulated for deep cleansing and oil control. This peel-off mask is infused with activated charcoal that deeply cleanses and exfoliates the skin and unclogs the pores. The antioxidants and anti-inflammatory ingredients treat existing acne and prevent new ones from popping. This product reduces the appearance of blemishes and dark spots, giving your skin a healthy and radiant glow.
Key Ingredients: Activated charcoal
Pros
Easy to use
Chemical-free
Additive-free
Filler-free
Cons
Price at the time of publication: $6.95
The GRATiAE Renewing Peeling Gel is a gentle formula that effectively cleanses the skin. The gel helps tighten pores, exfoliate dead skin cells, and flush out impurities from the facial skin. It contains myrtle and witch hazel extracts with anti-inflammatory and astringent properties that help clear acne and other skin problems. Alfalfa reduces oxidative stress and protects the skin from environmental damage. Vitamins A and E reduce free radical damage and make the skin healthy and youthful. 
Key Ingredients: Myrtle, Witch hazel, Alfalfa, Vitamins A and E, and Mentha piperita oil 
Pros
Mess-free application
Non-comedogenic
Dermatologically tested
Cruelty-free
Cons
Expensive
Dries the skin out.
Price at the time of publication: $65.99
The Chocolate Heaven mask from thesis is specially formulated for dry skin. It is a non-peel clay mask that detoxifies the skin while nourishing and smoothing its texture. The 100% natural mask is infused with healing actives with anti-inflammatory and antioxidant properties that fight UV rays, pollution, and free radical damage.
Oats, quinoa, hemp protein, and agave inulin enrich, moisturize, and soothe the skin. Raw cacao prevents the appearance of fine lines and makes the skin soft and glowing. Rhassoul and kaolin clay decongest the pores. This organic face mask keeps the skin hydrated and is a natural anti-aging formula that gives the skin a clear and bright appearance. 
Key Ingredients: Oats, Hemp protein, Quinoa, Agave, Cacao, Rhassoul + Kaolin clay, and Vitamin C 
Pros
Vegan
Cruelty-free
100% chemical-free
Suitable for all skin types
Cons
Less quantity for the price.
Price at the time of publication: $44
This Facial Peel + Clarifying Kit from emerginC is a gentle DIY face mask. The two-bottle kit consists of exfoliating pads and clarifying pads. The exfoliating pads are infused with naturally sourced AHAs to reduce enlarged pores, wrinkles, and fine lines and brighten the skin. The clarifying pads are formulated with beta hydroxy acids that help in the peeling process while green tea soothes the skin. Each pad has 70% organic ingredients and gives you fast, visible results. This facial kit improves the skin tone, soothes the skin texture, and leaves you with nourished and clarified skin.
Key Ingredients: Natural fruit acids, Aloe, Cypress, Tea tree, Green tea, Willow bark, and Apple extracts 
Pros
Mild
Paraben-free
Synthetic fragrance-free
Cons
Price at the time of publication: $95
The My Skin's Friend Enzyme Peel is a non-chemical formula that helps diminish scars, wrinkles, and dark spots. Unlike acid-based peels, this non-chemical peel does not cause breakouts and is suitable for all skin types. The mask also helps reduce acne and blackheads with gentle exfoliation. It loosens dead skin cells, unclogs the pores, and assists the skin in soaking up nourishment. This peel-off mask gives the facial skin a healthy appearance.
Key Ingredients: Spring water, Pineapple, Papaya, Passion fruit, Asparagus tip, Bamboo, Mushroom blend, Seaweed, Aspen tree, and Horseradish
Pros
Smells good
BPA-free
Acid-free
Non-chemical
No animal testing
Cons
Price at the time of publication: $39.97
The Sapphire Facial Peel from L'CORE is an anti-aging formula. The gel-based peel is infused with real sapphire dust, minerals, and organic botanical extracts that give your skin a luxurious feel. It removes dead skin cells and other toxins from the skin's surface while maintaining its natural pH balance.
Sapphire purifies the pores and detoxifies the skin. Green tea and vitamin E repair cell damage and reduce wrinkles, blemishes, and other scars while protecting the skin from free radical damage. Vitamin A (or retinol) and echinacea minimize visible age signs, diminish collagen breakdown, and increase skin elasticity. They also even out the skin tone and brighten the complexion. Aloe vera moisturizes and soothes the skin with its anti-inflammatory properties. This peel-off mask brightens the skin tone and gives it a toned, plump, and flawless appearance. 
Key Ingredients: Green tea extract, Aloe vera, Sapphire dust, Vitamins A, E, and C, Collagen, and Echinacea
Pros
pH-balanced
Cruelty-free
Dermatologically tested
Cons
None
Price at the time of publication: $125
The Organic Pharmacy peel is a gentle exfoliator formulated with natural ingredients. It exfoliates the skin and helps fight acne and blemishes. This peel reduces the appearance of wrinkles and fine lines, making the skin appear brighter and smoother. It can be used on its own or combined with hyaluronic acid, retinol night serum, or a stabilized vitamin C serum. This four-acid peel rejuvenates the skin and improves its texture and tone. 
Key Ingredients: Plant-derived glycolic, lactic, tartaric, and citric acids 
Pros
Herbal fragrance
Plant-derived acids
Lightweight
Gentle
Cons
Price at the time of publication: $41.5
Onsen Purifying Facial Peel has a skin safe formula that self liquifies as an exfoliator and also works as a non-invasive pore minimizer. It offers deep and gentle exfoliation to remove dead skin cells and promote skin cell renewal. The peel doesn't leave any permanent scars; it reduces uneven pigmentation, acne scars, and improves skin texture. This peel also has healing qualities that treat redness, loss of elasticity, moisture loss, and fine lines, to give you healthy and youthful skin with a radiant glow.
Key Ingredients: Hyaluronic acid, Vitamin C and E, Cinnamon leaf oil, Japanese green tea, Aloe vera, and Pure lavender oil
Pros
 Fast action
 Paraben-free
 Eco-friendly
 Bio-friendly
 Fragrance-free
 Cruelty-free
 Offers multiple benefits
Cons
Price at the time of publication: $55.99
Why Trust StyleCraze?
The author, Shiboli Chakraborti, is a certified skin care coach and a firm believer in natural face peels. The mild exfoliating effect of these products and the rich natural acids that they contain help achieve radiant skin. After digging through several user reviews on trusted online forums, she has assembled the list of the top organic face peels, along with tips on how to get the most out of them. Natural ingredients in these products may nourish the skin and reduce pores over time.
Frequently Asked Questions
Do dermatologists recommend face peels?
Yes, dermatologists recommend face peels to eliminate dirt and grime from your face. Face peels contain moisturizing ingredients that treat dry and cracked skin, reduce the appearance of pores, and restore the natural glow of your face.
Can organic facial peels cause acne?
No. Organic facial peels are free of chemicals and do not aggravate acne-causing bacteria. Instead, organic facial peels cleanse your pores and eliminate dirt and other bacteria from your face.
How do you use organic facial peels?
•  Wash your face with warm water.
•  Pat the skin with a clean towel. Leave your face slightly damp.
•  Take a generous amount of the peel on a clean plate.
•  Take a clean brush and dip it in the product.
•  Hold the brush firmly and apply the product evenly on your face.
•  Let the peel sit on your skin for two to five minutes, as mentioned on the label.
•  Hold your skin taut and peel the mask off in one direction.
•  Apply a light moisturizer to your face.
How many times a week should you do a face peel?
Apply a face peel two to three times a week to exfoliate your skin and rebuild its healthy glow and texture.
How long does an organic face peel take to heal?
The skin starts healing immediately after using an organic face peel. The organic ingredients rejuvenate your skin and improve its health.
How long does it take to see results from an organic facial peel?
Organic facial peels take four weeks to show improved skin appearance. You will notice tighter and rejuvenated skin after four weeks.
Recommended Articles