13 Best Tummy Control Underwear In 2023 That You Can Count On
Wear that favorite LBD because these underwears will take care of the belly bulge.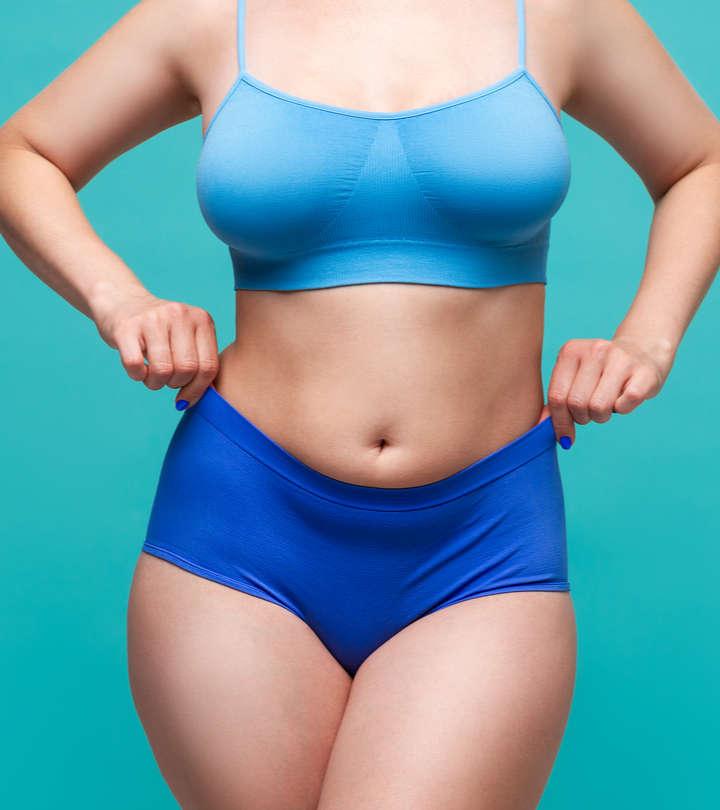 Not all of us have flat abs. But worry not – as brands now offer the best tummy control underwear for women. While most good quality tummy tucker shapewear are too constrictive and hard to wear, a good tummy control underwear is comfortable. It covers your rolls and bulges to offer a smooth silhouette under your outfits. What's more? You can breathe in them without feeling suffocated. You do not have to compromise on comfort to look stunning on your next date or party. You can wear these under your gowns, bodycon dresses, or even regular jeans and skirts. In this article, we have made a list of the 13 best tummy control underwear that you can add to your lingerie wardrobe and use on a regular basis. Go ahead and check them out now!
13 Best Tummy Control Underwear You Can Get In 2023
Pros
Breathable
Full coverage
Seamless design
Ideal for postpartum comfort
Cons
None
Price at the time of publication: $20.39
Pros
High-quality fabric
Pull-on closure
Comfortable waistband
Machine washable
Cons
None
Price at the time of publication: $12.96
Pros
 Firm control
 Machine washable
 Soft fabric
 Moisture-wicking
Cons
 Not for very large tummies
 Might roll down
Price at the time of publication: $11.4
Pros
Anti-chafing
Stretchable
Moisture-wicking
Seamless design
Skin-friendly
Cons
None
Price at the time of publication: $15.99
Pros
 Comfortable
 Microfiber fabric
 Full coverage
 Doesn't ride up
Cons
Price at the time of publication: $22.2
Yerkoad Tummy Control Panties For Women are beautiful lace panties made of thick, comfortable, and stretchy fabric. These have 3 rows of hook-and-eye closure at the midsection to suck in your tummy and give you a firm yet comfortable fit. It lifts up your hips, making them look fuller giving you a slim look and feel overall. These tummy slimming underwears are high-rise enough to be worn under high-waisted jeans and sleek enough to go unnoticed under any outfit. Along with providing full coverage, it also improves your posture and helps relieve any back pain. It comes with 4 steel bones attached inside the waist, that don't let the fabric roll down. These enhance all the right curves, seamlessly covering up all the bulges to keep you looking stunning all through the day.
Pros
 Breathable fabric
 Full back support
 Inexpensive
 Sweat-proof
Cons
 Might cause muffin tops
 Steel bones might cause slight discomfort
Price at the time of publication: $18.99
Pros
 95% cotton
 Machine washable
 Comfortable waistband
 No piling
 Multipack
Cons
 Doesn't provide maximum compression
Price at the time of publication: $21.99
These breathable cotton briefs are made up of 95% high-quality combed cotton with just a bit of spandex to give you a comfortable stretch. The crotch of these panties is made up of a double layer of 100% cotton fabric. These are washable by hand and machine as well, preferably in a laundry bag. These high-waisted panties enhance your body shape by accentuating the right curves, covering your muffin top, and lifting up the hips just right. These ladies tummy control underwear are resistant to any fading or piling and don't roll or bunch up giving you the ease of movement all through the day. These come packed as a multipack of different color combinations to give you that much-needed variety as well.
Pros
 High-quality fabric
 High rise
 Comfortable
Cons
Price at the time of publication: $16.99
Pros
 100% cotton liner
 Comfortable leg bands
 Tag-free
 Machine-washable
Cons
 Need to size up
 Not full-coverage
Price at the time of publication: $25.99
Pros
 Soft
 Comfortable
 Wide waistband
 Light tummy control
Cons
 Might not be true to size
Price at the time of publication: $9.28
Pros
 High-quality fabric
 Breathable
 Full coverage
Cons
Price at the time of publication: $23.99
Pros
 Comfortable
 Machine-washable
 Lightweight
Cons
 Expensive
 Might cause muffin top
 Tend to roll down
Price at the time of publication: $22
These Sloggi High Waisted Control Maxi Lady Underwear are made up of 95% Cotton with a bit of elastane. These are perfectly seamless at the waistline and leg openings making them literally invisible under your clothes. They caress your skin with their soft light feel while providing ample support to your midsection. Their dot-to-dot bonding technology with multi-stretch fabric makes them adapt well to the contours of your body. The ultra-soft and smooth fabric moves along with you without any sort of resistance. These fit comfortably and wash well without losing any shape or structure. Made in Japan, these Sloggi panties come in a wide variety of colors and cover most universal sizes.
Pros
 Super-smooth
 Multi-stretch fabric
 Made in Japan
 Comfortable
Cons
Price at the time of publication: $32.62
While it might be tempting to go ahead and select any one of the above 13 best tummy control underwear, there are a few pointers you must be careful about before making a purchase. Let's look into the same in the buying guide below.
What To Look For In Tummy Control Underwear?
When it comes to something as intimate as your underwear, the fabric is of utmost importance, as it sits right next to your sensitive skin. A piece of high-quality cotton fabric is most often preferred given its breathability and moisture-wicking capabilities. Even if you are going for something fancier, look for one with at least the crotch lining in cotton to avoid any unnecessary discomfort or irritation.
Something that sits so close to your body needs to be comfortable. The shapewear undies should not wedge into your skin nor leave any red marks. They should fit you snugly offering a good amount of support for your midsection. Also, panties that provide full coverage would make you feel more confident going about your day.
The waistline and leg openings should be well-sewn and seamless to avoid any visible panty lines. The purpose of any shapewear is to make you look in your best shape without revealing what you are actually wearing inside.
Tummy control undies that is washable adds to the convenience no doubt, but one that doesn't fade or shrink and holds its shape and texture after multiple washes is an added bonus.
While most clothing companies make shapewear undergarments in boring neutral colors, it would also make it a more attractive piece of garment for everyday use, if you can get the same fit, comfort, and support in multiple colors.
Why Trust Stylecraze
The author of this article, Chaitra Krishnan, is a fashion enthusiast and keeps up with the latest trends. She assembled a comprehensive and detailed list of the best tummy control underwear after conducting an intensive analysis of multiple user feedback available on trusted e-commerce sites. These are made up of high-quality material and are breathable enough to be worn comfortably throughout the day.
Frequently Asked Questions
Does shapewear flatten the stomach?
Shapewear is intended to suck in the loose skin and extra bulges to give you a flat stomach look. It is similar to holding your breath to flatten out your tummy. Though it might give you the look and feel of a flat tummy, you need to work on your diet and exercise to get a flat tummy.
Does tummy control underwear work?
Tummy control shapewear or compression corsets work by making you sweat by compressing your midsection as long as you wear it. The continuous compression helps redistribute the fat in the tummy area to the surrounding area, giving an impression of losing weight.
Does shapewear help in easing menstrual pain?
Shapewear holds in your tummy, back, and hips providing a snug yet firm support. That helps ease the menstrual cramps and pain to a certain extent.
Is it healthy for a woman to wear shapewear daily?
While women tend to wear shapewear for special occasions, it can lead to some complications if worn for longer stretches altogether. If the shapewear is too constrictive, it might hamper your blood circulation and also affect your breathing. So you must be careful in choosing tummy control undies that is a comfortable fit to be able to wear for long without any worries.