13 Best Best Body Shapers For Large Stomachs You Can Rely On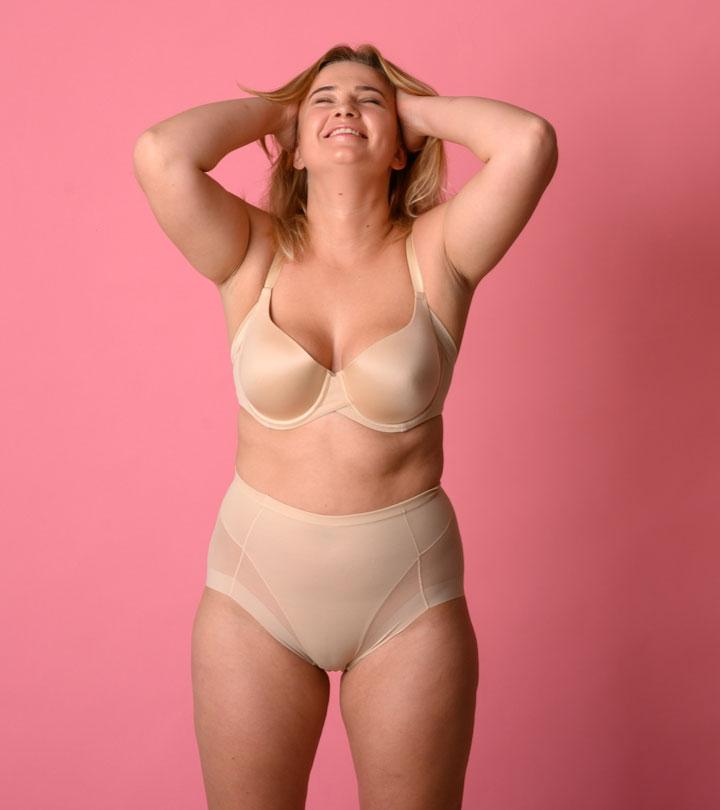 Whatever size, large or small, we all deserve to feel and look good. Especially for us women with larger stomachs, this can be a tedious task as our tummy protrudes even with the smallest meals, leaving us feeling underwhelmed and underconfident. However, with the right shaper, you can overcome what seems to be a Herculean task. A much-needed essential in every woman's wardrobe, shapers smoothen unwanted tummy rolls and offer efficient compression to keep stomachs where they rightly belong — inside our form-fitting dresses and hidden.
If you're on the prowl for body shapers explicitly made for women with big bellies that offer maximum comfort but have no luck, don't despair. Breathe a deep sigh of relief as we've curated a list of the 13 best body shapers for large stomachs to help you regain your confidence. Scroll on to find the perfect one for your unique body! These shapers are of premium construction and offer superior compression, so you can look your best no matter where you go.
13 Best Best Body Shapers For Large Stomachs To Ensure Tummy Control
Bid farewell once and for all to your paunch with this body shaper for stomachs that are large. Made from 100% breathable latex, it comes with a hook-and-eye closure featuring 2 horizontal and 2 vertical seams along with a soft textile material that ensures it does not press into your skin. A unique feature of this waist trainer is that it also comes with 3 layers of 9 fish-scale memory Flexi steel bones that offer adequate support without restricting movement. The tapered design with a longer back ensures you are comfortable all day long, and the mesh with cotton lining wicks sweat while holding in belly fat. Blindly trust this one with 3-dimensional support and always put your best hip forward!
Pros:
 Hook-and-eye closure
 3-dimensional support
 100% breathable latex
 Available in 12 sizes
 Mesh detail with cotton lining
Cons:
 May not be ideal for women with sensitive skin
Get the best of both worlds with this body shaper that not only minimizes your bulging tummy but also compresses your torso and abdomen while giving your rear a lift. Ideal for women recovering from postpartum, this slimming body shaper comes with removable and adjustable shoulder straps, flat zipper closure with inner hooks that are practically invisible, and underarm compression to offer more control over troubled areas. The stretchable and breathable fabric makes this one a desirable option with a practical sliding material on the crotch to make your bathroom visits more desirable.
Pros:
 Sliding fabric on the crotch
 Stretchable and breathable fabric
 Flat zipper closure with inner hooks
 Removable and adjustable shoulder straps
 Compresses tummy, torso, and abdomen
Cons:
 The sizes may run small. It is advisable to size up before purchasing.
After searching the Internet far and wide, we bring you the best girdle to hold in stomach fat. Instantly feel confident as you wear this girdle with superior shaping technology, a sewn-in padded bra, and plastic snaps with 4 levels of hook-and-eye closure. The lace band around the thighs adds a touch of femininity, and comfortable and durable fabric defines your waist, controls armpit fat, and flattens your stomach. For your lady room convenience, it also comes with an open crotch closure at the bottom so you can visit the bathroom in a jiffy. Last but not least, the waistline of this body shaper for tummy and thighs is reinforced with a silicone band to avoid tummy roll ups.
Pros:
 Doubles as a thigh shaper
 Superior shaping technology
 Hook-and-eye closure
 Open crotch closure
 Defines your waist
 Controls armpit fat
Cons:
 The material may shrink a tiny bit after its first wash.
Here's a firm-control body shaper that you simply cannot afford to miss out on! With 360º all-around compression, it slims your tummy while emphasizing your natural curves. The open bust design allows you to pair this with your favorite bra and the seamless design ensures that no lining is peeping through your clothes. Made from a lightweight, breathable and moisture-wicking fabric, it comes with an outside zipper and inner hooks for secure fastening. In addition to all these incredible features, this is one of the best shapewear to flatten tummy that also has butt-lifting properties.
Pros:
 Seamless design
 Convenient crotch opening
 360º all-around compression
 Has outside zipper and inner hooks
 Breathable and moisture-wicking fabric
Cons:
 May not offer much support
Put the days of lugging around your large tummy behind you with this shapewear for your tummy and waist! Ideal for the fashionista in you, this one is crafted using an ultra-soft fabric with delicate lace at the ends of your thighs. It houses 2-ply shaping panels that provide targeted shaping and has an opaque design to maintain its versatility. The built-in underwire bra adds a lift, while the innovative U-cut at the back offers support and back coverage. Lined with 100% cotton so you can stay comfortable all day, it comes with hook-and-eye closure and adjustable straps that allow you to customize your fit.
Pros:
 Opaque design
 Adjustable straps
 100% cotton lining
 2-ply shaping panels
 Built-in underwire bra
 Hook-and-eye closure
Cons:
 May expand after multiple washes
The pioneer of shapewear, Spanx, is here to save the day! Known for their incredibly premium materials, shapewear from Spanx for tummy and back fat is all you need to look and feel great. Completely seamless, it shapes your tummy, hips, and thighs while giving you an envious lift. The unlined molded cups give you the opportunity to go braless under your most coveted clothes, and the fully adjustable shoulder straps help you get the fit you desire. Apart from this, your new favorite shaper also comes with side panels that offer squeeze-free compression and a double-gusset opening that ensure hassle-free visits to the restroom!
Pros:
 Machine-washable
 Completely seamless
 Unlined molded cups
 Double-gusset opening
 Shapes tummy, hips, and thighs
 Fully adjustable shoulder straps
 Side panels with squeeze-free compression
Cons:
 Must be dried flat to preserve shape
Beauty takes shape with this shapewear for the tummy and waist by YIANNA. Ideal for large stomachs, it firms your abdomen, reduces the dreaded muffin top, and minimizes unsightly bumps to give you that dream hourglass figure. Keeping in mind targeted control, it is made from elastic fitting fabric and has a 2-ply mesh line with a high-waisted design to prevent the tummy from bulging out. Furthermore, the anti-slip line prevents the waistline from rolling down. Just slip this shapewear for dresses under any clothes to flaunt your beautiful curves and prepare to have all eyes on you.
Pros:
 2-ply mesh line
 Anti-slip waistline
 High-waisted style
 Elastic, soft material
 Moisture-wicking and skin-friendly
Cons:
 The anti-slip waistline may not prevent the shaper from rolling down.
Emphasize all your assets and hide the unwanted fat with all day comfort with this one that is considered the best body shaper for plus-size women. Available from sizes x-small to xxx-large, it comes with excellent compression to minimize the appearance of belly fat. It is ideal for women recovering from postpartum as it is made from a smooth dual-layer material with elasticity and breathability. Be spoilt with a feature-laden shaper that also comes with hooks and a metal zipper that does not dig into the skin, adjustable shoulder straps, an open-bust design, and a hook-and-eye closure at the crotch for easy bathroom access. Try this one under dresses, tops, skirts, and just about anything else for a stunning silhouette that will have all heads turning its way.
Pros:
 Open-bust design
 Adjustable shoulder straps
 Smooth dual-layer material
 Hooks and a metal zipper closure
 Available from sizes x-small to xxx-large
Cons:
A much-needed clothing essential, this body shaper for flat stomach comes with double compression, speeds up postpartum recovery, and improves back posture for a better figure. With the added advantage of a hook-and-eye closure system, it adjusts your waistline to make it appear slimmer. This compression garment also comes with an outer anti-hook mesh layer that ensures durability and has a sweat-free, moisture-wicking material on the inside that is designed to keep you comfortable. If this was not all, the high-compression shaper has adjustable, non-slip straps, an open gusset near the crotch, and a U push-up neckline.
Pros:
 Non-slip straps
 U push-up neckline
 Outer anti-hook mesh layer
 Open gusset near the crotch
 Hook-and-eye closure system
 Sweat-free, moisture-wicking material
 Inner sweat-free, moisture-wicking material
Cons:
 May not have an adequate rear support and lift
Whether you want to wear your sexy, new dress for that much-awaited event or want to wear your favorite pants to a Sunday brunch, you want to do so without the worry of your paunch showing. Well, why not cover it up with a seamless, slimming body shaper? Try this one by Leonisa that offers moderate compression for a figure-hugging fit that is perfect. Made from a lightweight, soft material, it has a convenient step-in design that does not require a zipper or a hook-and-eye closure. The wide straps allow you to quickly get in and out of this shaper, while the ruched center seam offers a butt-lift. Ideal for an outfit, the laser cut, flat leg bands don't show through clothing, and the moisture-wicking, chafe-free fabric with open gusset and open-bust design redefines comfort.
Pros:
 Open gusset
 Ruched center seam
 Laser cut, flat leg bands
 Convenient step-in design
 Seamless, slimming body shaper
 Lightweight, soft material
 Moisture-wicking, chafe-free fabric
Cons:
Replace the embarrassment of big tummies with the joy and confidence of a flatter abdomen using this plus-size full-body shaper. For a streamlined silhouette, grab this one that has an elastic closure, 360º firm control, and compression built around the midsection that corrects and betters your posture. Made from stretchable polyester material, it has an open gusset for when nature calls.
Pros:
 Open gusset
 Elastic closure
 360º firm control
 Streamlined silhouette
 Made from stretchable polyester material
Cons:
 Seams may show through clothing
Is your big belly keeping you away from being excited on your big day? Now, no more! Invest in this body shaper for wedding dresses that will ensure you look nothing but stunning at your wedding! With an attached 2-ply bra and adjustable straps, you can now get all-around compression with the added advantage of a customizable fit. The power-mesh lining not only hides and minimizes rolls and bumps but smoothes it, so nothing shows over your dress. Cool comfort technology ensures that you stay cool, relaxed, and comfortable through all the wedding festivities, while the anti-static finish allows you to get in and out of the shaper with ease. Truly a worthy addition to our list of the 13 best body shapers for large stomachs in 2021, it also comes with a cotton-lined hook-and-eye gusset closure!
Pros:
 Anti-static finish
 Power-mesh lining
 Cool comfort technology
 All-around compression
 Attached 2-ply bra with adjustable straps
Cons:
 Does not have an open gusset at the crotch
Dependable and efficient, this multi-functional shaper with a thoughtful design is a must in every wardrobe. Made from a stretchy, durable material, it reduces the appearance of your tummy through compression while lifting your hips and rear and providing support. The slimmer panty edges don't peep through clothing and create a tight void around the crotch so you can get the fit you desire. A single-layer fabric is used, so no seams are shown over what you wear, and the open-gusset is a blessing for those hurried trips to the washroom. Last but not least, it also comes with adjustable shoulder straps.
Pros:
 Open-gusset design
 Single-layer fabric
 Slimmer panty edges
 Stretchy, durable material
 Adjustable shoulder straps
Cons:
 The zipper may malfunction after repeated use.
And there you have it! Our list of the 13 best body shapers for large stomachs. If you're still unsure on which one to take home, here are a few points you can consider.
How To Choose Body Shaper For Large Stomachs
When it comes to material, there are a plethora of options to choose from. Most shapewear for tummy and waist is made from lightweight fabrics and materials like polyester, nylon, and spandex. For a breathable and more comfortable fit, select a cotton-spandex or cotton-nylon blend. But if you prefer a more stretchable and durable fabric, you can pick rubber or spandex. Regardless of what material you pick, ensure it won't overly constrict your body nor one that will aggravate your skin.
Most shapers have closures that are usually hook-and-eye, snap closure, or zipper. Hook-and-eye closure is typically present in the back of your shaper and offers the most snug fit. While this helps you get a secure finish, it may be hard to put on and remove. Snap closures are buttons that you can just snap on, and this is the most convenient option. Zippers too are a suitable alternative; however, they may peep through clothing, and caution is advised as your skin may get jagged in the zipper. Removable straps are another welcome feature.
Sizing is vital when it comes to shapewear. It is always recommended you try shapers before purchasing them. If you're buying them online, it is always wise to seek guidance from the sizing chart provided by the brand. Most women will size down when shapers, but this may cause more harm than good. Sizing down may lead to tingling and numbness, and in severe circumstances, may even cause rashes and skin allergies.
Say hello to your new clothing campaign that will forever change the way you look at yourself in the mirror! Shapers have been around for decades now, improving the silhouettes of women's bodies. The right shaper can provide adequate compression to flatten even large stomachs and minimize flabs while defining your waist for an hourglass figure. Just wear them inside your clothing and let their magic work on your precious self. Hopefully, our list of the 13 best body shapers for large stomachs served as the ultimate guide in helping you get your hands on the perfect one for your body!
Expert's Answers For Readers' Questions
Does shapewear flatten the stomach?
Absolutely, it does! The slimming material along with its sturdy construction compresses your stomach and flattens it.
Is a body shaper good for belly fat?
While many women claim it is, there is no scientific evidence that a shaper can reduce belly fat. However, it can reduce the appearance of it.
Do body shapers work to lose weight?
Unfortunately, no. While shapers offer the illusion of a flatter stomach, in no way is it an alternative to exercise.
Is wearing shapewear harmful?
Wearing shapewear in the right size and for short periods of time is not considered harmful.
How long can you wear shapewear?
Experts say shapewear can be worn anywhere between 6-8 hours at a stretch.
Is it bad to wear shapewear everyday?
No, you can wear your favorite shaper everyday, as long as it is not for extended periods of time.