13 Best Body Shapers For Large Stomachs – 2023
Feel and look more in shape with these body shapers that suck in your tummy fat.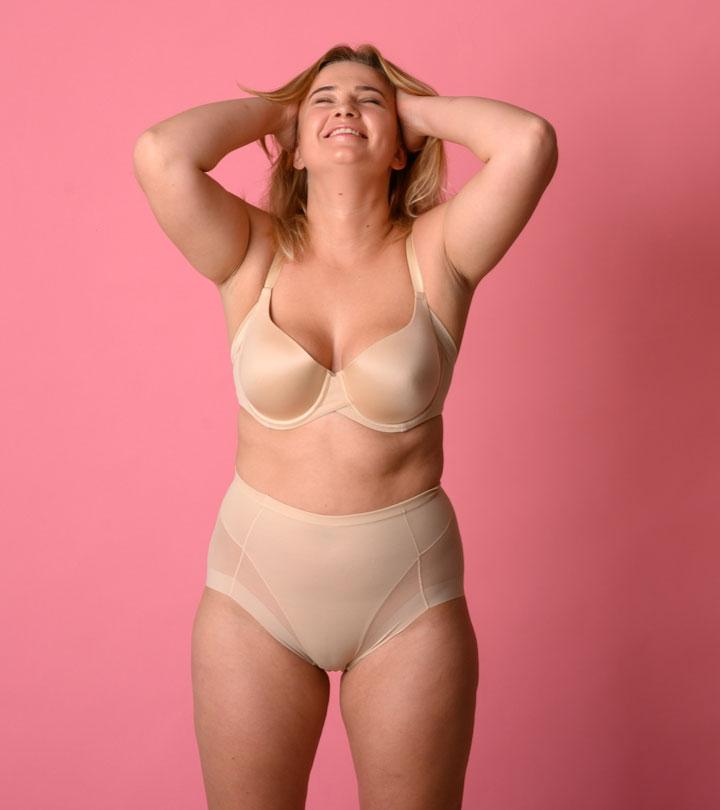 Women of all shapes and sizes deserve to feel beautiful. However, sometimes your belly sticking out of the beautiful bodycon dress can come in the way of you feeling confident and sharp. The best body shaper for large stomachs can take care of this issue while you rock that LBD with panache. A good-quality body shaper is essential in most women's wardrobes. It offers the right amount of compression to smoothe out tummy rolls and flab. With the right body shaper, you can style any ensemble, be it a regular pair of jeans or a cocktail dress.
If you are on the curvier side and are looking for good-quality shapewear for your big belly, we have you covered here. A good body shaper should have a premium construction, good quality material, decent compression, and be moisture-wicking to keep you comfortable all day. The market has various brands with great shapers for women, but finding the perfect one for bigger stomachs can be a task. In this article, we have listed the best body shapers for large stomachs. Keep scrolling to take your pick!
13 Best Body Shapers For Large Stomachs To Ensure Tummy Control 2023
The Shapermint High Waisted Body Shaper Shorts is designed for comfortable everyday wear and effortless tummy control. The pull-on closure stays in place all day without rolling down. This lightweight, breathable shapewear is suitable for wear under all types of clothing and during postpartum. It offers optimum coverage of the thighs, back, and tummy for a seamless appearance.
Pros
Lightweight
High compression level
Suitable for regular wear
Imparts slimming effect
Machine washable
Cons
Price at the time of publication: $24.99
Get the best of both worlds with this body shaper that not only minimizes your bulging tummy but also compresses your torso and abdomen while giving your rear a lift. Ideal for women recovering from postpartum, this slimming body shaper comes with removable and adjustable shoulder straps, flat zipper closure with inner hooks that are practically invisible, and underarm compression to offer more control over troubled areas. The stretchable and breathable fabric makes this one a desirable option with a practical sliding material on the crotch to make your bathroom visits more desirable.
Pros
 Sliding fabric on the crotch
 Stretchable and breathable fabric
 Flat zipper closure with inner hooks
 Removable and adjustable shoulder straps
 Compresses tummy, torso, and abdomen
Cons
 The sizes may run small. It is advisable to size up before purchasing.
Price at the time of publication: $73.99
After searching the Internet far and wide, we bring you the best girdle to hold in stomach fat. Instantly feel confident as you wear this girdle with superior shaping technology, a sewn-in padded bra, and plastic snaps with 4 levels of hook-and-eye closure. The lace band around the thighs adds a touch of femininity, and comfortable and durable fabric defines your waist, controls armpit fat, and flattens your stomach. For your lady room convenience, it also comes with an open crotch closure at the bottom so you can visit the bathroom in a jiffy. Last but not least, the waistline of this body shaper for tummy and thighs is reinforced with a silicone band to avoid tummy roll ups.
Pros
 Doubles as a thigh shaper
 Superior shaping technology
 Hook-and-eye closure
 Open crotch closure
 Defines your waist
 Controls armpit fat
Cons
 The material may shrink a tiny bit after its first wash.
Price at the time of publication: $79.99
The Nebility Women Shapewear tightens the bottom and imparts a natural-looking, instant lift. This high-waisted, double-control waist slimmer firmly controls the tummy region and offers a seamless look. The two-layered stretchable fabric offers high compression in the back, tummy, and waist region for a sculpted look. The spiral steel bones keep the shapewear in place and prevent any roll-down. It suits all body types and fits under all types of clothing.
Pros
Comfortable
Breathable
Skin-friendly
Suitable for postpartum recovery
Moisture-wicking
Soft fabric
Durable
Cons
None
Price at the time of publication: $17.99
Put the days of lugging around your large tummy behind you with this shapewear for your tummy and waist! Ideal for the fashionista in you, this one is crafted using an ultra-soft fabric with delicate lace at the ends of your thighs. It houses 2-ply shaping panels that provide targeted shaping and has an opaque design to maintain its versatility. The built-in underwire bra adds a lift, while the innovative U-cut at the back offers support and back coverage. Lined with 100% cotton so you can stay comfortable all day, it comes with hook-and-eye closure and adjustable straps that allow you to customize your fit.
Pros
 Opaque design
 Adjustable straps
 100% cotton lining
 2-ply shaping panels
 Built-in underwire bra
 Hook-and-eye closure
Cons
 May expand after multiple washes
Price at the time of publication: $26.9
The pioneer of shapewear, Spanx, is here to save the day! Known for their incredibly premium materials, shapewear from Spanx for tummy and back fat is all you need to look and feel great. Completely seamless, it shapes your tummy, hips, and thighs while giving you an envious lift. The unlined molded cups give you the opportunity to go braless under your most coveted clothes, and the fully adjustable shoulder straps help you get the fit you desire. Apart from this, your new favorite shaper also comes with side panels that offer squeeze-free compression and a double-gusset opening that ensure hassle-free visits to the restroom!
Pros
 Machine-washable
 Completely seamless
 Unlined molded cups
 Double-gusset opening
 Shapes tummy, hips, and thighs
 Fully adjustable shoulder straps
 Side panels with squeeze-free compression
Cons
 Must be dried flat to preserve shape
Price at the time of publication: $157.74
The Yianna Shapewear For Women is double-layered and offers targeted tummy and waist control. The outer breathable layer offers firm compression, while the inner cotton layer is skin-friendly. The zip closure and inner hooks make the shapewear more secure for regular and occasional use. The plastic bones on either side and the silicone strips in the thigh region offer support and prevent rolling down or curling up. The crotch area has a zippered closure to offer easy access for toilet breaks. The single-layered fabric of the hip and butt area offers a sculpted look to your backside for the perfect peach-shaped posterior. The full-body design hides armpit fat and back bulges and corrects your posture.
Pros
Non-slip shoulder
Removable shoulder straps
Comfortable
Secure
Full-body sculpting
Cons
None
Price at the time of publication: $36.99
The ATTLADY Shapewear Shorts feature a pull-on closure with anti-allergic silicone grips in the thigh and tummy area. This prevents any slipping or rolling down of the shapewear. The 360° high-waist technology keeps your tummy tucked in comfortably to offer a seamless finish. This shapewear hides side bulges and offers a slim silhouette. You can wear this versatile pair of shapewear shorts independently as workout gear or under short dresses and skirts for a well-defined look.
Pros
Good compression
Secure fit
Stretchable
Sustainably produced
Cons
None
Price at the time of publication: $18.99
The hot belt features a scientific design and compression that helps correct your posture, flatten your belly, firm your tummy and love handles, achieve a sculpted form, and attractively trim weight. This waist shaper band is made of moisture-wicking fabric that repels sweat and odors, keeping you dry and comfortable during a workout. The waist trainer belts feature a flexible and seamless non-latex design that allows you to move freely while sculpting your belly, reducing fat, and shrinking your tummy.
Pros
Seamless design
All-day comfort
Helps in weight loss
Odor-free
Hook and loop closure
Cons
None

Price at the time of publication: $35.99
Whether you want to wear your sexy, new dress for that much-awaited event or want to wear your favorite pants to a Sunday brunch, you want to do so without the worry of your paunch showing. Well, why not cover it up with a seamless, slimming body shaper? Try this one by Leonisa that offers moderate compression for a figure-hugging fit that is perfect. Made from a lightweight, soft material, it has a convenient step-in design that does not require a zipper or a hook-and-eye closure. The wide straps allow you to quickly get in and out of this shaper, while the ruched center seam offers a butt-lift. Ideal for an outfit, the laser cut, flat leg bands don't show through clothing, and the moisture-wicking, chafe-free fabric with open gusset and open-bust design redefines comfort.
Pros
 Open gusset
 Ruched center seam
 Laser cut, flat leg bands
 Convenient step-in design
 Seamless, slimming body shaper
 Lightweight, soft material
 Moisture-wicking, chafe-free fabric
Cons
Price at the time of publication: $85
The YIANNA Women's Underbust Waist Trainer Body Shaper is made of an upgraded three-layer fabric. The inner layer is made of soft cotton and spandex, the mid layer comprises pure latex and the durable outer layer of the fabric is made of nylon, lycra, and spandex. The shapewear features a nine spiral steel boned waist section that cinches your waist up to three inches and straightens up your posture. The three-row, hook and eye closure of the shapewear allows you to adjust its fit and achieve your desired silhouette. This shapewear offers firm compression to your tummy and delivers adept bust support. It stimulates thermal activity, lifts your underbust, and promotes quick postpartum recovery.
Pros
Durable
Corrects posture
Adjustable fit
Offers tummy compression
Offers bust support
Easy to wear
Cons
Not machine-washable
Not stretchable
Price at the time of publication: $27.99
Is your big belly keeping you away from being excited on your big day? Now, no more! Invest in this body shaper for wedding dresses that will ensure you look nothing but stunning at your wedding! With an attached 2-ply bra and adjustable straps, you can now get all-around compression with the added advantage of a customizable fit. The power-mesh lining not only hides and minimizes rolls and bumps but smoothes it, so nothing shows over your dress. Cool comfort technology ensures that you stay cool, relaxed, and comfortable through all the wedding festivities, while the anti-static finish allows you to get in and out of the shaper with ease. Truly a worthy addition to our list of the 13 best body shapers for large stomachs in 2023, it also comes with a cotton-lined hook-and-eye gusset closure!
Pros
 Anti-static finish
 Power-mesh lining
 Cool comfort technology
 All-around compression
 Attached 2-ply bra with adjustable straps
Cons
 Does not have an open gusset at the crotch
Price at the time of publication: $31.56
The Reamphy Waist Trainer Corset offers a secure zip closure for a firm fit. The double-layered fabric with a high compression feature effectively controls the tummy, back, and waist regions. This corset helps shred waist fat by promoting sweating during workout sessions. It is also suitable for regular use under formal wear, during postpartum recovery, and on other casual occasions.
Pros
High-quality fabric l
Corrects posture
Secure fit
Easy to use
Cons
The chain outline shows under clothes
Price at the time of publication: $21.99
And there you have it! Our list of the 13 best body shapers for large stomachs. If you're still unsure on which one to take home, here are a few points you can consider.
How To Choose Body Shaper For Large Stomachs
When it comes to material, there are a plethora of options to choose from. Most shapewear for tummy and waist is made from lightweight fabrics and materials like polyester, nylon, and spandex. For a breathable and more comfortable fit, select a cotton-spandex or cotton-nylon blend. But if you prefer a more stretchable and durable fabric, you can pick rubber or spandex. Regardless of what material you pick, ensure it won't overly constrict your body nor one that will aggravate your skin.
Most shapers have closures that are usually hook-and-eye, snap closure, or zipper. Hook-and-eye closure is typically present in the back of your shaper and offers the most snug fit. While this helps you get a secure finish, it may be hard to put on and remove. Snap closures are buttons that you can just snap on, and this is the most convenient option. Zippers too are a suitable alternative; however, they may peep through clothing, and caution is advised as your skin may get jagged in the zipper. Removable straps are another welcome feature.
Sizing is vital when it comes to shapewear. It is always recommended you try shapers before purchasing them. If you're buying them online, it is always wise to seek guidance from the sizing chart provided by the brand. Most women will size down when shapers, but this may cause more harm than good. Sizing down may lead to tingling and numbness, and in severe circumstances, may even cause rashes and skin allergies.
Why Trust StyleCraze?
Priyam Gupta is an avid fashion enthusiast who loves experimenting with different products in fashion that make you feel beautiful. She believes that a good body shaper can make you look sharp and confident. Priyam went through hundreds of reviews online and curated this list of best body shapers for large stomachs. These shapers are made of good material and provide the right amount of pressure that keeps your tummy in place as you rock that dress with style.
Frequently Asked Questions
Does shapewear flatten the stomach?
Absolutely, it does! The slimming material along with its sturdy construction compresses your stomach and flattens it.
Is a body shaper good for belly fat?
While many women claim it is, there is no scientific evidence that a shaper can reduce belly fat. However, it can reduce the appearance of it.
Do body shapers work to lose weight?
Unfortunately, no. While shapers offer the illusion of a flatter stomach, in no way is it an alternative to exercise.
Is wearing shapewear harmful?
Wearing shapewear in the right size and for short periods of time is not considered harmful.
How long can you wear shapewear?
Experts say shapewear can be worn anywhere between 6-8 hours at a stretch.
Is it bad to wear shapewear everyday?
No, you can wear your favorite shaper everyday, as long as it is not for extended periods of time.
Recommended Articles