9 Best At-Home Spray Tan Machines Of 2023: Review & Buying Guide
Achieve a flawless, post-vacay-like tan, sans sun exposure, and look exotic effortlessly!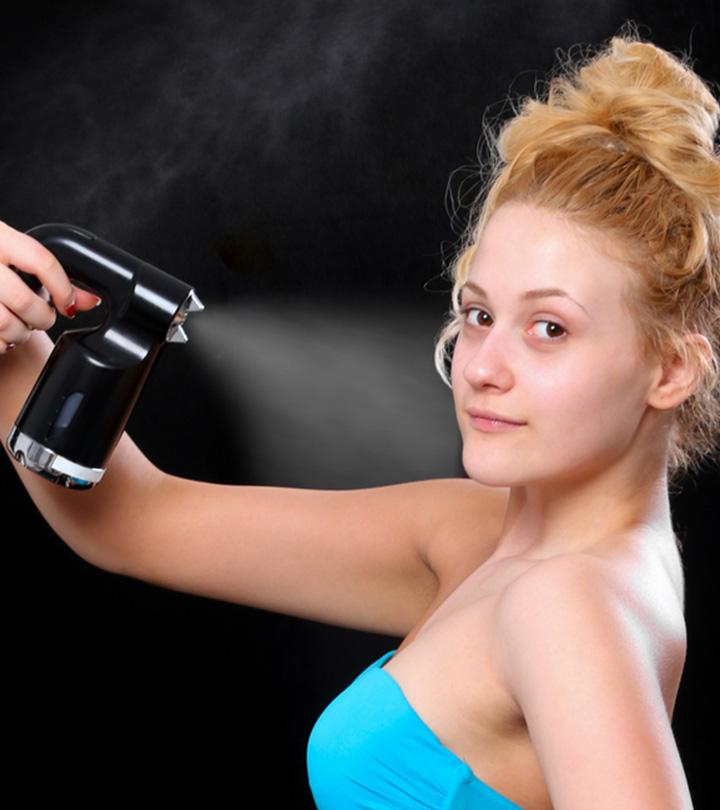 A spray tanning machine offers you a bronzed glow or tans your skin without needing you to spend any time under harmful UV rays. But visiting a salon every time you need a bronzed glow is cumbersome. This is why you need to get your hands on the best at-home spray tanning machine. It will let you get that tanned look without damaging your skin by sunlight exposure or visiting an expensive salon. It is considered a safer and economical way. The advanced technology helps you achieve a uniform tanned glow. These equipment are versatile, portable, comfortable, and easy to use.
Finding the perfect at-home spray tan machine can be demanding. To make your selection simpler, we have compiled a list of the 9 best at-home spray tan machines after reviewing a wide range of machines available in the market. Furthermore, the article also mentions the various types of machines, a buying guide, and tips for using the machine. Keep reading!
9 Best At-Home Spray Tan Machines To Buy In 2023
This MaxiMist spray tan machine kit has all the necessary tools required to help you achieve a salon-like tanning experience at the comfort of your home. This mobile kit includes a Satin Aire spray head, three 5 oz cups, 2 lids, a 6.5 feet air hose, an extra-large pop-up tent, 3 bottles of Tampa Bay Tan Premium Solution in varying levels of darkness, and a variety of spare parts. All these components are compact and portable while also excelling in quality and efficiency. The lightweight yet powerful 300 W spray gun features a German-engineered spray nozzle that can be adjusted vertically or horizontally, making application easy. While the nozzle releases soft touch fine mist, the non-stick needle prevents Tanning Solution from building up and clogging. As for the tent, it is made of spring steel and nylon that features a leak-proof and stain-resistant floor.
Pros
Beginner-friendly design
Certified by CE, EU, ECAL
Includes 2 extra cups with lids
Provides 10 applications in a day
The tent is available in 2 colors – brown and black
Double-stitched seams in the tent offer extra strength
Features a high-volume, low-pressure (HVLP) system
The unit can be used with any brand of professional solution
The conical reservoir and wide base of the cups ensure optimal solution pickup
Cons
Tends to leak
It might be difficult to fold the tent back down after use.
Price at the time of publication: $309.0
Popular among professional spray tan artists and technicians, Norvell Spray Tanning Machine is ideal for at-home, on-the-go, or salon use. Easy to use as it is lightweight, the M-1000 spray system utilizes HVLP technology, which means it produces the perfect spray needed for smooth and even application. Plus, professional spray tan equipment includes a shoulder strap for easy portability. The kit comes with three 8 oz tanning solutions – Dark for a natural tan, Venetian for a sensational Rivera tan, and Cosmo Lite that is a combination of the former 2 shades. Formulated with a blend of antioxidants and vitamins, these solutions moisturize, smoothen, and brighten skin, while delivering a gorgeous bronze sunless tan that will last almost a week. Watch the video to know how to use the Norvell Spray Tanning Machine on your own.
Pros
Adjustable spray pattern with less overspray
Includes a 110 V cord and quick-connect hose
Solutions are formulated with micro-nutrient technology and active ingredients
Sunless tanning without orange undertones
Cosmo Lite solution features a vanilla summer fragrance
Dark and Venetian come with odor control technology
Does not contain harmful chemicals like parabens, sulfates, phthalates, among others
Cons
The spray gun might get clogged with use.
Price at the time of publication: $312.55
The MaxiMist Allure Xena Sunless Spray Tanning System is equipped with three guns and a power control dial for managing the solution flow. The long flexible hose twists and locks onto the spray gun securely for optimal movement.
The noise-reduction turbines produce only a whispering sound effect, and the unique hidden handle enables easy storage.  This spray tan machine features a German engineered non-clog spray nozzle that provides fine mist atomization with minimal overspray.
The non-stick Teflon needle eliminates tanning solution buildup and corrosion, which can lead to clogging. This product comes with the Tampa Bay Tan Sunless Spray tanning products that are cruelty-free, vegan, and do not contain gluten and parabens.
Pros
Certified by EU, CE, ECAL
Compact design
Lightweight
Soundless operation
Easy to use and store
2-year warranty
Cons
Price at the time of publication: $309.0
The Naked Sun Fascination Spray Tanning Machine Kit includes a tanning machine, Norvell Venetian, Norvell ONE, and a Norvell XLATan pH Balancer. It also includes spa soles. The machine comes with a stylish black finish providing an elegant look and noise-less operation. It is equipped with FX Design 2.0 gun featuring an adjustable spray pattern and fluid knob.
The Norvell Venetian provides the appearance of natural sun-kissed radiance. It blends well with all skin tones producing long-lasting tans. The Norvell ONE provides instant and long-lasting color gratification. The Norvell Pre-tan makes the skin prepare for the deep tan process.
Pros
 Lightweight
 Ergonomic design
 Paraben-free
 Gluten-free
Cons
None
Price at the time of publication: $219.95
Whether you are a professional airbrush tanning artist or a newbie in this field, you ought to have this self-spray tan machine. This super stylish sprayer is known for its fine atomization, which helps deliver smooth and perfect coverage with minimal overspray. It features a robust yet lightweight turbine and can give you over 25 applications in a day. Plus, there is a solution dial that allows you to control the flow of the liquid between 0 to 2 fl oz. The machine comes with an 11.5 ft long, flexible hose that enhances maneuverability. This video will help you to understand the unique features of the Aura Allure Spray Tanning Machine Kit.
Pros
Low noise
Satin spray nozzle technology
Includes cable management system
Delivers fine and precise flow
Features retractable handles for easy carrying and storage
Extra-large tent with carrying bag
The spray gun features a twist and lock design
Comes with three 8 oz bottles of Norvell airbrush tanning solutions
Cons
The tent might be huge and bulky.
Price at the time of publication: $21.98
Using a spray tan at home all by yourself can be quite tricky, and that is why you need to be equipped with the right tools. This at-home tanning machine is easy to use and will leave behind a streak-free, natural-looking tan. All you have to do is connect one end of the 10 feet long air hose to the turbine air pump unit and the other end to the plastic HVLP spray gun. Then fill the bottle with your preferred tanning solution, connect that to the spray gun, and get ready to spray. The kit includes 4 varieties of tanning solutions — 3 (8%, 10%, and 12%) DHA solutions and 1 Opulence Tanning Solution so that you can choose a product based on your skin tone. In addition to that, it also comes with a tanning accessories kit that features everything from feet caps to nose filter plugs.
Pros
2-year warranty on the machine
Durable and flexible air hose
Lightweight spray gun
4 varieties of tanning solutions
Includes a tanning tent booth for mess-free applications
Vitamin and antioxidant-rich formula
Cons
Might result in a heavy spray
May be inconsistent
Price at the time of publication: $199.99
Want to take your airbrush tanning machine with you wherever you travel? Then this Fuji Spray Mini Tan M Model System is the perfect choice for you. It is lightweight, compact, and travel-friendly. But don't be fooled by its size; it is as powerful as any other standard airbrush spray tan machine. The mini spray tan system features a turbine motor that keeps noise to a bare minimum and comes with safeguards to ensure smooth operation and reduce heat build-up. Plus, the machine complies with electrical and safety standards, making it safe to use. All the metal components, including the applicator, are made of premium grade stainless steel. With this spray gun, you can customize the spraying technique according to your needs, thanks to the adjustable fluid control and spray pattern knob. Now, getting a spray on tan at home will be cake walk!
Pros
Compact and portable
UL/CSA-approved
Quiet and smooth operation
Clog-resistant and easy-to-clean components
Includes a bottle and a hose
Replaceable and washable air filters
Bleed valve-style applicator spray gun ensures continuous airflow
The heat dissipation box keeps the motor cooler and running for longer.
Cons
Slightly expensive
The slightly large nozzle size might cause over spray.
Price at the time of publication: $549.0
Whether you want a spray tan machine to do small touch ups or full-body tanning sessions, this equipment caters to all your needs. Hailed as one of the best professional spray tan machines, this device is convenient to use and lends an even and smooth sunless tan with as little hassle as possible. The machine comes with a spray tan gun, a hose, and a solution-holding bottle. It also includes a self-tanning program guide that provides you with step-by-step instructions, making assembling the machine easy.
Pros
Streak-free finish
Delivers even coverage
Easy to set up
Lightweight and easy to maneuver
Cleaning up the machine is a breeze
Compact enough for convenient storage
Cons
Does not include tanning solution
Price at the time of publication: $154.99
Getting a fake tan right at home can't get any easier than this! Another masterpiece by MaxiMist, this HVLP spray tan system, will give you about 25 spray sessions a day, and each full-body tan session won't take more than 5 minutes. It features a 2-stage variable turbine motor and a removable and reusable filter. It comes with a lightweight aluminum pro spray gun, 11.5 feet long hose, a tent booth, 3 bottles of tanning solutions, and fluid-holder bottles. Thanks to the unique 'EZ connect' feature (a quick connection adapter) of the hose, it stays connected once the spray gun is attached to it. So no more worries about the hose blowing out or disconnecting from the spray gun. Unlike the standard check valves, this system features a Duck Bill valve that controls the solution backflow and minimizes clogging. And when you need to do touch ups or contouring, use the 'Airbrush' mode by merely adjusting the EZ flip knob.
Pros
Quiet operation
Works with any brand solution
Delivers horizontal and vertical spray patterns
Corrosion-resistant Aircraft-grade aluminum spray gun
Cool grip ergonomic spray handle
Spray flow can be adjusted
Includes an extra-large, leak-proof tanning booth with carrying bag
Comes with 3 bottles of Tampa Bay Aussie Bronze solutions in different depth levels
Cons
Price at the time of publication: $449.0
In the next section, we will look at a few essential points to help you learn a little more about spray tan machines.
Different Types of Spray Tan Machines
There are various types of spray tan machines in the market today. The type of machine you buy has to match your needs. So let's take a look at choices, shall we?
1. HVLP (High Volume Low Pressure) Spray Tan Systems
These are the most popular spray tan machines and are commonly used in salons and for mobile spray tanning businesses. But they make for excellent spray tan systems for home. These machines are easy to use and are known for their high speed and efficiency, which means they provide even and precise applications. They can help an individual achieve a sunless tan in less than 5 minutes. They feature a high-performance motor and generally have a wattage of 400 W and above.
2. LVLP (Low Volume Low Pressure) Spray Tan Systems
Like HVLP systems, LVLP spray tan machines are turbine-driven and require a spray gun to spray the solutions. However, these machines operate at low pressure, which means you need to have a lot of precision while using it. Plus, when using these machines, the quality of spray tan may vary depending on the user's skill level. Compared to HVLP machines, LVLPs take more time per application, make a lot of noise, and are slightly on the expensive side.
Commonly found in professional salons, these machines work at high pressure and deliver more solutions in less time. But take much longer per application, at least 30 minutes, compared to HVLP and LVLP machines. The spray guns tend to overspray, in turn, wasting a lot of tanning solutions.
4. Automatic Spray Tanning Booths
This is an enclosed booth, where a person is supposed to enter and stand. It works well for full-body tanning since the booth features nozzles on all sides that spray tan solution in the form of mist. Although a session might take only a minute or 2, you might not get an even tanning.
What Are The Benefits Of A Spray Tan Machine
Beginner-friendly and easy to use
It gives you faster results.
Provides precise and even coverage.
Sunless tan lasts longer
Minimal or no overspray
Allows you to customize your unique shade
No hassle of visiting a salon
It helps you achieve a perfect tan without using a tanning bed or exposing your skin to harmful UV rays (known to cause serious skin damage such as premature wrinkling or even skin cancer).
How To Choose The Best Spray Tan Machine
Materials: Look for spray tanning machines that are made of sturdy and durable materials, so that it will last for a long time.
Spray Gun: One of the essential components of a spray tanning kit is the spray gun because that is the part that delivers the solution. You need to make sure that the cup that comes with the gun has the capacity to hold 2 ounces of spray tanning solution. It is said that 2 ounces are all it takes to cover the entire body, even the body parts that barely get tanned otherwise. However, remember not to choose a cup size that's larger than 2 ounces because then you will waste more solutions.
Pressure system: HVLP is the most commonly used spray tanning system used in most at-home spray tanning machines because they are more efficient, lighter, quieter, and do not waste much product. In comparison, the airbrush gun machine and LVLP are louder and slower. What type you choose depends on your personal preference.
Versatility: Whether you're a professional or beginner, choosing a machine that is versatile in its operation can be quite beneficial. For instance, opt for machines that have adjustable spray nozzles or varied speed settings as this will allow you to control the flow of the solution and speed of the airflow to achieve your desired effect. In addition to that, see whether the machine has a heat option, which will make your tanning experience more comfortable.
Cleaning: Many people hesitate to use tanning machines because of the mess that it can leave behind. Most machines on our list provide excellent tan while also ensuring minimal cleanup. However, we suggest you pick one that has less or no over spray. Plus, you need to ensure that the cups do not leak. Also, since most spray tanning kits come with a tent booth, which is leak-proof and stain-resistant, rest assured cleaning up will be easy.
Portability: If you are someone who likes to carry your spray gun with you when traveling, you could go for a compact and lightweight machine, something that weighs less than 20 pounds (spray gun and the hose included).
Comfort: If you are a beginner, always choose a light and small machine as it will be comfortable to hold and maneuver. Also, make sure the spray gun handle is ergonomically designed to provide a good grip to reduce hand cramps.
Accessories: It's best to purchase a kit that includes everything needed to achieve a flawless tan without any hassle. Most kits come with spray tanning solutions in varied intensities to suit every skin tone, disposable footpads and nose plugs for protection, and a tent to maintain cleanliness.
Tips For Using Your Spray Tan The Right Way
Prep your skin: Make sure to wax or shave at least one day before applying a spray tan so that the pores in your skin don't absorb the solution and create a dotted appearance.
Exfoliate: Exfoliate your skin using an oil-free formula one day before the application. This will create a smooth surface for the tan to adhere to and create an even tan sans splotches.
Avoid deodorant: When you're applying spray tan, it's best that you not use deodorant. Certain chemicals in the deodorant can react with the spray tan and create a green shade on your underarms.
Protect your palm and hair: If you don't want to get any of the tanning solutions on your palm, you could apply a barrier cream or use baking soda. Ensure to completely cover your hair using a shower cap and apply a little moisturizer on your brows.
Start from the bottom: Always start the tanning process from your feet and gradually work your way up. The spray gun has to be held 2 to 6 inches from your body, depending on the machine.
After application: Once the tan has dried, wear dark loose clothing to avoid the product rubbing off on any surface. Plus, you need to wait for around 6 to 8 hours for the color to develop, which means you can't shower until then.
Ventilation: When using a spray tanning machine, always spray in a well-ventilated area. The tan solutions contain DHA, which is said to be safe for the skin, but you may have to be careful when it comes to inhaling the spray as it is said to cause side effects such as coughing and dizziness.
Why Trust StyleCraze?
The author of this article, Chaitra Krishnan, is passionate about keeping up with the latest advancement in makeup products and technology. She feels that a home spray tanning machine can give you a flawless tanned look without risking the harmful rays of the sun. she went through several user reviews online and selected the highest quality and top-rated home spray tanning machines for you. This specially curated list boasts of tanning machines that are easy to use, portable, and comfortable without burning a hole in your pocket.
Frequently Asked Questions
How long does a spray tan last?
A single application of spray tan can last for upto 10 days, but it may vary from one brand to another. Plus, the darker the tan, the longer it will last.
Are spray tans safe?
Yes, spray tans are safe to use as long as you use it as directed. All tanning solutions contain DHA, which is FDA-approved and ideal for external applications. DHA or dihydroxyacetone is a chemical that reacts with dead cells on the skin, leading to the skin's darkening, aka a tan.
How long should I wait to shower afterward?
After application, you should wait for at least 8 hours before taking a shower.
Is there anything I can do to try to extend the life of my spray tan?
You could use a self-tanning product as a topper to prevent your tan from fading and extend the lifespan of your tan by a few days.
Will the spray tan get darker with time?
Although this depends on what time of the day you got the spray tan done, there is a high probability the tan might get deeper as time goes.
Does spray tan or airbrush look natural?
Airbrush tanning or at-home spray tanning delivers a seamless, natural finish, whereas spray tanning done in a booth might provide a tan with orange undertones.
What should I do if the spray tan looks too dark?
Apply baby oil or coconut oil, let sit for 10 minutes, and then head for a shower and exfoliate.
What should I avoid wearing after my tanning?
Do not wear tight clothing, socks, or shoes to ensure the tan develops well.
Recommended Articles