23 Best Tan Accelerators For Sunbeds Of 2021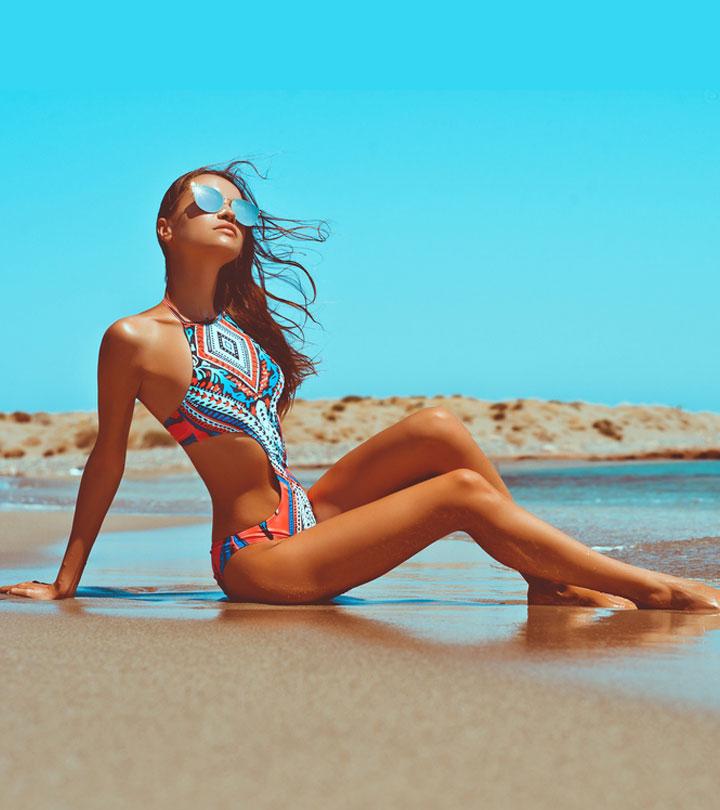 It's summertime! The sun's out and you are pumped to get your summer bod on. What makes this particular season so interesting? It's the best time to flaunt that bronze or golden skin tone that you've always wanted. Tanning is fun, isn't it? The beautiful shade of brown makes your skin glow and brings out that goddess-like goodness in you. But sometimes, a simple day out on the beach does not cut it. Sure, sunbathing is a good source of vitamin D and makes your skin tan but it's a slow process and more often than not, you fail to get the desired results. We hear you and today we are here to help you get that beautiful bronzed tan that you've always wished for with tan accelerator lotions. Read on to know more.
What Is A Tan Accelerator Lotion?
Wouldn't be it great to have a lotion that hydrates, nourishes, has anti-aging benefits for your skin and also tans your skin? Well, a tan accelerator lotion does exactly that. A tan accelerator stimulates melanin production in your skin. Melanin is a dark brown pigment that is responsible for the tanning of the skin. By applying a tan accelerator, you trigger the melanocytes in your skin to produce melanin resulting in tanned skin. Fair-skinned people find it difficult to tan naturally because of the lack of melanin in their skin. Therefore, tan accelerators can help with the process and the effect lasts longer than the natural tanning process.
For a party or an event around the corner, we've put together a list of the 25 best tan accelerators that you can get your hands on right now.
With the Coconut Kisses Skin Softening tan accelerator, all you have to do is sit back and relax and let it take you on a magical journey to the tropics. The goodness of coconut hydrates your skin, making it soft and supple. The nourishing blend of coconut milk, cocoa butter, and coconut oil provides deep hydration, reduces cellulite appearance and increases the firmness of the skin. This tanning accelerator has a dreamy fragrance that reminds you of paradise and contains nouritan, a stimulator of tyrosine activity for an even, long-lasting tan. The lotion does not use bronzing agents but delivers a beautiful dark golden look. It also protects your tattoos and prolongs its life and radiance. What are you waiting for? Get your hands on this one today!
Pros:
Contains coconut milk, cocoa butter, and coconut oil
Provides intense hydration
Protects tattoos and prolongs its radiance
Reduces cellulite appearance
Contains melactiva for darker, long-lasting results
Cons:
Fragrance might not be appealing to all
Most of you are aware of the advantages of tea tree oil on your skin. A powerful antioxidant, tea tree oil gently cleanses your skin, making it smooth and soft. The Australian Gold Dark Tanning Accelerator uses natural oils to enhance your skin's appearance. It contains vitamins A and E that provides your skin with the nourishment it needs. It hydrates and moisturizes your skin, making it soft and smooth.
Pros:
Contains the antioxidant properties of tea tree oil
Vitamin A and E deeply moisturizes your skin
Fragrance of cocoa, coconut, orange, and vanilla
Makes skin smooth and soft
Cons:
May stain some fabrics or surfaces
For an extremely dark bronze look, here's your tanning accelerator pick. It comes with a 50X auto-darkening tan technology that gives you a long-lasting tan and boosts healthy skin. It has additional intense moisturizing properties to give you radiant-looking skin. The tan accelerator contains a blend of silicone emulsifiers that enable silky, smooth and firm skin. Suitable for all ages, this product works like magic on your skin. Make sure you conduct a patch test on your wrist before using this product.
Pros:
Results in extreme dark bronze tanning
Ultra moisturization that lasts all-day
Fresh fragrance of cotton blossom
Silicone emulsion blend
Suitable for all ages
Cons:
Might not suit all skin types
A Canadian treat, this tan accelerator lets you control the shade of your tan. It is made of a formulation of oxybenzone and octinoxate which protects your skin from the harmful sun's rays. The Banana Boat Summer Color tanning accelerator is enriched with vitamin E and aloe vera. It is oil-free and lets you achieve the deepest and richest tan that your skin tone can attain. Apply this tinted tan accelerator for a streak-free shade of tan you desire.
Pros:
Natural-looking tan
Goodness of vitamin E and aloe vera
Streak-free and oil free
Quick-drying formula
Gives you a deep rich tan
Cons:
A tanning accelerator that can be used outdoors and indoors, the Australian Gold Cheeky Brown Tan Accelerator is the one of the most popular tanning lotions that come with a bronzer. It contains native Australian oils and vitamins A and E to give you an ultra-hydrating experience. The advanced formula combined with natural bronzers enhances your tanning experience giving you the bronze golden look you desire.
Pros:
Advanced formula with natural bronzers
Tempting cocoa fragrance
Contains vitamins A and E
Provides intense hydration
Cons:
Ideal for a powerful moisturizing and tanning experience, the Hawaiian Tropic Dark Tanning Oil contains exotic moisturizing ingredients and works as a sunscreen to protect your skin. It contains antioxidants such as vitamin A, C, and E that give your skin a dose of extra benefits. The tanning accelerator blends in natural tanning oils to provide a wholesome skin conditioning experience. The sweet smell of coconut takes you on a trip to the tropics making you feel exotic.
Pros:
Contains a mix of rich natural oils
Packed with antioxidants
Free of oxybenzone and octinoxate
Provides deep moisturizing
Filled with skin conditioners
Cons:
Texture might not be appealing
One of the best tan accelerators for your tanning needs, the Luau Advanced 200X Island Black Bronzer gives you a parade-level dark color. It contains Marula oil in the form of a glow serum that works like magic on your skin. The tan accelerator is free of parabens and DHA making it a safe choice for your skin. It is combined with island extracts and silicone blend for a long-lasting glow and softness.
Pros:
Dark-color tanning
Contains marula oil
Paraben-free
Pleasant peach flavor
Cons:
Might leave a tint on certain skin types
A tan accelerator that can be used indoors and outdoors, Somewhere On A Beach Tanning Lotion gives you streak-free tanning results. It contains powerful anti-aging agents like matrixyl synthe 6 that reduces the visible fine lines and wrinkles. The tanning accelerator is DHA-free and contains bronzers for long-lasting results. It also has a blend of coconut and walnut oils to provide adequate skin hydration and softening.
Pros:
Contains coconut and walnut oils
Stain-free and streak-free
Contains anti-aging agents
Hydrates and softens skin
Cons:
Might not be suitable for all skin types
A tanning accelerator that is a self-acting bronzer, the Smoke Black Bronzer uses an oxygen regenerating tanning system that makes skin darken as the days go by. It contains anti-aging properties and it is rich in antioxidants that help reduce fine lines and wrinkles. It can be used by both men and women and lasts a long time. It comes in three fragrances— pineapple, mango, and passionfruit so you can pick what you like.
Pros:
Self-acting bronzer
Suitable for men and women
Anti-aging properties
Contains antioxidants
Cons:
The Radically Hemp Ultra Powerful 10X Dark Tanning Gelee Accelerator is one of the best tanning accelerators that proves deep moisturizing without a bronzer. It comes in a sleek packaging that is pocket friendly and convenient. The tan accelerator is fused into a gelee base that enhances epidermis penetration and smoothness of the skin, leaving you with a natural tan. It blends exotic botanical ingredients and aloe vera with oils from Monoi de Tahiti to nourish the skin.
Pros:
Contains no bronzer
Blends exotic botanicals
Conditions skin
Contains aloe vera
Provides a natural tan
Cons:
Might not suit all skin types
The gelee based tan accelerator for your tanning needs, the Australian Gold Professional Dark Tanning Gelee Accelerator provides even and smooth tanning for your skin. It is a great moisturizer and has the tanning power of an oil. It contains vital skin nutrients like vitamins A and E and is suitable for an outdoor or indoor tan. It combines the fragrance of hemp seed and cocoa dreams to give you an exotic tanning experience.
Pros:
Contains no mineral oil
Gelee based texture
Enhances smoothness of skin
Contains vitamins A and E
Indoor and outdoor tanning
Cons:
Fragrance might not be appealing to all
Filled with flavor and the skin tan you desire, the Cherry Bomb Hot Dark Tanning Accelerator is your go-to tan accelerator for the ultimate dark tan perfection. It contains a mix of skin stimulators that give you a flirtatious tan with a burst of sweetness. The tanning accelerator restores the skin's natural vitality making it look firm and toned. It contains the goodness of vitamins A, C, and E to nourish and replenish your skin.
Pros:
Provides a dark tan
Makes skin appear more firm and toned
Restores skin elasticity
Contains vitamins A, C, E
Tempting fragrance of cherry bomb
Cons:
Might not suit sensitive skin
With the goodness of natural extracts, the Hempz Tanning Hypoallergenic Dark Tan Maximizer is free of chemicals that could harm your skin. It is blended with oatmeal and rich mango seed butter to comfort and soothe your skin by providing it with hydration and radiance. The texture is non-greasy which allows the tan accelerator to be absorbed into the skin quickly. It is free of parabens, gluten, and THC and leaves your skin exceptionally soft and moist.
Pros:
Made with natural extracts
100% vegan
Contains oatmeal and rich mango seed butter
Free of parabens and THC
Makes skin radiant and smooth
Cons:
Might not be suitable for all skin types
One of the best tan accelerators to maintain your skin's natural glow, the Devoted Creations Dark Tanning Lotion is made from incredibly soft tanning butter. It contains a shea butter formula that is beneficial to sensitive skin. The tanning accelerator provides anti-aging benefits with the advanced matrixyl synthe 6. It also contains acquacell for the reduction of fine lines and wrinkles.
Pros:
Contains shea butter
Protects tattoos and prevents color fading
Provides anti-aging benefits
Maintains the natural glow of your skin
Reduces fine lines and wrinkles
Cons:
Might not suit sensitive skin
The tanning accelerator for that Hawaii tan, the Maui Babe Browning Lotion gives your skin the golden glow that you desire. It provides deep moisturizing and gives you an even tan. It is water-resistant and leaves you with a fast tan making it the perfect tan accelerator for your beach and pool days. It has an amazing blend of ingredients such as kukui nut oil, vitamins A, C and E, coffee plant extract and aloe vera that nourish your skin.
Pros:
Packed with antioxidants
Contains coffee plant extract
Water-resistant
Provides ultra moisturizing
Leaves you with a golden glow
Cons:
The combination of a lotion and a mist that gives your skin the goodness of a golden tan, the Fox Tan tan accelerator is just what you need for a boost of melanin production. The tanning lotion can be used as an everyday moisturizer prior to going tanning. After using it for a week, spray your skin with the tanning mist when you step out in the sun. This magic combination also consists of almond oil, aloe vera, cocoa butter, jojoba, and olive oil to nourish your skin.
Pros:
Can be used as a daily moisturizer
Comes with a tanning mist
Boosts melanin production
Contains skin-nourishing elements
All-natural and cruelty-free
Cons:
For a natural, sun-kissed glow, the Ed Hardy Peace & Harmony Tanning Intensifier is just what you need. The formula stimulates melanin production in your skin and makes your tan darker and last longer. It has a pleasing fragrance that appeals to your paradise spirit. It is free of gluten, parabens, oil, and nuts which makes it suitable for almost all skin types.
Pros:
Natural glow
Long-lasting tan
Pleasant fragrance
Stimulates melanin production
Easy to apply
Cons:
Isabella's Clear GOLD Tan Accelerator Oil will give you the dreamy sun-kissed bronze glow. It is made with 100% natural ingredients to deeply hydrate your skin, prevent irritation and dryness, while stimulating faster tanning. It naturally accelerates the tan, leaving your skin glowing and healthy.
Pros
Hydrates skin
Natural-looking tan
Prevents dryness and irritation
100% natural ingredients
Vegan
Cruelty-free
Cons
This powerful dark tan intensifier by Onyx is formulated with nourishing tiaré flower, shea butter, and coconut oil. It stimulates melanin production to saturate the skin, giving you a rich golden tan effect. It replenishes moisture and makes the skin smooth and glowing. The hydrating aloe soothes irritation, while lemongrass and algae provide a sense of refreshment. The fruity fragrance with a citrusy note is sure to make this your favorite go-to tanning product.
Pros
Moisturizes the skin
Golden tan effect
Pleasant scent
Travel-friendly packaging
Cons
Infused with Mangosteen, an ingredient rich antioxidant, this tan accelerator is formulated with a bronzing blend that gives immediate and prolonged results. It comes with a hot tingle formula that provides a reddish warm tone to your skin. The antioxidant property aids in reducing the signs of aging and the vitamins C and E nourishes and moisturizes damaged skin. It also contains hemp seed oil that benefits the skin.
Pros:
Rich in antioxidants
Repairs damaged skin
Reduces signs of aging
Moisturizes skin
Nourishes skin
Cons:
Fragrance might not appeal to all
This oil combines the goodness of fruit and nut extracts and exotic oils to deliver a tropical tanning experience. Made with natural ingredients, this tan accelerator has the ability to help your skin achieve a deep, dark and luxurious tan. It contains SPF 4 which relatively protects your skin from harmful sun rays and can be used by all skin types. It comes in a user-friendly bottle with a pump-spray that allows easy accessibility and application.
Pros:
Made with natural and exotic oils
Cruelty-free
Contains SPF 4
Free of gluten, parabens, oxybenzone
Consumer-friendly packaging
Cons:
Packaging can be improvised
A tan accelerating lotion that fights cellulite – Yes, you heard it right! Magnifique from Onyx is formulated with bronzing ingredients, sesame oil, tamanu oil, walnut extract, enhancing tanning color, while coffee and yerba mate, combat cellulite, giving you firm skin. This lightweight lotion has a non-sticky texture and gets easily absorbed into the skin. Additionally, the rejuvenating magic spell fragrance enriches your tanning experience.
Pros
Lightweight
Non-sticky
Pleasant fragrance
Gets quickly absorbed
Fights cellulite
Cons
One of the most amazing tan accelerators to stimulate melanin production, the James Read Tan Enhance Accelerator is designed to help you achieve your maximum tanning potential. It works to accelerate your tan and give you that golden glow you've always desired. It blends skin-nourishing ingredients like aloe vera, monk's pepper, luxe cream, and hyaluronic acid that hydrate and moisturize your skin. The tan accelerator is formulated to suit all skin types.
Pros:
Hydrates skin
Contains aloe vera
Stimulates melanin production
Gives you a golden glow
Cons:
Product Link:

Why Use A Tan Accelerator & Are They Safe?
Some people, mostly fair-skinned people, do not tan easily due to a lack of melanin production in their skin. A tan accelerator is used in such cases to stimulate melanin production and aid in beautiful tanned skin. These lotions are also packed with ingredients that hydrate and moisturize your skin.
It is a wise thing to wonder if tan accelerators are safe for your skin. While making that decision, there are few things to consider, mostly about your skin type. Most tanning lotions have ingredients that darken your skin quickly. These include amino acid L-Tyrosine or bronzers like DHA. Other common ingredients include coconut oil, aloe vera and vitamin E. Apart from this, some products use nuts, nut oil or other such potentially allergenic ingredients that may leave you with allergic reactions. Therefore, it is extremely important to choose your products wisely and after careful consideration of the types of ingredients used in your product.
How Does Tan Accelerator Work?
Those of you who struggle with tanning naturally, a tan accelerator is perfect for you to get the skin tone your desire. They not only help you achieve that radiant golden tan but they also hydrate your skin. They are packed with ingredients that speed up your tanning process by enhancing the melanin production of your skin. They work perfectly on all skin tones and give you a deeper darker bronze hue. It is important to know that tan accelerators do not replace sunscreens and we advise you to always use an SPF to protect your skin from the harmful rays of the sun.
How To Use Tan Accelerator?
Every product is different, therefore, it is essential that you read the instructions seen on the label carefully to get the best results. The instructions will usually include how to apply and reapply the product, and how long to wait after the application before you shower. Generally, tan accelerators should be applied 2-4 weeks before heading out into the sun. This gives your skin the chance to build up its melanin production. It can also be replaced with your daily moisturizer due to its moisturizing properties.
What Are The Ingredients To Look For?
There are several ingredients that make up a good tan accelerating lotion. But for the most effective tanning experience and benefit to your skin, here are the ingredients to look for:
Aloe Vera – To help moisturize and cool down your skin
Coconut oil – Like, aloe vera, it acts as an excellent moisturizer
Carrot oil – Strengthens your skin making it ready for UV exposure
Olive oil – Great source of vitamin E that helps restore damaged skin
Almond oil – Adds a pleasant natural fragrance to your tanning lotion
Cocoa butter – Acts an intense moisturizer
Green tea extract – Helps minimize the possibility of sunburn, especially when tanning outdoors.
 Tips And Tricks To Follow When Using A Tan Accelerator
While it is important to follow the instructions on the label, here are a few tips and tricks to help you achieve the most effective tan:
Always conduct a patch test before using the product.
Look out for supplements that are good for the skin like Vitamins like C, D, and E and copper supplements which are known to enhance the effectiveness of tanning.
Whether or not your tanning lotion contains SPF, ensure to always apply sunscreen before heading out into the sun
Start out slow. Be it indoors or outdoors, gradually increase your skin exposure to the sun rather than doing it all at once
With the dawn of summer, the need for tanning accelerators is bound to increase. Whether you are fair-skinned and find it hard to tan or dark-skinned and tan easily, the list of products mentioned above is surely going to benefit you and help you achieve the beautiful golden tan that you desire. With an array of choices available to you, comment below and let us know which product you are excited to try?
Frequently Asked Questions
How Long Should You Leave Tanning Accelerator On?
We recommend that you read the instructions on the label. However, if you are new to the concept, we advise you to start slow and gradually increase the duration.
Do You Put Tan Accelerator On After Or Before Sun Cream?
It is advised to apply sunscreen after you put on a tan accelerator. Do not step out in the sun without applying sunscreen to protect your skin.
Will A Tanning Accelerator Give You A Dark Tan Without Burning?
A tan accelerator enhances the melanin production in your skin which enables a deep and dark tan without having to burn under the scorching sun.
When Should I Use A Tan Accelerator?
Generally, tan accelerators should be applied 2-4 weeks before heading out into the sun. However, we recommend that you read and follow the instructions on the label.
Can You Use Tan Accelerator With Sunscreen?
Whether or not your tanning lotion contains SPF, always ensure that you apply sunscreen before heading out into the sun to protect your skin from the harmful UV rays.