Tingle Tanning Lotions – Our 13 Top Picks For 2020 With A Detailed Buying Guide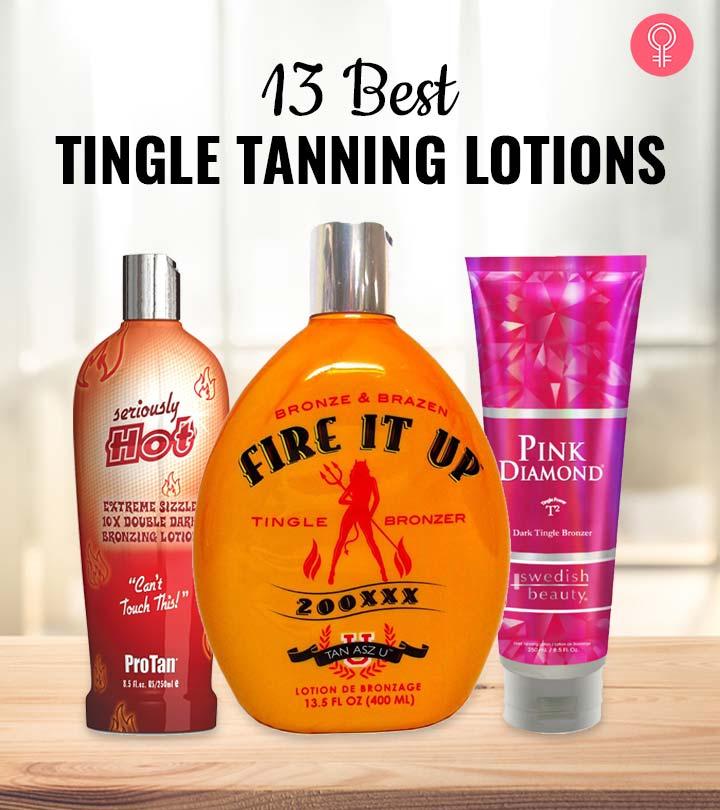 If you want a dark, intense, long-lasting tan, we have a solution for you. Use tingle tanning lotions. These 'hot action' or 'microcirculation' lotions render a streak-free, natural, sun-kissed tan by influencing oxygen uptake and accelerating natural melanin production. Below, we have listed the 13 top picks you can buy online. Check them out!
13 Best Tingle Tanning Lotions
The Swedish Beauty Pink Diamond is one of the best indoor tanning lotions. It contains natural bronzing elements for immediate results. It is infused with T2 tingle, carat complex, and a toning and rejuvenating blend of caffeine and allantoin for a flawless bronze finish. The T2 tingle increases the level of oxygen and circulation by increasing tanning cells activity for a faster and long-lasting bronze tan. The signature carat complex provides a dark, deep tone to enhance the tingle color. Caffeine and allantoin stimulate microcirculation and make your skin healthy and plump. The refreshing smell of citrus cranberry revives, revitalizes, and invigorates your mood. 
Pros
Anti-aging
Infused with slimming formula
THC drug-free
Natural, soothing fragrance
Makes your skin smooth
Moisturizing
Cons
Not suitable for sensitive skin.
The Pro Tan Hot Tottie Hot Action Tanning Lotion imparts the deepest, darkest, long-lasting tan. This dark tanning lotion will leave you with a tantalizing rosy flush and dark golden brown hue. This tingle bronzer contains vitamins A, C, and E with an emollient blend of aloe vera, mango, and cocoa butter to assure silky, smooth, and supple skin during and after tanning. It contains tyrosine amino acids that help in melanin production (a pigment for darker skin). The antioxidants protect the skin from environmental aggressors post the tanning process. Apply the right amount of heat and tingle to leave you glowing.
Pros
Long-lasting tanning effect
Moisturizing
Makes your skin silky smooth
Accelerates melanin production
Value for money
Cons
May burn the skin.
Less tingle effect.
The Seriously Hot Bronzing Lotion will set your skin on fire and glow with a deep reddish-brown color. The 10 X bronzers and the level 10 tingle complex give you a sizzling hot, bright tan. The infused natural melanin complex tones down the complexion if you are a tan addict. Coconut and rich Monoi de Tahiti oils balance the skin moisture reduce inflammation. The gentle mocha and light berry fragrance are refreshing.
Pros
Affordable tanning bed lotion
Makes the skin soft and smooth
Provides a strong bronze tan
Moisturizes the skin
Cons
Strong smell
Might cause a burning sensation.
The Designer Skin Ruby Body Bronzer is a dual-action tanning bed lotion infused with both sizzle and cooling essences to provide a tingling sensation and cooling after effect to normalize body heat. The spicy capsaicin fruit provides the tingling sensation, and the combination of licorice and emerald extracts helps refresh, calm, and soothe your skin, leaving a dark bronze tan. The DHA (dihydroxyacetone) formula reacts with the skin amino acids to produce melanin for darker-toned skin. It has a silicone emulsion that seals in moisture to make the skin soft, smooth, and supple.
Pros
Dual-action hot and cool technology
Contains DHA
Refreshes the skin
Makes the skin satin-soft
Erythrulose-free
Nut-free
Aloe-free
Hemp-free
Gluten-free
Cruelty-free
Cons
Not for sensitive skin.
May cause allergic reactions.
The Tanovations ED Hardy Body Shots provides an extreme tingle sensation, giving you the most intense tanning experience. It is a blend of quad tyrosine and MelanoBronze ™ that stimulates melanin formation to accelerate the tanning process. Advanced Matrixyl ™ Synthe '6 is a powerful peptide that reduces the appearance of wrinkles. The production of skin rebuilding essentials like collagen and elastin tightens and tones the skin and imparts a youthful glow. Melactiva ™ provides a long-lasting tan. The blend of bronzer and DHA formula gives you an instant bronze, coppery tan. Unique BodyFit ™ reduces the appearance of cellulite and stretch marks and enables you to flaunt a firm, toned look.
Pros
Stimulates melanin formation
Accelerates the tanning process
Extreme tanning effect
Moisturizes the skin
Anti-wrinkle formula
Reduces stretch marks
Firms and tones the body
Refreshing citrus fragrance
Affordable
Contains natural and cosmetic bronzer
Contains a high amount of DHA
Cons
Not suitable for sensitive skin.
May cause irritation.
The Millennium Tanning Paint It Black delivers intense dark tanning by maintaining long-lasting moisture levels. The infused 50 X Auto-Darkening Tan Technology delivers extreme dark bronze tanning results. The super luxurious silicone emulsion blend imparts a soft, smooth, silky, and satin finish. It enhances your tan with tinglers like benzyl nicotinate, melanin boosters like tyrosine, and bronzers like DHA. It contains a natural and cosmetic blend of ingredients for accelerating, bronzing, skin firming, and skin moisturizing effects. The antioxidant properties of tea leaves, coenzyme Q10, and vitamin C derivatives protect the skin from sun damage.
Pros
Delivers extreme dark tan instantly
Contains Auto-Darkening Tan Technology
Long-lasting bronze tanning
Firms and tones the skin
Moisturizes the skin
Protects the skin from sun damage
Provides a base tan
Suitable for all ages
Cons
The Ed Hardy Obnoxious Extreme Bronzer is the next level hot tingling tanning lotion specially designed for the experienced tan addicts. The bronzers are made of both cosmetic and natural tingling ingredients to deliver the darkest possible tan in every session. It contains mangosteen, an advanced tingling formula, and vitamins C and E. Mangosteen, along with vitamins C and E, is rich in antioxidants, protects the skin from oxidative damage, and delays aging. The hot tingle formula creates an intense red and warm sensation to maintain the dark bronze tan. The hemp seed oil is an excellent moisturizer that deeply hydrates the skin without clogging the pores.
Pros
Extreme hot tingling sensation
Imparts a dark bronze tan
Moisturizing
Protects the skin from sun damage
Delays natural aging
Long-lasting base tan
Cons
Not suitable for sensitive skin.
May cause itching.
The Supre Cherry Bomb Dark Tanning Lotion is specially designed for advanced tanners. The formula causes an explosion of tingling on the skin, increasing the microcirculation in the tissue. The ColorBurst Complex helps to accelerate the skin's natural melanin production. The red-hot skin stimulators impart an instant tingling sensation. The cherry extracts blended with vitamins A, C, and E restore, revive, and rejuvenate the skin to make it appear firmer, smoother, and toned. The natural juices provide UV protection and protect the skin from damage.
Pros
Increases microcirculation
Firms the skin
Moisturizes the skin
Improves skin texture
Refreshing aroma
Cons
Not suitable for sensitive skin.
May cause a burning sensation.
The Devoted Creations Ignite Noir is one of the hottest tingler bronzers. It activates a burning sensation, giving an intense black-bronze tan. The scientific breakthrough formula enhances microcirculation and oxygen uptake, leaving a salon-like tan. Kollaren and Freshtek are coupled together to fight against wrinkles and eliminate after tan odor. High levels of DHA convert the skin's protein to melanin for an instant tanning effect. It contains a cellulite reducing formula to firm and tone the body. The refreshing starfruit and aloe fragrance keeps the skin refreshed.
Pros
Contains a cellulite fighting and toning formula
Has tattoo and color fade protecting technology
Enhances microcirculation
Refreshing starfruit and aloe fragrance
Cons
Intense burning sensation
If you want a strong, intense, and bold tan, try the Outlaw 5X Tingle Tanning Lotion. It combines invigorating moisturizers and effective tan enhancers with vitamins, minerals, and essential nutrients to nourish and revive your skin. The combinations of emollient oils nourish the skin from deep within, locking in moisture, and protect the skin from chemicals and environmental damage. The wonderful fresh tropical fragrance refreshes your senses.
Pros
Stimulates blood flow
Boosts the skin's tanning process
Accelerates melanin production
Contains anti-aging ingredients
Great value for money
Cons
The Supre Tan Snooki Super Dark Maximizer contains skin stimulators that impart a hot tingling sensation. The powerful tan maximizers give your skin a deep, rich golden hue. The fit and firm complex reduces the appearance of cellulite and stretch marks, leaving your skin soft, smooth, and supple. The tattoo color-shield technology contains essential minerals, aloe, and algae that help maintain the vibrancy and hue of tattoos.
Pros
Paraben-free
Nut-free
Gluten-free
Moisturizes the skin
Contains powerful tan maximizers
Reduces cellulite
Firms and tones skin
Cons
Strong smell
Might cause white spots.
The Jwoww Mad Hot Tingle Bronzer Tanning Lotion contains tyrosine to stimulate melanin formation, and the bronzers offer a dark tan. It is blended with black currant oil, shea butter, pear, and yogurt to maintain the moisture levels and make your skin silky, smooth, and soft. Vitamin E, an antioxidant, protects the skin from free radical damage.
Pros
Light
Gives visibly smooth skin
Infused with anti-wrinkle ingredients
Contains vitamin E and shea butter
Cons
Strong smell
Not suitable for sensitive skin.
The Tan Asz U Fire It Up Tingle Bronzer has a 200X bronzer effect to darken the skin as deeply as possible. This formula is free of parabens and DHA. It contains a soothing silicone and aloe emulsion that deeply conditions the skin, leaving a vibrant dark bronze tan.
Pros
Paraben-free
DHA-free
Soothing formula
Moisturizes the skin
200X stronger to fire up the skin
Refreshing fragrance
Cons
These are our 13 top picks of tingle tanning lotions. The following section provides a detailed understanding of tingle tanning lotions and their benefits.  Keep scrolling.
What Is A Tingle Tanning Lotion And How Does It Work? 
Tingle tanning lotions are intense lotions that cause a tingling sensation immediately after application, imparting a deep bronze tan. The tingling ingredients increase the microcirculation of blood on the skin and oxygen uptake capacity. This combines with tyrosine to produce melanin. The more the melanin production, the darker your skin tone.
Benefits Of Tingle Tanning Lotion
It is specifically designed to amplify the tanning process.
It gives an instant tanning effect without damaging the skin.
Tingling tanning lotions are infused with moisturizers to lock in moisture and fight against aging and advanced technology to even out the skin tone and firm your skin.
Let's scan through the checklist for the best buy.
What Factors Should You Consider In Tingle Tanning Lotions? 
Check the tingling power when you are buying online. Most of the tingle lotions give an extreme tingle. But if you are a beginner, choose a tingling power in the low to moderate range.
Check the active ingredients. The most common ingredients that impart vibrant tanning with a tingling sensation are methyl nicotinate, benzyl nicotinate, along with moisturizing elements. The blend of cosmetic and natural ingredients increases microcirculation to the skin, exposing more oxygen to the melanin cells while nourishing the outer layer of the skin.
Select between a maximizer and an accelerator. Both enhance the tanning process. But if you are a beginner, pick a tingling lotion with the accelerator mentioned on the label. People who want a deep, intense tan with a moisturizing effect should go for a maximizer. While using a maximizer, make sure you have a base tan.
A bronzer tanning lotion contains DHA that enables it to impart an instant tan, and the skin continues darkening for hours after application. Bronzing lotions are ideal when you want to achieve a sun-kissed look instantly.
Tingle tanning lotions with anti-aging qualities often contain added vitamins and minerals. These are incorporated to protect against premature aging signs. Most of these lotions contain caffeine to help reduce any puffiness, wrinkles, and fine lines while energizing the skin.
Check the tattoo protection power. Exposing your skin to UV rays and on tanning beds can end up fading your tattoo. Choose a tattoo protecting tingle tanning lotion.
Conclusion
The best tingle tanning lotions have countless benefits that make them appealing to tanners who want to get a natural sun-kissed look quickly and efficiently. These lotions aim to create a natural tan by causing the skin to become darker. The moisturizing ingredients result in long-lasting tan that does not fade anytime sooner.
Pick your favorite one from the list for a vibrant, gorgeous tan.
Expert's Answers for Readers Questions
Does a tingle tanning lotion make your tan faster?
Yes, a tingle tanning lotion with active cosmetic ingredients results in a faster tan without causing damage to your skin.
How long should I wait to take a shower after using a tingle lotion?
Wait until the tanning effect subsides. If your tanning lotion contains a powerful bronzer, you can take a shower after 4-6 hours of the application.
What is the difference between tingling tanning lotion and the regular one?
A tingling tanning lotion increases the microcirculation and oxygen uptake for an instant tanning effect. A regular tanning lotion needs time to give a darker tan.
Are tingle tan lotions harmful?
If you have sensitive skin, tingling tanning lotions may burn your skin. Check with your dermatologist before applying it.
Can you put tingle tanning lotion on your face?
A big NO. The skin on the face is very delicate and contains a large number of capillaries. Applying a tingle tanning lotion on the skin increases circulation, causing red marks all over.
Recommended Articles
The following two tabs change content below.

Latest posts by Priyanka S (see all)