13 Best Black Sneakers For Women That'll Never Go Out Of Style
Rely on the safest color as you step into the most versatile pair of shoes.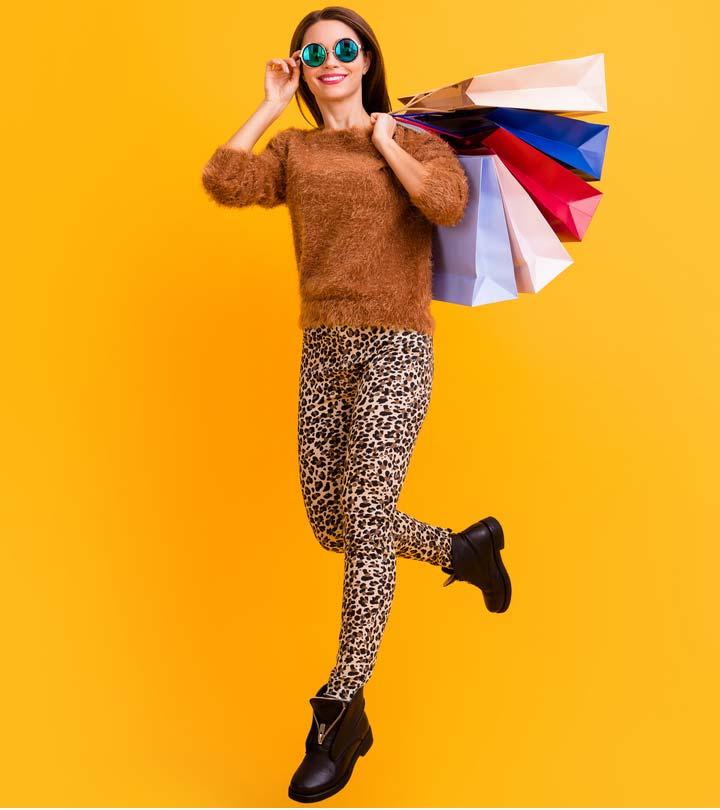 Be it a dress or a pair of jeans, black sneakers for women can go a long way in completing the look for you. Whether your cupboard is full of colorful attire or you prefer sober tones, black sneakers are something you can slip on anytime, with almost any color, without giving it a second thought. These are available in different designs and materials, allowing you many options to select from. Also, a significant benefit of owning a pair of these is that it will take you a lot of effort to get these dirty, unlike white or lighter shades, thereby easing up your cleaning task. So be it for going to college or a casual in, a date at the movies, or drinks with your girlfriends, a black sneaker is something you can slip on without thinking if this is the right choice to make or not. Still, wondering what's available in the black when it comes to sneakers for women? Have a look at our list to select one that you love the most!
Top Picks
13 Black Sneakers For Women That Will Never Go Out Of Style
Pros
Comfortable
Flexible design
Cushiony outsoles
Provides arch support
Breathable
Cons
Price at the time of publication: $35.12
This women's black mesh sneaker is your go-to option when you want shoes with an on-trend design and the most comfortably cushiony texture. These shoes feature a pure synthetic material infused with mesh, making them super-light and steady on the feet. The midsole has pads that excel at making daily walks and bumpy roads feel smoother. You can have them on all day long without any negative consequences. If anything, they'll end up relaxing your feet and giving your arches a lot more support. Bonus points for the intricate design that, in no circumstance, lets the pair go unnoticed.
Pros
 Lightweight
 Comfy, snug fit
 Sleek design
 NB memory insole
 Rubber outsole
 Available in white
Cons
 Not suitable for high-impact activities
Price at the time of publication: $58.46
Pros
 Great flexibility
 Premium quality
 Good back support
 Lightweight cushioning
Cons
Price at the time of publication: $65
Pros
 Optimal comfort
 Superior cushioning
 Slightly elevated platform
 Perforated vamp
 High-grip rubber sole
Cons
 Might be slightly inflexible
Price at the time of publication: $64.95
Pros
Good fit
Lightweight
Provides traction
Cushioned soles
Slip-resistant
Cons
No arch support
Stiff tongue
Not durable
Price at the time of publication: $23.79
Pros
 Rubber sole
 Versatile sneaker
 Maximum durability
 Slip-on with elastic gore
Cons
 Might be a bit tight for some
Price at the time of publication: $33.74
Pros
 Sturdy design
 Padded foam sock liner
 Keeps feet cool and dry
 Provides efficient foot support
Cons
Price at the time of publication: $36.5
Pros
Lightweight
Comfortable
Sturdy rubber sole
Versatile
Cons
Not suitable for daily wear
Price at the time of publication: $33.99
Pros
 Lightweight knit fabric
 Convenient heel pull tab
 High-grip rubber outsole
 Double-layer mesh
Cons
Price at the time of publication: $169.99
Pros
Lightweight
Breathable
Slip-resistant outsoles
Durable
Removable insoles
Easy to put on and off
Cons
The soles may not provide enough grip
Price at the time of publication: $29.59
Pros
 Sleek design
 Lightweight
 Versatile use
 Incredible arch support
 Available in 12 colors
Cons
 Logo might start to peel with extended use
Price at the time of publication: $174.93
Pros
 Smart design
 Easy to clean
 Goes with all outfits
 Flexible sole platform
Cons
Price at the time of publication: $220
Pros
True-to-size
Breathable
Suitable for all-day wear
Comfortable
Adaptable material
Cons
None
Price at the time of publication: $57.85
So, these are the best black sneakers on the market that will help you upgrade your wardrobe and look fly as hell. Below, we go into more detail about how to make the right sneaker choice.
How To Choose The Right Black Sneakers
Finding a shoe with rigid cups and layers to support your heels is a wise thing to do. Also, you should look for shoes with heels that allow comfortable ankle movement. Whether you want it to be flat or wedged depends on the occasion.
Rubber outsoles can bear pressure, absorb shock, and keep your feet comfortable. More importantly, they provide traction and enhance durability, so you won't be prone to slipping and hurting yourself when you're just going about your day. Opt for non-slip black sneakers if you want something versatile that also keeps you steady.
Midsoles need memory foam to ensure all-around comfort for your feet. It should be thick enough to feel like a cushion but firm enough to bear the excess weight. Look for shoes that have dense and cloudlike midsoles to give your feet maximum protection from the elements.
A sockliner covers the innermost part of the shoe, enhancing comfort and relaxing your feet. They also provide you with arch support, which is crucial if you are going to be spending more than a minute in your shoes. Always choose a shoe that comes with a sockliner that's nice and cushioned.
The perfect pair of sneakers comes with upgraded technology that aims to maximize foot comfort. It can include guide rails, dual-density foams, medial posts, or anything that prevents overpronation and keeps your movements in control.
How To Style Your Black Sneakers
Denim overalls have been trendy for years, and it doesn't look like they are going away anytime soon. Why would they when pairing them with black, high-top sneakers makes you look like the queen of the street?
For a cute, girl-next-door vibe, you can top up your black sneakers with a pair of denim or cotton shorts. Skirts will give you a similar silhouette but make you feel much more comfortable around the crotch area. A flowy crop top or tight tank would make for an excellent way to complete the look.
Pair them up with brightly-colored t-shirts, tops, and sports bras. Underneath, you can go as tight or as baggy as your mood dictates because chunky black sneakers will look good either way. Wearing a white top or bright neons with denims is the ultimate classic when it comes to black sneaker pairings.
Why Trust StyleCraze?
The author Priyam Gupta is a fashion enthusiast with a keen interest in shoes. She has done in-depth research on sneakers by going through many products, and curated the list of best black sneakers for women. These versatile black sneakers are a perfect fit for any color outfit, and are very easy to clean, unlike other colors, which get dirty easily. Also, these are suitable for different occasions.
Frequently Asked Questions
Are black sneakers fashionable?
Yes, black sneakers are always trending because they are inherently timeless. You don't have to put much thought into creating the perfect outfit because they pair well with everything.
Do black sneakers go with everything?
Yes, black sneakers go with almost everything. From dresses and skirts to formal trousers and overalls, the right sneaker will pull your look together, making you appear sharp and polished.
Are black sneakers business casual?
Yes, black sneakers are business casual. You can pair a leather sneaker with formal outfits at work and pretty much any texture when dressing casually.
How to clean black sneakers?
You can clean your black sneakers by spraying a good-quality water repellant. Don't forget to use cleaning wipes for removing dirt, dust. and grime from the shoes.
Are black sneakers versatile?
Yes. Black sneakers are the most versatile as far as footwear goes. They always look good with any colored clothes and can be fashioned according to your liking.
What color of socks suit a pair of black sneakers?
Nothing can go wrong with a pair of black sneakers. Almost all solid-colored socks will go with it, including light-colored socks.
What color of pants should I wear with black sneakers?
Indigo blue, black, white, and gray – all these shades go well with black sneakers and make your outfit look casually perfect.
Recommended Articles: