13 Best Non-Slip Shoes For Women (With Reviews) – 2022
Put on these comfy shoes and run aimlessly on any surface without tripping.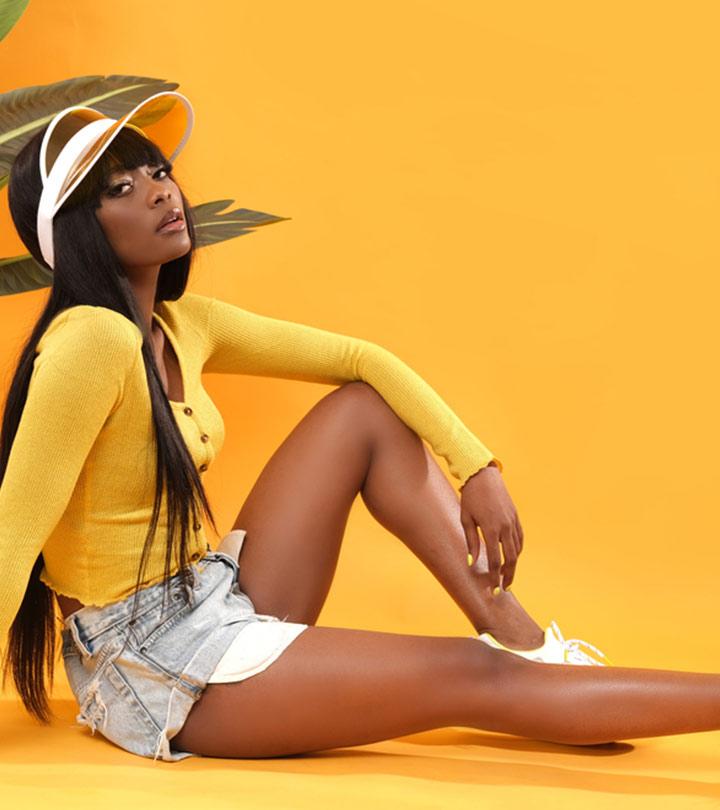 If you are looking for the best non-slip shoes, we have just what you need. As common as ptophobia is, it is the fear of slipping and falling down. People who have it fear walking on the polished surface or slippery floors. Imagine fearing slipping and then wearing shoes that make you skid every now and then! You might have to tackle 99 problems in your everyday life, but slippery shoes shouldn't be one of them! Shoes play a vital role in supporting your feet and giving you a grip to walk safely on every surface. No matter how confident your walk is or how cute your shoes are, once your feet skid, it's contesting to maintain the confidence. To deal with such problems, non-slip shoes are a blessing. They are made with the best grip to help you walk perfectly without fearing the surface or the shoes. The most challenging part about these shoes is finding them! If you have tried your luck but failed, we are here to help you. Here are the 13 highest-rated non-slip shoes to help you carry on your walk. So who is ready to get their Cinderella shoes!
What Are Non-Slip Shoes And Why Are They Useful?
Non-slip shoes are basically a pair of shoes that are specifically constructed to give you an excellent grip even when you walk on a slippery surface. They feature special grooves and rubber outsoles that are incredible at resisting slips and falls, thus helping you avoid accidents. Non-slip shoes are tremendously useful for those who wear shoes to work on a daily basis and need to be on their feet most of the time. And they're more of a need than a luxury when your work demands that you walk around and sometimes even make a quick run despite the floor being slippery.
13 Best Non-Slip Shoes For Unparalleled Comfort And Safety
If you're all about running shoes that can be your fairy godmother and transform your look to 10/10, these are the shoes you need. These funky Wonesion Women's Non-Slip Fashion Sneakers in pretty purple have rubber soles, and if you're not a fan of purple color, you can choose from 16 other colors. The knitted mesh upper adds maximum amount of breathability to the shoes, making sure your feet keep dry and cool at all times. The outsoles are made of hollow carved technology to provide stability to your feet while also absorbing shock in case you wear them for sports. The honeycomb hole design that the insole adopts helps protect your ankle and feet from being hurt from impact. These versatile shoes can be worn to any place with ease and style!
Pros
Lightweight shoes
Made from knitted mesh material
Breathable
Keeps the feet balanced
Hollow carved technology outsoles
Available in 17 colors
Cons
The cushion may flatten over time.
If you're a shoe fanatic and every pair of shoes you own is dear to you, you definitely need these waterproof, non-slip shoes to help you turn your careful treads into confident strutting on a rainy day. Being extremely lightweight and soft, these are inarguably the most comfortable non-slip work shoes. Whether you're a teacher, nurse, or a chef and spend most of your day on your feet, you need these shoes to make your work days a lot less exhausting. The platform measures approximately an inch, which automatically keeps your feet safe from water when the road's filled with rainwater and mud puddles. The outsole is non-slip and the footbed features an absorbent material so your feet get to breathe and stay sweat-free.
Pros
Waterproof
Rubber sole
Super comfortable
Footbed made from absorbent material
Available in different colors
Cons
The shoes may not offer impressive arch support.
Black, yellow, or green— these stunning and fashionable non-slip shoes can add a lot of color and excitement to your morning runs. They feature rubber soles and honeycomb design insoles that offer unparalleled support and balance. Not only that, they also help absorb vibration and offer maximum ventilation when you're on a rocky road or out for a hike. Specifically designed to be your running companion, the upper of the shoe is crafted with breathable mesh fabric to keep your feet cool and dry. These fashionable non-slip shoes are designed to adopt Blade Rubber outsole with hollow carved bottom design that adds both slip resistance and wear resistance to these shoes. The ultimate outcome? Secure steps and extreme stability!
Pros
Insole honeycomb design
Breathable mesh fabric upper
Increased slip resistance
Wear-resistant
Visually appealing design
Cons
May not be comfortable for longer runs
Say yes to effortless walking with these comfortable non slip shoes from MAIITRIP slip-on walking shoes. Boasting a no-lace design, they're specifically designed for those who are always on their feet and have no time to keep tying laces from time to time. Featuring lightweight MD soles, they efficiently spread the impact evenly to save your heels, ankles, and toes from pain when you spend most of your day standing. They're made from super smooth fabric that is breathable, feeling more like socks than shoes— meaning extremely comfy and soft against the skin. They're also perforated to make sure all the sweat evaporates, leaving your feet feeling dry and odor-free. Jazz, jog, walk, or dance— these comfy non-slip shoes have got your back (and feet).
Pros
Lightweight MD sole
Evenly spreads the impact
Flexible
Breathable and smooth fabric
Perforated arch for ventilation
Laceless design
Suitable for daily use
Cons
May not be suitable for those with narrow feet
These cute black non-slip shoes are where your hunt ends if you're looking for monochrome all-black shoes that go with all your workout outfits. While they come with laces, these laces don't need the effort and time to be tied as they're rather engineered to be pulled together to optimize the fitting. With a durable and soft outsole made from EVA, it is both slip resistant and comfortable. The outsole is also made from stretchable rubber along with elastane heels to allow natural movement of the feet. The ventilation ports and the breathable mesh fabric let your feet breathe whether you walk, run, or jog.
Pros
Breathable mesh upper
Have added ventilation ports
Long shoe tongue
Lightweight
Removable insoles
Durable
Available in 9 colors
Cons
The insole may not completely fill the shoe.
Available in 17 beautiful colors, these slip-on Walking Tennis Shoes by Akk feature adjustable laces that let you control the fitting. They're made from an elastic material to make it easy to put them on and take them off. Crafted from MD outsole, their non-slip design allows you to walk, jog, or run long-distance without encountering slips. The soles of these memory foam non slip shoes are also wear-resistant, which means these shoes will last you several years. While these shoes offer maximum comfort, they don't compromise on style at all— you can easily sport them for a walk, to the mall, to the office, and even while traveling.
Pros
Memory foam insole
Flexible MD outsole
Slip-on design
Lightweight
Breathable mesh upper
Trendy design
Cons
May not have adequate cushioning
All hail the god of non-slip shoes— the Avia Avi-Union II Non-Slip Shoes For Women take it to the new level. Blessed with one-of-the-kind Cantilever Technology, these shoes center and stabilize your heel with superlative cushioning and shock absorption. The EVA midsole in these shoes is compression molded, and the anatomical heel cradle adds more stability to your steps. What's more? These non-slip running shoes not only feature anti-slip soles but are also impressively water resistant. To add more comfort and suit the wearer's personal preferences, the memory foam sock liners are removable. When you're on your feet all day, you need one of these bad boys to make your day a lot easier.
Pros
Feature thick rubber soles
Water resistant
Removable memory foam sock liner
Anatomical heel cradle
Cons
Available only in 2 colors (black and white)
These sturdy yet lightweight non-slip shoes are made from polyester and feature MD soles. The upper part of the shoes is made from elastic flying woven fabric which makes them extremely breathable, keeping your feet cool at all times. Being stretchy, these shoes are made to wrap your ankle and to expand with your feet, making it an extremely easy and comfortable run or walk when you're out and about. The MD sole also imparts the shoes their characteristic slip-resistant and wear-resistant performance. Being lined with skin-friendly sponge mesh, these shoes help reduce foot friction so you can walk for extended hours without the shoes wearing you out.
Pros
Lightweight
Breathable material
Soft fabric
Slip- and wear-resistant
Lined with soft and skin-friendly sponge mesh
Cons
May not provide adequate arch support
Popular for offering unparalleled comfort loaded with style, these non-slip shoes for women by Sumotia come with phylon sole that impart it the non-slip feature. Lightweight and breathable, the upper part of the sneakers is made from knitted mesh fabric so your feet stay ventilated all day long no matter how hot it gets and how active your day is. The removable memory foam insole gives you the liberty to control how much cushioning you need to feel comfy in this pair of shoes. And to add a finishing touch of perfection, these shoes feature soft yet durable MD outsole that is both lightweight and elastic. With that, you get a good amount of friction and grip to make walking a cakewalk for you.
Pros
Breathable knitted mesh upper
Removable memory foam insole
Soft and non-slip MD outsole
Stylish design
Available in many colors
Cons
May not be suitable for long-distance walking
Crafted thoughtfully for leather lovers, these non slippery shoes for work are a blend of aesthetics and comfort. While the design and fit has us hiking-inspired, these shoes will easily become your best friends if your work demands a lot of walking or standing. While the heel part of the shoes is made to offer a snug fit, the toe area is a lot more spacious to help avoid aches from wearing the shoes for long hours. The internal support mechanism of these shoes has been anatomically engineered, which means you can expect impressive arch support as the shoe cradles the natural contours of your feet. Whether you're a regular hiker, a working woman, or like to hit the gym in style, this pair of durable shoes is where all-day comfort meets high performance to give you the best.
Pros
Torsional stability shank
Removable EVA footbed
Features toe protection
Metatomical footbed design
Cons
Some may find the shoes bulky.
Not all of us are a huge fan of the conventional shoes and sneakers, nevertheless, we need shoes that are slip resistant and convenient to wear to work. This pair of shoes from Laforst comes to your rescue whether you're a nurse, professor, or a waitress looking for shoes that offer support and comfort. Made from Sunbrella fabric upper, these shoes are extremely breathable. The insoles are made from PU foam to offer impressive arch support, and the fabric-lined interior makes it an easy daily wear. Slip-resistant, lightweight, and flexible— these shoes are a dream come true if your major criteria for shoes is featherlight and snug fitting.
Pros
Water resistant
Convenient slip-on design
Lightweight
Durable
Flexible
Cons
These slip-resistant work shoes are all for you if you want to stay sure-footed with a pair that is reliably non-slip. These shoes by Shoes For Crews feature superior SFC outsoles that make them extremely slip-resistant. The surface of the shoes is treated such that it repels liquids, making them an essential if you're walking in the rain. Made from premium material, it offers a natural fitting to keep your feet comfortable all day long. The shoes are also well-ventilated with openings placed strategically, keeping your feet cool. What makes this the go-to pair of shoes is its unique SpillGuard, which is a protective membrane that keeps off hot liquids.
Pros
Superior SFC slip-resistant outsole
Water-resistant
Ventilated
Features a spill guard
Cons
Ending our list with one of the best non-slip athletic shoes worth laying hands on, these beauties from Marsvovo are a perfect workout wear, giving you an impressive grip on slippery surfaces. It comes with rubber soles with high elasticity, allowing the shoes to bend freely and allowing your feet free movement. Not only are these shoes anti-slip, but they're also abrasion resistant. The insole is designed to offer a good amount of arch support and midfoot support. And it features knitted mesh supper that makes it lightweight, allowing your feet to breathe. Available in a whole range of colors, these comfortable shoes are made to suit different occasions as you match them with your outfit.
Pros
Light in weight
Breathable
Removable sockliner
Highly elastic rubber soles
Available in a variety of colors
Cons
May not be as durable when used on a daily basis
There are various types of shoes with the non-slip feature in the market. It is always best to do your research and find out about each type before you pick what you like the most. To make this less of an ordeal, we have a segment just for you to help you explore the different types of non-slip shoes so you pick the right one.
Types Of Non-Slip Shoes
Non-slip sneakers are constructed for exercises, sports, and athletics. These shoes generally feature noiseless rubber soles, and that's where they get their name from. They are made to offer a good amount of arch support for easy movement. However, sneakers are also an easy choice of shoes for everyday wear as they generally feel comfortable. Most sneakers also come with a mesh upper part so as to keep the feet sweat-free.
Slip-on shoes are a convenient choice when you don't want to deal with laces. They are made from stretchable material to be elastic enough so that you can easily and effortlessly put them on and take them off without the hassle of tying the laces. Slip-on shoes and loafers that are slip resistant are a great choice for work and travel.
Running shoes are crafted to move with your feet effortlessly to make movement extremely convenient without hurting your feet or causing pain after a long run. They generally have a thick memory foam insole so as to offer superior arch support, and the outsoles are flexible so that the impact gets evenly distributed, saving your feet from pain as a result of overworking a specific part of your feet, mostly heels.
High-tops are a variant of sneakers; however, they provide a lot more ankle support than your conventional sneakers. The laces run above the ankle bones, thus keeping your ankles secure. They are designed to enable you to perform movements and motions at a greater speed and at all angles. However, one major downside to wearing high-tops is that they may get a little heavier as compared to sneakers or running shoes. While they are a great choice when you work out, they may not be the ideal option if you plan to wear them to work, especially if your job requires you to stand or walk most of the day.
Choosing the right kind of non-slip shoes is crucial to feeling comfortable all day, especially if you live an active life. We have created a comprehensive buying guide to make it easier for you to understand what all factors you need to keep in mind when buying the right non-slip shoes.
How To Choose The Best Non-Slip Shoes For Women?
No matter how effective your non-slip shoes are at providing you a good grip as you walk or run, what makes any pair of shoes worth wearing every day is how comfortable your feet feel when you wear them. Pick a pair of uncomfortable non-slip shoes and you'll end up avoiding wearing them. Therefore, make sure that the non-slip shoes you pick are the kind that offer breathability and good cushioning. To make sure you do so, look for a pair that are made of mesh fabric and have memory foam so that the impact gets distributed evenly, which helps prevent the chances of pain or aches.
When your job requires you to walk around most part of the day or places that are greasy or slippery, you need to keep safety in mind. When you work at a restaurant or a hospital, you need to make sure that the shoes are truly non-slip and offer a good grip so that you don't have to tread too carefully all the time. A pair of heavy-duty non-slip shoes with anti-slip sole that have grooves that keep you protected even as you walk on surfaces that have gravel, mud, or soap. Once you know your shoes are 100% safe, you can then check if they suit your style. The bottomline is that your shoes should be safe to wear under certain conditions that you are exposed to on a daily basis.
The outsole of the shoes is the part that comes in contact with the floor as well as makes up the edges of the shoes. For non-slip shoes, it is best to look for a pair that has rubber outsoles because they are most effective at providing a good grip, friction, and being slip resistant. However, you need to also make sure that the rubber that goes into the making of the outsoles is soft and flexible so that the shoes don't have foot aches. And so the best bet would be shoes with slip-resistant rubber outsoles.
Midsoles are the part of your shoes that are constructed to support the arch of the foot. This again becomes a major deciding factor when you spend most of your day in shoes and need to deal with quick movements. The midsole of your shoes should offer adequate arch support so that the arch of your foot rests comfortably, thus preventing pain. This is all the more important when you climb stairs, lift heavy items, and so on. Adequate arch support means your feet won't be put through strain.
Insole is the lining within the shoes where your feet rest. Insoles that are most comfortable characterize a good memory foam layer made from durable materials so that your feet rest on a cushiony layer as you walk or run. This helps evenly distribute the impact, thus preventing your feet from experiencing pain when you walk or run for long hours. You can look for shoes that feature impact lining, memory foam, or gel as these materials offer a good amount of balance and comfort.
If you're a healthcare worker, restaurant worker, or belong to any other profession that requires you to spend most of your days in your non-slip shoes, you need a pair that is made to handle rough use and uses high-quality materials. As non-slip shoes age, the slip-resistant outsole may start tearing or wearing out. When that happens, your shoes will become relatively less effective at offering a non-slip tread. This is why you should pick a pair that has durable rubber outsoles that are made to last longer without wearing down faster.
Why Trust StyleCraze?
Priyam Gupta has a deep interest in fashion and loves writing about industry trends. She has carefully selected these non-slip shoes, which have been closely reviewed and selected based on user reviews and feedback available on multiple forums and brand websites. These non-slip shoes feature the best grip to help you walk comfortably without fearing the surface or the shoes.
Frequently Asked Questions
Why do you need slip resistant shoes?
Slip-resistant or non-slip shoes are made to reduce the chances of accidents, especially when you walk on slippery, greasy, gravelly, or soapy surfaces. Such shoes are extremely useful for nurses, waitresses, athletes, etc. This type of shoes offers superlative grip and has a tread pattern that creates friction, and thus resists against slippery surfaces. And so, you won't have to worry about falling or slipping at work because of a slippery surface.
Are the soles of your shoes guaranteed not to slip?
When your shoes feature a non-slip or slip-resistant outsole, the chances of slipping are quite unlikely. However, if you have been using the same pair of shoes for years, the outsole may suffer tearing and wear-down, and this may make your shoes less effective at offering a slip-resistant tread. Therefore, it is recommended to switch to a new pair of non-slip shoes when you start noticing the tearing of the outsoles.
What makes non-slip shoes not slippery?
The core part of your shoes that decide whether or not they are non-slip are the outsoles. The outsole of your shoes comes in direct contact with the floor. When the outsole is made from rubber and features grooves and lines, it is a good indication that your shoes will prevent you from slipping and falling.
Are athletic shoes non-slip?
While it is naturally assumed that athletic shoes are non-slip, that may not necessarily be the case. To be completely sure that the athletic shoes that you invest in are non-slip, you should see if the outsoles of the shoes are made from soft rubber. While soft rubber outsoles offer a good grip and generate friction as they come in contact with the floor, they also ensure easy movement in all angles and don't feel heavy.
Are non-slip shoes good for hiking?
Non-slip shoes are a great choice for hiking as they give you a good grip, especially when you're hiking on a steep surface.
How to clean non-slip shoes?
The best way to clean a pair of non-slip shoes is using a brush that can reach the grooves of the outsole. That way, you can make sure that all the debris that sits in those crevices is removed, ensuring that your shoes give you a good grip at all times.
Recommended Articles: