5 Best Face Wipes To Use After A Workout – 2023
Protect your skin from acne-causing bacteria immediately after an intense exercise regime.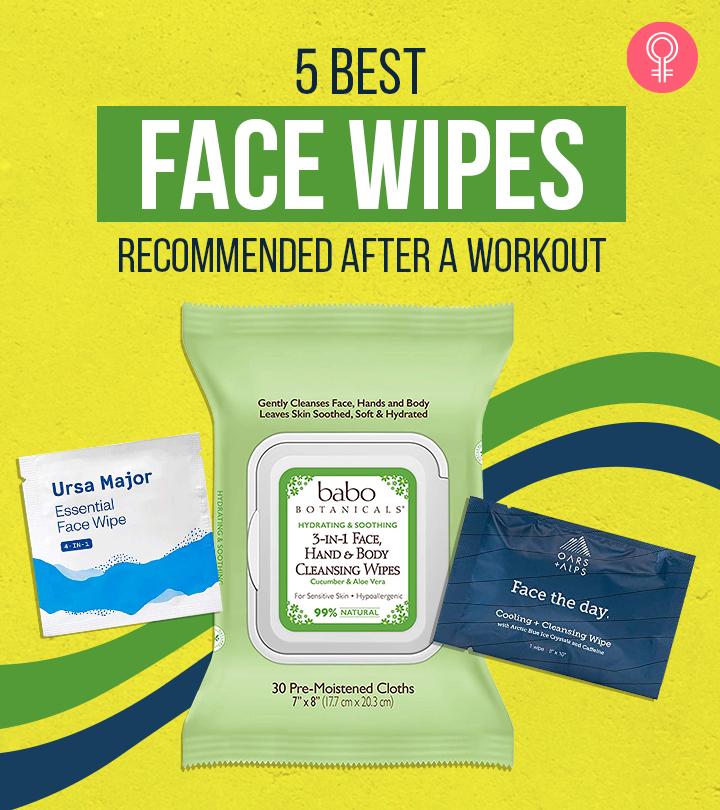 An intense workout session makes us sweaty. Therefore, you need the best face wipes in your gym bag. They help you to clean yourself immediately after training. The longer you let the sweat stay on your skin, the greater the chances of it causing acne and breakouts. These face wipes are convenient to carry and safe on your skin. They eliminate the grime to protect your skin against acne-causing bacteria. Our list features the 5 face wipes that fitness enthusiasts love. Swipe up to take a look!
5 Best Face Wipes Recommended After A Workout
These face wipes are ideal for sensitive skin types. They are infused with zinc PCA and glycerin that do wonders for the skin by removing dirt, oil, impurities, and sweat without drying it out. The water in the wipes is triple purified and provides instant hydration to the skin. The wipes also have an oil control formula that controls excess oil production and keeps the face shine-free. They are gentle on the skin, lightweight, and fit easily in a gym bag. Go through this YouTuber's video for an indepth review of this product.
Pros
Hydrating formula
Mild
pH-balanced
Safe for sensitive eyes
Travel-friendly
Alcohol-free
Fragrance-free
Cons
None
Remember
Face wipes alone are not enough to maintain skin hygiene. While they might come in handy when in a rush, it is a must to follow up with a facewash for a thorough cleanse.
Price at the time of publication: $19.49
These wipes are made of bamboo and are suitable for all skin types. They are infused with a generous amount of the 4-in-1 face tonic formula that cleanses, exfoliates, and soothes the skin. The face wipes are enriched with aloe vera, birch sap, sugar cane, and willow bark that hydrate, tone, brighten, and condition the skin, respectively. They also contain an AHA/BHA exfoliating complex. These hydrating face wipes are biodegradable and wrapped individually for convenient and sustainable use. The refreshing fragrance of these wipes has hints of fir, orange, and lavender. Take a look at this video to learn more about the benefits of this product.
Pros
Refreshing scent
Hydrating formula
Vegan
Non-greasy
Lightweight
Travel-friendly
Cons
Price at the time of publication: $26
The Shower Sheets by Yuni are infused with bitter orange extract, neem extract, lemon peel oil, aloe vera, cucumber extract, green tea extract, peppermint extract, apple extract, and rosemary leaf oil. These ingredients calm and soothe the skin.
Green tea extracts protects the skin cells from damage and help reverse the signs of aging. The neem, peppermint, and citrus extracts have antibacterial and antiseptic properties that soothe the skin. These wipes do not contain any alcohol or artificial fragrance and are enriched with a natural invigorating scent. They are biodegradable and plant-based. The shower sheets come in 12 individual packets, and the size makes them convenient to wipe the whole body without leaving behind any residue.
Pros
Plant-based
Soft
Travel-friendly
Vegan
Cruelty-free
Paraben-free
Sulfate-free
Mineral oil-free
Phthalate-free
Alcohol-free
Synthetic fragrance-free
Cons
Fun Fact
Face wipes can remove deodorant stains from garments without leaving any paper residue.
Price at the time of publication: $16.49
These 3-in-1 wipes are ideal for those with sensitive skin. They are infused with extracts of kudzu root, watercress, chamomile, meadowsweet flower, calendula, cucumber, and aloe vera. Cucumber extract soothes the skin and deeply hydrates it by replenishing the lost moisture after prolonged exposure to the sun.
Aloe vera and meadowsweet flower extracts have antiseptic and anti-inflammatory properties that fight fungi, bacteria, and viruses while healing dry skin. Watercress extract relieves eczema, irritation, and inflammation. The face wipes also contains shea butter and cocoa butter that deeply moisturize the skin.
Pros
Hypoallergenic
Soft
Chemical-free
Alcohol-free
Synthetic fragrance-free
Cruelty-free
Cons
May cause a burning sensation.
Price at the time of publication: $8.49
The Cooling + Cleansing Wipes by Oars + Alps are enriched with grapefruit peel extract, green tea extract, aloe vera, caffeine, lemon peel extract, vetiver oil, cucumber fruit extract, ginseng root, and tangerine oil. While caffeine soothes puffy and tired skin, menthol makes you feel fresh. The artic blue crystals in the formula cool and exfoliate the skin. Ginseng root extract protects the skin from free radical damage caused by the sun and pollution. These double-sided wipes contain no harsh ingredients.
Pros
Double-sided
Soft
Travel-friendly
Alcohol-free
Synthetic fragrance-free
Non-greasy
Non-toxic
Cons
Price at the time of publication: $15.99
Face wipes come in extremely handy throughout the day, espcecially after a rigorous workout session. These save time and are very efficient too, but facial wipes include a variety of chemicals that harm your skin. Before deciding on a brand, consider the following key factors discussed below.
How To Select The Best Face Wipes To Use After Workouts
Skin Type
Oily Skin: This skin type retains a lot of dirt and sweat, choose wipes that do not clog pores.
Dry Skin: Choose moisturizing wipe to soften and hydrate dry or flaky skin.
Sensitive Skin: Opt for hypoallergenic, skin-soothing wipes that protect the skin from irritants.
Ingredients To Look For
Oily Skin: Look for wipes with extracts like aloe vera, cucumber, or green tea and since oily skin tends to be acne-prone, choose wipes with an active ingredient like salicylic acid.
Dry Skin: Opt for wipes with aloe vera, jojoba oil, vitamin E, and glycerine, as they keep the skin hydrated and nourished.
Sensitive Skin: To ensure that the wipes are entirely safe for your skin and eyes, choose ones that have been dermatologist and ophthalmologist tested.
Ingredients to Avoid
Choose facial wipes that do not include formaldehyde, added fragrance, parabens, sulfates, and SLS since these are particularly damaging for sensitive skin and cause rashes and allergies. For people with oily skin, face wipes with oil can cause breakouts and acne. Those with dry skin should avoid wipes with alcohol since they can cause further drying and moisture absorption.
Material
Make sure your cleaning wipes are composed of high-quality, skin-friendly materials such as cotton or bamboo cotton, which will not irritate your skin and are also bio-degradable.
After an intense workout session, you need the best face wipes to prevent bacteria, dead skin, and leftover makeup from clogging your pores and leading to breakouts. These facial wipes are convenient to carry and safe on your skin. The reviewed products in the curated list are travel-friendly, free from synthetic chemicals and fragrances that keep your skin clean and sweat-free. Fitness enthusiasts love these wipes as they keep all the acne-causing bacteria at bay.
Why Trust StyleCraze?
The author of this post, Shiboli Chakraborti, is a trained skincare consultant with a passion for cosmetics and beauty products. She looked through many beauty forums for product information and user evaluations in order to compile this list of the best face wipes for your gym bag. She's also given product specifications, along with the benefits and drawbacks of each, so that you can make an informed selection.
Frequently Asked Questions
How do you wipe your face after sweating?
Unfold the face wipe and gently place it over your face. Wipe off sweat from the face with firm but gentle pressure. Repeat with a second wipe if you don't feel clean enough.
What are face wipes made of?
Face cleansing wipes are made of cotton, polypropylene, rayon fibers, polyester, or wood pulp. They are moistened with water and other hydrating ingredients such as cucumber, aloe vera, etc.
How often should you use face wipes?
Use face wipes as often as needed if you are traveling or workout in a gym often, you can use them more frequently. However, do not use them as a replacement for washing your face. Do wash your face with a hydrating cleanser as soon as you get the opportunity.
Are facial wipes considered a healthy way to wash your face?
No, face wipes are not a healthy way to wash your face. They are a quick way to clean your face and get a refreshing feel. But they are not thorough at cleansing and can be moisture-stripping. Do not use them as a substitute for face wash.
Can you use face wipes on your body?
Yes, you can use cleansing face wipes on your body to wipe away sweat.
Can you use baby wipes after working out?
Yes, you can use baby wipes to refresh your hands and face after an intense workout.
Recommended Articles:
The following two tabs change content below.