13 Best Natural Coconut Lip Balms Of 2023 For Soft And Supple Lips
Enjoy the goodness of natural ingredients and flaunt pout-ready lips all-day.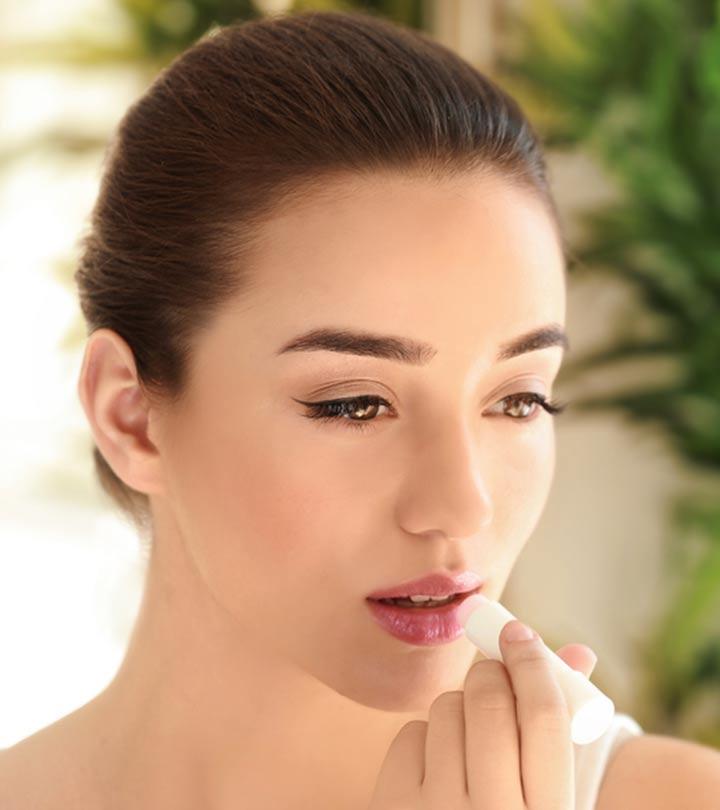 Having the best coconut lip balms in our pockets and occasionally putting them on your lips protects our lips from dryness, chapping, discoloration, and pigmentation. Even though there are so many attractive flavors and ingredients out there to choose from, coconut can do magic to your skin apart from being just a loved flavor.
Coconut is an antibacterial ingredient that hydrates, moisturizes, and nourishes the skin thoroughly, leaving the skin feeling soft and supple at all times. Today, coconut lip balms are quite the hype for their purity, quality, and of course, the plethora of benefits. There are so many options available today in the market, and choosing the perfect one can get challenging. Hence, we have got you the best coconut lip balms for you. Reward your lips with the goodness of these natural formulas. Have a look at our lip balm reviews for the best products and pick your favorite from the list.
13 Top-Rated Natural Coconut Lip Balms Of 2023
Burt's Bees needs no introduction as it remains the undisputed champion for churning out the most hydrating and nourishing lip balms. Marked with a sweet tropical flavor, this chapstick is enriched with sunflower seed, coconut, canola, and castor oils, and pear fruit extracts, among other conditioning ingredients. A single application of this coconut oil lip balm can keep your lips feeling smooth and soft throughout the day. It's a soothing lip balm that treats chapped lips effortlessly and leaves it feeling revitalized.
Pros
100% natural
Pack of 2
Paraben-free
Phthalate-free
Petroleum-free
SLS-free
Cons
Some may find the fragrance overwhelming.
If you're looking for a coconut lip balm that smells heavenly and loves your lips as much as you do, you should get your hands on this lip balm for sensitive lips. The tropical coconut flavor makes it stand apart from the rest. It is filled with nourishing, all-organic ingredients like sunflower oil, coconut oil, rosemary extract, and calendula that help keep your lips smooth and unchapped. This lip care product also acts as a natural lip plumper; if that's the look you're going for. It is made with non-toxic ingredients and doesn't contain any chemicals or petroleum, making it an ideal choice for sensitive lips.
Pros
100% pure
Pack of 4 chapsticks
Non-GMO
Gluten-free
Soy-free
No animal testing
Cons
Some may find it slightly greasy.
Do you love tinted lip balms? A lip balm is such a versatile skincare product but rarely gets due credit. When our lips are dry and chapped, a generous dose of lip balm quickly heals it and instantly lifts our mood. A lip balm with a tint such as this one is a whole new ballgame. This lip balm with SPF leaves a shimmery pastel pink shade upon application and keeps your lips immensely hydrated. This beauty product comes with SPF 20 protection, so your lips too are protected from harmful UV rays. If you're a sucker for hydrating natural oils, you're in luck. This lip balm for chapped lips is filled with oils that condition and nourish the lips.
Pros
Sheer and shimmer tint
SPF 20
Contains natural oils
Ultra-hydrating formula
Cons
It may not be long-lasting.
This 3-in-1 lip care formula is all you need for soft lips throughout the year. It moisturizes, renews the lip's natural barrier, and transforms the lips with the goodness of Omega 3, 6, 9, and madecassoside. The botanical complex in this nourishing lip care chapstick helps heal damaged lips and improves their appearance drastically. This healing lip balm is also infused with olive and jojoba oils along with shea butter. A single swipe of this coconut chapstick keeps your lips moisturized and smooth for up to 8 hours.
Pros
Clinically-proven
Triple-action lip care
8-hour wear
Paraben-free
Cruelty-free
Cons
The scent may be overpowering for some.
If you've heard of Hurraw's lip balm, we are confident that you've only heard great things. They are so good, even "It's Always Sunny In Philadelphia" actor Glenn Howerton vouches for them. This vegan lip balm is formulated with raw coconut oil, which also lends it that toasty, coconut flavor. Along with coconut oil, the balm contains safflower seed, sweet almond, castor, and jojoba seed oils that provide generous doses of moisturization and hydration to the lips, ensuring that chapped and cracked lips are never a problem. It is a perfect lip balm for winter.
Pros
Organic
Cruelty-free
Non-GMO
Gluten-free
All-natural lip balm
Cons
It may not offer long-lasting wear.
Is there anything that coconut oil can't fix? We highly doubt it. Palmer's Coconut Oil Lip Balm cares for your lips like no other. It contains raw coconut oil harvested from the coconut palm and contains vitamin E, which helps generate new skin cells, making your lips softer. The ingredients used in this lip balm are ethically and sustainably sourced, so you can have peace of mind as you apply it. It keeps your lips hydrated for 24 hours and provides SPF 15 protection from the harmful rays of the sun. Other ingredients like sweet almond oil, cocoa butter, and Tahitian monoi rehydrate and renew dry lips. This is a perfect lip balm for dry weather.
Pros
SPF 15
24-hour moisturization
Contains vitamin E
Paraben-free
Phthalate-free
Gluten-free
Cons
The scent may be too strong for some.
Suitable for all skin types, yes, even sensitive skin, this lip balm is infused with coconut oil to eliminate dryness from your lips and gives them a new lease of life. Enriched with ingredients like avocado oil, cocoa seed butter, shea butter, almond oil, and raspberry seed oil, this lip balm knows a thing or two about keeping your lips ultra-hydrated. The creamy formula glides smoothly, and a little product goes a long way in providing the best lip care you could ask for. It also comes with vitamin E, which helps keep your lips soft and supple all-day long. 
Pros
Ultra-nourishing
Contains nutrient-rich butters
Contains olive oil
Paraben-free
Cruelty-free
Cons
You may need to reapply it several times a day.
Sometimes, falling in love with a lip balm doesn't even require one to try it out; the cute packaging itself says a lot about the product. The endearing packaging isn't the only thing that's working for this lip balm, though. It is enriched with coconut oil and aloe vera, making it one of the most hydrating lip balms available in the market. It doesn't stop at aloe vera and goes the extra mile to take care of your lips with ingredients like castor oil, jojoba seed oil, and theobroma cacao seed butter.
Pros
Hypoallergenic
Vegan
Not tested on animals
Paraben-free
Oxybenzone-free
Silicone-free
Cons
Some may find the formula a little too thick for their liking.
Pucker up and get kiss ready with a little help from this tiny little friend. It contains the winning combo of coconut oil and honey, making it an excellent choice for those with perpetually chapped lips. Honey works as a natural exfoliator and peels away chapped and cracked skin to reveal renewed, hydrated, and smoother-looking lips. But if you think these ingredients don't cut it for you, you should know that it also comes with beneficial ingredients like extra virgin olive oil and green tea extracts. The chapstick glides like a dream and keeps your lips protected on hot dehydrating days as well as teeth-clattering winter days.
Pros
Contains organic olive oil
Suitable for all weather conditions
Ultra-moisturizing
Paraben-free
Gluten-free
No animal testing
Cons
It may not last a long time.
If you're looking for a 100% vegetarian lip balm, this little gem is your best bet. It's an incredibly moisturizing lip balm that benefits lips in many ways and tastes as good as it looks. Yes, its fruity taste will instantly transport you to the mesmerizing beaches of Hawaii. It contains sweet coconut oil and jojoba seed oil as its hero ingredients and botanical-based emollients that prevent the lips from cracking and chapping. It contains aloe vera leaf juice, which lends a hydrating boost to your lips.
Pros
100% vegetarian ingredients
No artificial colors
No sulfates
No parabens
No phthalates
Cons
The balm may feel slightly waxy for some.
Rejuvenate your lips with the Fresh Sugar Coconut Hydrating Lip Balm. This coconut-flavored lip balm offers 24 hours of moisturization and adds a healthy shine to them. It offers instant hydration and locks in moisture with a blend of emollients like oils and sugar. As a result, your lips become supple and plump. Moreover, it does not leave any residue on the lips.
Pros
 Alcohol-free
 Travel-friendly
 Easy to use
 Delicious flavor
Cons
From ChapStick's Tropical Paradise range comes a chapstick so refreshing, you might want to take a huge bite out of it (but, don't do it, your lips need it more!). The Aloha Coconut is the perfect lip hydration system you can carry along on your beach holiday or for everyday. The incredible blend of coconut and pineapple nourishes your lips, takes care of them, and heals all the cracks. It feels soft upon application, and you can apply as much as you want without it feeling heavy, sticky, or greasy.
Pros
Refreshing after-taste
Moisturizing qualities
Limited edition
Paraben-free
Cruelty-free
Cons
It contains paraffin, which may clog pores.
Are you planning on spending the day at the beach with your friends? Don't forget to take this lip balm with you. It offers 80 minutes of water-resistance and protects your lips from the harsh rays of the sun with SPF 15. It's an organic lip balm that glides smoothly, leaving your lips hydrated and conditioned. The light coconut aroma makes it a refreshing lip balm to have at all times. This organic lip care product's unique oxybenzone-free formula makes it safe for use at the Coral Reef, and even after layers of application, it will never feel heavy.
Pros
Certified organic
Water-resistant
SPF 15
Cruelty-free
Paraben-free
Non-toxic
Pack of 2
Cons
It may leave a whitish tint on the lips if too much product is used.
*The prices provided in this article are based on the latest available information. However, they may vary due to changes in pricing by the seller and/or promotional offers.
Now that we've taken a look at the 13 best natural coconut lip balms, let's move on to a few pointers to help you pick a coconut oil lip balm that suits you best.
How To Choose The Best Coconut Oil Lip Balm?
If the lip balm label reads that it contains coconut oil, you can stop at that and pick any coconut-oil-based lip balm from the shelf, but you can also look for the following qualities:
SPF protection
Whether it is summer or winter, the sun's rays hit our face directly. Especially when we vacation in tropical islands, we need to be more mindful than ever. To protect our lips from the signs of premature aging and thinning, it is important to choose a coconut oil lip balm that provides at least SPF 15 protection.
Organic formula
It's believed that a person eats about 7 pounds of chapstick in their lifetime. That might not seem like too much, but if you're eating even traces of the product, shouldn't it be healthy ingredients? You don't want harmful ingredients like parabens and sulfates entering your body, do you? Look for an all-natural formula or a vegan formula consisting of natural oils, butters, and plant extracts, and ensure that that formula is non-toxic. You can also look out for ingredients that are clinically tested or dermatologically-approved.
Type of wax
Typically, a particular type of wax focuses on a specific problem. For example, lip balms that contain hard waxes are best when it comes to locking moisture. Room temperature oils give a balm its creamy texture, and nourish the lips. Balms with oils penetrate deep into the skin and provide antibacterial and anti-aging benefits.
Why Trust Stylecraze
Srijani Roy Chowdhury has carried out detailed research and has studied many customer reviews to assemble this list of the best natural coconut lip balms. Her priority was to choose products that mostly contained skin-friendly ingredients. Features of each product that make them a worthy purchase are presented in this list. The description is followed by a pros and cons section and a buying guide to help you make the best purchase.
Frequently Asked Questions
Is coconut good for your lips?
Yes, coconut oil is considered an emollient that keeps our lips moist and hydrated. It is one of the best ways to prevent dryness and chapping.
What kind of coconut oil is best for a lip balm?
Virgin coconut oil is considered the best for a lip balm along with unrefined and organic ones.
Is it possible to make coconut oil chapstick at home?
Yes, you can follow these steps to make coconut oil lip balm at home with a few simple ingredients. But before that, here's what you will need — 2 teaspoons of coconut oil, a little bit of your favorite lipstick, and 2 drops of essential oil. Melt the coconut oil and the small piece of lipstick in a double boiler. Add essential oil, and give it a light stir. Wait for it to harden and transfer it to a pot or jar of your choice. There you have it, a homemade fresh coconut oil lip balm.
Can coconut oil make lips pink?
You can make a homemade lip scrub with honey, sugar, and coconut oil and exfoliate your lips once a week. It may help brighten the color of your lips.
Does coconut oil make a good lip balm?
Yes. Coconut oil is known for its moisturizing properties and is great for the lips. Applying coconut oil to the lips regularly helps manage chapped lips.
How long does coconut oil take to lighten the lips?
It can take up to 2-3 days for coconut oil to lighten the lips.
Can I be allergic to coconut oil?
Yes. You can be allergic to coconut oil; however, coconut allergies are rare.