13 Best Flat Irons For Fine Hair, As Per Hair Specialists – 2022
If you want your thin hair to look luscious, try these flat irons & reduce your salon visits.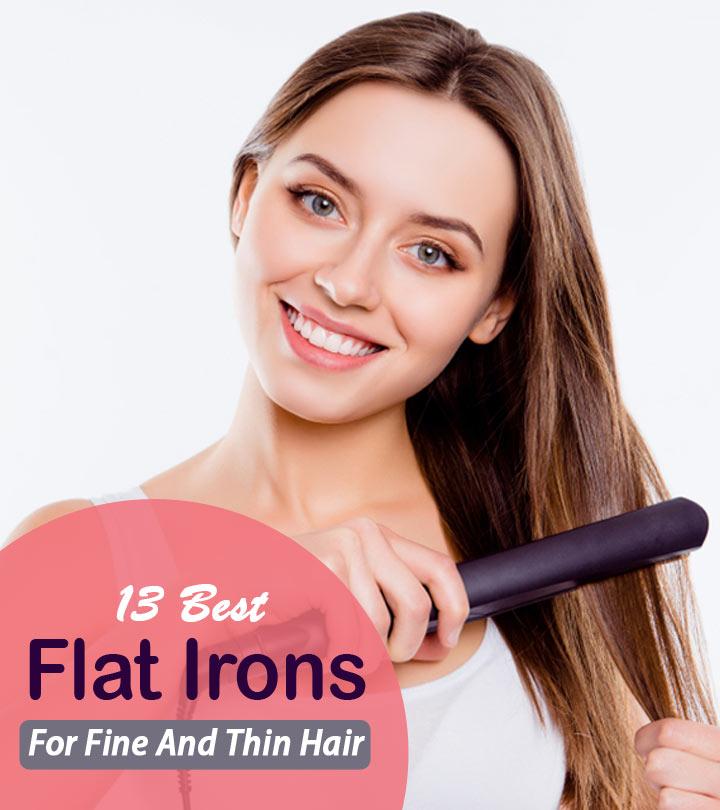 Having thin hair doesn't mean you can't flaunt poker straight hair! All you need is the best flat iron for thin hair. Long gone are the days when you had to hide your tresses under a scarf because no hair tools could make your hair look luscious. And investing in a good quality flat iron for thin hair can also cut down on your salon visits; you can not only save money but also style your hair the way you want to, whenever you want to. Flat irons are amazing beauty gadgets! If you are a fan of the sleek straight hair look but afraid to invest in a heat styling tool because you think it won't work on your lanky hair, it's time to change your mindset. These tools can totally give body to your thin hair while giving you super straight hair.
Top 13 Flat Irons For Fine And Thin Hair
Key Features
1-inch floating plates for a smooth glide
Anti-static technology
Titanium protection coating
Ceramic plates
410°F high heat
Auto-shutoff safety feature
About The Product
The Remington S5500 1″ Anti-Static Flat Iron is among the bestselling hair straighteners on the market. It minimizes the amount of negatively charged particles by 50%, giving you less static and flyaways. The ceramic plates in this flat iron come with a titanium coating, which allows quick heating and smooth styling. There are digital controls and an LCD screen to help you operate the straightener with ease. This popular product has received more than 1,000 ratings on Amazon for its adjustable heat settings.  To find out more about this product, check this video review out.
Pros
6 heat settings
60-minute auto shut off
Digital controls
LCD screen
360° swivel cord
Cons
None
Price at the time of publication: $19.84
Key Features
1-inch floating plates
Ceramic plates
450°F high heat
Auto-shutoff safety feature
15-second heat-up
120V
About The Product
The Remington S9500 Pro 1″ Pearl Ceramic Flat Iron causes less damage and frizz as it is made with ceramic plates. The plates are also infused with real crushed pearls, ensuring that your hair is silky straight in a single pass. The straightener is suitable for all hair types, particularly thin and fine hair. The iron heats up quickly, within 15 seconds, and the 60-minute automatic shutoff safety feature is another plus. This flat iron is popular as its longer plates allow you to style hair better, gaining over 10,000 ratings on Amazon. And, if you are an absolute beginner, this video review might be useful.
Pros
Digital controls
9 heat settings
Ceramic plates infused with crushed pearl
60-minute auto-shutoff
Salon length swivel cord
Cons
None
Price at the time of publication: $24.99
Key Features
2-in-1 product
Worldwide dual voltage
Automatic shutoff
15-second heat-up time
Floating plates
Adjustable heat settings
About The Product
The Furiden Professional Hair Straightener doubles up as a hair curler, making it a perfect 2-in-1 product. That, coupled with its travel-friendly size and design, makes it the ideal accessory for your travels, so you can look flawless even on the go. You also get salon strength heat levels of 250℉-450℉, giving you the freedom to style your hair according to your mood. This cost-efficient flat iron has gained over 10,000 ratings on Amazon. Most customers enjoy the sleek feel after straightening their hair with this flat iron. Check out this review for a detailed understanding about the product.
Pros
Suitable for all hair types
6-month warranty
Travel-friendly
Heat resistant glove included
Extra-long cord
Cons
Price at the time of publication: $69.99
Key Features
 295℉ to 375℉temperature range
 Round edges
 Almond oil and aloe vera infused plate
 Ceramic coating
 Single voltage
About The Product
The Conair OhSoKind Flat Iron is designed with 1'' ceramic-coated iron plates that prevent hair breakage. This flat iron is infused with almond and aloe vera that adds a shine to your straight hair. It has 3 different heat settings for fine hair, normal hair, and extra-fine hair. The plates glide over your hair smoothly to offer a frizz-free and sleek look. Moreover, the rounded edges at the end prevent any snagging of your precious strands, thereby reducing breakage and damage. This easy-to-store, slip-resistant flat iron has gained more than 1,000 rave ratings on Amazon.
Pros
 Prevents snagging
 Gentle heat
 Adds shine to the hair
Cons
None
Price at the time of publication: $35.34
Key Features
 Wide temperature range of 170℉ to 450℉
 Digital temperature control
 Negative ion technology
 Worldwide dual voltage
 Fast heat up
About The Product
The L'Ange Le Rêve Flat Iron is designed with cutting-edge technology that softens the hair, eliminates frizz, and enhances shine while delivering perfectly straight hair. It offers a soft-touch finish and automatically shuts off within 60 minutes. You can enjoy tangle-free styling with a swivel cord. The built-in negative ion technology locks the frizz and makes your hair more manageable. This flat iron has gained more than 1,500 ratings on Amazon, and many complimented its ability to leave the hair smooth and shiny.
Pros
 Stain and corrosion resistant
 Lightweight
 Ergonomic design
 Durable
 360° swivel cord
 25% longer plates
Cons
None
Price at the time of publication: $39
Key Features
Ceramic coating
285 °F to 450 °F temperature range
60-minute shutoff
Straightens and curls hair
Standard US plug
About The Product
The MHU Keratin Ion Flat Iron helps you out with all kinds of hairstyles, irrespective of whether you have short or long hair. The ceramic plates heat up within 30 seconds, so you don't have to wait too long. The flat iron works smoothly on all hair types, without any snagging or pulling. The heat settings can be adjusted between 285℉ to 450℉, which you can select based on your hair thickness.
Pros
30-second heating time
360-degree swivel cord
Suitable for all hair types
Adjustable temperature
60-minute auto-shutoff
Cons
Price at the time of publication: $39.99
Key Features
3D floating vibrating ceramic plates
360-degree tangle-free swivel cord
260℉-475℉ temperature control
Single-pass technology
Can be used to straighten, curl, or flip
About The Product
The Silky Hair One Pass Flat Iron has vibrating ceramic floating plates with titanium-tourmaline fusion coating. It can handle several hair types, ranging from thin to coarse and curly. The anti-frizz straightening technology used in this flat iron provides rapid and even heating all over the vibrating plates. You can use it to flip, curl, or straighten your hair any way you want.
Pros
Suitable for all hair types
Distributes heat evenly
Heats up quickly
Digital temperature control
Adjustable heat settings
Cons
Price at the time of publication: $32.7
Key Features
Titanium coated plates
Straightens and curls
15-second heat-up
International dual voltage
300℉ to 450℉ heat settings
About The Product
The Deogra Titanium Flat Iron comes with rose gold mirror shine plates, which are coated with nano-titanium. It offers quick and evenly spread salon-high temperatures, helping provide a professional look. The flat iron is designed to minimize frizz and static and keeps your hair protected from damage caused by heat exposure. You can use this flat iron to straighten or curl your hair with equal ease.
Pros
Rapid heat-up
Travel-friendly
Auto-shutoff for safety
Tangle-free swivel cord
3D floating plates
Cons
Price at the time of publication: $27.99
Key Features
 Temperature rage of 210℉ to 410℉
 Fast heat up
 Worldwide dual voltage
 Ceramic tourmaline plates
 Portable
About The Product
Straighten your short hair effectively with the Keragard Flat Iron. This mini hair straightener ideally suits short and pixie haircuts and comes in handy for touch-ups. It heats up quickly within 30 seconds. The straightener comes with ceramic and tourmaline heating plates infused with argan oil to add shine and offer heat protection to your hair. These high-quality plates glide smoothly on your hair for a quick hassle-free styling experience. Moreover, you can also use this quickly on your clothes to iron-out light creases.
Pros
 Anti-static technology
 Lightweight
 Travel-friendly
 Easy operation
Cons
None
Price at the time of publication: $12.99
Key Features
Adjustable high heat
3D floating plates
1-inch long ceramic plates
360-degree swivel cord
110V-220V
About The Product
The AXUF Professional Flat Iron comes with 5-heat settings that allow you to use your styler just as you desire. The product glides smoothly on your hair without tugging on it. The 360-degree rotating swivel cord makes it easy for you to create fabulous curls on your hair without having to visit the salon every time you crave curly hairdos. If you're still wondering about whether to go for this product, the AXUF Professional Flat Iron happens to reduce frizziness and hair damage, leaving your hair silky and smooth for long hours.
Pros
Lightweight
5 heat control settings
Eliminates frizz
Glides smoothly for detailed styling
Travel-friendly
Cons
None
Key Features
Can be used to curl or straighten
265℉-450℉ temperature setting
Rapid and even heat up
Titanium plates
Worldwide dual voltage
About The Product
The Vanessa Flat Iron helps you get silky straight hair or beachy waves or bouncy curls in a jiffy. The LCD screen shows you the chosen temperature setting, which you can select and adjust from 11 settings, making this straightener ideal for thin as well as thick hair. The titanium plates release negative ions to keep your hair moist and free of frizz. It quickly transforms dull, lifeless hair into sleek and shiny locks with every use.
Pros
Suitable for all hair types
Ergonomic design
Automatic shutoff
Adjustable temperature settings
Cons
Expensive
Quality control issues
Price at the time of publication: $39.96
The Kristin Ess Hair 3-In-One Titanium Flat Iron Hair Straightener is a multi-use hair straightener that can be used for straightening, curling, and creating waves on your luscious locks. This hair straightener has titanium iron plates that can heat up fast and style your hair with minimal frizz and making it look healthy and shiny. The flat iron has 4 different heat settings and can heat up to 440°F. It also comes equipped with a digital temperature display and auto-shut technology that shuts off after 30 minutes of inactivity.
Pros
Rapid and even heating
Comes with a heat-resistant cap
9 feet long swivel cord
Dual voltage
Cons
Price at the time of publication: $64.34
Key Features
International dual voltage 110V-240V
360° swivel power cord
PTC heater
140℉ to 450℉ temperature settings
About The Product
The Airuisi Professional Ceramic Flat Iron is a quick and easy way to get salon-style straight or curly hair within the comfort of your home. It comes with an advanced PTC heater that makes the device ready for use in seconds and distributes the heat evenly to keep your hair safe. The negative ions released from the ceramic plates keep your hair moist and free of frizz, giving you shiny, silky locks with every use.
Pros
Safety lock
Travel-friendly
Affordable
Cons
Quality control issues
May pull on hair.
Price at the time of publication: $19.99
Styling thin hair isn't as much of a hassle as working with coarse, thick hair. However, it is essential to use the correct tools, so you don't end up damaging your hair. Check out a few critical factors to keep in mind when choosing a flat iron for fine hair.
How To Choose The Best Flat Iron For Thin Hair
When it comes to straightening thin hair, ceramic plates work best. Other than ceramic, tourmaline and titanium are also safe options. Ceramic helps the heat to be distributed evenly and maintains the desired temperature. This keeps your hair protected against overheating.
Make sure that your flat iron is not more than 1-1.5 inches in width, which is the optimum size for styling fine and silky hair. Anything wider than 1.5 inches is better suited for longer and thicker hair.
This is a vital consideration as thin and fine hair is more vulnerable to heating. Pick a flat iron with adjustable temperature levels, especially if you have weak or damaged hair. Overheating due to high temperatures can cause split ends. As long as the heat setting is under your control, styling thin hair is not too much of a challenge.
Here are some more features that you can look for in a flat iron. While these do not affect your styling results in any way, they certainly help to keep you more comfortable when using your device.
Additional Factors For More Comfort
Some flat irons come with a non-slip grip that makes it easy to use. You get a firm grip on the handle, and there is no fear of the device slipping from your hand while using it.
A lightweight device is always more preferable, especially if you are going to be holding it in your hand for a while when styling your hair. While this is a more significant concern for users with thick hair that takes time to tame, a lightweight flat iron reduces fatigue for anyone who uses it.
You may want to note the placement of the control buttons on the flat iron. For most users, it is a personal preference, but for safety reasons, it helps that the buttons are located somewhere you can't touch accidentally while using the straightener.
Let us know your favorites in the comments section below.
Why Trust StyleCraze?
The author of this article, Sakshi Bahal, loves hair care and styling. She has spent days researching products on different forums to bring you a curated list of the best flat irons for thin hair. She understands that you need to use specific tools to style your thin hair properly. She recommends these flat irons because of their protecting coating, technology, heating temperatures, and more.
Frequently Asked Questions
What type of flat iron is the least damaging?
Ceramic hair straighteners are a great way to achieve smoothing and reduce frizz hair. It holds the heat well at high temperatures and distributes the heat evenly without damaging the locks. Ceramics work effectively as flat irons.
How do you straighten fine hair?
Use smoothing shampoos and conditioners as straightening products. You can also apply a few drops of hair straightening serum to your hair damp hair. Always use a heat protectant before using a hair straightener.
At what temperature should you straighten fine hair?
The ideal temperature to straighten fine hair textures is 350–375°C, but for more thick hair/coarse the ideal temperature is 400–450°C.
How do you use a flat iron on fine hair for volume?
• Spray a heat protectant on your hair generously.
• Section the hair with a comb.
• Set your straightener temperature between 350°C to 375 °C.
• Take one section and start straightening from the top and run the flat iron to the ends.
• Repeat the same for the other sections of your hair.
Why doesn't my hair stay straight after I straighten it?
Here are the main reasons why your hair may not stay straight after you straighten it:
• The flat iron doesn't have enough heat.
• Your hair is overloaded with hair care products.
• Your hair is damaged at the ends and needs a trim.
• Your hair is oily.
Should I use hairspray after straightening?
No. For fine hair, a heavy hair spray can weigh down the hair and make it feel crispy and rough after flat ironing. However, a heat protectant spray is highly recommended before you start straightening.
Related Articles:
Best Affordable Hair Straighteners or Flat Iron
Best Hair Oils For Fine And Thin Hair
Best 2-in-1 Hair Straighteners and Curlers for Luscious Locks