11 Best Gold Nail Polishes To Glam Up your Nails!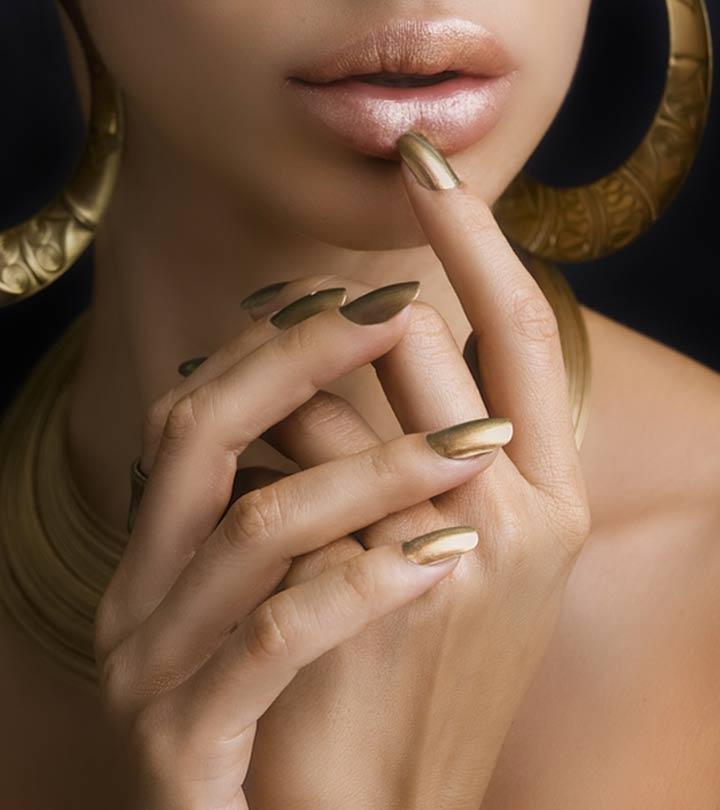 If gold nail polishes are gaudy for you, then you are not digging into the right kind of shades.
No longer are gold nail paints making cameos on special occasions only. Women are straight-up choosing this regal color to make a style statement wherever they go. And yes, the beauty critics have green-lighted this glam move too. Available in matte, shimmers, metallics and glitters, gold is gradually becoming the new "nude and neutral" shade at workplaces and parties. Whether you have a girls' night out or want to perk up your humdrum attire, gold nail polish is (we can't stress this enough!) THE NEW BLING to try!
So, let's go pick the best gold nail polish for you. Scroll on, as we have rounded up a list of 11 best gold nail polishes to glam up your nails this 2020.
11 Best Gold Nail Polishes To Glam Up your Nails!
What Are The Best Gold Nail Polishes?
With metallic and glitter topping the manicure trends, here are the best gold nail polishes that you can explore:
Somewhere between yellow and ochre is this beautiful gold rush that'll fun up your nails instantly. With a wow-worthy metallic finish in one sweet swipe, the coat takes not more than 60 seconds to dry. Suitable for all skin types, its chip-resistant formula comes with a built-in base, topcoat, and delivers full coverage too. Bringing the best of matte and metallic in one stroke of coat,  this gold metal nail polish is a perfect apply-on for those who are always on the go.
Pros:
Dries in 60 seconds
Includes built-in base and topcoat
Chip-resistant
Delivers full coverage
Suitable for all skin types
Cons:
Light pigment
It may not last long.
From Swiss, with love is this shimmer gold lacquer exuding The Great Gatsby vibe. Hailed as an embodiment of Swiss glamor and honored with many accolades, this shimmering coat is the power-up your attire needs to make a bold statement at evening parties and winter galas. Richly-pigmented, chip-resistant, and with a stunning golden shine, OPI Nail Lacquer guarantees to last up to 7 days and is easy to remove too.
Pros:
Richly-pigmented lacquer
Award-winning Swiss brand
Lasts up to 7 days
Chip-resistant
Easy to remove
Cons:
Not a fan of yellowish gold? No problem, this blend of copper and glitter shade might interest you! Sparkling off an iridescent glow no matter how you see it, this gel-like polish ensures high-gloss wear for 21 days! Yep, that long you can flaunt this chip-resistant, anti-smudge, and anti-nick nail polish. With a mirror-shine finish, this gel nail gold gel polish requires curing under the UV or Led light for best results.
Pros:
Salon-quality formula
Multi-tonal shimmer effect
Mirror-shine finish
Lasts up to 21 days
Chip-resistant, anti-smudge, and anti-nick
Cons:
Right out of a fairytale, this yellowish-gold lacquer has a spell-binding charm. Bold and bright enough to ramp-up any party OOTDs, you can skip all the accessories if you have this sparkling on your nails. With a foil twinkle formula, the gold pigment is rich, long-lasting and gives a smooth matte finishing. Also, a vegan-friendly brand, Zoya Pixie Dust Nail Polish is non-toxic and free from harmful ingredients.
Pros:
Gold-metal foil effect
Bold and bright matte finish
Longwear
Vegan friendly
Non-toxic and chemical-free
Cons:
Need a double coat for deep effect
Texture may not be smooth
All that glitters is gold and we have proof – this cute and compact gold glitter nail polish. Mixed with pink and vibrant glitter particles, the clear-base ultra-adherent formula spells chic and trendy on every stroke (not kidding). Gliding on nails like butter, the polish assures full coverage, a flawless finish, and long-wear. Flaunt it with your summer dresses or on those night outs with your squad, its noticeable glow will make you stand out.
Pros:
Ultra-adherent clear base
Flawless and glossy finish
Smooth and full coverage
Long-wear
High-performance glittery particles
Gluten-free and vegan-friendly
Cons:
Amp up your style with some golden power! Essie Gel Couture Nail Polish delivers a smooth and stunning finish with its gel-like long-lasting formula. Giving your nails a luxurious makeover, don't blame us if they make the crowd go— you're glowing! With no need for a base coat, follow the 2-step application system to get the optimum results with this anti-chip and anti-fade nail polish that also has a curl-hugging brush for precise application.
Pros:
2-step application system for a long-lasting glow
Longwear up to 14 days
Full and smooth coverage
Gel-like shine (no led light curing required)
Anti-chip and anti-fade
Easy-to-remove
Unique brush design offers precise application
Cons:
Glitter-obsessed squad, it's time to rise and shine. This ultra-sparkly, rich and intense gold glitter polish is bold enough to make "heads" turn and "jaws" drop wherever you go. More like an accessory than a nail lacquer for your fingertips, this high-quality formula is infused with holographic micro flakes that deliver a blinding metallic finish on application.
Pros:
Intense holographic sparkle effect
Blinding metallic finish
High-quality nail lacquer
Fast-drying and long-lasting
Cruelty-free and vegan-friendly
Cons:
It may not be chip-resistant 
This champagne-gold lacquer packed with glitter is the spark you need to shine out loud. Don't believe us? Imagine holding your drink with this stunning gold color nails – truly a class apart. Made with glitter particles, its high-quality formula assures full coverage, high opacity and will last up to 7 days. So, if you have a special occasion or a date night coming up, this nail lacquer is all you need to make sparks fly!
Pros:
Glitter shine finish
High opacity
Last up to 7 days
High-quality nail lacquer
Assures full coverage
Cons:
Apply once, sparkle on for days! That's the spell of China Glaze Nail Lacquer. With multi-sized gold holographic glitter infused in the formula looking no less than stars, you'll be hooked to this stunning lacquer instantly. Do you want your nails to be the star of the evening? Now you know, which lacquer to pick! For this one is richly-pigmented, will also last long, is chip-resistant, and will not thicken in the bottle, unlike other nail polishes.
Pros:
High-quality nail lacquer
Richly-pigmented with a little sparkle
Holographic glitter effect
Long-lasting
Chip-resistant
Cons:
Who needs a ring when you have this glitter fest to doll-up your fingers in! Whether you are into gold nail designs or not, this Midas-touched formula can make any nail polish go from dull to dazzling instantly. Use it alone or as a top coat, it is a versatile nail polish with a premium brush that delivers an even coating. Also, it is easy to apply, free from chemicals, odorless, and made with high-quality rich ingredients.
Pros:
Versatile glitter nail polish
Ideal for nail art and decorations
France-imported premium-quality formula
Non-toxic and odorless
Easy-to-apply
Delivers an even coating
Cons:
Let your nails stay gold, the healthy way! 10 Free Chemistry Nail Polish is a 100% non-toxic plant-based lacquer inclined more towards copper than gold shade. It is a high-gloss and long-wear formula that also strengthens nails while making them shine. Do you have brittle or weak nails? This nail polish is made of plant extracts, peptides, ceramides, vitamins B3, B5, B7, E, sodium hyaluronate, & other minerals that'll repair and make your nails stronger. Besides this, it is sheer, buildable, and chip-resistant too.
Pros:
Nail-strengthening and shining formula
High-gloss, sheer and glittery effect
Made of organic ingredients
Makes nail stronger
Chip-resistant and long-wear
Non-toxic, vegan and cruelty-free
Cons:
It may not be long-lasting.
Gold, glitter, glamour, all of it – right here, right now. Break free from the nudes and neutrals for a change and give your nails the power to shine. With 11 best gold nail polishes in this list to choose from, we bet you'll thank us later for introducing these stunning hues. Also, these nail polishes can be great gifting options too. So, go find the best gold nail polish, today! And if you have thoughts about this article or gold nail polishes, write to us in the comments below.
Recommended Articles