5 Best Titanium Hair Dryers Of 2023
Achieve flawless, frizz-free, precisely-styled blowouts with lightweight hair tools.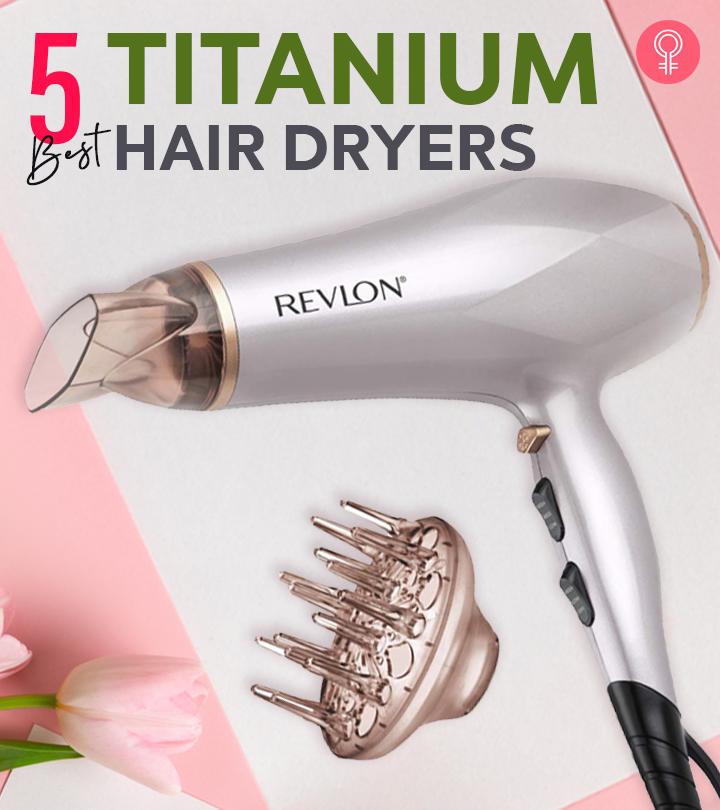 Getting your hands on the right kind of hair dyer is essential, not just for hair care but also for your convenience. Titanium hair dryers seem to check all the boxes and are a good investment. They are lightweight, portable, and offer salon-like results in the comfort of your home. Designed to dry your hair without damaging your scalp, titanium hair dryers are a must-have accessory. We have listed the top 5 titanium hair dryers that you can purchase in this article. Go check it out now!
What Is Special About Titanium Hair Dryers?
Titanium hair dryers maintain an even temperature and dry the hair quickly. They are 40% lighter than ceramic hair dryers and apt for fast styling. Titanium hair dryers also make your hair silky smooth, frizz-free, and more manageable.
Let's now look at the top 5 titanium hair dryers that you can buy online. 
5 Best Titanium Hair Dryers
Pros
Suitable for all hair types
Lightweight
Heats up quickly
Easy to use
Cons
Price at the time of publication: $89.99
Pros
Comfortable grip
Easy to clean
Durable
Strong airflow
Cons
Price at the time of publication: $28.23
The Remington Pro D2042 Hair Dryer is equipped with a high-performance DC motor of 1875 W. The intrinsic ionic dryer generates 90 percent negative ions that make your hair smooth and silky. This hair dryer features a diffuser to enhance the hair texture and a narrow concentrator for accurate styling. It also comes with a removable air filter, three heat settings, and two speed settings. This hair dryer is lightweight and operates quietly. Check out the detailed review of the product in this video.
Specifications
Power: 1875W
Weight: 32 pounds
Key Features
2 speed settings
3 heat settings
Removable air filter
Pros
Lightweight
Quiet performance
Compact
Cons
Price at the time of publication: $49.99
The RED Pro 3500 Titanium Turbo Blow Dryer is designed with Titanium technology that quickly dries your hair and keeps your hair hydrated. It has a removable filter that ensures easy cleaning. The different heat and speed settings allow you to conveniently use the blow dryer for different hair types and hairstyles. A cool shot button lets you lock the moisture in your hair. Watch this video of the product for more information.
Specifications
Power: 3500 watts
Weight: 1 pound
Key Features
6 heat and speed settings
Removable filter
Cool shot button
Pros
Long-lasting motor
Hanging loop
Adjustable temperature buttons
Cons
None
Price at the time of publication: $47.34
Pros
Ergonomic design
Noiseless operation
Durable
Cons
Price at the time of publication: $195.0
Consider these points before buying a titanium hair dryer to make the ideal choice.
Things To Consider Before Buying A Titanium Hair Dryer
Power: Power is the amount of electricity consumed by the hair dryer. The higher the wattage, the more powerful the dryer is and requires less time to dry the hair. Thus, go for a powerful motor with at least 1800 W.
Weight: Heavy dryers can cause pain in the shoulders and muscles. A lightweight dryer is easy to maneuver and does not put pressure on the wrist. Choose a lightweight hair dryer with a long cord for ease of use.
Airflow: Go for a hairdryer that is equipped with both high and low airflow options. High airflow enables quickdrying, and the low airflow with a cool shot button helps set and hold your hairstyle.
Noise: Constant noise while using your hair dryer can be irritating. Thus, invest in a dryer that operates quietly.
Accessories: Most hair dryers come with a concentrator and diffuser. Some dryers also feature multiple accessories like combs, brushes, and heat-resistant gloves. Choose a product that comes with more number of attachments and accessories for better hair styling.
Titanium hair dryers maintain a stable temperature, distribute heat evenly, and enable quick styling.  The products mentioned above are affordable and prevent hair damage caused by blow drying. Invest in any of these hair dryers and make a great hair day every day. 
Why Trust StyleCraze?
The author, Shiboli Chakraborti, is a certified skin care coach who enjoys experimenting with the latest hair styling products. She believes salon-styled hair can become reality whenever you use the right products, such as the best titanium hair dryers. After conducting extensive research and reviewing numerous online reviews, she compiled this list. A titanium hair dryer is a useful wardrobe item because it dries hair without damaging it.
Is titanium or ceramic better for thick hair?
A titanium hair dryer is better for thick hair types as they require more heat for styling.
Which is a better one among ceramic or titanium hair dryers?
Ceramic hair dryers discharge negative ions into the hair, making it look bouncy and shiny.On the other hand,titanium hair dryers maintain a steady temperature and dry the hair quickly. They make the hair silky smooth and control frizz better than ceramic ones.
Is titanium more damaging than ceramic?
No. Titanium hair dryers heat up fast and dry the hair quickly, reducing the exposure to heat. However, in the long run, ceramic dryers cause lesser heat damage than titanium ones.
Is Chi ceramic or titanium?
Chi is both ceramic and titanium.
Which is better – tourmaline or titanium hair dryer?
Titanium hair dryers provide a silkier and smoother texture and emit much steadier heat than tourmaline hair dryers.