11 Best Tourmaline Hair Dryers Of 2023
Get your hands on these tourmaline hair dryers to get frizz-free hair instantly.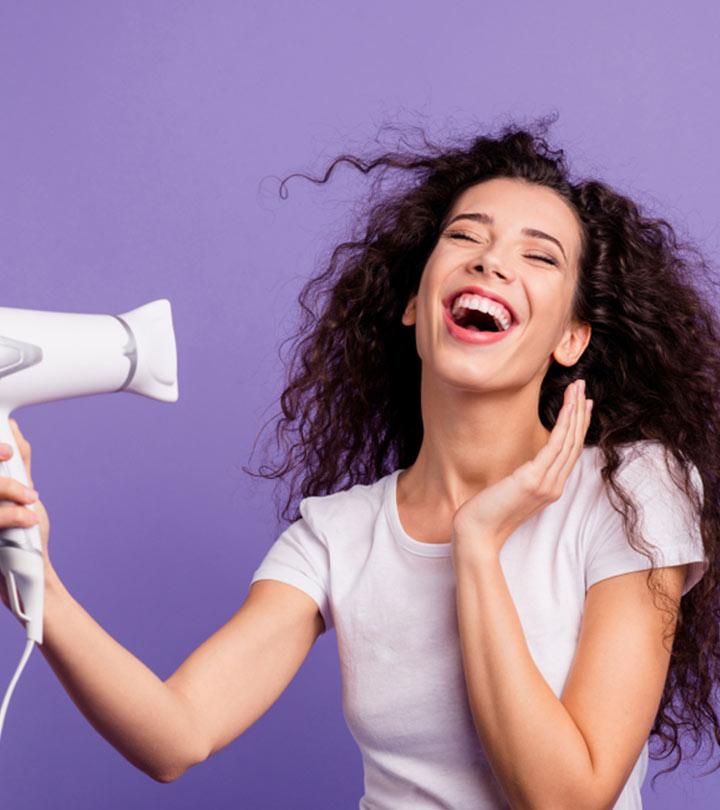 If you are a hairstyling geek, you must have already got your hands on the best tourmaline hairdryer! If not, let's introduce you to this hot new gadget in the hairstyling industry. While hair dryers are essential for that instant quick fix on a bad hair day or to give you a complete makeover, the excess use of heat and plastic may have their share of side effects. With the advancement in science and technology, hairdryers are now manufactured with better materials and heat settings. Tourmaline, a semiprecious crystalline gemstone, is one such advanced inclusion in hair dryers to increase their efficiency.
Tourmaline powdered coating inside the hairdryer helps generate negatively charged ions and far-infrared heat that helps lock in the hair's moisture and delivers smooth, shiny, frizz-free hair. While the advanced technology and premium coating translate into a higher cost for this advanced device, it might prove to be a worthy investment in the long run. To help you get more familiar with its features and variations, we have shortlisted the 11 best tourmaline hair dryers for you to choose from.
11 Best Tourmaline Hair Dryers Of 2023
This Remington D3190 Damage Protection Hair Dryer is a perfect amalgamation of ceramic, ionic, and tourmaline technologies that consume 1875 W power, allowing you to achieve instant frizz-free hair. You can switch between three heat and two speed settings, depending on the kind of airflow you are looking for. This hair dryer has a cooling option when you want to set your style. Check out this YouTuber's review of this product.
Pros
Builds volume
Removable air filters
Concentrator and diffuser attachments
Micro-conditioners allow damage protection
Cons
May not be suitable for thick curly hair
Price at the time of publication: $19.16
Regular dryers robbing the moisture of your hair? This TREZORO Ionic Hair Dryer, built with ceramic tourmaline technology will transform your hair and make it look healthy and glossy while also efficiently preserving its natural moisture. Its advanced ionic system revives natural shine in your hair with every use. All while its non-slip handle allows a comfortable grip while you are styling. The 2200 W DC motor runs at 23,000 revolutions per minute (rpm).
Pros
Low-noise motor
Suited for both men and women
Detachable rear filter for easy cleaning
Professional concentrator nozzles for fast drying
Cons
Price at the time of publication: $59.94
With a combination of infrared heat and tourmaline ionic technologies, this Revlon 1875 W dryer is one of the top contenders for the best tourmaline hair dryers in the market. It has three times more ceramic coating that reduces the chances of damage. This tourmaline ionic hair dryer comes with two heat and two speed settings and a cool shot button to set that gorgeous hairstyle you have painstakingly put together. It includes concentrator and diffuser attachments and a hanging ring. You can also check this video out for a brief review of the product.
Pros
Easy to use
Styles faster
Revives shine
Tames frizzy hair
Cons
Price at the time of publication: $19.0
Designed to be your convenient travel buddy on your business trip or for just a weekend over with your friends, this BaByliss PRO Tourmaline Titanium Travel Dryer's innovative foldable handle makes for an easy fit in your travel bag. The tourmaline titanium technology prevents static effect and boosts luscious shine. This versatile lightweight tourmaline hair dryer runs at 1000 W and gives you sleek and stylish hair.
Pros
Dual voltage
Compact
2 heat/speed settings
Comes with a concentrator nozzle
Cons
May take a while to dry hair
Price at the time of publication: $34.99
With three heat settings to please all hair types and powered by tourmaline ceramic technology, this Kiss Pro Tourmaline Ceramic Blow Dryer is one of your best bets for frizz-free and shiny hair. Its two air speed settings let you switch between drying your wet hair to styling it. This efficient blow dryer ensures maximum drying while also offering a cool shot button to lock your hairstyle in place. This product includes a concentrator, a detangler comb, a full-size diffuser, and four hair clips.
Pros
Lightweight
Removable filter cap
Long-lasting motor life
Hanger loop for easy storage
Cons
The motor may be a bit noisy.
Price at the time of publication: $24.71
The ionic, infrared, and tourmaline technologies together with a strong airflow, powered by the 1875 W motor, will leave you hair silky-smooth. Are you trying to enhance a hairstyle? Just plug in the concentrator to allow targeted airflow in this professional tourmaline hair dryer. And switch it with a diffuser if you are looking to enhance your natural curls for a groovy hairstyle. This Jinri Paris Professional Hair Dryer includes three heat settings, two speed settings, and a cool shot button.
Pros
Less noisy
Lightweight
Softens hair
Faster drying power
ETL-approved
ALCI safety plug
Cons
May not eliminate frizz completely
Price at the time of publication: $45.6
Powered with tourmaline ceramic technology, this Conair miniPRO Tourmaline Ceramic Styler eliminates frizz completely and delivers a lasting shine. It has two heat/speed settings that allow you to switch between styling and drying. The velvet touch handle provides a comfortable grip while you blow-dry your hair, and the concentrator lets you target the airflow to specific areas for efficient and precise styling.
Pros
Lightweight
Dual voltage
Compact size
Foldable handle
5 feet long power cord
Cons
Price at the time of publication: $22.99
Get a salon-like styling finish with this Andis Pro Dry Soft Grip Tourmaline Ceramic Dryer. Powered by tourmaline ionic technology, this dryer is gentle on your hair and dries it faster. Meanwhile, the ceramic technology ensures to lock in moisture to leave your hair with beautiful shine. It takes 30 seconds to heat up and offers variable heat settings up to 450°C. Along with multiple air speed settings, it also has an auto shutoff feature and a cool shot button.
Pros
Lightweight
Eliminates frizz
Comfortable grip
Ergonomic design
Cons
May not be suitable for super thick curly hair
Price at the time of publication: $25.43
With the winning combo of infrared, ionic, ceramic, and tourmaline technologies, this Wazor Professional Hair Dryer gives you an instant salon-style finish. It has two speed and three heat settings that allow you to both dry and style your hair. The infrared heat with its longer wavelength penetrates your hair cuticles deeply to smoothen and revive shine in your hair. This product comes with a concentrator nozzle, a styling comb, a diffuser, an ALCI safety plug, and a hanging loop.
Pros
Lends frizz-free volume
Removable lint filter
Styles curls efficiently
Double safety net prevents hair from being drawn into the dryer
Cons
Price at the time of publication: $59.99
With its tourmaline and ionic technology, this dryer emits negative ions that neutralizes the positive charge of the hair, ensuring to lend you smooth and shiny hair. This Vivid & Vogue 1875 W Professional Salon Hair Dryer has two speed and three heating settings for easy styling and a cool shot button to lock your hairstyle. This lightweight styling tool also features infrared heat that makes your hair dry quickly from inside out, without leaving any wet spots.
Pros
Convenient storage
Easy to clean
Salon-style finish
Removable rear filter
Includes concentrator and diffuser attachments
Cons
May not be a great detangler
Price at the time of publication: $79.99
Looking for an affordable and efficient hair dryer? This Red by Kiss Tourmaline Ceramic Dryer will easily fit your bill. Powered with tourmaline and ceramic technologies, this dryer emits negative ions, resulting in frizz-free hair. It offers 25% more airflow with three times longer life than other regular DC dryers available in the market. This product includes three bonus styling attachments, making it easier for you to create any hairstyle you desire.
Pros
Adds volume
Precision styling
Salon-style finish
Suitable for all hair types
Cons
Price at the time of publication: $31.99
Now that we are all caught up with the products, here's a quick look into the world of tourmaline dryers.
Types Of Tourmaline Hair Dryers
Tourmaline is mixed with other elements to offer a range of tourmaline dryers with different properties.
Ceramic tourmaline hair dryer: If you have fine hair and are afraid of hair loss caused by regular hair dryers, switch to a ceramic tourmaline hair dryer.
Ceramic ionic tourmaline hair dryer: All the thick hair girls, give a shout out, because we have found you a perfect hair dryer. Ionic ceramic tourmaline blow dryers work beautifully on thick and wavy hair.
Tourmaline titanium hair dryer: Do you have naturally voluminous hair? Do you need a blow dryer to make it more manageable and frizz-free? A tourmaline titanium hair dryer will help you achieve those results.
Now, a quick look into how you can make the right choice.
How To Choose A Tourmaline Hair Dryer
Here are a few features you need to look at while buying a hair dryer.
Speed and heating options: You would want to use the dryer to dry your wet hair and style it, so make sure you get the one with at least two speed settings and three heating options. Heating options that range from low, medium, and high will help you effortlessly style your hair.
Wattage: You don't want to waste all your time drying your hair in front of the mirror for hours. Find a dryer with at least 1800 to 1850 W power that will ensure that your hair dries faster.
High torque DC motor: A good blowout requires airflow at an acceleration; hence invest in a dryer with a high torque DC motor.
Cool shot button: Honestly, why would you even buy a dryer without this setting? Because after all the styling is done, you need a cool stream of air to set that gorgeous look.
Concentrator nozzle attachment: For efficiently precise styling, when you want to target specific areas of your hair, a concentrator nozzle attachment does wonders.
Diffuser attachment: For those with curly hair, look out for a dryer with this attachment. It will reduce the velocity of airflow for softer and smoother curls.
Here's a quick look at the science behind the tourmaline hair dryer.
How Does A Tourmaline Hair Dryer Work
The gemstone tourmaline is crushed into fine powder in big volumes and mixed with other elements to build a tourmaline hair dryer. You must be wondering why everyone has been going gaga over a hair dryer? Well, because it is not just another hairdryer.
Neutralizer: They emit negatively charged ions that neutralize the positive ions in your hair while also allowing infrared heat to dry your hair faster.
Conditioning: While it breaks the water molecule to enable easy and faster drying, it does not rob the hair of its natural oils and thus conditions the hair to look silky smooth.
Even heat: It dries the hair 40%-50% faster than ceramic or ionic dryers by exposing the hair to a stream of consistent heating airflow.
Tourmaline hair dryers are definitely one of the most successful alternatives to ionic dryers in the market right now. Here's a quick look at how advantageous they are.
Benefits Of Tourmaline Hair Dryer
Here are a few reasons why a tourmaline hair dryer will prove to be a good investment.
No overheating: Unlike regular hair dryers, a good tourmaline hair dryer with its infrared heating properties will not allow overheating issues.
Latest technology: It is time to switch over from those 90s hair dryers that your mom used. Tourmaline hair dryers have kept up with the times and offer quick solutions.
Versatile: With multiple heat and speed settings, you can control the airflow to your liking, allowing you to efficiently use it to form stunning hairstyles.
These hair tools have definitely taken over the market and have proven to be tough competitors to the ionic dryers from the early 2000s. But it's 2023, darling; you don't want to be stuck with dryers from an ancient era. Be it the travel size or the professional salon dryers; tourmaline hair dryers exist in all ranges. Known for its gentle heating and negative ion emission, tourmaline hair dryers work subtly on the hair surface and are suited for curly, wavy, thick, and fine hair. Of course, it is important to do your research first before you pick one, and we hope our guide to the 11 best tourmaline hair dryers of 2023 helps you.
Why Trust StyleCraze?
The author, Kirtana Divakar, a hair care enthusiast, loves to experiment with the latest hair styling products. According to her, salon-styled hair is an achievable dream with the right products like the tourmaline hairdryer. She shares tips for choosing the best products in her buying guide and explains how to consider heat, wattage, and DC motor parameters for a better experience. After conducting extensive research and reviewing numerous online reviews, she compiled our list of top products.
Frequently Asked Questions
Are tourmaline and ionic hair dryers the same?
Absolutely not. Ionic hair dryers shrink water droplets, while tourmaline hair dryers break water molecules instead of shrinking them during the drying process. Tourmaline hair dryers hence, dry your hair faster than ionic ones.
Are tourmaline hair dryers safe to use?
Yes, they are gentle on the hair and do not cause heat damage to your hair.
Do expensive hair dryers work better?
Spending a few extra dollars will help you invest in a blow dryer that will protect your hair from heat damage and last longer than the drugstore version.
Is tourmaline or ceramic better for your hair?
Both have their own appeal. Ceramic offers shine and heat protection, while tourmaline enhances natural glow and seals in moisture.
Is a tourmaline hair dryer good for fine hair?
With even heat distribution and optimal airflow control, tourmaline hair dryers are a great option for fine hair.
Is a tourmaline hair straightener good?
Flat irons with tourmaline technology reduce frizz as well as static and make for great straighteners.
How long should a blow dryer last?
Expert hair stylists recommend replacing your hairdryer every two to seven years. A standard hair dryer lasts for 600 to 1000 hours of use.
How do I know if my hair dryer is bad?
Any creaking sounds coming from a dryer indicates that something is wrong. If your blow dryer is creaking, it is most likely because the motor within the dryer is damaged, the fan is broken, or the spinning blades are broken. Do nott use it until repaired by a technician.
What happens if we use hair dryer daily??
Using a blow dryer every day with a heat setting is harmful to your hair. Daily heat exposure will remove the natural oil from your hair, dry out the cuticle, and cause breakage and frizz. So, it is always recommended to use a heat protectant formula on your tresses to prevent some damage.
Is cold hair dryer bad for hair?
No, cold hair dryer is much better for your hair compared to its heated alternative. However, blow drying your hair daily, even with a cold one can make your hair dry, resulting in damage.
Recommended Articles