10 Best Bras For Sensitive Skin To Keep You Comfortable
Grab the soft, breathable, and comfortable bras that provide support without any irritation.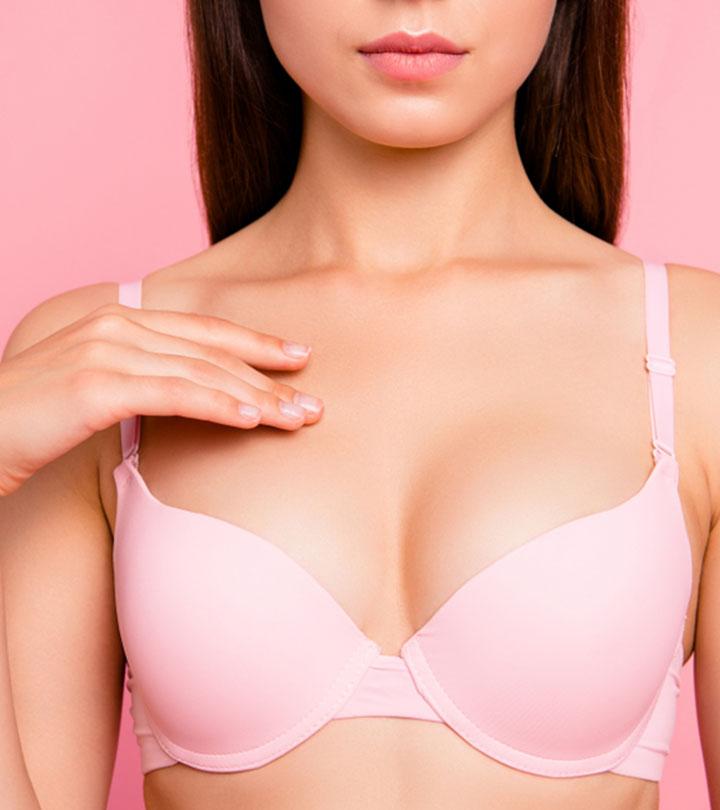 If you have sensitive skin, finding the right bra that gives you support and shapes the way you want without causing any irritation can be challenging. No one wants to wear an ill-fitting bra, constantly poking or itching. People with sensitive skin are prone to breakouts, rashes, and other severe skin conditions like dermatitis, psoriasis, and eczema. Therefore, you need the best bras for sensitive skin. Keep your skin away from all the unnecessary tight fabrics.
The bra you choose to wear should be comfortable, soft, breathable, and not too tight. In addition, they should be made with quality fabrics. Sometimes even wiring bras can be bad for sensitive skin. While choosing the best bra, you need to determine what works best for your body. Are you looking for the perfect bra for sensitive skin? We have curated a list of the 10 best bras for sensitive skin in this article. Keep scrolling to explore our top picks!
10 Best Bras To Keep Your Sensitive Skin Irritation-Free
Say goodbye to ill-fitting and tight bras that make you feel uncomfortable, and instead try Just My Size's clasp-free and wireless bra to leave your skin feeling light and comfortable add day long. The stretch fabric has wider straps and a fuller back to provide all-around smoothing while also giving knit-in support for shaping. The 360° stretch pullover style bra fits perfectly and is made from a moisture-wicking material that allows you to stay dry and fresh. In addition, it is made from a blend of nylon and spandex, to offer support while allowing your skin to breathe.



Pros
Wire-free
Clasp free
Wide straps
Fuller back
Shaping
Fabric wicks away moisture
Seamless
Wide range of sizes and variety of colors
Cons
Sizes may tend to run small
Price at the time of publication: $9.99
The Kindred Bravely Organic Cotton Bra is a valuable addition to your maternity and postpartum wardrobe. It is made of 92% soft organic cotton and 8% spandex which gives you ultimate comfort, even if you have sensitive skin. The easy pull-on style makes it a convenient choice for busy moms. The busty comes with expanded fabric in the cups for additional coverage and an enclosed elastic band to keep the bra steadily in place. The slightly longer straps are great for women with a longer torso or taller frame. This wire-free bra offers gentle support while sleeping and keeps breast pads in place.
Pros
Soft and comfortable
Easy to wear
Wire-free
Machine washable
Available in different basic colors
Cons
None
Price at the time of publication: $32.99
Get that invisible bra look with Calvin Klein Women's best bra for sensitive skin made from smooth microfiber that creates clean-cut edges and is flexible and seamless to keep you comfortable and relaxed all day long. The thin and supportive fabric of this no-show bra can be worn under almost anything, including t-shirts and silk fabrics and trust us when we say the wide straps won't dig into your skin. The seamless bralette from Calvin Klein also comes with removable padding and a pull-on closure that allows you to customize its shape. This feature will also help you to remain comfortable without dealing with the irritating hook-and-eye closures or messing with the straps. A seamless elastic waistband coupled with the V-neck design keeps the bra from being seen and provides you with comfort for everyday wear.
Pros
Wire-free
Clasp-free
Pull-on closure
Seamless
Invisible bralette
V-neck design
Removable pads
Microfiber fabric
Cons
Price at the time of publication: $32.01
The Fruit of the Loom Women's Front Closure Cotton Bra is a full-coverage unpinned sports bra that comes with a scoop neckline and is designed for your comfort. The light and breathable fabric is a blend of cotton and spandex, which makes it a perfect daily wear bra with hook and eye closure. The adjustable straps support your back and are suitable for your active lifestyle.
Pros
Wire-free
Wide straps
Back support
Fabric wicks away moisture
Wide range of size and color
Cons
Clasp may be uncomfortable
Runs small in size

Pro Tip
Make sure your upper body is completely dry before wearing an adhesive bra to prevent slipping.
Price at the time of publication: $12
If you are looking for maximum comfort with a seamless look, try the Pretty Seamless 4-Pack Women's Unpadded Comfort Bra. The unique mesh airflow cooling panels on both sides give your body the space to breathe and remain dry all day long. The bra made from Nylon/Spandex material can be used for lounging or sleeping as well as for medium-impact activities. This lightweight bra with wide straps does not dig into the shoulders and can also be machine washed.
Pros
Seamless
Wide Straps
Mesh panels
Comfortable
Soft
Cons
May not provide much support
Price at the time of publication: $20.99
Treat your sensitive skin to the comforts of a 100% soft cotton bra that is wire-free and supports a breast form to leave you feeling light and relaxed throughout the day. The bra has side stays to stabilize your sides and give it light support without an underwire while also containing discreet and breathable bilateral pockets to support any breast form that you may have. This bra for skin sensitivity comes with adjustable straps to support breast form and larger sizes, while the cups are also formulated for maximum comfort and fit.
Pros
Supports a breast form
Side stays for support
Breathable bilateral pockets included
100% cotton
Adjustable straps
Wide under band
Cups that follow the shape of a breast form
Cons

Pro Tip
If your bra feels too tight, consider loosening the shoulder straps or using bra extenders to extend the straps and the back band.
Price at the time of publication: $27.08
If you've been looking for a gorgeous racerback bralette designed for plus sizes, then Cosabella Women has the best racerback bras for sensitive skin and a fuller bust. This pull-on wire-free bra is lined with power mesh to support your breasts and comes with comfortable wide straps that won't dig into your skin, causing you discomfort or irritation. The bralette is made of the brand's signature soft lace with breathable mesh liner that provides shaping and support. The pull-on closer with wide straps will save you the trouble from dealing with fabric digging into your skin, which is ideal for women with fuller cup sizes. If this was not all, the deep V-neck front and supportive racerback is beautifully intertwined with Italian lace, making you want to flaunt your bra with backless tops. The wire-free support bra also has fans raving about its soft, stretch, non-sheer scalloped lace that will lay flat against your skin.
Pros
Wire-free
Clasp-free
Pull on closure
Lined with power mesh
Wide straps
Soft, stretch lace fabric
Designed for a fuller bust
Cons
Price at the time of publication: $44.01
Hypoallergenic bras are the ones to turn to when you're on the search for the best bras for sensitive skin. Boody bras are free from padding, wires, clasps, and fasteners so that there is nothing present to irritate your skin. The bra, made from eco-friendly bamboo viscose, is breathable and moisture-wicking for the utmost ease of wear. Soft ribbing of the bra provides contour to enhance your natural shape, while wide straps are present for comfort. Bamboo fibers, of which the bra is made, are lighter and softer than cotton while also preventing static build-up.
Pros
Eco-friendly
Hypoallergenic
Wire-free
Clasp-free
Padding-free
Soft ribbing for contour
Wide straps
No static build
Lighter than cotton and breathable
Cons
Bra may not provide enough support
Price at the time of publication: $19.95
Curvy Kate Women's bandeau style strapless bra is one of the best for sensitive skin and a great style. The bra has soft, flat seam cups and gives your chest a good-looking rounded shape. The bra also comes with removable multiway straps and an internal side sling to provide your chest support. Perfect to wear with strapless dresses or tops, the bra also has silicone strips to secure its hold and keep you comfortable and at ease when you're wearing it out.
Pros
Bandeau style
Strapless
Soft, flat seam cups
Removable multiway straps
Internal side sling for support
Silicone strips
Cons
Price at the time of publication: $70
One of the best hypoallergenic bras for sensitive skin is the Cottonique Women's racerback style bra. This bra is synthetic-free and is made from 100% breathable organic cotton, which is ultra-absorbent and does not irritate or trouble your sensitive skin. The non-allergenic bra has a double-layered cotton lining for comfort and a hypoallergenic plastic front snap closure. The shoulder straps are spandex-free and latex-free, with an elastic bottom band for support.
Pros
Hypoallergenic
Chemical-free
Synthetic-free
100% Organic cotton fabric
Double-layered cotton lining
Spandex and latex free
Hypoallergenic plastic front snap closure
Absorbent
Breathable
Cons
Price at the time of publication: $44
If you're still finding it hard to decide which is the best bra for sensitive skin that is most suitable for you, then here are some things you can keep in mind when making your choice.
What To Look For When Choosing A Bra For Sensitive Skin
The material that the bra is made up of is very important when making your decision. It's best to go for light and breathable fabrics, and make sure there is nothing present that could irritate or trigger a reaction from your skin. Organic and cotton fabrics are also great choices to consider, as they tend to not irritate skin. You can also choose synthetic fabrics that feel great against all skin types. But remember to steer away from synthetic fabrics if you have sensitive skin, as wearing them may lead to an allergic reaction because they have dyes, resin, and other agents.
Some sensitive skin types get triggered by the metal present in the fasteners or clasps in the bra used for closure. In these cases, look for pull-on closure styles which you can easily slip over your head, instead of being irritated by any metal or plastic closures.
A lot of bras usually have underwire for extra support, but if this is another element that could trigger your sensitive skin, then opt for a wire free bra that still gives you the relevant support that you need to get through the day.
Infographic: Tips To Keep In Mind While Choosing A Bra For Sensitive Skin
Bras provide comfort and support to your breasts. But choosing a suitable bra for sensitive skin can be challenging. The right bra can help prevent discomfort and enhance the natural breast shape. Check out the below infographic to know the things to keep in mind while choosing a bra for sensitive skin to avoid irritation.

Sensitive skin can irritate easily. Regular bras might poke and cause irritation and redness if you have extremely sensitive skin. So, get rid of those inners that bother your skin and go for skin-friendly bras made of soft, hypoallergenic fabric that is comfortable on your skin. The moisture-wicking property of the fabric keeps you cool and dry even during sweaty times. These bras have wide straps that do not dig into your skin. Several brands offer different models, sizes, shapes, and colors. Measure your band and cup size to get the one that is a perfect fit.
Why Trust StyleCraze?
The author, Priyam Gupta, is a fashion enthusiast. She went through numerous reviews and feedback available on multiple forums and websites to curate a list of the best bras for sensitive skin. These bras are comfortable, soft, breathable, and provide you support and shape the way you want without causing any irritation.
Frequently Asked Questions
Can bras irritate skin?
Yes. Skin-fitting bras can tug against your skin and irritate it. Even bra fabrics that do not absorb your sweat but trap it can contribute to skin infections.
Do all bras contain latex?
No. Bras like the Cottonique Women's Hypoallergenic RacerBack Front Closure Support Bra are latex-free. They are made from breathable fabric that provides good coverage to your breasts.
Can a person with sensitive skin wear nylon bras?
No. It is best to avoid nylon bras that obstruct the airflow and hold the sweat close to your skin. They may irritate sensitive skin.
Can a sports bra give you a rash on sensitive skin?
No. Sports bras that feature sweat-wicking fabric do not irritate your sensitive skin. But, those with compressive fabric may clasp your skin tightly and trigger rashes.
Why does my bra leave red marks under my breasts?
An extremely tight bra blocks blood circulation. So, when you remove the bra, it leaves red lines under your breasts.
Which bra should we wear at night?
Choose a lightweight bra featuring breathable fabric with no underwires at night to sleep comfortably while maintaining your breast shape.
How long should you wear a bra in a day if you have sensitive skin?
If you have sensitive skin, limit wearing a bra to eight hours daily. Remove it after that and let your skin breathe for some time.