10 Best Concealers For Acne Scars For A Flawless Look
Safe and effective skin care products to cover up stubborn acne scars and pimples.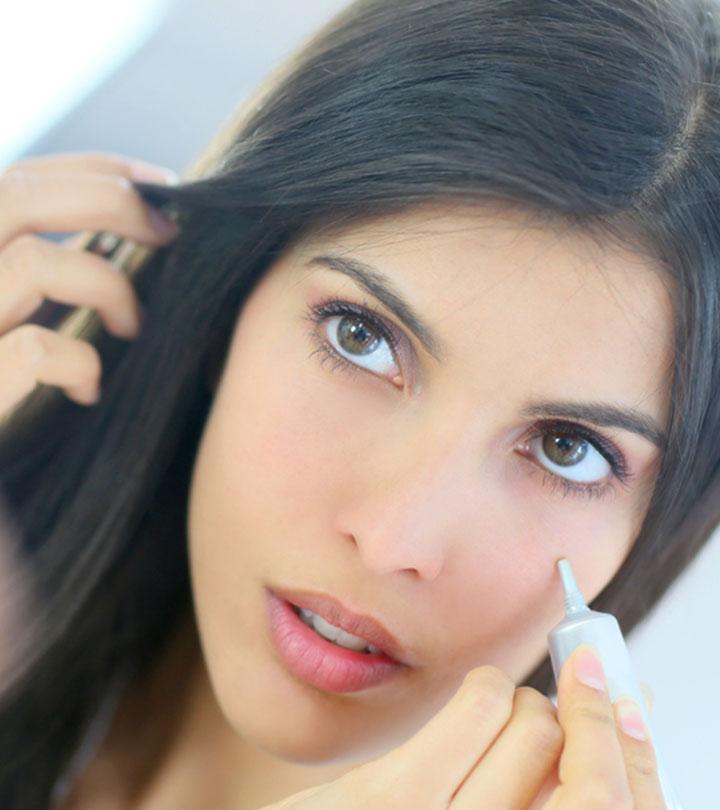 If you don't have the best concealer for acne scars added to your makeup routine, we will tell you why you need to invest in one right away. Scars have been a predominant part of our lives and are definitely a major confidence wearer. However, it does not have to be a part of your face, especially when you can easily cover it. Using the right concealer will help your skin look flawless with its full-coverage formula, and it will bring back your confidence. Here are the 10 highest-rated concealers to invest in this year!
Best Concealers For Acne Scars
Following 10 are the best concealers that are just perfect for hiding acne scars.
The coverage of this concealer is exceptional. It does the job of hiding any blemishes and acne scars without looking cakey and has a natural finish. Its longevity is 7-8 hours.
Non-comedogenic.
Dermatologist-tested.
Ophthalmologist-tested.
Natural finish.
Lasts nearly all day.
Settles into fine lines after a few hours, but hardly noticeable.
Maybelline New York Fit Me Concealer Review
A user stated "I absolutely love this concealer, I have dark under eye circles (I work very long hours every day at the railroad) and this is the only concealer that does the job of covering them perfectly, and makes me look well rested. I could not live without this."
Price at the time of publication: $6.49
The NYX Bare With Me Concealer provides natural coverage on your skin and blends seamlessly into the skin. This concealer gives your skin a luminous, healthy-looking glow that lasts for long periods. Furthermore, it is infused with cica, green tea, and tremella mushroom, which targets acne scars and calms the skin and gives a flawless complexion. It is available in more than ten concealer shades.
Vegan
Covers skin blemishes
Skin-illuminating properties
Lightweight
Non-cakey
Skin-like finish
Lasts nearly all-day
Easy to blend
NYX Bare With Me Concealer Review
A user said, "The serum formula of the concealer is never-seen-before and a game changer for me! If you're someone who doesn't like heavy, glam makeup, this is a great natural-looking concealer. It is lighter than other concealers and doesn't sit in my fine lines even after long hours. I still get plenty of coverage and never have to worry about my under eyes looking cakey! Really happy with my purchase."
Price at the time of publication: $10.97
Judith August Killer Cover Full Coverage Concealer is a full-coverage concealer available in five different shades in one palette, making it your one-stop solution for all concealing and correcting needs. You can mix and match the shades to achieve that perfect shade and seamless look to match your skin tone. It helps you cover tattoos, scars, spots, bruises, and more effortlessly. It is one of the best palettes used and recommended by professional makeup artists and skin care professionals.
Water-resistant
Eco-friendly
Natural finish
Long-lasting
May settle into fine lines after a few hours which is hardly noticeable
Judith August Killer Cover Full Coverage Concealer Review
A user said, "This works so well for providing long-lasting full-coverage even under my nylon stockings since my tattoo is on my ankle and it can not show for work. Thank you".
Price at the time of publication: $34.0
This product by L'Oreal was made to match your skin. Coming in nine different shades, the true match concealer is a super-blendable formula that keeps your skin looking natural. This color correcting formula stays for 6-7 hours.
Blends easily.
Super pigmented.
A good number of available shades.
Transferable.
Settles into fine lines during the day.
Creases
L'Oreal Paris True Match Concealer Review
Many users say "Blends nicely with fingers, brush and beauty blender and stay put for around 6 hours once set with a powder.:) For people with medium skin tones looking to correct dark circles, I recommend this shade."
Price at the time of publication: $12.4
[ Read – L'Oreal True Match Concealer Shades ]
The Full Cover Make Up Stick by Colorbar is a lightweight concealer, which is great for beginners. It hides spots and blemishes, dark circles, and evens out the skin tone. It is also a great color corrector. It stays for 5-6 hours.
Easy to apply.
Smooth consistency.
Not suitable for oily skin.
Colorbar Full Cover Make Up Stick Review
A user reviewed "Blends well! Not too greasy, not too dry. Lasts long enough. In love with Colorbar all over again."
Price at the time of publication: $34.99
If you want heavy coverage, then the Revlon PhotoReady stick is perfect as it gives buildable coverage. It looks natural and blends easily without settling into pores or fine lines. It is suitable for all skin types and hides acne scars, dark circles, and other imperfections amazingly without looking artificial and makes you wonder. It also effectively reverses any discoloration. It gives a matte finish and also contains some shimmer that works like a highlighter and provides a sheen to the face and does exactly what it is meant for. It has SPF 20 and stays for six hours without primer. Its longevity is 6 to 7 hours.
Good coverage.
Blendable formula.
It contains SPF 20.
Few shades are available.
Not a good option for oily skin.
Revlon PhotoReady Stick Concealer Review
A user said "I've been using this concealer for the last 4-5 years. I can't remember exactly. It stays easily for 6/8 hours on my skin. It doesn't make me look white as a ghost and nor does it make me look all shiny like a Disco ball. Spreads easily, easy to carry and apply."
Price at the time of publication: $7.0
The Dream Lumi Touch Concealer by Maybelline is a gel-based formula that provides the required amount of concealing and covers up any spots and gives complete camouflage. It stays for 5-6 hours.
Dermatologist-tested.
Suitable for sensitive skin.
Allergy-tested.
It is more suitable for a highlighter than a concealer.
Not enough product.
Limited shades
Maybelline Dream Lumi Touch Concealer Review
A user said "The best concealer I have laid my hands on, so far! So delighted I got this, especially at a marked-down price. The shade range is a little limited, but the last shade, honey, suits me perfectly."
Price at the time of publication: $11.75
Its longevity is 6-7 hours.
Excellent coverage.
It contains goji berry and haloxyl.
Reduces any puffiness.
It can make skin look gray.
Maybelline New York Instant Age Rewind Eraser Dark Circles Treatment Concealer Review
A user said "Love this for hiding the under-eye circles and the reds in my skin tone, and highlighting. Medium shade works like a dream. I would definitely repurchase it."
Price at the time of publication: $8.8
This Cover Care concealer from Dermablend is a multi-use formula for covering dark circles, dark spots, acne scars, redness, and blemishes. It contains glycerin that provides 24 hours hydration and wears in just one coat. This feature of this concealer may make you a regular user. This complete camouflage concealer is available in 16 versatile shades. It offers complete coverage in a natural matte finish for skin tones ranging from light to dark. It is a fragrance-free concealer that is dermatologist-tested and is safe for sensitive. Using the right brush helps get good results.
Pros
Provides full coverage
Natural matte finish
Fragrance-free
Dermatologist-tested
Provides all-day hydration
24 hours wearability
Suitable for light to dark skin tones
Cruelty-free
Cons
Might feel drying on some skin types
Might become cakey and accentuate lines
Price at the time of publication: $28
A great go-to concealer. This amazing product provides excellent coverage and blends in smoothly to create a flawless look. Its longevity is 5-6 hours.
Creamy and smooth texture.
Easy to blend.
Scar-blurring formula
Good coverage.
Settles into fine lines.
It can be quite thick.
L.A. Girl Pro Concealer Hd High-definition Concealer Review
A user reviewed "These concealers are highly pigmented and they're so creamy and have high coverage. A little goes a really long way. Plus it photographs well!"
Price at the time of publication: $12.0
[ Also Try – Too Faced Born This Way Concealer ]
*Prices may vary
*Subject to Availability
When you have acne-prone skin, hiding acne with a concealer and achieving a photo-friendly skin instantly is not enough. You need a formula that aims to treat it over time. In this section, we have discussed the factors that make the best concealer for acne. Have a look!
Factors To Consider Before Buying The Best Concealer For Acne
Shade: The shade of your concealer should be a shade lighter than your foundation so that it can even out the hyperpigmentation. However, if you are using two concealers, use a shade darker for the first layer and a shade lighter for the second to blend it seamlessly on your skin. Finally, apply a foundation over your concealer to finish your base makeup.
Marin McCarthy, licensed professional makeup artist, says, "Thicker pot concealers are best used and applied by a brush under foundation. Apply foundation over this and use a lighter shade of liquid concealer to highlight."
Coverage: A concealer used to hide existing acne and stubborn, old acne scars must offer high coverage. It makes no sense to use a concealer if the acne spots peep through your makeup look. So, you need a high-coverage formula that blends seamlessly on your skin.
Durability: Acne and oily skin often go hand in hand. And where there is excess oil, there is always a risk of makeup melting away. So, look for a long-wearing, oil-control formula that will stay put for a long time and, thus, help your makeup look last longer.
Anti-Acne Ingredients: If you want your concealer to do more than just hide, look for a product that contains an array of beneficial ingredients like salicylic acid, goji berry extract, and haloxyl. Also, every skin type needs a good-quality moisturizer, even oily skin. So, find a product with the best non-acnegenic moisturizer, glycerin.
Hypoallergenic: Acne is itchy, and so are allergens. But you surely cannot calm that itch by scratching because that will worsen the acne. So, instead, you must stay away from concealers that contain harsh ingredients like parabens, silicones, and artificial fragrances. Go for concealers that are allergy-tested and dermatologically approved.
Additional Benefits: Would it not be inconvenient to use different products that cater to different skin imperfections? So, find a concealer that not only works on acne, but also on dark spots, dark circles, and wrinkles.
Now that you are equipped to find the best concealer for your skin, let's talk a little about how to best apply a concealer. Read on!
How To Apply A Concealer
Use a concealer after prepping and priming your face.
Choose a cream, liquid, or stick foundation. Apply the foundation to the spots on your face. Dark circles around the eyes, scars, wrinkles, pigmentation around the mouth and nose, and active acne are the common places to concentrate on.
If you are applying two layers of concealer, apply the darker one first, followed by the lighter one.
You can also apply a bit of your lighter concealer in your lash line and around your brows to create a contrast.
To set the concealer, dab it with a beauty blender until it looks seamless.
Apply a layer of your foundation once the concealer sets.
Why Trust StyleCraze?
The author of this article, Baishali Bhattacharya, is certified in makeup artistry and passionate about finding and sharing the best makeup products. She researched and closely looked at multiple concealers for acne scars and shortlisted the best products here. She has also considered user reviews and noted down the pros and cons of each option so that the reader can pick the most suitable one. The products on this list are formulated to help cover your acne scars and make your skin look flawless with its full-coverage formula.
Frequently Asked Questions
Are concealers good for acne scars?
Yes. Full-coverage concealers hide acne scars and deliver even-looking skin.
Do concealers make acne worse?
No. Concealers infused with non-comedogenic and hypoallergenic ingredients do not worsen acne or darken the marks. But, those containing irritants like alcohol or comedogenic ingredients trigger acne and develop further blemishes.
How long do concealers last on the skin?
High-quality concealers usually last for six to eight hours on the skin.
Does putting concealer on acne cause the acne to take longer to go away?
No. Dermatologically-tested concealers infused with only non-comedogenic ingredients do not hinder the healing process of your acne.
Does concealer cover self-inflicted scars?
Yes. High-coverage concealers cover self-inflicted scars. You can also use color correctors before using the concealer for optimum coverage.
Should I apply my concealer before or after the foundation?
Apply foundation first to create an even base. Then, use the concealer for better coverage and to highlight the skin in certain areas.
Is it okay to use concealer on acne scars every day?
Yes. Using a non-comedogenic concealer every day is okay. But remove it before sleeping to avoid clogging your pores.
Can I apply concealer on acne scars without foundation?
Yes. A full-coverage concealer is enough to cover your acne scars. But, if you apply a lightweight foundation underneath the concealer, the marks will remain hidden for a longer period.
Recommended Articles: