10 Best Treadmill Mats For Carpets
A treadmill mat protects your floor and carpet and reduces the equipment's impact.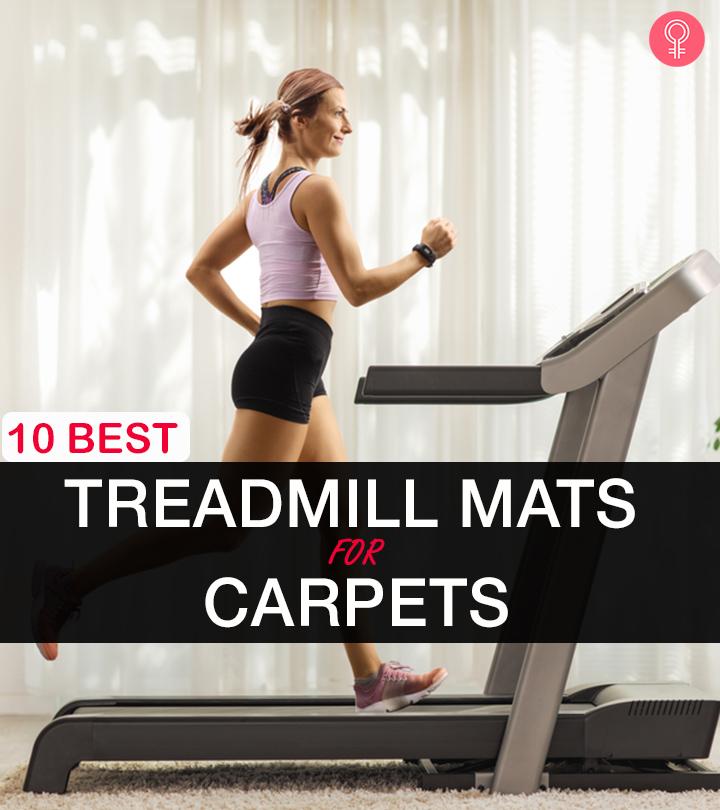 Keeping yourself fit without exercising is not feasible. But then again, to exercise daily at your home, you will need a bike or a treadmill. But if you are not using them on the best treadmill mats for carpet, these devices can scratch out your flooring or damage the carpet. A treadmill mat is a safety shield for your carpet or floor. It reduces the impact of the treadmill and the vibration and protects your equipment as well. In this article, we have listed the 10 best treadmill mats for carpets. Scroll down and learn all about them!
Benefits Of Using A Treadmill Mat
Here are a few benefits of using a treadmill mat that should convince you to get one for your treadmill immediately:
Treadmills are heavy exercise equipment that can cause high impact during intense workouts. This impact can damage your hard flooring in the long run. Using a treadmill mat helps absorb the shock to minimize damage to the floor underneath. Without the treadmill mat, the weight and continuous impact of your running can cause your floors unnecessary wear and tear.
Apart from shock, the treadmill mat also dampens vibrations and reduces noise. Hence, you can run on the treadmill without worrying about disturbing your family and neighbors with the sound. Chandel Stallworth, a nationally certified Pilates instructor, and the owner of Curls & Pilates, a fitness company, says, "As someone who loves to run, but also has neighbors downstairs, trust me, a treadmill mat keeps everyone happy."
During intense workouts, your equipment may sometimes move a little without your notice. While this may not seem like much, that slight movement can end up leaving scratches on your hard flooring. A treadmill mat provides grip and prevents the equipment from moving, keeping your floors safe.
Most treadmill mats are extremely low maintenance. You don't need to do much to keep them clean – just wipe over with a damp cloth, and you are done. PVC mats, in particular, are moisture and sweat-resistant, making them all the more hassle-free.
Apart from protecting your floors and carpets, treadmill mats are also a convenient solution for keeping your exercise equipment safe. Carpet fibers, floor dust, and debris from the floor can get inside the moving parts of your equipment and cause the motor to malfunction. A treadmill mat helps extend the life of the machine.
Now that you know the advantages of using a treadmill mat under your treadmill and other heavy exercise equipment, let's look at the 10 best treadmill mats that can help you keep your carpets and floors protected.
Top Picks
Top 10 Treadmill Mats For Carpets
Pros
Made of high-density EVA foam
Lightweight
Easy to assemble
Moisture-resistant
Washable with soap and water
Non-slip surface
Color choices available
2-year warranty
Affordable
Cons
None

Price at the time of publication: $35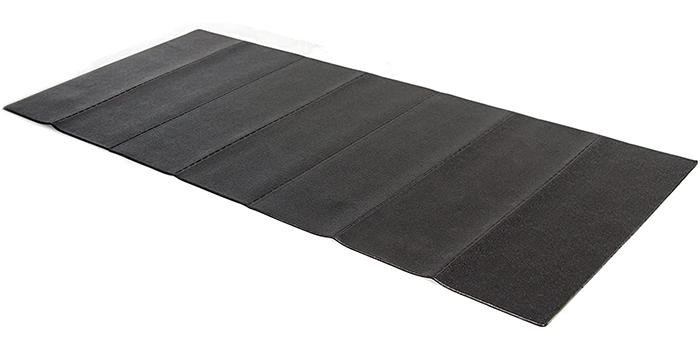 The Stamina Fold-to-Fit Folding Equipment Mat offers a non-slip pebble texture that is low maintenance. The mat can be placed under your treadmill or any other equipment to protect your carpet and flooring from damage. The 7′ by 3′ size is compatible for use under all kinds of exercise equipment, such as rowers, stationary bikes, inversion tables, ellipticals, and cross-trainers.
The fold-to-fit design is flexible with all kinds of surfaces and can be easily customized to your needs. The mat is made of closed-cell foam, which is durable yet so soft that it can eliminate vibration, absorb impact, and prevent carpet fibers from getting stuck in the equipment. This video review will help you understand more about the product.
Pros
Fold-to-fit design
Suitable for all kinds of equipment
Durable material
Non-slip surface
Low-maintenance
Made of closed-cell foam
Long-lasting
Can be used as an exercise mat
Affordable
Cons
None

Price at the time of publication: $37.49
Pros
Absorbs noise
Non-skid
Comfortable material
Low maintenance
Cons
Not durable
Price at the time of publication: $29.6
The Supermats 13GS Heavy Duty Equipment Mat is extra sturdy and durable enough to withstand the pressure from intense exercise equipment. It protects your floors and carpets from vibration and debris released from mechanical parts. It provides a cushion effect to your machine and prevents excessive wear and tear.
This treadmill mat dampens vibrations and reduces loud noises during your workout, so you don't end up disturbing the family or neighbors by accident. The mat is free of heavy metals and harmful chemicals, making it safe for kids and pets.
Pros
Prolongs equipment life
Dampens vibrations
Reduces noise
Protects floor and carpet
Chemical-free
Odor-free
Affordable
Safe for kids and pets
Cons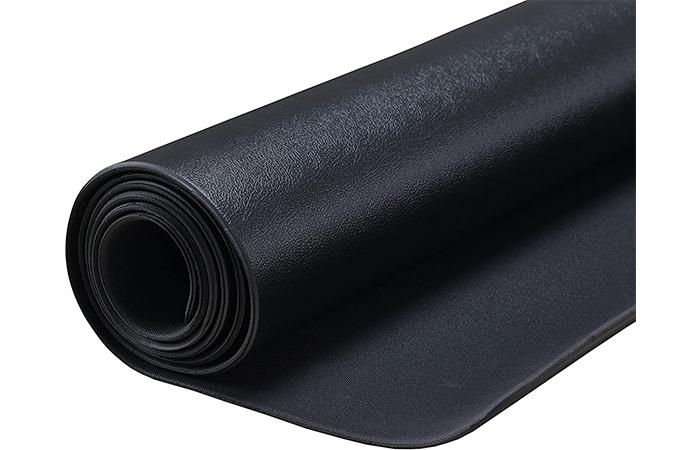 The Sunny Health & Fitness Exercise Equipment Mat is lightweight, sweat-resistant, and waterproof, making it extremely low-maintenance. It is also easy to roll up and store away when not in use, helping you save on space. The treadmill mat provides excellent stability and comfort to your workout routines.
This mat works well to prolong the life of the equipment. It prevents dust and carpet fibers from damaging the belts and mechanical parts. The high-density EVA foam absorbs vibrations, reduces loud noises, and protects the floors from scratches.
Pros
Lightweight
Sweat-resistant
Made with EVA foam
Ergonomic design
Non-slip surface
High-density mat
Waterproof
Affordable
Cons
Price at the time of publication: $33.86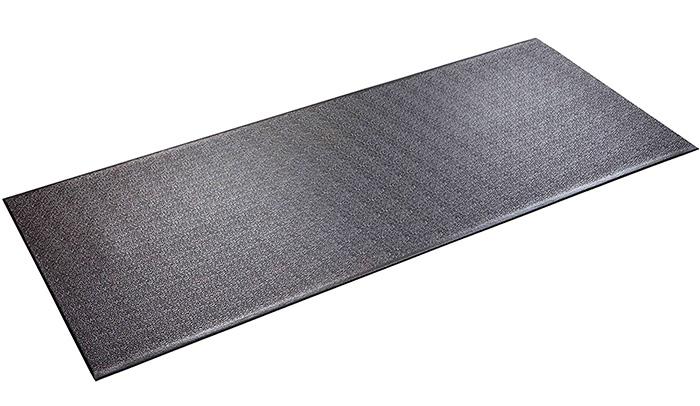 The Super Mats 30GS Heavy Duty Equipment Mat is ideal for protecting floors and carpets as well as your treadmill or other exercise equipment. It acts as a protective barrier against the damage from heavy exercise equipment and prevents dust and debris from harming the belts and other parts.
It can be used under several kinds of exercise equipment, such as ellipticals, treadmills, cross-country trainers, and recumbent bikes. It absorbs vibrations and reduces the noise generated by the machine so as not to disturb your housemates and neighbors.
Pros
Can also be used as an exercise mat
Made of durable vinyl
No harmful chemicals
Suitable for all kinds of equipment
Large size
Dampens vibrations
Cons
Quality control issues
Not value for money.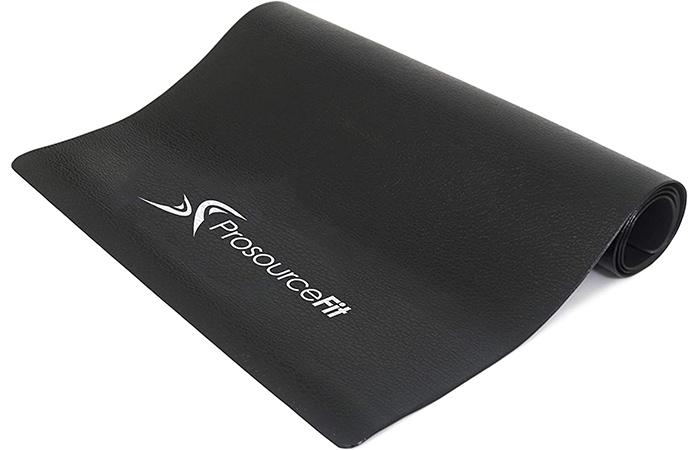 The Pro Source Fit Treadmill & Exercise Equipment Mat is useful for spreading under your treadmill and other exercise equipment as protection. It keeps the carpet and hard floor from getting damaged. At the same time, it prolongs the life of the equipment by resisting wear and tear caused by dust and debris.
As a treadmill mat, this one is relatively low-maintenance. Cleaning it is simple – all you need to do is wipe it over with a damp cloth. The material is robust and slip-resistant PVC that lasts a while and withstands excessive wear and tear from intense workouts.
Pros
Made of durable PVC
Slip-resistant
High-density mat
Suitable for all kinds of equipment
Low-maintenance
Includes limited lifetime warranty
Affordable
Cons
May tear with use.
Takes time to unroll completely
Price at the time of publication: $29.6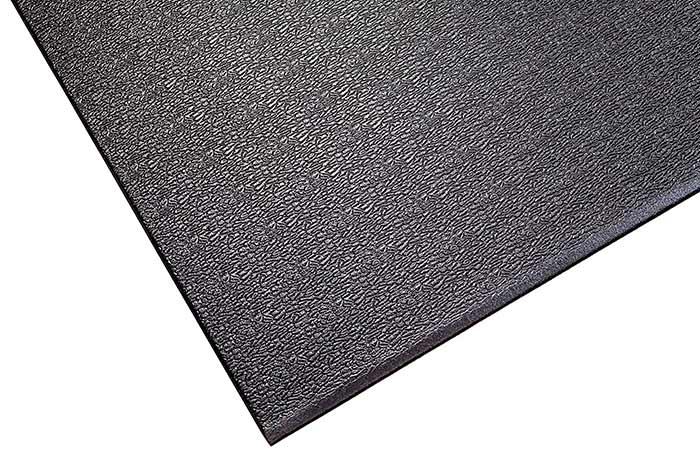 The SuperMats 20GS Heavy Duty Equipment Mat is a larger-sized solution for keeping your floor and carpet safe as you power through your daily workout. It also protects your treadmill from excessive wear and tear by preventing dust, debris, and carpet fibers from entering the equipment.
It is perfect for all kinds of workout equipment, such as steppers, indoor cycles, exercise bikes, and, of course, treadmills. Even if you don't have any heavy equipment, the mat is equally useful for performing floor exercises and basic stretching at home. Cleaning is easy, and the mat fits anywhere in your home without causing a space constraint.
Pros
Protects the floor and carpets
Dampens vibration
Reduces noise
Protects equipment from dust and debris
Suitable for different types of equipment
Cons
Not durable
May leave marks on the floor.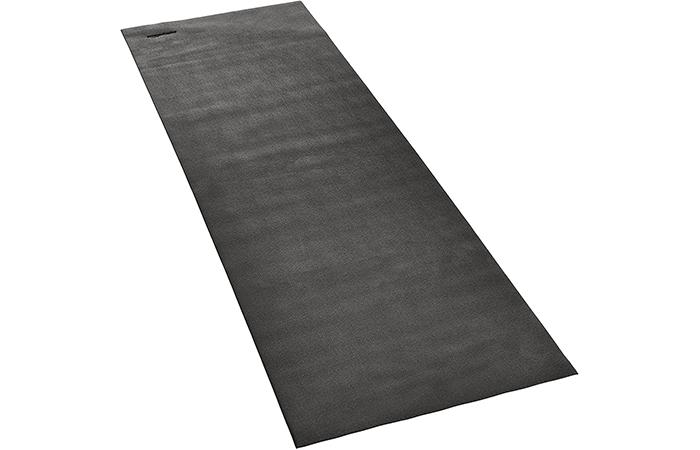 This high-density treadmill mat from Amazon Basics is the perfect solution for when you want your home gym space to sport a clean and optimal look. It is made of high-density PVC, so it is ideal for placing under treadmills and other heavy exercise equipment.
Keep your floors and carpet safe from damage with this high-quality mat. You can also use it for step aerobics or as a regular aerobics mat. The sleek black color lends style and coordination to your gym space.
Pros
Made of high-density PVC
Suitable for different types of equipment
Large size
Absorbs impact to protect floors
Dampens vibrations
1-year limited warranty
Cons
Tears easily
Not very thick/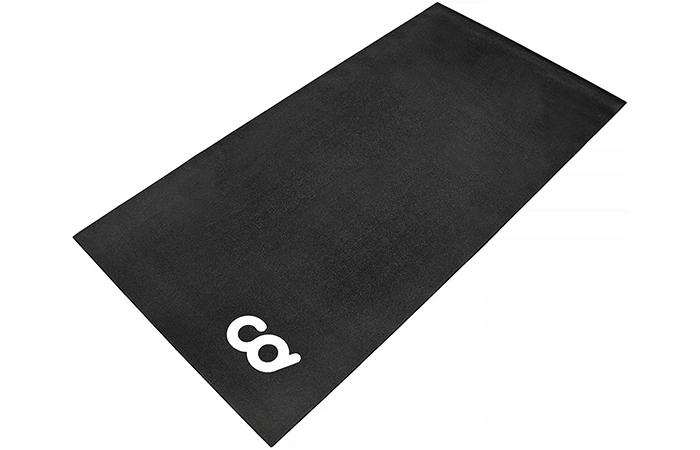 This treadmill mat from Cycling Deal keeps your floors and carpets safe from the impact of heavy exercise equipment, such as ellipticals, treadmills, and stationary bikes. It is made using thick, durable, yet extra-soft PVC. The textured surface provides grip and prevents your treadmill from moving during vigorous workouts.
Pros
Suitable for all kinds of equipment
Prevents equipment from moving
Protects floors and carpets
No-slip mat bottom
Lightweight
Odor-free PVC
Cons
Expensive
Strong odor
Not wide enough for large equipment.
Most treadmill mats available on the market are made of either EVA foam or PVC. While both are excellent choices for using under a treadmill, there are a few factors worth noting. 
Rubber Vs. PVC Mats
EVA foam is more suitable for noise reduction if that is your primary concern. Even a thin EVA foam mat will provide excellent sound muffling. However, the drawback is that this material is more vulnerable to dents caused by heavy exercise equipment.
PVC mats feature more durability and better water-resistance. They are also more compatible with different flooring surfaces. But the sound muffling is better only in thick PVC mats.
If reading so far has tempted you to get a treadmill mat right away, please wait a few more minutes before you click that "add to cart" button. Here are a few factors worth considering when you look for the best treadmill mat.
Buying Guide: What To Look For In A Treadmill Mat
Mat Size: The treadmill mat must be large enough to accommodate the treadmill or other equipment comfortably. Check the size specifications to make sure they match the size of your treadmill. It is best to buy a mat that is slightly larger than your treadmill.
Floor Surface: The floor surface where you intend to use the treadmill and mat is worth keeping in mind. Tiles, laminate flooring, or hardwood flooring, require thick mats with excellent shock absorbing qualities. Carpeted flooring needs a mat with thickness and grip, so your treadmill stays in place during your workout.
Sweat And Water Resistance: A waterproof mat or one with moisture-resistant technology is always the right choice. It is easy to clean and doesn't reek of sweat at the end of intense exercise. Water-resistant mats also keep the floors protected against accidental water spills.
Non-Slip Design: A treadmill mat with a textured, non-slip surface keeps your treadmill in place and prevents slipping. This is essential to avoid accidents and damage to floors and carpets as well.
Odor: Sometimes, treadmill mats may emit a plastic-like odor that is unpleasant and makes exercising difficult. This odor may wear off over time or by leaving the mat out in the sun. You can look for high-quality PVC mats made from sustainably sourced raw materials to avoid the problem altogether.
Density: The thickness of a treadmill mat affects two aspects of its performance: floor protection and noise reduction. Thicker mats are preferable for heavier equipment and more delicate flooring. They also perform superior sound muffling.
Manufacturer's Warranty: A manufacturer's warranty instills confidence in the customer that they will be protected against manufacturing defects not caused by regular wear and tear.
Below are a few tips for cleaning your treadmill mat.
How To Clean A Treadmill Mat
It is essential to care for your treadmill mat at regular intervals. This will extend the life of the product and prevent the build-up of unpleasant odors that remind you of sweaty, crowded gyms.
Foam and PVC mats are easy to clean: just wipe them with a damp cloth soaked in warm, soapy water. Make sure to dry the mat entirely before using it again.
Waterproof mats can also be hosed down with soapy water and scrubs before hanging them out to dry. If your mat has become extremely dirty or is smelling really bad, it might need disinfecting. Check the manufacturer's instructions for the best way to deep clean your treadmill mat.
Why Trust StyleCraze?
The author of this article, Sakshi Bahal, is a versatile writer with a keen interest in various products. She analyzed different product quality reviews from trusted sources to bring you this list of the best treadmill mats for carpets. Keeping your convenience and quality concerns in mind, she has provided detailed features of each one. She has also added a buying guide highlighting the important factors to consider before purchasing the best treadmill mat.
Frequently Asked Questions
How thick should a mat be under a treadmill?
Any mat with half an inch thickness will provide the optimum floor protection or noise reduction from a treadmill.
Can I put the treadmill on a foam mat?
Yes, you can put an EVC foam mat under the treadmill, but it's not as good as PVC-based mats, which are more durable and beneficial.
Can you use a yoga mat as a treadmill mat?
A yoga mat can be used as a backup mat for a treadmill, as it won't be able to handle the pressure exerted by the treadmill on a regular basis.
Can you use a rubber mat as a treadmill mat over the carpet?
Yes, you can use a recycled rubber mat as it is thick and provides better friction when put over a carpet.
Do you need a mat for the treadmill on a tile floor?
As tiles don't have excellent friction, you should use a rubber mat under the treadmill for the best results.