12 Best Shower Chairs For The Elderly For Utmost Bathing Comfort
Comfortable, anti-slip, and adjustable tools for bathing make the elderly feel safe.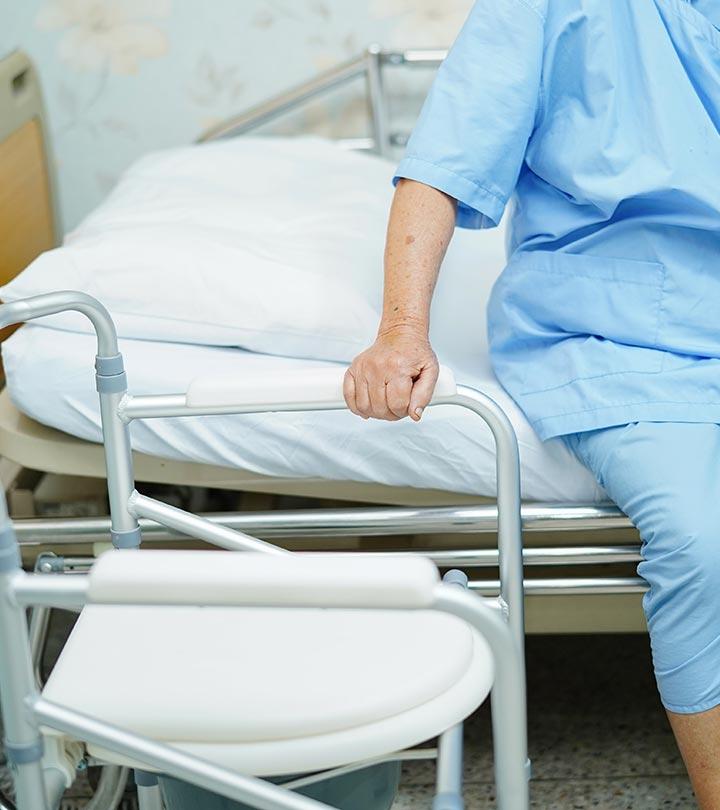 Does the old man or lady who you care for and who was once a bathroom singer feel not so good when it's time to bathe? Here is a little something that you could do to keep them comfortable. Having older adults at home is just like having tiny toddlers around. You need to be very attentive towards their diet and maintain hygiene. As they age, their immune system deteriorates and even a little exposure to infections can be dreadful at times. When it comes to hygiene, you need to give them a daily bath and keep them clean. The list in the article has the 12 best shower chairs for the elderly that can be helpful to them.
Why a shower chair? Older adults can have issues with their mobility because of aging or sometimes just feel exhausted while taking a shower. Sitting while taking a bath keeps them feeling comfortable and they spend less energy than what they usually spend while standing in the bathroom for a shower. There are shower chairs for the elderly in this list and also for the disabled to easily transfer them off the bed and put them into the bathtub. Read the list and get the best shower chair for the elderly at home.
12 Best Shower Chairs For Elderly For A No-Slip Comfortable Bath
A quick shower for the elderly can be made easy with a simple stool that supports them in the bathroom. The Ez2Care Shower Bench comes with a revolutionary design for the elderly to sit and conveniently bathe. The frame of this stool can bear 220 pounds and is made of anodized aluminum to make the chair water-resistant. The broad base comes with 6 drainage holes to drain water and side handles to provide grip as they sit and get up. You can adjust the height of the stool legs from 12.5 to 18 inches, and the legs come with anti-slip rubber tips. This stool can be a suitable shower bench for seniors who have a strong back but weak legs.
Pros
Corrosion-resistant
Durable aluminum frame
Anti-slip comfortable seating
Anti-slip rubber feet
Adjustable legs
Cons
The chair has no backrest.
Price at the time of publication: $38.99
The elders at your home who are prone to slipping and falling in the bathroom need a safe solution like the Vaunn Medical Shower Chair. It is one of the perfectly designed bath chairs for the elderly that come with a comfortable seat, back and armrests, and anti-skid rubber feet. You can make elders sit comfortably on the countered seat of 15.75×12.75×20.5 inches. The drainage holes on this base drain the water and keep it dry and less slippery. You can adjust the angled legs that come with 16-21 inches to make it a perfect fit for the aged at your home. The side arms secure the aged and give them a grip to sit and stand, while the anodized aluminum frame that bears 250 pounds of weight is water and rust-resistant.
Pros
Removable backrest
Sturdy and durable
Tool-free assembly
Anti-skid seat and legs
Cons
The armrests are pretty low and small.
Price at the time of publication: $54.99
Making the aged spend time in bathtubs by diffusing their favorite bath bombs can keep them mentally relaxed and happy. All that you need is one of the best transfer shower chairs for the elderly that can effortlessly transfer them into the bathtub water. The Carex Bathtub Transfer Chair comes with a movable backrest and a long base designed to make aged people sit for a comfortable bathing session or seamlessly transfer them into the bathtub. The seat and backrest have a textured surface to prevent the seat from slipping. Adjust the anti-slip legs between 16-20 inches in height for better leg rest. The stand is lightweight and yet bears 300 pounds of weight. Get this chair to help the aged have their good old bathtub days again.
Pros
Seat with drainage holes
Movable backrest
Lightweight design
Anti-corrosive legs
Cons
Price at the time of publication: $69.99
Not all bathrooms accommodate big bathroom chairs. If you have an elder at home, choose the Dr. Maya Anti-Slip Seat — a bathtub bench for elderly people that fits a standard bathtub or a small bathroom. The base of the stool accommodates 300 pounds and has a textured surface with drainage holes to prevent water from building up. It measures 10.62×17.32 inches and has side handles to make it easy for the aged to sit and wake up. You can adjust the leg rests between any heights of 12-19.5 inches and make it very comfortable for the aged to sit on it. Be it inside the tub or the bathroom floor and the angled anti-skid legs keep the stool safe from skidding in the bathroom. Along with this stand comes a loofah and an attachable shower handle that can be attached to any kind of wall.
Pros
Compact design
Fits standard bathtub
Adjustable height
Free shower handle and loofah
Cons
Narrow base with no backrest
Price at the time of publication: $44.9
Make the elderly feel safe and secure while in the shower with the Medical King Adjustable Shower Bench. This anti-skid shower safety chair holds up to 250 pounds and comes with a curved shower seat measuring 10.75-17.25 inches. Water does not get clogged — thanks to the drainage holes in the seat. There are handle slots in the base to make the old sit down and stand up with support. The height-adjustable aluminum legs come with 7 holes each to adjust its height between 13-19 inches. It is anti-rust, anti-bacterial, and very easy to clean. You get a back scrubber along with a loofah when you buy the chair.
Pros
Fits standard bathtubs
Easy to fix
Easy to clean
Good grip
Cons
Price at the time of publication: $34.99
A bathroom chair for the elderly is an essential product you need to have at home. Just like infants, elders need lots of care and hygiene practices that include bathing. Ask yourself this question — is an ordinary bathroom chair enough for a clean bath? The answer is no. This is why the PCP Bathroom Chair For The Elderly is arguably chosen as one of the best bathroom shower chairs for the elderly. It has a unique base with a 4-inch notch in the middle. This notch is designed to ensure that the perennial areas of the aged are cleaned well, and there is water clogging. You can easily detach the backrest and adjust the aluminum legs of the chair between 17-22 inches. They come with non-slip suction feet to make them safe for older adults. You can choose this bathroom chair for disabled old men and women at home.
Pros
Detachable backrest
Padded comfort
Anti-slip suction feet
Featherlite body
Cons
There are no armrests for this chair
Price at the time of publication: $81.99
Dr. Maya's Adjustable Bath Chair makes shower experiences comfortable for the elderly, physically challenged, and pregnant ladies. It is sturdy, lightweight, and has highly durable anodized aluminum legs to prevent slipping to make your bath sessions safe. The chair also has ergonomically positioned drain holes that ensure proper water flow. It features two side handles for safety and comfort. It has a height adjustment feature and is also equipped with a shower handle that can be attached to any non-porous surface.
Pros
Sturdy and durable
Height adjustment option
Premium quality material
Anti-slip rubber feet
Maximum comfort
Drainage holes
Space-saving design
Free shower handle
Easy to assemble
Cons
None
Price at the time of publication: $44.9
The OasisSpace heavy duty shower bench is a sturdy shower chair designed for the elderly who have difficulty standing or balancing in the bathroom. The 16×14-inch seat of this bath chair for seniors comes with rounded edges and a non-slip textured surface with drainage holes. You can adjust the height of the anodized aluminum legs anywhere between 16-12 inches and the backrest keeps the aged feeling secure and comfortable as they take a bath. This chair has a weight-bearing capacity of 300 pounds and does not skid in the bathroom.
Pros
Tool-free quick assembly
Padded armrests
Portable handle on the backrest
Easy to clean
Cons
The chair might wobble a little.
Price at the time of publication: $69.99
The Brosive Shower Seat For The Elderly is a strong and sturdy shower aid for seniors who have issues like arthritis, backaches, and other joint issues. They come with an ergonomic design to fit into any standard bathtub and small bathroom space. The 10.8×17.5-inch base is curved and has drainage holes to prevent water clogging. It is textured and comes with an EVA padding for better grip. The legs of this chair are thick and durable, and you can adjust its height between 13.8-19.5 inches. It is anti-corrosive and durable and has a weight capacity of 300 pounds.
Pros
Anti-skid legs
Portable bath seat
Anti-corrosive material
Strong and durable
Cons
Price at the time of publication: $35.6
Sturdy and durable bath chairs for adults like the GreenChief Shower Chair help the aged stand comfortably in the bathroom for a shower. The chair can bear weight up to 300 pounds and comes with heavily padded armrests and a backrest. The anti-rust legs of the chair can be adjusted to any height between 16-21 inches. You can give the elderly a hygienic shower by making them sit on the chair's 16×14-inch base with holes that drain standing water. Its textured surface along with the padded support handles makes any aged person feel comfortable and safe. You get a shower grab bar that can be attached to any wall along with this chair.
Pros
Anti-corrosive material
Padded armrests
Anti-slip backrest
Free shower grab bar
Cons
The chair might not fit standard bathtubs.
Price at the time of publication: $64.99
Transfer the aged easily from the bed to shower and into the bathtub easily with the Azadx Shower Transfer Chair. The transfer chair is durable and can bear a weight capacity of 330 pounds at once. It comes with leather seats supported by anti-rust bars for the best protection. It is designed so well, the elderly adult using it will not get pinched while getting on and off the tub or bed. A good backrest and a side handle on one side make it easy for the aged to sit comfortably and have a good shower. The legs of the stand are height adjustable and do not skid on the bathroom's wet floor.
Pros
Leather seating
Easy to clean
Lightweight
Anti-corrosive material
Cons
The base is a little narrow.
Turn tiring bathing days of the aged into comfortable ones with the Kuloki Shower Chair. This is one of those portable shower seats for the elderly that can fit any bathroom and bathtubs. The lightweight frame is made of anti-corrosive material and can bear a weight of 250 pounds easily. Any old adult sitting on the curved seat feels very comfortable. It has drainage holes, handles for grip, and a shower head holder for convenience. Do not worry about sudden skids and slips as the rubbered feet that cover the height-adjustable legs keep the chair free from skidding on the bathroom floor. Along with the chair comes a shower grab bar that gives better protection and support in the bathroom.
Pros
Ergonomic design
Curved base
5-17.5-inch adjustable height
Tool-free assembly
Cons
Price at the time of publication: $49.99
These are the 12 best shower chairs for the elderly for comfortable showers. Before choosing one from the list, go through the below-buying guide to pick the right chair.
What To Look For In A Shower Chair For The Elderly
There are safety chairs for the elderly designed to fit any bathroom or bathtub but a bathroom chair of the perfect size will make old adults feel comfortable. Choose a chair that has a base of at least 16×14 inches. Anything smaller than this size can bring discomfort to the adult. Old people always feel comfortable having their feet touching the bathroom floor. Chairs with height-adjusting features (anywhere between 16-21 inches) could be a great choice for them.
An ideal bathroom chair comes with anti-skid legs and an anti-slip seat. Choose a good bathroom chair that comes with an anti-slip textured base to keep the elderly safely seated. If the adult is disabled, a chair with a good backrest and raised armrests for better support. There are chairs that come with leg holders and waist belts for better protection.
There are shower chairs that are designed not only for a comfortable bathing experience but also for a seamless transition. If the older adult at your home is disabled, get a shower chair that can transfer the adult from bed to chair or from chair to bathtub. You also get chairs with wheels to drop the burden of carrying the adult into the bathroom. Look for such shower chairs to make the shower sessions simple.
This is our list of the 12 best shower chairs for elderly people at your home. When you choose the shower chair for the aged at your home, look out for the best chairs that come with utmost comfort and use for your loved ones. The chairs with wheels or the ones that can smoothly transit the aged in and out of their beds and bathtubs. The aged often feel tired and weary during a bath and a simple chair can keep them feeling comfortable. The chairs mentioned above are the most reviewed ones on the shopping sites and you can buy the most useful one of all for the aged at your home.
Why Trust StyleCraze?
Sneha Manandhar, the author of this article, has thoroughly researched on the use of shower chairs for the elderly. From reading many product details to checking customer feedback, she did everything to curate a list of the must-have products. This list contains all the products that make bathing a comfortable experience for the elderly.
Frequently Asked Questions
What is the difference between a shower chair and a bath chair?
A shower and bath chair are the same things designed for people who cannot stand while showering.
Can you use a bath chair in the shower?
Yes, you can use bath chairs in showers. Adjust the legs for comfort and ensure that all four legs of the chair are parallel to the ground. You may also place the chair on a rubber mat for better traction and support while bathing.
How tall should a shower chair be?
A shower chair should not be more than 17-19 inches tall.
Are shower chairs worth it?
Yes, shower chairs are worth the investment because the likelihood of falling in or near the bath grows as we age. A shower chair can help lower this risk and gain stability. Also, the chair seats provide support and safety for older people while showering.
What type of chair is used during a shower bath?
A shower chair is used during a bath as these chairs make it easier for people with limited mobility to enter and exit the tub or shower safely.
Can you use a shower chair in a bathtub?
Yes, you can use a shower chair in a bathtub.