The 9 Best Perfumes For Teens That Are Subtle & Sweet – 2023
Grab some fragrances to enhance your aura and make a lasting impression of your personality.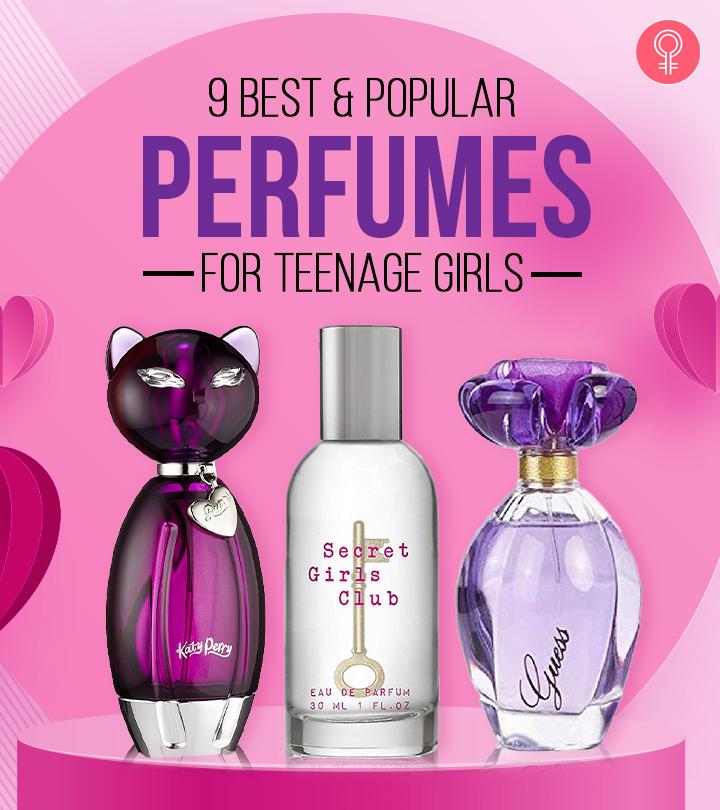 Finding the best perfume for teens is far from easy. Most generic fragrances made for adolescents have strong scents that may be way too overpowering. Others fade away in no time. A long-lasting and pleasant-smelling perfume adds to the personality of the wearer. Apart from that, it leaves behind a ritzy dose of freshness.
If you are a teen looking for a suitable perfume to reflect your identity, check out our best perfumes for teens. These have been carefully selected and are infused with long-lasting, invigorating, and non-fading subtle scents to keep you active for long hours without a worry. Let's take a look!
The 9 Best Perfumes for Teens of 2023
Pros
Pleasant tropical fragrance
High-quality ingredients
Non-toxic
Vegan
Paraben-free
Phthalate-free
Cruelty-free
GMO-free
Cons
None

Price at the time of publication: $21.99
Pros
Pleasant floral notes
Fresh and relaxing
Attractive packaging
Cons
Price at the time of publication: $49.99
Pros
Subtle
Long-lasting
No reapplication
Non-fading
Cons
Price at the time of publication: $46
The Peony & Blush Suede Cologne from Jo Malone has a flirtatious and juicy scent to make you the center of attention. This luxurious scent contains top notes of red apple that provide mouthwatering juiciness with an innocent fruity twist. The heart notes derived from peony offer a fresh and delicate touch to this perfume with delicate accents of rose and honey. The supple textured suede base notes offer sensuality and enticement with a floral complement to this fragrance.
Pros
Travel-sized bottle
Fragile and juicy fragrance
Unisex
Cons
Not long-lasting
Too small
Price at the time of publication: $25.95
The Factory By Steve Madden Secret Girls Club Eau De Parfum provides you an unending beach holiday experience with its heavenly fragrance. This blissful perfume for teenage girls is blended with keynotes of white amber, blue coconut, and peony to offer your skin an aromatic touch.
Pros
Uplifting scent
Long-lasting
Refreshing aroma
Pleasant and subtle notes
Cons
Pros
Sweet fragrance
Attractive packaging
Non-fading
Long-lasting
Cons
Price at the time of publication: $70.26
Pros
Long-lasting
Floral and woodsy smell
Non-fading
Cons
Very expensive
The smell maybe be strong for a few.
Price at the time of publication: $91
Pros
Attractive bottle design
Lasting fragrance
High quality ingredients
Value for money
Cons
None
Price at the time of publication: $29.95
Pros
Fruity scent
For all occasions
Budget-friendly
Cons
Price at the time of publication: $37.02
Teens nowadays are meticulous about their grooming and appearance. Pleasant-smelling and long-lasting perfumes are a great investment for regular use. Here are some important things to consider before buying the best perfumes for teens.
How To Select The Best Subtle And Sweet Perfumes For Teens
It is important to protect your teenage skin from unwanted additives. Look for a perfume that smells divine but also suits your skin and personality. It must be free from alcohols, paraben, phthalate, and other harsh chemicals. Teens with sensitive skin must be more cautious while buying perfumes.
Choose a mild perfume that feels pleasant to your olfactory senses. The scent must not be too overpowering as it may not be suitable for young teens. The sweet aroma of your perfume must lift your mood and spirit and last for a few good hours at least. Opt for light floral or citrusy scents.
The fragrance of a perfume depends on its notes. Perfumes with rich top notes such as red apple, pear, blackberry, and bergamot have a soothing scent. Similarly, delicate heart notes such as rose, honey, white amber, and jasmine have elegant fragrances suitable for all occasions. On the other hand, the fruity and woodsy scents last long and are suitable for evening wear.
Teenagers tend to have a limited budget depending on their pocket money. There are however great options available both online and offline for quality perfumes at attractive prices. Look for the ones that provide value for money with both fragrance and lasting ability. Attractive packaging and bottle design also make the perfume appealing. The focus must however be primarily on quality and ingredients, and then packaging and design.
Why Trust StyleCraze?
Baishali Bhattacharya, the author, is a certified image consultant who knows the best products you should be using to look and feel your best. After studying many products and their reviews, she recommends using these perfumes for teenagers. She handpicked these products based on the ingredients used to formulate them, their fragrance, packaging, and more.
Frequently Asked Questions
Should a 13-year-old wear cologne?
Yes, 13-year-olds can wear cologne as there is no age limit to using perfumes.
How long does perfume last?
Perfumes can last for four to six hours or more, depending on the quality and types of ingredients used. It also depends on how the perfume reacts with your skin, i.e., it does not last long on dry skin but stays on longer on oily and combination skin types.
What is the most popular cologne for teenagers?
The Kim Kardashian Gold Eau De Parfum is teenagers' most popular perfume choice.
How do I find my signature scent?
Follow the steps to understand and pick the best scent for yourself:
• Research about the scent families (citrus, aquatic, woody, etc.).
• Pick a fragrance according to your mood and liking.
• Learn about the ingredients, sillage, shelf life, etc.
• Choose what suits your taste.
How do I choose a perfume for my age?
Although every scent is good as long as you feel comfortable wearing it, when it comes to age, you can opt for the following popular fragrances:
• For teenagers: fruity and citrus (vanilla, apple)
• For young adults: floral or oriental
• For adults: floral or woody (vanilla, rose, lily)
• For late adults: floral or refined (daffodil, mimosa)
At what age can you wear Daisy perfume?
Daisy perfumes' fragrance compliment wearers between early teens to adults as it has a very soothing essence.