9 Best & Popular Perfumes For Teenage Girls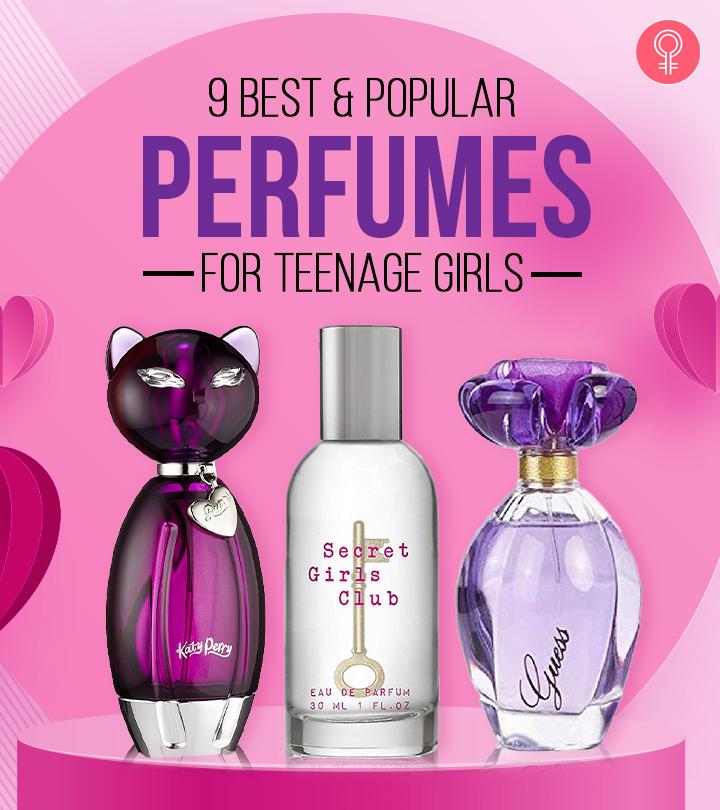 Finding the perfect perfume for a teenage girl is far from easy. Most of the age-appropriate perfumes produce strong scents that are way too overpowering and fade away in no time. A pleasant-smelling and long-wearing perfume reflect the identity of the one wearing it, apart from leaving behind a rich dose of freshness.
If you are a teenager and looking for a suitable perfume to add to your personality, check out the 9 best and popular perfumes for teenage girls! These carefully selected perfumes are infused with non-fading, long-lasting, subtle, and invigorating scents to keep you active throughout the day. Scroll down to check them out!
9 Best Perfumes For Teenage Girls
The Pacifica Beauty Hawaiian Ruby Guava Perfume is made from natural and essential oils that linger on your delicate skin throughout the day. Its tropical, sultry fragrance contains blended notes of sweet berries and guava with citrusy top notes of pomelo and soothing base notes of subtle coconut. The sublime scent comes packed in a recyclable and nature-friendly bottle.
Pros
Pleasant tropical fragrance
High-quality ingredients
Non-toxic
Vegan
Paraben-free
Phthalate-free
Cruelty-free
GMO-free
Cons
None
The Sweet Like Candy Eau De Parfum from Ariana Grande has a sweet, fun, and sexy scent. The fragrance is a blend of sugar-frosted blueberries, bergamot sparkle from Italy, vanilla, and marshmallow. The top sweet notes include pear, Italian bergamot, and sparkling blackberry. The heart notes consist of dewy honeysuckles, jasmine sambac, and frangipani. The base notes include vanilla, cashmere wood, marshmallow, and Crème de cassis to produce a tempting fragrance.
Pros
Sweet fragrance
Attractive packaging
Long-lasting
Non-fading
Available in different sizes
Cons
The philosophy fresh cream – Eau De Toilette is a captivating perfume for teenage girls. It is blended with a touch of fresh cream to offer you a joyful and aromatic experience. This pleasant-smelling perfume has a subtle scent and can be worn alone or with a cream to pamper your body from the heat to toe. The sweet and delicate fragrance includes top notes of fresh whipped cream, mid notes of soft buttercream, and base notes of tonka beans.
Pros
Subtle
Long-lasting
No reapplication
Non-fading
Cons
The Peony & Blush Suede Cologne from Jo Malone has a flirtatious and juicy scent to make you the center of attention. This luxurious scent contains top notes of red apple that provide mouthwatering juiciness with an innocent fruity twist. The heart notes derived from peony offer a fresh and delicate touch to this perfume with delicate accents of rose and honey. The supple textured suede base notes offer sensuality and enticement with a floral complement to this fragrance.
Pros
Travel-sized bottle
Fragile and juicy fragrance
Unisex
Cons
Not long-lasting
Too small
The Factory By Steve Madden Secret Girls Club Eau De Parfum provides you an unending beach holiday experience with its heavenly fragrance. This blissful perfume for teenage girls is blended with keynotes of white amber, blue coconut, and peony to offer your skin an aromatic touch.
Pros
Uplifting scent
Long-lasting
Refreshing aroma
Pleasant and subtle notes
Cons
The Guess Girl Belle Edt Spray has a mysterious and seductive scent that produces floral and fruity notes to keep you going throughout the day. Its top notes are taken from delicious golden apples, pink champagne, and mixed berries. The heart notes are derived from jasmine, pink peony, and violets. The base notes are made from a blend of vanilla, musk, and sandalwood.
Pros
Fruity and floral scent
Subtle aroma
Long-lasting
Non-fading
Cons
This Gold Eau De Parfum from Kim Kardashian has a rich oriental fragrance derived from the top notes of pink pepper, bergamot, and grapefruit. Its middle notes are a tempting blend of rose, violet, and jasmine. The base notes are made of sandalwood, amber, patchouli, musk, and amber to leave your skin with a perfect summer fragrance.
Pros
Balanced notes
Suitable for all seasons
Long-lasting wear
Attractive packaging
Cons
The Purr by Katy Perry Eau De Parfum has a fruity floral fragrance suitable for teenage girls. This high-quality perfume spray is made with selective ingredients and is an ideal choice for daily wear. Its top notes are taken from green bamboo, peach, gardenia, and forbidden apple. The heart notes consist of Bulgarian rose, pink freesia, and jasmine, while the base notes are derived from coconut, musk, white amber, creamy sandal, and vanilla orchid. This perfume comes in a stylish lavender-colored cat-shaped bottle with eyes like jewels.
Pros
Attractive bottle design
Lasting fragrance
High quality ingredients
Value for money
Cons
None
The Meow! Eau De Parfum by Katy Perry has a subtle floral and fruity fragrance suitable for younger women. This soft, sweet, and delectable scent is meant to complement all occasions and contains top notes of jasmine, pear, tangerine, and gardenia. The heart notes are from orange blossom, lily, and honeysuckles, while the base notes consist of vanilla, amber, musk, and sandal.
Pros
Fruity scent
For all occasions
Budget-friendly
Cons
Remember, you cannot invest in any random product. The best teenage perfume should have a subtle and pleasant fragrance that stays on your skin the entire day. The above list features perfumes with signature fragrances that can help in enhancing your personality. Go ahead and choose the one that appeals to you the most.
Frequently Asked Questions
Should a 13-year-old wear cologne?
Yes, 13-year-olds can wear cologne as there is no age limit to using perfumes.
How long does a perfume last?
Perfumes can last for four to six hours or more, depending on the quality and types of ingredients used. It also depends on how the perfume reacts with your skin, i.e., it does not last long on dry skin, but stays on longer on oily and combination skin types.
Recommended Articles