7 Best Half Spin Foam Rollers Of 2023
Build your muscle strength and improve mobility to reduce spine strain during workouts.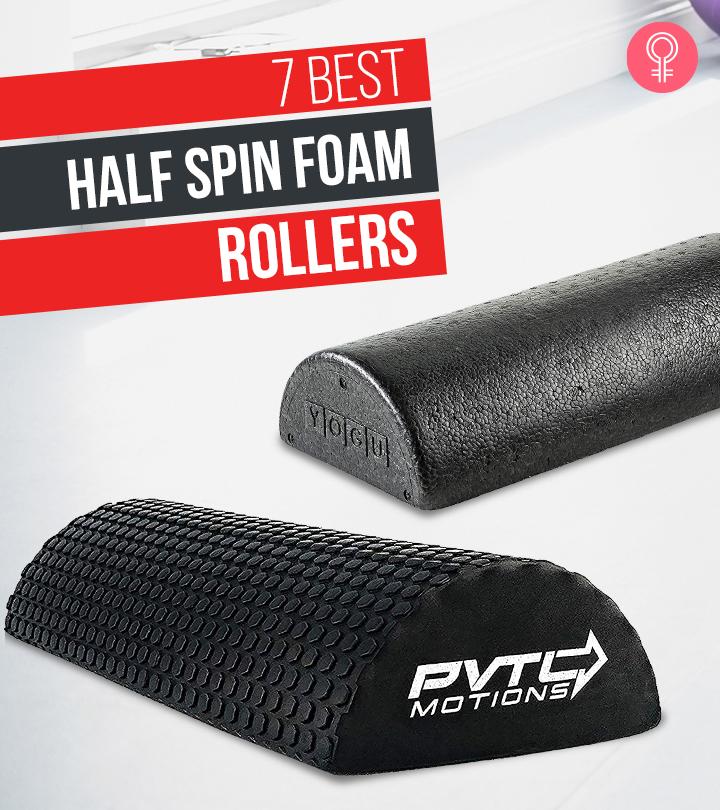 If you are looking to improve flexibility, build strength, balance, and release muscle tension, a half foam roller is the best solution to all this. They are a versatile tool that reduces soreness and provides great support for core muscle exercises. In addition, these compact mats provide a great space for releasing muscle tension after an intense yoga session. Available in different colors and sizes, it is the best for self-massages.
Check out our list of half foam rollers to help you recover quickly and improve mobility. If you don't know which one to pick, scroll down to get more information.
7 Best Half Spin Foam Rollers For Fitness
The textured surface on the CanDo Half-Round Foam Roller protects it from warping and adds stability. It is crafted from durable polyurethane foam and is strong enough for active children and well-built adults. This versatile tool enhances core strength and balance while increasing flexibility. It can be used as a knee rehabilitation aid and for physical therapy and ankle stretches. This half foam roller can be used in combination with exercise bands, weights, and balls to boost exercise routines.
Pros
Easy to use
Durable
Sturdy
Economical
Cons
Price at the time of publication: $26.02
The attractive blue Cando Foam Roller makes it a welcome addition to any exercise environment. It is made of industrial polyethylene, is suitable for all body types, and can be used by professionals and beginners. This half-round foam roller is designed to relieve pain in the legs, neck, and back by boosting blood circulation. It also relieves post-workout soreness and muscle tightness and helps improve balance.
Pros
Lightweight
Compact
Sturdy
Value for money
Cons
Price at the time of publication: $8.63
The half-round foam roller is made from high-density molded composite foam that is highly durable and retains its shape after long-term use. It is ideal for balance exercises and can be used in pairs for kneeling and standing exercises. This half foam roller has a firm structure to provide deep massage therapy and aid in the rehabilitation of the back, calves, knees, hamstrings, and ankles. It also promotes muscle relaxation and flexibility.
Pros
Durable
Easy to clean
Lightweight
3-year limited warranty
Cons
None
Price at the time of publication: $15.95
The Pro-Tec Athletics Half-Round Foam Roller is fabricated from superior quality EVA foam, which is durable and retains shape even after long-term use. It has rounded sides for deep massage therapy on the foot arch to relieve plantar fasciitis. It stimulates blood circulation to release tightness and soft tissue adhesions and stretches the muscles and tendons. This compact exercise tool can be used to promote balance, flexibility, and strength.
Pros
Compact
Portable
Durable
Sturdy
Cons
Price at the time of publication: $13.6
This compact half-round foam roller is made of EVA foam and designed to aid in rehabilitation therapy for the calves, ankles, spine, and back. This firm exercise tool has a textured anti-slip surface, which is stimulating during massage and keeps the roller stable to maximize balance during exercising. It can be used to speed up recovery after an injury and mobilize the upper and lower back, ankles, hamstrings, knees, feet, and calves. This long-lasting roller does not flake with use and comes with a one-year guarantee.
Pros
Non-flaking
Textured surface
Sturdy
One-year guarantee
Cons
None
Price at the time of publication: $39.99
The OPTP Half Foam Pro-Roller is designed to target larger muscle groups and is ideal for the lower and upper back and the spine. The closed-cell construction of the heat-molded EVA foam makes it long-lasting and easy to wipe clean. It has a soft density that offers gentle compression to provide relief from tightness and tension in sore muscles. The roller also improves posture and alignment of the spine while increasing flexibility and balance. This versatile tool adds variation to exercise routines and can be used to build core strength as well.
Pros
Easy to clean
Durable
Versatile
Soft density foam
Cons
Price at the time of publication: $39.95
The stimulating bumps on this foam roller aid in reducing muscle tension and soreness and improve flexibility. It is crafted from high-density EVA foam, and the long length of this roller makes it ideal for spine and torso exercises and split leg standing workouts. It can be used to warm up the body pre-and post-workout and prevent injuries. This deep tissue massager stretches and soothes the muscles and aids in recovery from injury.
Pros
Eco-friendly
Durable
Value for money
Cons
Not suitable for standing on.
Price at the time of publication: $36.99
Why Trust StyleCraze?
Aditi Naskar is a fitness enthusiast with a diploma in health and wellness. She recommends half-spin foam rollers to improve the body's flexibility and alleviate muscle soreness. After conducting in-depth research and sifting through numerous reliable user reviews on various online forums, Aditi has shortlisted these products based on key factors such as sturdiness and durability. Go through the pros and cons section to better understand each product and make a pick.
Frequently Asked Questions
What are half foam rollers for?
Half foam rollers are versatile exercise tools designed to improve balance, provide stability during stretches and exercises, massage sore muscles, and speed up muscle recovery.
Should I get a smooth or bumpy foam roller?
The choice of the roller depends on the pressure you require. A smooth roller is a good option if you are a beginner and would prefer less pressure. Textured or bumpy rollers have a ridged surface that delivers a more intense pressure and mimics the action of the hands of a massage therapist to release muscle tension and knots.
Should I foam roll every day?
Yes, foam rolling can be an important part of pre- and post-workout routines. Just like stretching, this tool can be used to increase blood circulation, prevent injuries, and increase flexibility.
Is it good to foam roll before bed?
Yes, it is good to foam roll before bed as it helps in stretching and soothing tired muscles. It also aids in releasing stress and tension, which ensures a good night's sleep.
Are half-foam rollers good for your back?
Yes. Half-foam rollers offer stable support to your back and tensed muscles. They relax your back muscle strain and align your spine.
How do you exercise with a half-foam roller?
There are many ways of exercising with a half-foam roller. Some of them are:
•  Position the roller vertically and lie on it. Align your spine with the roller and stretch.
•  Position the roller horizontally. Place your hips on it, lie down, and stretch.
•  Position the roller horizontally. Place your shoulder on it, lie down, and stretch.
•  Sit on the roller and do hand and leg stretch.
Recommended Articles