12 Best Combs For Curly Hair – Our Top 12 Picks
Untangle your curly hair with these combs that prevent your hair from breakage.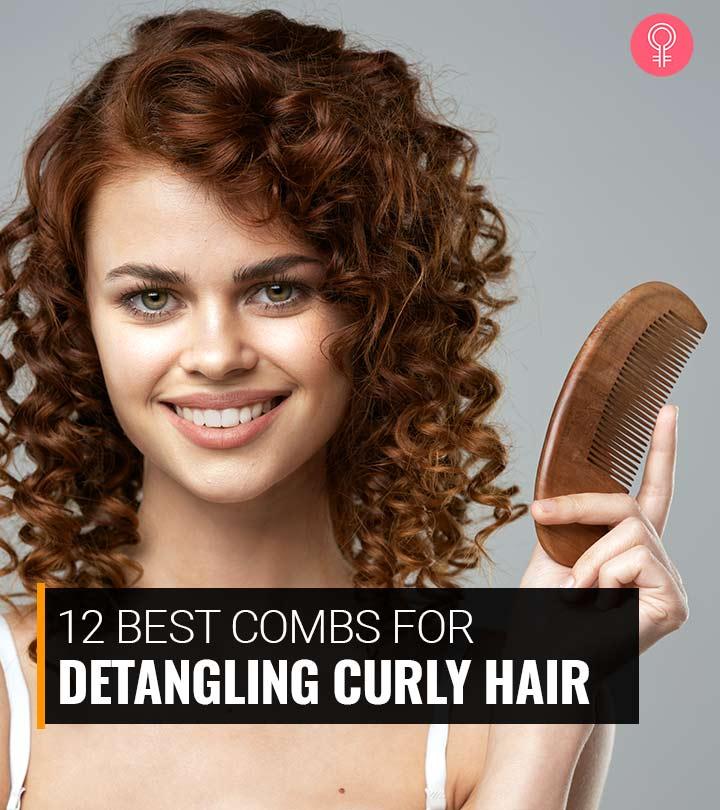 Curly hair may get tough to manage and detangle every day. You need to get your hands on some of the best combs for curly hair to help you deal with them better. Using the right comb is key in untangling the knots and locks, smoothing out the frizz, and massaging your scalp for better circulation. Using the wrong one instead might lead to more breakage and hair fall. To select the right one, have a look at the 12 best combs for curly hair enlisted below.
12 Best Combs For Curly Hair
The Louise Maelys Wooden Hair Comb is handcrafted and made with 100% organic green sandalwood that helps manage thick curls. The anti-static wide teeth glide smoothly over your curls and detangle them without causing breakage. The natural sandalwood aroma is soothing to the mind. The comb's ergonomically designed thick handle is easy to hold. You can massage your hair with the comb and also distribute hair oil from the roots to the tips. This eventually improves blood circulation and promotes hair growth.
Pros
Made of organic green sandalwood
Anti-static
Easy to hold
Thick, wide teeth
Anti-breakage
Soothing sandalwood fragrance
Cons
As the comb is made of organic ingredients, its color may change over time.
The Breezelike Hair Comb is 7.1" long and made with 100% natural green sandalwood. It helps maintain natural wavy hair and prevents breakage, frizziness, and split ends. The non-static, sweet-smelling, and ergonomically designed wide-toothed hair comb adds natural fragrance to hair. It also improves blood circulation and eases stress by offering a nice massage to the scalp. This comb easily glides over even the worst of knots. It detangles the curls without causing any hair fall. The Breezelike Sandalwood Comb retains the natural sandalwood color.
Pros
Handmade
100% natural
Wide-toothed comb
Detangles 3a-4 type curls
Reduces hair breakage
Ergonomically designed
Sweet smell
Improves blood circulation
Non-static
Long-lasting
Cons
Develops mold if used on wet hair.
The pureGlo Natural Wooden Comb is made with 100% natural, high-quality sandalwood and is crafted with exquisite traditional handicrafts. The thickened ergonomic handle makes the hold easy. The wide teeth glide over even extremely wavy hair without causing any breakage, snags, frizz, or tangles. The ultra-smooth and seamless finish of the comb is gentle on the scalp. It offers a nice massage and promotes blood circulation.
Pros
Made of organic material
Finely crafted
Detangles hair
Easily glides over hair
Wide-toothed comb
Non-static
Reduces split ends and hair damage and breakage
Cons
Space between two teeth is wide.
The Conair Detangling Comb prevents flyaways. It makes your curls easy to manage. The comb glides smoothly on curly-wavy hair and prevents split ends and breakage. Combing with the Conair anti-static and detangling comb can help distribute hair oil evenly across the scalp.
Pros
Affordable
Wide-toothed comb
Detangles hair
Creates volume while styling
Anti-static
Prevents hair breakage
Cons
Too sharp for thin hair.
Not suitable for very thick/coarse hair.
The Giorgio G49 Detangling Comb is handcrafted and cut from a large sheet of cellulose acetate that is strong enough to detangle curly hair. This material is tactile and hand-polished for long-lasting durability. The round wide teeth of the comb smoothly glide through the knots and detangle hair effortlessly. The comb achieves this without scratching or damaging the scalp or hair. This flexible, smooth, seamless, and anti-static hair comb is perfect for thick/coarse wavy hair. Massaging with this long, wide-toothed comb stimulates natural oil secretion and improves blood circulation in the scalp.
Pros
Durable
Flexible
Hand-sawed
Eco-friendly material
Microscopically smooth teeth
Eliminates knots
Reduces hair breakage
Non-static
Easy to clean
Non-petroleum-based material
Safe for sensitive scalp
Cons
None
The Swissco Tortoise Perm Comb is handmade in India. It undergoes a 12-step process for achieving a fine, smooth, and polished quality. It is made from a large sheet of cellulose acetate that is durable and lasts long. The comb is polished with pumice for a smoother finish. The round-tipped teeth of the comb ensure it glides easily through the hair. The comb also detangles tight knots without causing any damage to the hair or scalp. This is a perfect comb for any hair type. It prevents hair breakage as well.
Pros
Handmade
Finely polished
Eco-friendly
Detangles curly hair
Ideal for long thick/coarse curly hair
Cons
The Myhsmooth Comb is handmade with 100% natural sandalwood. It does not snag or strip hair and easily helps detangle curls. The ergonomically designed comb is corrosion-resistant. It easily glides through tight knots and does not cause hair fall, hair breakage, or split ends. The anti-static comb has teeth with round tips that are gentle on the scalp. They help improve scalp blood circulation and reduce hair fall. This unique comb, after a certain period, will produce a white silk. You can clean it with soft dry cloth, and the comb appears brand new again.
Pros
100% natural
Anti-static
Handcrafted
Detangles curly hair
No breakage or hair fall
Ergonomically designed handle
Soothing smell
Cons
The Cricket Ultra Smooth Comb helps detangle frizzy, dry, and curly hair. The comb is made of plastic infused with coconut oil and keratin protein. It can help promote hair health. The comb also manages the hair shaft and makes hair more manageable. This special white comb is suitable for wavy hair.
Pros
Smoothly glides through hair
Reduces frizz
Will not leave any plastic residue
Lightweight
Makes hair manageable
Suitable for wavy hair
Cons
The Breezelike Detangling Anti-static Hair Comb is a combination of 100% natural black buffalo horn and green sandalwood. This combination increases the comb's durability. The comb is handmade and about 6" long. It is smooth, seamless, and ergonomically designed. It easily detangles natural curls, and its flexible bristles manage the frizz. The comb glides through hair and leaves no snags, split ends, or breakage. Its teeth are smooth and cause no harm to the scalp or hair. Massaging with the comb can boost blood circulation in the scalp.
Pros
100% natural
Handcrafted
Dual-tone design
Non-static
Reduces hair breakage
Detangles curly, wavy, and long hair
Unisex
Wide, blunt teeth for smoother use
Cons
The Savina Handmade Hair comb is made with 100% organic sandalwood and buffalo horn bristles. It detangles long, curly hair. This handy classic hair tool reduces breakage and split ends and offers a pain-free combing experience. The softly rounded tips of the bristles feel comfortable on the scalp. They stimulate capillaries and increase blood circulation. This helps boost hair growth and prevents hair loss. This comb makes hair easily manageable.
Pros
Handcrafted
Ergonomically designed
Thick handle
Smooth bristles
Reduces split ends
90-day warranty
Well polished
U-groove design
Easy to hold
Cons
Not suitable for combing wet hair.
Not suitable for very thick 4C hair type.
Too fragile
Not anti-static
This detangling comb is made from vulcanized natural hard rubber that offers a seamless feeling. The wider teeth of the comb with their round tips make the hair easily manageable. The hand-sawn, twist-resistant, flexible, and hand-polished comb is anti-static and prevents breakage while styling. The comb allows you to style your hair as you want without stripping it.
Pros
Wide teeth
Anti-static
Detangles hair
Prevents breakage
Chemical-resistant
Heat-resistant
Ergonomically shaped
Large hair comb
Best for thick curly hair
Protects hair shaft
Cons
The Diane Mebco Volumizing Hair Comb is perfect if you want to detangle your curls in wet conditions. This anti-static wide-tooth hair comb is ideal for curly and thick hair with the worst knots. The wide teeth of the comb mimic combing with fingers.
Pros
Anti-static
Glides smoothly through hair
Detangles hair
Keeps curls in shape
Great for wet combing
Cons
Using the comb on wet hair for long may damage the bristles.
These are the top hair combs that help detangle curly hair. In the following section, we will discuss how you can comb your curls the right way.
How To Comb Curly Hair
Pick a wide-toothed comb. You may slightly wet curls either with water or a conditioner.
Divide the curls into four different sections and try detangling each with your fingers first.
Do not pull the curls to remove knots. Instead, separate them gently with patience. If needed, apply some more conditioner.
Comb the curls after making them knot-free.
After you have detangled the bottom part of the curls, continue the same on the upper part.
This simple process ensures your curls are managed without any breakage or hair fall.
Why Trust StyleCraze?
The author of this article, Oyendrila Kanjilal, is a certified skin care coach and hair care enthusiast. She has spent years giving unbiased reviews on products, and in this article, she has curated a list of best combs for curly hair by sifting through hundreds of reviews on trusted online forums. This list offers you a wide range of durable and affordable combs that untangle the knots in your hair, improve blood circulation, and stimulate hair growth.
Frequently Asked Questions
What is better for curly hair – hair comb or hair brush?
A hair comb is always better to detangle curly hair. Highly compact brushes may cause breakage or even aggravate the knots. A comb with wide teeth is always a better option to remove the stubborn knots.
Combing the hair also improves blood circulation. Applying oil to the curls can be difficult. A wide-toothed comb evenly distributes oil among the curls and frees the knots.
Should you comb curly hair every day?
Combing curly hair every day is important. It helps manage the knots and coils.
What is a good time to comb curly hair?
You can comb curly hair before shampooing.
Do combs help curly hair?
Yes, wide tooth combs with soft bristles help curly hair. They help maintain the curls and detangle tresses without tugging or pulling.
Is it better to comb curly hair wet or dry?
It is better to comb curly hair when it is wet or damp. The slip between strands helps smoothen frizz and detangle the strands quicker.
How often should I comb my curly hair?
It is recommended to comb your curly hair at least thrice a day. Some hair care enthusiasts use conditioners while combing their tresses.
Recommended Articles