12 Best Conditioners For Blonde Hair
Protect and nourish your hair with formulas designed specially to neutralize brassy tones.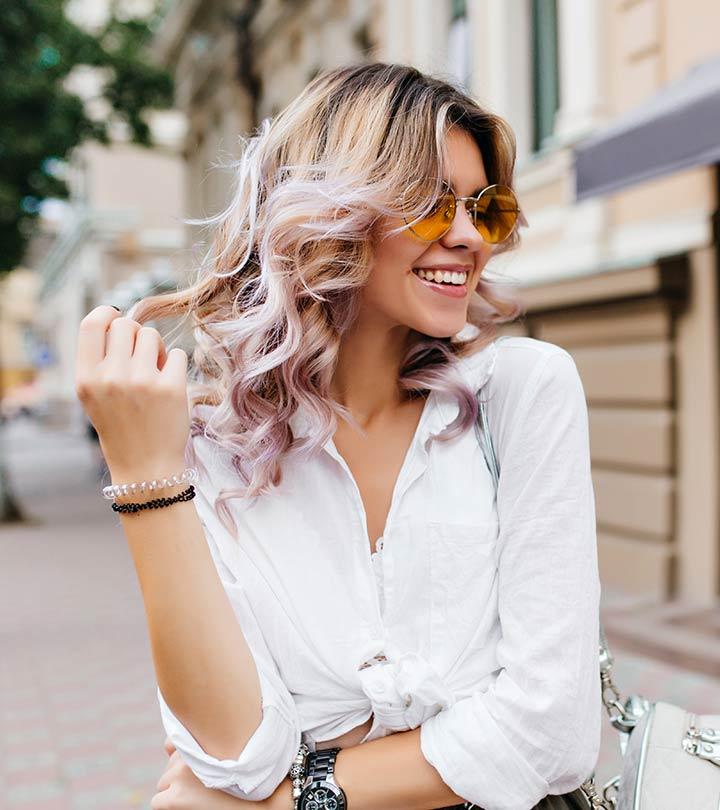 Keeping your blond hair from drying out on you is a challenge as it requires a lot of care and maintenance. To keep those goldilocks shining, you need the best conditioner for blonde hair with you. Along with a purple shampoo, using this conditioner keeps your hair from suffering any more damage. It also eliminates frizz, offers much-needed hydration, and nourishes the strand from root to tip. So if you see your hair crying for help, you know what to do. We've compiled a list of the top conditioners for blonde hair to make things easier. You, too, will parade your blonde hair like your favorite celebrity within no time.
12 Best Conditioners For Blonde Hair
Another great product by global hair messiah, John Frieda, this conditioner will help transform your dull blonde hair to give it that much-needed shine and volume. In addition to its sole purpose of conditioning hair, when used in combination with the Sheer Blonde Go Blonder shampoo, this product can make your blonde highlights go lighter. Now, that is undoubtedly a great add-on! Made in the USA, this conditioner is ammonia and peroxide-free and is suitable for all types of blonde hair. For a more detailed review of this product, here's a video.
Pros
Hydrates and softens hair
Lightens hair without drying it out
Fit for daily use
Suitable for natural, colored, or highlighted hair
Ammonia and peroxide-free
Has a fresh citrusy aroma
Cons
May require a few washes to see the desired effect
Price at the time of publication: $17.33
Known for their top-quality hair care products, L'Oréal Paris brings another gem to soothe your frizzy and dull hair woes. Purple shampoos and conditioners are known to be effective in neutralizing brassy tones of blonde hair when you don't have the time for regular salon visits. Being one of the best purple conditioners for blonde hair out there, this product comes with the promise to neutralize your brassy yellow/orange tones while leaving hair feeling squeaky clean, soft, and well-moisturized. Suitable for bleached, highlighted, and silver hair, this purple conditioner is 100 % sulfate-free and vegan. Know more about this product in this video.
Pros
Paraben-free
Sulfate-free
Vegan
Suitable for both natural and colored blonde hair
Leaves hair soft and hydrated
No harsh salts
Suitable for daily use
Value for money
Cons
May leave a slight purple hue on your fingers after rinsing
Price at the time of publication: $7.97
A light-weight and refreshing formula – this purple conditioner neutralizes those brassy tones while enhancing the shine and health of your blonde tresses. Enriched with sunflower seed, macadamia seed, and other such natural extracts, this product treats hair from root to tip, leaving it soft, lustrous, and moisturized. Known to show its effect in under 5 minutes, this purple conditioner brings out the best in blonde, white, and silver hair. Available in different sizes, this conditioner is paraben-free and will certainly enhance your hair color with every wash! Learn more about this product in this video.
Pros
Light-weight and color-enhancing formula
Contains natural fortifying extracts
Paraben and gluten-free
Suitable for natural and colored hair
Cons
May be considered over-priced by few
Price at the time of publication: $40.5
Are you anxious about your bleached blonde hair appearing limp? Well, worry no more! Known to be one of the best purple hair conditioners in the market, ArtNaturals Purple Hair Conditioner will transform your dull blonde mane to make it feel soft and nourished. Designed specifically for treated hair, the vitamin E-enriched formula of this conditioner will not only enhance the color but also improve the blood circulation of your scalp to improve the overall health of your hair. This brand vests great confidence in the quality of their products, and they are willing to give you a 100 % refund if you don't see the desired effect. Now, that's a win-win deal!
Pros
Sulfate-free
Fortified with vitamin E and coconut oil
Smells great
Locks in hair color for longer
Cons
Price at the time of publication: $11.95
GKHair Deep Conditioner Hair Treatment is a hair rejuvenation elixir which will ensure that you won't have another bad hair day in your life! Suitable for fragile, fine, and damaged blonde hair, this deep conditioner will revive your hair, whether curly or straight, dry or oily, to restore its natural health. Enriched with Juvexin, a keratin anti-aging protein blend, this conditioner has the potential to tame all the frizz and other hair issues. This conditioner is also enriched with jojoba oil, known to promote healthy hair growth.
Pros
Sulfate, paraben, and gluten-free
Suitable for all hair types
Improves the overall health of hair
Adds volume and shine
Cons
Price at the time of publication: $49.9
Another jewel from the house of GBG, this purple conditioner assures luminous blonde hair with mirror shine in just 3 minutes. This conditioner is suitable for naturally blonde, colored, gray, and highlighted hair. It forms a protective shield on hair to prevent heat damage from straightening or curling irons. Infused with natural extracts and plant-based glycerin, the formula makes hair silky and healthy. All in all, this purple colored blessing will promote the overall texture of your hair to give it a salon finish.
Pros
Improves overall health of hair
Suitable for a variety of blonde hair types
Thermo Protective
Enhances hair color
Comes with a 100 % money-back guarantee
Cons
May cause some post-wash hair breakage
Leaves purple residue on fingers
Price at the time of publication: $19.95
Colored hair requires some extra TLC, and that's precisely what this product caters to. Enriched with pro-vitamin B5 and keratin, this conditioner nourishes and enhances the color of platinum and gray hair, to keep unwanted yellow tones at bay. Perfect for chemically-treated hair, this shampoo repairs and strengthens tresses, to give hair a healthy look. Available in 16 different shades, you can mix and match different tones to derive a color suitable for you.
Pros
Vegan
Cruelty free
Paraben-free
Restores damaged and chemically-treated hair
Available in 16 different shades
Enriched with pro-vitamin B5 and keratin
Cons
The color tone may not be long-lasting
Give your blonde hair a natural and healthy boost with the Lush Luminous Blonde conditioner. This purple sulfate-free conditioner is enriched with natural blue cypress oil that prevents unwanted yellow tones in blonde, bleached, gray, white, and colored hair. Enriched with pro-vitamin B5, this product will restore your damaged, chemically-treated hair to leave you with soft, silky, and lustrous locks. Vitamins A, C, and antioxidants in the product will help boost hair growth and soothe sensitive scalp. This conditioner will certainly make your hair color last longer and also ensures you a 100% refund guarantee if you don't get the desired results.
Pros
Sulfate-free
Paraben-free
Vegan
Silicone-free
Enriched with natural extracts and vitamins
Cons
May not be suitable for fine hair
This hair-transforming purple conditioner promises excellent results in just 1 week! From natural to bleach blondes, this product ensures soft, silky hair with long-lasting color. Its lather-enhancing, natural compounds promise squeaky clean hair that has a natural shine and volume. Enriched with natural extracts of jojoba oil and menthol, this conditioner will give your scalp a pleasant cooling sensation during the wash and also improve its overall health. 
Pros
Enriched with natural extracts and vitamins
Lather-enhancing natural compounds leave hair grime-free
Cons
Like all purple conditioners, this product may leave a purple may leave behind a purple hue
Price at the time of publication: $18.99
Known for their top quality products, TRUSS brings one of the best violet-purple conditioners for blonde, bleached, and gray hair that is free from brassiness, yellow, and orange tones. The proprietary constituents of this product help repair split ends and prevent breakage caused by chemical treatments. Suitable for all hair types and textures, this conditioner forms a protective layer on the hair, thus, preventing it from drying out and ensuring maintenance of long-lasting color. This intensive moisturizing conditioner is paraben-free and suitable for daily use.
Pros
Suitable for daily use
Paraben-free
Ensures long-lasting color
Cons
Not free from silicones
May leave a purple tinge on white hair
Price at the time of publication: $27.32
Oligo's Blacklight Blue Conditioner is a hair-transforming system that is enriched with 11 amino acids and argan oil that leave highlighted, bleached, white, and natural blonde hair, free from brassiness. It will refresh your faded highlights and clarify your hair, leaving it cleaner and brighter. Its nourishing ingredients make hair smoother, more manageable, and healthier. Being completely sulfate and paraben-free certainly makes it an ideal choice of conditioner for daily use.
Pros
SLS-free
Paraben-free
Contains 11 amino acids
Cons
Price at the time of publication: $55.0
This color-enhancing creamy gel conditioner is formulated with high-quality ingredients such as Okara extract and ReflectLumière that work synergistically to restore the natural structure of the hair while progressively lightening it. The ultra acid pH (3.5) will help smoothen your cuticle scales, leaving your hair soft and lustrous. Formulated with natural ingredients that repair, lighten, and illuminate all shades of blonde hair, this conditioner is a must-try!
Pros
Silicone-free
SLS-free
Paraben-free
Hydrogen peroxide-free
Lightens hair with every use
Cons
Price at the time of publication: $34.0
While conditioners are beneficial for all hair types, people with blonde, dry or damaged hair may realize that conditioning is necessary to preserve the health and appearance of their hair. The feel, appearance, and manageability of hair can all be improved with conditioners. From leave-in conditioners to deep hair conditioners, many different types are available. To choose the ideal conditioners for your blonde hair, here is a buying guide for your help:
Things To Consider While Selecting The Best Conditioners For Blonde Hair
You must check the ingredients of conditioners before buying. The good ingredients in conditioners you must look out for are vitamin E, argan oil, need, jojoba oil, phyto caffeine, essential oils including lavender oil, basil oil, ginger oil, and other natural ingredients. However, you should avoid using conditioners containing sulfates, paraben, sodium chloride, dyes, silicone, artificial fragrances, and other such harsh chemicals.
Various formula types are available in conditioners, and every kind of formula delivers specific results. For instance, hydrating conditioners offer deep hair moisture, shine, and smoothness. Volumizing conditioners won't weigh your hair down and offer a boost and lift to your hair. Smoothing conditioners are best for straight hair as they seal the cuticle and provide a smooth finish for your hair. If you have color-treated or bleached hair, then choose deep conditioners. If you have damaged hair, you can use leave-in conditioners that will stay on until the next hair wash.
You must choose conditioners according to your hair type. If you have curly, thick, or coarse hair, go for hydrating and moisturizing conditioners. If you have fine or limp hair, then go for volumizing conditioners. You must choose strengthening or fortifying conditioners for damaged, highlighted, weak or brittle hair. For oily hair, go for conditioners that offer the features of volumizing, light, strengthening, and balancing. For dry hair, go for hydrating, moisturizing, and smoothing conditioners.
Various brands claim to offer the best conditioners for blonde hair. You can compare the prices, features, and reviews of different conditioners and shortlist the best for your hair type and needs. It is suggested to choose conditioners from reputable brands to ensure their quality.
Why Trust StyleCraze?
Vaishnavi Kothuri is a hair care enthusiast who loves experimenting with different hair care products. Her list of the best conditioners for blonde hair consists of products that keep the locks frizz-free and prevent brassiness. She has done thorough research and gone through hundreds of product reviews to curate this list and help her readers select the best conditioners for their hair. The conditioners included in the list can keep your hair hydrated, make your blonde hair shiny.
Frequently Asked Questions
What keeps blonde hair moisturized?
A conditioner rich in argan oil keeps blonde hair moisturized. It locks the moisture in your hair, protects your hair from free radical damage, and adds shine to the hair.
How can I enhance my blonde hair?
• Invest in a shower hair filter to protect your blonde hair from the hard water loaded with color-stripping minerals.
• Wash your hair with a brightening shampoo two to three times a week to regain the natural-looking blonde tones.
• Rinse your hair with cold water that seals your hair cuticles and prevents the color from fading.
• Use moisturizing conditioners and masks to strengthen your blonde tresses.
• Avoid heat styling your hair. Instead, blow dry in a cold setting, if possible.
• Cover your hair with a hat or a scarf when out in the sun. The UV rays penetrate your hair shaft and damage its texture.
How often should blondes use conditioners?
Use a conditioner two to three times a week after shampooing your blonde hair.
Will toning conditioner help repair damaged hair?
Yes. A toning conditioner neutralizes the brassy tones of your blonde hair and improves the overall texture and color. It nourishes the hair while brightening its color and appearance.
Can I use blue conditioner on blonde hair?
No. Blue conditioner corrects brunette hair. Use a purple conditioner to neutralize the brassy tones of blonde hair.
Why does blonde hair look dry?
Blonde hair is porous and quickly absorbs whatever it comes in contact with. So, getting out in the sun without proper protection might turn your hair brittle and dry. The UV rays penetrate the hair shaft and dull its texture. In addition, a lack of adequate moisturization also turns your hair dry.
Recommended Articles