7 Best TENS Units For Health And Pain Relief – 2023
From pain relief to weight loss, there's a lot you can do with these devices at your disposal.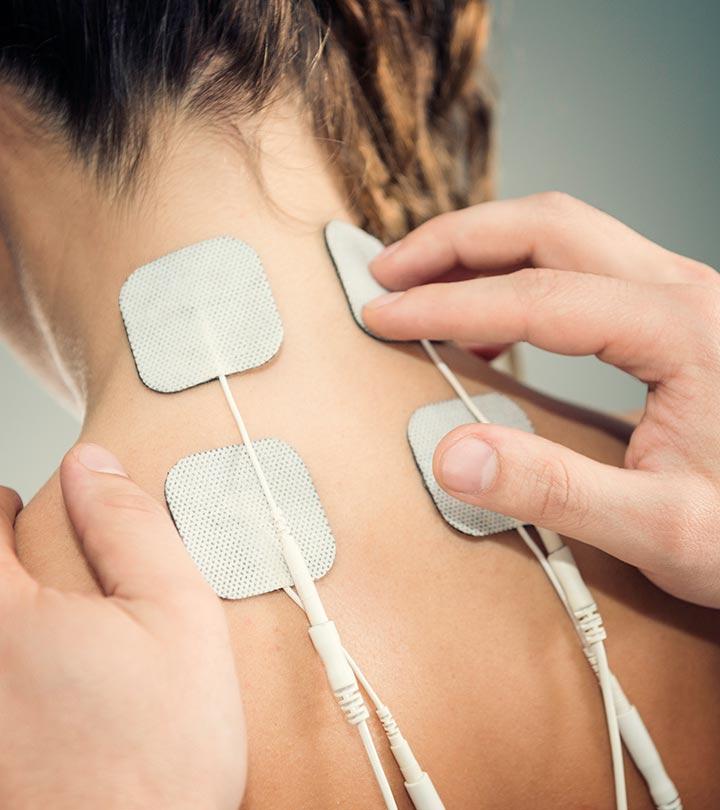 TENS units are battery-controlled devices that are a good alternative for antibiotics with side effects. They help you manage muscular and skeletal pain without any danger. These are portable and propagated by various doctors as an alternative for heavy painkillers. And if you're looking for the best TENS unit, you need to do a bit of research to ensure you get the right one. To help you with the buying process, here are the top 7 TENS units for effective pain management. Read on to find out more about them!
What Is A TENS  Unit? 
Transcutaneous Electrical Nerve Stimulation(TENS) is a small, battery-operated device that is used for pain relief. It involves the use of mild electrical current.
The device features a lead that is connected to small pads known as electrodes. For therapy, the pads are directly attached to your skin. As you switch the machine on, small electrical impulses are delivered to the pain affected areas of your body.
You may feel a tingling sensation as the machine runs. TENS therapy may reduce the pain signal going to your spinal cord and brain, which may help relieve pain and relax your muscles.
TENS machines may stimulate the production of endorphins. Endorphins are the body's natural painkillers. This machine may help reduce pain and muscle spasms caused by arthritis, period pain, endometriosis, back pain, knee pain, neck pain, and sports injuries. 
How Does A TENS Unit Work And Where To Buy One? 
To start the TENS therapy, you first need to plug the pad wires into the A and B channels that are located at the top of the device.
Snap the wire onto the pads for powered muscle stimulation. Ensure that each part is connected firmly.
Peel off the protective film on the electrode pads and place them on the targeted area of pain relief. The pads have to be placed 3 cm apart, on each side of the desired area to avoid overlapping.
Once the electrode pads are securely placed, switch on the machine. It will start automatically from mode 1 and level one. You can select the mode of your choice.
Use the intensity buttons located on the left-hand side of the device to control the A1/A2 ports. For dual channels, alter the intensities on A and B channel (left side/right side).
Increase the intensity gradually and gently to test your acceptance level of intensity.
After using the device, turn it off completely and then unplug it. Make sure to keep the pads back into the pad holders to ensure the longevity of the pads.
Though you can buy a TENS machine online, it is best to consult your general physician. This way, you can get a proper assessment done and know whether you need a TENS machine or not. Also, your doctor may refer you to a physiotherapist or pain clinic.
You can first try TENS therapy at the physiotherapy center, and if it works for you and provides relief, you can buy the device.
Getting yourself acquainted with TENS therapy at the physiotherapy center will not only help you in making the purchase decision, but you will also learn how to operate the device. The therapy will be most effective only when the settings are adjusted correctly according to you and your condition.
Let us now take a look at the best TENS units you can buy. 
7 Best TENS Units
The TENS 7000 is a muscle stimulator and muscle recovery device and is the best valued over-the-counter digital TENS unit on the market. The 9-volt battery makes this TENS unit powerful and durable. It is preferred by physical therapists and physicians for pain relief. This physical therapy device provides long-lasting and drug-free muscle pain relief, and can be used for back pain, neck pain, tennis elbow, carpal tunnel, arthritis, and for shoulder, knee, leg, and foot pain, or anywhere you need it.
The Techcare Massager Plus 24 TENS device, specifically designed as a TENS unit for sports recovery, and offers multiple TENS therapy modes. It is a muscle stimulator, nerve stimulator, and electric massager equipped with independent dual channels that control four TENS unit pads to provide targeted pain relief. This electrical muscle stimulation device is widely used and prescribed by healthcare specialists and doctors as it has proven expertise in alleviating pain.
Features
5 powerful therapy modes of operation that help to tackle back pain, neck pain, or joint pain and relax your muscles.
Includes 4 packs of multi-use TENS unit pads.
2 control knobs help you control the intensity level of the TENS device.
Therapy can be given based on a person's requirement or can be timed for up to 60 minutes.
Comes with a protective case to store the device safely.
Comes with a one-year warranty.
Specifications
Technology Used: TENS
Battery Type: AA battery
TENS Mode: 5
Pads: 4
Output: Dual
Weight: 2 lb
Pros
High output strength with 8 adjustable levels of intensity
Energized by 9volt battery
Hard carry case
Long battery life
Solid construction and well built
5 powerful TENS therapy modes
Easy to use
Cons
Electrode pads supplied with the machine aren't as good as some replacement electrodes.
The HealthmateForever TENS unit offers both TENS and PMS qualities in one device. It helps to manage pain and strengthen muscles by blocking pain receptors in the central nervous system. This machine is non-invasive, all-natural, drug-free, and safe and easy to use.
The easy to read and operate mode buttons help to provide targeted pain relief. It comes with a frequency adjustment feature that helps you adjust the speed according to your comfort level. This electrical stimulation product helps to amplify the body's natural ability to heal and recover. This unit is perfect for those with pain in and around the hands, feet, wrists, and ankles.
Features
Automatic shut-off feature allows you to time your therapy session.
Animated backlit 3D display makes it easy to read.
Allows 8 pads to be used at the same time.
Belt clip equipped.
Specifications
Technology Used: TENS, EMS
Battery Type: AAA battery
TENS Mode: 15
Pads: 8
Output: Four
Weight: 9 lb
Pros
Can use four output units at once
Predefined massage programs
Cons
Screen backlight goes off quickly.
The NURSAL TENS muscle stimulator is a safe, non-invasive, and non-medicinal pain relief unit. It uses electronic impulses to stimulate muscles through multi-programmed massage modes. This unit is perfect for those with back pain, neck pain, inflamed discs/joints, shoulder tension, arthritis, etc. This affordable machine is equipped with a built-in lithium battery that provides up to 20 hours of continuous use and is rechargeable.
This versatile device comes with eight strong self-adhesive conductive pads that are reusable. The pads are differently sized and can be used on different parts of the body. This electrical stimulation device features a dual output design that allows six pads to be applied to two different targeted areas at the same time.
Features
Multi-programmed massage modes.
20 levels of adjustable strength.
Built-in powerful rechargeable lithium battery.
Conveniently pocket-sized.
Free dust-proof pouch.
8 strong and thicker reusable electrode pads.
FDA-, CE- and ROHS-certified TENS therapy device.
Backed up by a limited lifetime warranty and 1-year money-back or replacement guarantee.
Specifications
Technology Used: TENS, EMS
Battery Type: Built-in lithium
TENS Mode: 16
Pads: 8
Output: Dual
Weight: 8 lb
Pros
Easy to operate
Versatile unit
Minimalistic design
Good mix of large and small reusable pads
Cons
Instruction manual could be better.
TheTechCare TENS unit is a combination of TENS and PMS device. It delivers low-voltage pulses to stimulate the strained and sore muscles. The 24 preprogrammed massage modes include stimulation of tapping, acupuncture, cupping, combo, and deep tissue massage.
This product features one of the most powerful batteries on the market. It offers a large LCD display, multi modes, and two A-B outputs. Techcare Massager Plus 24 TENS device utilizes muscle contractions to decompress muscles and relieve musculoskeletal pain. It has no known side effects. Thousands of Amazon reviews indicate this device lives up to its specifications and delivers great real-life results.
Features
Rechargeable internal lithium battery that lasts up to 20 hours of continuous use.
24 preprogrammed massage modes.
Adjustable 10 to 60 minutes timer that helps you to personalize your therapy.
Limited lifetime warranty and a 30-day money-back policy.
Offers 20 intensity levels that can be set within each channel.
24 modes are categorized into six groups, each group having four modes to choose from.
The therapy session, by default, will last up to 20 minutes, after which the machine automatically shuts-off to save battery.
Specifications
Technology Used: TENS, PMS
Battery Type: Rechargeable internal lithium battery
TENS Mode: 24
Pads: 6
Output: Dual
Weight: 8 lbs
Pros
Easy to use
20 intensity levels
Big and clear backlit display
Adjustable timer
Long battery life
Rechargeable through USB or wall charger
Value for money
Cons
Can't adjust the intensity of both channels simultaneously.
The AUVON Dual Channel TENS EMS Unit provides safe, non-invasive, drug-free therapy that provides effective relief to your stressed muscles. It features 2 channels that allow you to target two different areas of the body simultaneously. This multi-functional device has a dual channel unit and it comes with 20 levels of intensity and 24 pre-programmed massage modes with adjustable time.
This device has a portable design which is very easy to carry and operate. It is installed with a rechargeable lithium battery. The battery can work for up to 10 hours at a stretch. The machine helps you activate your muscles and relieve your strained tissues. Plus, the device features eight reusable self-adhesive electrode pads which provide an affordable and eco-friendly solution for pain management.
Features
24 pre-programmed massage models with an adjustable time of up to 90 minutes.
20 intensity levels that can be set within each channel.
Rechargeable internal lithium battery that lasts up to 10 hours of continuous use.
8 reusable electrode pads which can be used at the same time
Specifications
Technology Used: TENS + EMS
Battery Type: Lithium rechargeable battery
TENS Mode: 24
Pads: 8
Output: 2
Weight: 0.639 lb
Pros
Long battery life
Lightweight
Non-invasive
User-friendly
Reusable pads
Adjustable intensity
Lightweight
Adjustable timer
Portable
Comes in a dust-proof storage bag
Cons
Belifu Dual Channel TENS EMS unit is a perfect choice for those with chronic and acute pain. It is equipped with human body simulation technology, bioelectricity technology, electromagnetic technology, bionic technology, and microcomputer intelligent control technology.
It comes with a variety of massage methods, such as cupping, acupuncture, tapping, scraping, combination, and tuina. This device helps treat lower back pain, arthritic or inflamed discs/ joints pain, and shoulder pain and tension and provides muscle relief.
Features
24 preprogrammed massage modes for pain and muscle relief.
Adjustable automatic shut-off timer offers therapy from 10 to 60 minutes and automatically shuts-off after 60 minutes.
Offers 20 intensity levels to adjust the strength according to your comfort level.
Features a free dustproof drawstring storage bag.
Built-in powerful rechargeable lithium batteries that last up to 20 hours of continuous use.
Specifications
Technology Used: TENS, EMS
Battery Type: Rechargeable in-built lithium battery
TENS Mode: 24
Pads: 10
Output: Dual
Weight: 75 lb
Pros
Long battery life
Automatic shut-off timer
Portable and lightweight
Free dustproof drawstring storage bag
Reusable fastening cable ties
Cons
Pads don't adhere properly.
iReliev is an effective and portable therapy system that combines two therapies in one device. This unit delivers low voltage pulses to your skin to stimulate nerve endings effectively. It is a highly innovative device and offers 14 preprogrammed therapy modes. The variety of modes makes the device easy to use and very versatile.
It also comes with six EMS massage programs that help in muscle relaxation and conditioning. The other eight TENS massage modes are specially designed to help with muscle and nerve pain relief. This medical-grade device comes with 25 adjustable intensity levels. The dual-channel technology helps you to use four electronic pads at the same time.
The unit can either power two large pads or four small pads at once to give the best hands-on experience. This portable and lightweight device can be used while you are at work or when you are busy finishing household chores. This effective pain relief device comes with rechargeable batteries. The built-in timer is adjustable. It ensures that the device doesn't run for a longer period than you intend to. Based on the feedback from Amazon reviewers, this natural pain reliever is lauded for its ease of use feature.
Features
Equipped with 14 therapy modes, out of which 7 are TENS Pain Relief Modes, 1 Arthritis TENS Mode, and 6 EMS Muscle Strength and Recovery Modes.
25 levels of intensity with an output strength of 80 mA, which means you get medical-grade strength without any prescription and unreasonably high prices.
43 inches LCD screen size.
Equipped with a 5 to 60 minutes adjustable timer that gives a personalized and safe therapy experience.
Specifications
Technology Used: TENS+EMS
Battery Type: Rechargeable lithium battery
TENS Mode: 8
EMS Mode: 6
Pads: 4
Output: Dual
Weight: 1 lb
Pros
Versatile mix of massage programs
Rechargeable internal lithium battery
Combines TENS+EMS therapy
Small and portable
Adjustable timer
Dual-channel versatility
Lock function
Cons
Short leads
Cannot use the device while it is plugged in.
*The prices provided in this article are based on the latest available information. However, they may vary due to changes in pricing by the seller and/or promotional offers.
TENS therapy provides fast and effective pain relief. It can help reduce your dependency on pain medications, some of which can be addictive or cause adverse side effects. Most of these units are over-the-counter devices, and you do not require a prescription to buy them. However, it is best to seek your physician's advice before you start treating the pain or using the TENS unit along with your pain relief medication.
We have carefully selected the top 7 TENS units that are listed above after exhaustive research and analysis of all the TENS units available on the market. These devices are the most well-reviewed and popular devices among customers.
More and more evidence is coming up through research to prove the effectiveness of TENS therapy. Here's a list of few benefits of using TENS therapy machine.
Benefits Of Using A TENS Machine
A natural and effective form of pain relief with little or no known side effects.
Helps in the production of endorphins, which are our body's natural painkillers.
Helps to decrease or block pain signals traveling to the brain.
Reduces inflammation
Provides complete and easy controls over the treatment.
Works for a wide range of conditions.
Suitable for use in both acute and chronic pain.
A non-invasive method of treating your pain.
Small, lightweight device.
Affordable and easy to use.
Good for long-term use.
Are There Any Side Effects? 
A TENS machine is safe to use. It provides safe treatment with no side effects. However, some people who have sensitive skin and are prone to allergies may develop one because of the pad. The skin may become red and irritated.
This is something not to worry about and shouldn't deter you from using the machine as hypoallergenic pads are available for people with allergies.
Though TENS unit is safe to use, the following people shouldn't use it without seeking medical advice:
Pregnant women
If you have any type of electrical or metal implant in your body, for example, pacemaker.
If you have epilepsy or a heart problem.
A TENS device is a safe way of treating your pain. But, like any other unit, it has to be operated with care and keeping certain factors in mind. We have compiled a list of points that you need to bear in mind while using a TENS unit. 
Safety Information
The conductive pads should only be used on normal, healthy, clean, and dry skin. Never use the pads on open wounds or rashes or over swollen, red, infected, or inflamed skin.
If you are a first-time user and notice symptoms like red and itchy skin, discontinue using the TENS unit.
This device is not suitable for children, pregnant women, people with hypertension, skin problems, or sensitive skin, or anyone who has recently undergone a surgical procedure.
People who have a pacemaker or other life support equipment, such as an artificial lung or respirator, should avoid using this massager.
Never use this device over the main arteries close to your neck or throat, near the heart, directly to the heart area, across or on the chest, and across or on your head.
Don't use the device if it necessitates placement over areas at which drugs/medicines are administered (short-term or long-term) by injection (e.g., hormone treatment).
Never use the pads on the same body parts for more than 30 minutes.
Replace the pads after using them for 15-20 minutes.
Remember, the TENS device is not intended to be used for medical diagnosis or treatment or as a substitute for professional medical advice.
If you're still in doubt, consult a medical device expert for personalized guidelines on medical device safety. TENS units can be easily purchased at local retail stores and on the internet. You have several options to choose from. This might also confuse you, though, as to which one to buy. We have listed below a few important factors that you need to keep in mind to make your TENS purchase decision easier.
Buying Guide – How To Choose The Best TENS Unit
Modes: TENS units are available with different massage modes and programs you can use. They offer two types of therapy: predefined massage programs and other units that allow you the possibility to create your own massage program using a combination of their features. Some models of TENS units come with predefined modes and programs for every part of your body. Buying a TENS unit that offers multiple modes and programs will add to your therapy experience.
Intensity Levels: TENS units offer multiple intensity levels that allow you to personalize your therapy experience. Depending on your needs, you can test and adjust the intensity setting of the device on high or low. For a relaxing massage, you can set the device on low intensity, while for a reinvigorating massage, you can increase the intensity. This adjustability feature of the machine does not make it user-specific and can be shared with other members of the family.
Timer: TENS units come equipped with a timer that makes for a safe user experience. This feature also helps to preserve the life of the unit's battery and that of its electrode pads. The timer helps you time your session. Using the unit for too long can be uncomfortable and may lead to bruising if you have no previous experience of using the unit. On the other hand, shorter sessions will not be able to provide adequate relief. Hence, the timer will help you to keep a tab on the duration of your massage.
EMS Feature: Most of the TENS units come equipped with an EMS feature. This feature is better at treating chronic and acute pain than a simple TENS unit.
Screen: Though the screen may not seem to be an important factor to consider while buying a TENS unit, its importance shouldn't be overlooked. Look for a TENS unit that has a big screen and backlight. A small screen can be inconvenient as you have to squint your eyes to read it. Moreover, it is not the ideal option if you plan to use your TENS unit while commuting or working. Having a large screen with a backlight option is more beneficial and easy to adjust even in low light conditions for a satisfactory user experience.
Battery Life: The battery lifespan and the battery type are important factors to consider. A few TENS units feature built-in rechargeable unit batteries, while others use two or three AA or AAA batteries. If you are buying one with built-in rechargeable batteries, it will give you the benefit of low operating costs. On the other hand, AA or AAA batteries are easy to find and relatively inexpensive.
Accessories: The lead wire and electrode pads are the most important accessories that come with a TENS unit. The lead wire length and the gap between the pads should be factored in. A long lead wire will allow you to use the device for any part of your body. Also, the distance between the pads is important as too short a distance will result in placing the pads too close to each other, which can result in an uncomfortable experience.
Portability: A portable TENS unit is easy to carry. These small and portable devices have compact designs which make it easy to use them anywhere. A few models are smaller than a mobile phone, and you can easily carry them in your pocket. Other models are slightly bigger than the mobile phone, and you will be required to carry them in your purse or backpack. Thus, the shape and size of a TENS unit are important considerations, so choose a model you will feel comfortable using.
Warranty: When investing in a TENS unit, consider the warranty period of the device. A good warranty period reflects the manufacturer's confidence in their products. Some devices come with a lifetime warranty, while others only offer a 30-day refund guarantee.
Cost: The cost of a TENS unit is reflected in its replacement patches and batteries. Choose a unit that has a low operating cost and one that meets your requirements.
Why Trust StyleCraze?
The author, Sakshi Bahal, has conducted deep research in understanding the TENS unit. Also, she went through various trusted online platforms to provide you with the best TENS units. The products listed above help relieve the back, neck, knees, shoulders, and legs. These devices feature adjustable strength, built-in batteries, easy control operation, and a lightweight design.
Frequently Asked Questions
Is TENS therapy painful?
TENS therapy should not hurt. You can ensure this by adjusting the intensity of the unit at a strong yet comfortable level.
Can I get an electric shock while using a TENS therapy?
TENS is an electrical device. If you try to reposition or take off the patches, remove the wires from the patches without first turning the unit off, the unit gets wet while you are using it, or touch bare wires on a damaged cord, you might get a shock.
Where should I place the patches?
Place the patches surrounding the area of discomfort and pain. Also, place them on the fleshy areas of your body and not the boney sites.
Is TENS therapy safe?
TENS therapy is a safe method of pain relief. It has been prescribed and used by medical professionals, such as chiropractors, physicians, and physical therapists, for more than 30 years now.
How do I choose an intensity level?
After switching on the therapy device, begin with the lowest intensity level, and gradually increase it to a level that feels comfortable to you. You can go up the power level if you feel the therapy is too weak or can reduce it if the intensity feels uncomfortable.