8 Best Cold Laser Therapy Devices For Pain Relief – 2021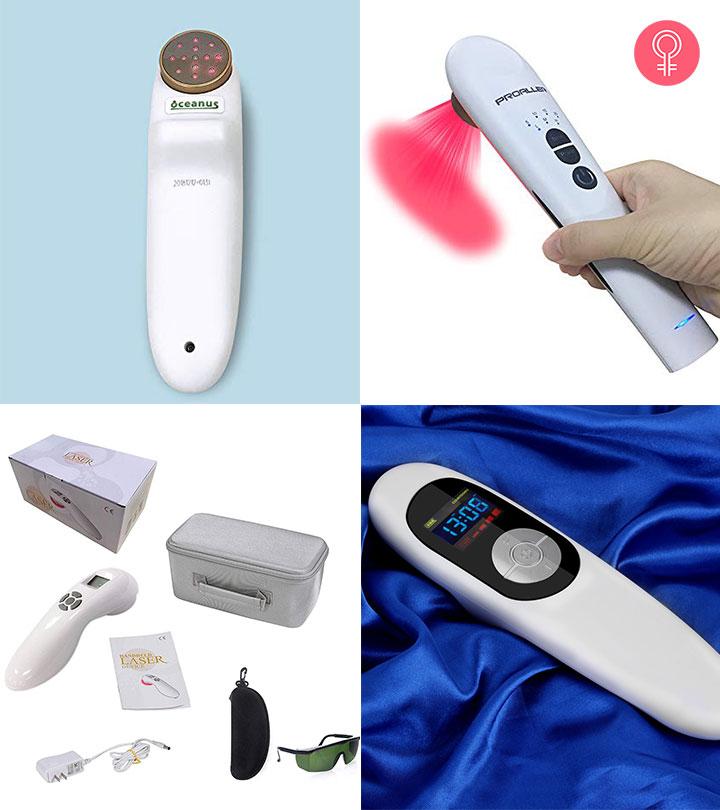 Cold laser therapy is a low-intensity laser treatment that uses minimum thermal energy to heal wounds and injuries. Typically, the light penetrates as deep as 5 cm into your skin and gets absorbed by your cells, resulting in increased cellular metabolism, which helps speed up the recovery of damaged cells. It is called "cold" laser therapy because it does not use harsh levels of light like other forms of laser therapy. It is on the milder side and created especially to reduce pain or eliminate swelling. Cold laser therapy is also known as low-level laser therapy (LLLT), low-power laser therapy (LPLT), soft laser biostimulation, or photobiomodulation.
Here is how it works.
How does cold laser therapy work?
During the cold laser therapy procedure, low-level light is applied directly to the targeted area. This light is absorbed by the skin tissues, leading to a reaction that rejuvenates the damaged cells. The non-thermal photons of the light penetrate the dermis and epidermis to help increase the intracellular metabolism. This acts as a catalyst for faster healing.
Cold laser therapy uses specific light wavelengths to help boost the healing process. For general healing, a wavelength of 600 to 700 nm is used. For deeper tissues, a wavelength of 780 to 950 nm is used.
Here are the 10 best cold laser therapy devices available on the market right now.
8 Best Cold Laser Therapy Devices For Pain Relief
Tendlite Joint Pain Home Therapy device uses direct light therapy to relieve pain, promote quick healing, and increase mobility for a better quality of life. It is effective for temporary relief from minor muscle ache and joint pain, arthritis, and muscle spasms, and promoting relaxation of muscle tissues, increasing blood circulation, and relieving stiffness. This device restores blood circulation to the deep tissue to reduce inflammation. It uses a powerful yet safe medical-grade LED.
Pros
Alleviates pain immediately
Accelerates the healing process
Easy to use
Cons
None
PROALLER Cold Laser Therapy is designed specially to provide relief from pain with modern therapeutic red light therapy. It helps create better circulation, diminishes inflammation, and accelerates tissue repair. The device is ideal for relieving pain in the back, neck, knees, arms, feet, legs, and shoulders. You can also use this device to get relief from arthritis, soft tissue injuries, sports injuries, sciatica, carpal, and tunnel syndrome. This device also works well for pets like dogs, cats, horses, etc.
Pros
Easy-to-use
Travel-friendly
Rechargeable batteries
Cons
This is an FDA-approved, non-invasive pain-relieving device. It relieves both chronic and acute pain. This device is suitable for speeding up metabolic activity and healing, reducing swelling, and enhancing the vitality of your muscles and joints. It can be used for muscle strain, arthritis, bursitis, sprains, fibromyalgia, neck pain, and back pain. It can be used at three frequency levels with three different depths and power.
Pros
18-hour battery
Lightweight and portable
Cons
This low-level laser therapy device is meant for relieving aches and pains. It accelerates the tissues to repair themselves. This device has two laser pointers – 650nm and 808nm. The 650 nm light is effortlessly absorbed by the skin tissue, leading to improved skin health and increased collagen production, whereas, the 850nm light is invisible to the human eye and penetrates deeper into your tissue to increase muscle recovery and reduce joint pain. It is useful in treating arthritis, shoulder pain, knee pain, and muscle spasms.
Pros
Easy to use
Lightweight
Rechargeable
Portable
Cons
None
The LaserTRX Laser Therapy device combines super-pulsed infrared laser wavelengths, visible LED light technology, infrared LED energy, and static magnetic energy and induction to promote muscle relaxation and pain relief. It is designed to relieve pain from arthritis, sports injury, and inflammation in the knees, hands, ankles, and feet.
Pros
No side effects
Compact and lightweight
Long-lasting battery backup
Safe and reliable to use
Cons
No immediate results
Expensive
ATANG Laser Therapy Device is designed specially to provide relief from aches and pains. The device is ideal for providing relief from pain in the knee, feet, ankle, shoulder, back, elbow, hand, joint & muscle, arthritis, tennis elbow, tailbone inflammation, soft tissue injuries, sports injuries & sprain, etc. This device is equipped with two laser points – 650 nm and 808 nm. The laser emitted is continuous and invisible to the eyes. Do not watch the laser beam directly with your naked eyes.
Pros
Rechargeable battery
Tempered glass lens
Easy-to-use
Digital display
Cons
The Sinoriko Red light device for muscle relief is equipped with 4 power and 4 timer functions. You can adjust the power from low to high and set the timer (5/10/15/20 minutes) as per your requirement. It comes with a single ON/OFF button that helps to start or stop the operation of the device. This device is lightweight, portable, and rechargeable. You can use this device for alleviating arthritis and obtaining relief from joint pain, sprain, and sports injuries.
Pros
Easy to carry
Easy to operate
LCD screen
Invisible centre light
Cons
The light may be a bit too bright.
This professional-grade cold laser therapy device features lasers with wavelengths of 650 nm and 805 nm. It uses light radiation to improve the oxygen-carrying capacity of blood cells, which helps relieve pain and heal injuries. Since this device has a large light head, it can be used to cover large areas like the back and shoulders in less time. It also has a small wand for acupuncture applications.
Pros
Easy to use
Useful for joint pain
Cons
These are the best at-home cold laser therapy devices available on the market right now. If you are experiencing extreme muscle or joint pain, try one of these out, and let us know about your experience in the comments section below.
Recommended Articles: