10 Best Radio Frequency Skin Tightening Machines Of 2022
Bid adieu to lines and wrinkles and look youthful without going under the knife!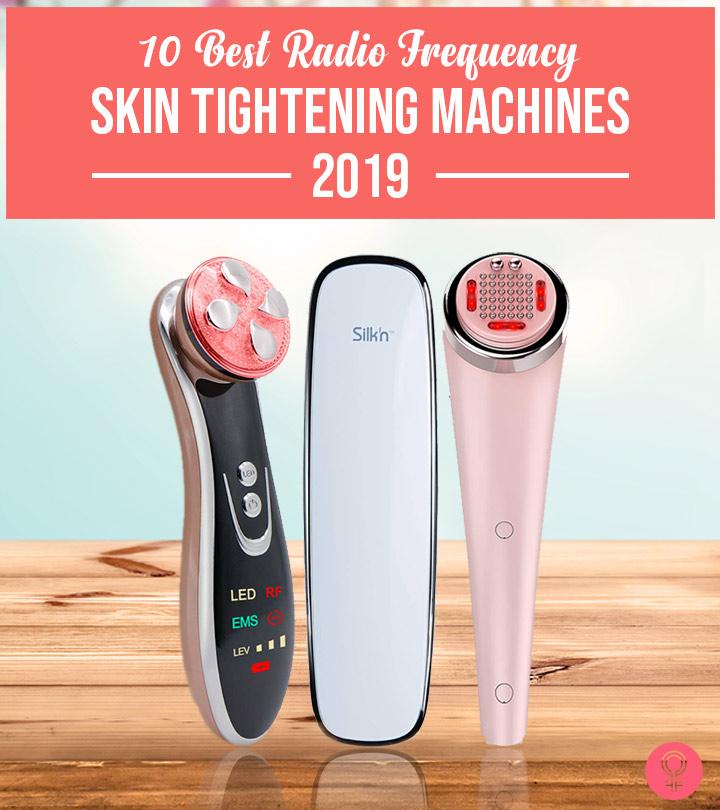 The radio frequency skin tightening at home is a painless alternative to skin surgeries. If you need to tighten your sagging skin, no need to go under the knife. And we are not even joking about it. Lift your skin and give it a beautiful rejuvenated glow with the radio frequency skin tightening devices. In this article, we have listed the top-rated devices. Swipe up for more information!
What Is Radiofrequency Skin Tightening?
The Radiofrequency machine or RF machine uses heat to rejuvenate your skin. It is a heating device that emits radiofrequency waves. These waves heat the skin tissues, tricking your body into thinking that it is injured. As a result, your body sends growth factors and collagen to the 'injured' tissues. When your skin produces more collagen, the area becomes tight, and wrinkles disappear.
If you are wondering why you need an RF machine for wrinkles, there are plenty of reasons to go for it. It not only makes the wrinkles disappear but also reduces fat. The heat generated by the RF waves can reduce the fat layers and may help in improving the face shape. RF machine is the best way to reduce sagging skin. You may also use it on different body parts, such as the arms, legs, thighs, and abdomen.
Let's now check out the top-ranking RF machines that you can buy.
Best Radiofrequency Machines – 2022
Product Description
This skin tightening wand works on the deepest layers of your skin. It stimulates collagen regeneration and helps boost skin elasticity. It improves the overall appearance of your skin and is entirely safe to use.
Pros
Specialized applicators for different areas
Adjustable intensity
Easy to use
Cons
None
Price at the time of publication: $149.95
Product Description 
The MLAY RF machine provides anti-aging and anti-wrinkle treatment without affecting your skin. The RF waves penetrate your skin tissues and boost collagen and elastin production. The waves produce gentle heat, which does not feel uncomfortable on your skin. Click here to check out a detailed personal review of this product.
Pros
Visible results
60 days money-back guarantee
1-year warranty
Includes body probe
Cons
Price at the time of publication: $369.99
Product Description
This device uses Bi-Polar RF energy, IR heat, and LED light energy to boost cell renewal and make your skin tight. It tightens the skin and improves it inside out by strengthening the skin layers. This video will give you a better insight into the qualities of the product.
Pros
Perfect for face and neck area
No recovery time
Ergonomic design
Cons
Price at the time of publication: $228.65
Product Description
Riteu Home Use Portable Facial Machine soothes your skin and increases its elasticity. It tightens and brightens your skin by reducing the appearance of freckles, wrinkles, pimple, acne scars, and dark circles. The machine promotes blood circulation and has self-diagnostic functions that work efficiently on your skin. Two different probes can be used alternatively on any part of your body.
Pros
Ergonomic design
Multifunctional machine
Bright power indicators
Easy to use
Cons
None
Price at the time of publication: $174.39
Product description
Avorla High-Frequency Skin Tightening Machine is designed to heat the deep layer of the skin, stimulate collagen and elastin production. It effectively tightens the elastin fibers for smoother and youthful skin. This device is painless, hygienic, and is ideal for the cheek, neck, and body. The HF heating activity reduces wrinkles, dull skin, and pores. The device is equipped with three power levels – low, medium, and high, and duration – 10, 20, and 30 minutes. Watch this video for a thorough understanding of the product.
Pros
Power level control
Timer
Long-lasting
Cons
Product Description
This RF device helps to redefine your facial contour by lifting it and reducing sagging skin. It rejuvenates your facial skin by promoting collagen and elastin fibers. It has a power on and off button, so using it becomes a breeze. The intensity of the waves can be adjusted.
Pros
Chargeable
High quality built
Cons
Price at the time of publication: $85.99
Harnessing the power of 4 natural technologies, the Luma 4-in-1 Skin Therapy Wand is the ultimate skincare tool for anti-aging and skin tightening. You can use each mode separately or combine them based on your skin's needs. The first 2 modes include LED Light Therapy and Wave Penetrating Cell Stimulation — the former has been clinically proven to reduce signs of aging, calm the skin, and improve complexion, while the latter serves as a weekly workout for your skin that results in increased collagen production and firmer skin. Ionic and Massage Therapies are the other 2 modes, which are effective at pulling dirt and grime out of the skin and improving muscle tone in your cheeks, eyes, and forehead.
Pros
Hygienic metal applicator
Red, blue, and green LED Diodes
Easy-to-use interface
Ergonomic design and handle
Customizable treatment modes
Cons
The battery might not last too long
Price at the time of publication: $67.95
Product Description
This mini portable RF machine offers quality at the best price. It has six light modes and is extremely convenient to use. It rejuvenates your skin and improves collagen production to make your skin appear youthful.
Pros
Chargeable (USB)
Portable
Budget-friendly
Cons
Price at the time of publication: $59.99
Product Description
This portable RF machine has four electrical tips and five LED treatment heads. It rejuvenates your skin, lifts it, reduces wrinkles, and also improves the oil balance.  This device also claims to lighten your skin by reducing spots and blemishes.
Pros
Chargeable
Travel-friendly
Cons
Price at the time of publication: $59.99
Product Description
The Sensilift Radio Frequency Anti-Aging Kit features advanced Dynamic Radio Frequency (DRF) technology that stimulates collagen production and improves skin elasticity. This non-invasive machine is equipped with built-in temperature control, three energy levels, and two massage modes to ensure effective massaging and maximum safety. The sensitive touch buttons and ergonomic handles make it easy to handle.
Pros
Non-invasive

Painless

Easy to us
Cons
None
Price at the time of publication: $319
Radio frequency skin tightening machines have been gaining quite the popularity for a while now. Earlier they were expensive, and customers couldn't get their hands on high quality clinical grade devices that professionals use. But now you can find some of the best radio frequency skin tightening machines for treatments at home.
To help you out in picking the best, here are a few features to consider before choosing a radio-frequency skin tightening machine.
How To Choose The Best Radio Frequency Skin Tightening Machines
Type Of Machine: There are two types of radio frequency skin tightening machines: bipolar and monopolar. Bipolar machines use two electrodes whereas monopolar machines use one electrode to give out the radio-frequency energy. Whatever type you choose, make sure that the machine has FDA clearance, and is made for home use.
Extra Features: Consider additional features of your device, for instance check the heating and cooling features, as well as the intensity levels. Some machines also come with various attachments to cater to all-round needs like facial toning, blemish reduction, and improved collagen production, as well as build-on time so you don't overdo the treatment.
Treatment Settings: Choosing a device with multiple settings gives you the ability to customize your treatment according to your needs. Choose machines based on the area of treatment you need, as some are only meant for your neck and face, whereas  many others have multiple settings and nodes that can be used on the different parts of your body.
Budget: The price of a device is also an important factor to consider. There are many high-end as well as budget-friendly products in the market. It is best you invest in a good brand that has a good review and gives you proper warranty. Some brands also provide study results and have higher safety features.
Pick The Right Gel: Without the right gliding gel, your RF devices will not work. Choose an RF device which comes with a medical grade conductive gel, that enhances the efficacy of the Radio frequency energy by acting as a melding agent between your skin and the device. It also prevents skin irritation and reduces friction.
Portability: If you are someone who travels a lot, and wants to carry your machine along with you on a vacation, then portability is an important factor to look for. Go for smaller, rechargeable, and easy-to-use RF devices, which can be carried anywhere.
This was our list of top 10 RF machines. Now, before picking any RF machine, there are certain things that you need to keep in mind. This will help you to choose the best product for your skin.
Why Trust Stylecraze?
The author of this article, Shiboli Chakraborti, is a certified skin care coach and has the expertise in reviewing skin care products and devices. She has curated this list of best radio frequency machines after conducting a throough research and evaluating all aspects of the devices. She checked the brand websites to understand the safety, ease-of-use, design, and benefits of the devices. She also checked user reviews to understand the efficay of the machines and then picked only the best ones for the list. These devices can effectively give a tightened look to your skin and make it appear youthful.
Frequently Asked Questions
Is RF skin tightening safe?
Yes, it is completely safe.
Do RF waves give permanent results?
They slow down the signs of aging. The results may be long-lasting but are not permanent.
Can I use RF everyday?
No. You should not use radio frequency daily as excess usage can severely damage your skin. It is recommended to use RF once every three to five weeks depending on your personal concerns like age and the aesthetic you are going for.
What should I do before using a radio frequency skin tightening device?
An hour before using a radio frequency skin tightening device, you should avoid fatty food and try to eat healthy. It is also recommended to avoid caffeine and alcohol before the treatment. Avoid laser treatments at least two weeks before the RF treatment. You should also avoid excessive sun exposure before the treatment.
What are the do's and don'ts after using an RF machine?
After using an RF machine, wash the area with lukewarm water and a gentle cleanser for two days. Avoid applying heavy skin care products on the area treated with RF. Also, avoid using makeup products on the area for two to three days. Make sure you are not exposed to direct sunlight after the procedure.
How long does RF skin tightening effects last?
After the RF treatment, your skin will keep getting tighter and firmer for up to six months.You can also expect the results to stay for more than a year with proper maintenance.
Recommended Articles: