8 Best High-Frequency Facial Massagers For Flawless Skin – 2021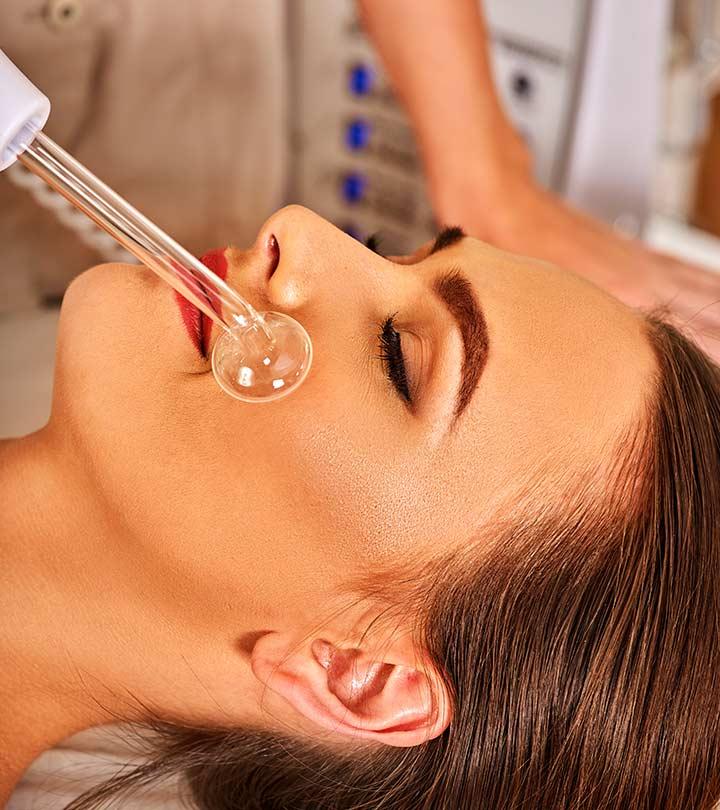 Imagine getting medical-grade skin treatment right at home. You will have great skin all the time. Fine lines, wrinkles, dark circles, loose skin, and pigmentation can be kept at bay. It sounds like a dream, right? No! If you have been trying to improve the appearance of your skin but failed at it, a high-frequency facial machine may be the solution. In this article, we have listed the 8 best high-frequency facial machines available on the market right now. Take a look.
Before we get to the list, let's understand what high-frequency facial machines are and how they can help you get flawless skin.
What Is A High-Frequency Facial Machine?
It is an electrical tool used for skin treatment and cosmetic purposes. Usually, this machine treats stubborn skin conditions like acne, pimples, hyperpigmentation, and dark spots. It helps fight the signs of aging, like wrinkles, fine lines, and sagging skin. The high frequency machine converts it into energy that heats the electrode. Each electrode has argon gas, and when this tube is rubbed across the skin, the cells get activated, resulting in the elimination of dead skin cells.
Here's how your skin will transform after using a high-frequency facial machine.
Here are the top 8 high-frequency facial machines you can buy.
Top 8 High-Frequency Machines To Buy In 2021
Signstek High Frequency Skin Therapy Machine has six neon and argon wands that treat acne and reduce fine lines and wrinkles. It strengthens cell metabolism and improves collagen production for a youthful appearance. It has three argon-powered applicators that enhance the absorption of creams. It also comes with six high-frequency electrodes in various shapes for different face and body areas. This portable skin therapy machine improves blood circulation, tightens the skin, making it firm and healthy.
Pros
Has six frequency electrodes
Portable
Easy to use
Cons
Similar Products

This complete skincare system treats sagging skin, hair loss, dark spots, and wrinkles. It amplifies cell activity to reverse the aging process. This device rapidly treats acne scars by killing the bacteria beneath your skin. It provides a natural boost to cellular energy. With regular use, it improves the overall condition of your skin.
Pros
Pain-free treatment
Boosts skin circulation
Increases cell production
Reduces inflammation
Cons
Similar Products

This high-frequency machine promotes better absorption of skincare products, reduces inflammation, accelerates wound healing, and reduces wrinkle acne. It also reduces age spots, skin sagging by tightening the skin, which improves the skin texture, making it look youthful. It comes with four electrodes, ideal for treating the face and scalp.
Pros
Comes with four electrodes
Ideal to treat different areas of the face and scalp
Easy to use
Portable
Cons
None
Similar Products

This device works with a high-frequency current of 200,000 cycles per second. It allows you to perform both direct and indirect facial applications. The device has seven glass electrodes in different shapes and sizes. It increases blood circulation and provides heat to remove the dirt from the pores. With regular use, this device claims to refine your skin and improve the tone.
Pros
Heals your skin
Increases sebum flow
Clears dark points and acne scars
Cons
Similar Products

The Avorla High Frequency Skin Tightening Machine uses Bi-polar High-Frequency Technology that gently heats the skin's deep layers to stimulate collagen and elastin production and provide younger-looking skin. It is equipped with two types of probes that treat targeted body parts and facial areas. You can set the duration and power level control according to your convenience. This device helps reduce wrinkles, dull skin, and thick pores while tightening the skin.
Pros
Easy to use
Shows long-lasting results
Clinically proven
3 frequency levels
2 probe types
1-year warranty
Cons
This high-frequency electrotherapy instrument uses ultraviolet light and vibration to treat your skin. It promotes blood circulation and reduces inflammation. It can also be used on your hair to eliminate dandruff. You can use the comb electrode to treat flakiness and sore hair follicles. It firms your skin and slows down the aging process.
Pros
Increases skin's pH levels
Eliminates pigmentation
Brightens your skin tone
Heals wounds
Cons
This device has seven argon electrodes that deliver tissue-producing ozone to kill bacteria. It stimulates cell production and enhances cellular metabolism to treat all kinds of skin issues. It helps tighten saggy skin and eliminates fine lines, revealing much younger and healthy-looking skin.
Pros
Includes 7 types of electrodes
Can be used for the face, body, and hair
Heals dark spots and acne scars
Improves skin texture
Cons
This device has multiple features for different kinds of skin issues. The vacuum extractor is for removing impurities from your skin, and the spray mist is for hydrating it. The argon gas electrode is for toning your skin, while the galvanic is for deep skin cleansing. The device activates your facial cells and oxygenates the skin to make it clear, radiant, and healthy. It is an excellent device for removing pimples and blemishes.
Pros
Relaxes your skin
Lifts your skin tone
Clears dead cells
Reduces redness and inflammation
Cons
Expensive
Availability issues
With these high-end facial machines, you can get great skin whenever and wherever you want. Pick your favorite kit from the list, try it out and let us know about your experience by commenting below.
Frequently Asked Questions
Is it safe to use this device at home?
Yes. But, do not deviate from the instructions as the electrodes have their own order, which needs to be followed.
How frequently can I use it?
The kit usually comes with instructions about the use and timings. But if you need confirmation, you can consult a dermatologist before using it.
Does it matter what kind of machine I use?
No, as most machines come with a similar number of electrodes and colors. But, there are some machines with advanced settings, which are meant for salon or dermatologist treatments.
Recommended Articles