7 Best High-Frequency Facial Machines For Flawless Skin – 2023
Get flawless and younger-looking skin with these high-frequency skincare tools at hand.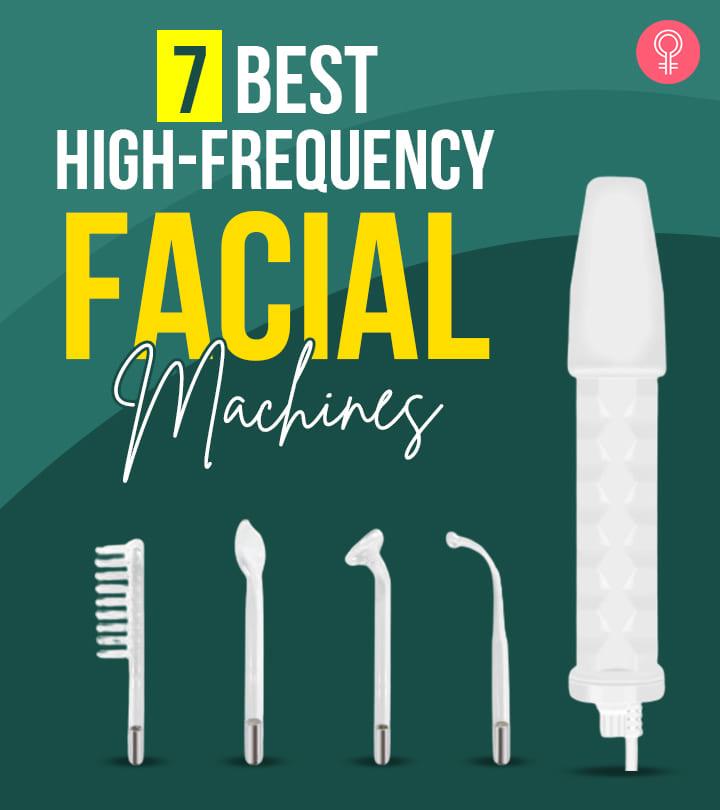 To reduce wrinkles and fine lines, remove dark circles under your eyes, lessen enlarged pores and avoid acne, you should get yourself the best high-frequency facial machine. "High-frequency facial machines can increase circulation, decrease inflammation, heat the sebaceous unit, and help to kill bacteria that contribute to acne," says an NYC-based dermatologist, Dr. Hadley King. He explains how they work and their anti-aging benefits as well. "The thermal energy increases circulation, stimulating collagen production. An electrode with argon gas (violet) is used for treating acne, while an electrode with neon gas is used for anti-aging. However, there aren't enough studies to assess this," Dr. King states. Check out our list of the top 7 high-frequency machines for a flawless look.
7 Best At-Home High Frequency Facial Wands With A Complete Guide – 2023
This portable high frequency facial machine by Tumakou has four tubes. The mushroom tube targets wrinkles and helps with fine line reduction on the broader areas of your face like the cheeks, forehead, and jawline. The tongue tube is for spot treatment and pimples, the comb tube promotes blood circulation and reduces dryness, and the bent tube minimizes dark circles and calms the sensitive areas of your face. In addition,the best high frequency machine nourishes the hair follicles and improves the overall texture and appearance of the skin. To understand the nuances of this high-frequency facial toning machine from Tumakou, you can check this reviewer's experience out on YouTube.
Pros
 Portable
 Easy to use
 Multiple tubes
 Value for money
Cons
None
Price at the time of publication: $36.99
This complete skin care system minimizes sagging skin, hair loss, dark spots, and wrinkles. It uses four neon-powered applicators to amplify cell activity and slow down the aging process. The best high frequency facial wand for acne improves the appearance of acne scars by killing bacteria. It also boosts skin cell stimulation and regeneration to improve the overall skin appearance. Before purchasing, you can also take a look at this review to know more about this popular facial massager from NuDerma.
Pros
 Includes instruction manual
 Easy to use
 Comes with four attachments/probes
Cons
None
Price at the time of publication: $69.95
The NewWay High-Frequency Wand is the best high frequency facial wand and portable device that reduces wrinkles, tightens your skin, and minimizes the appearance of dark circles. It includes multifunctional tubes – a mushroom tube to reduce wrinkles and fine lines, a bent tube for spot treatment, a tongue tube for sensitive areas and to reduce dark circles, and a comb tube to stimulate blood circulation. The device also gives visible results with acne scar reduction and reduces age spots, neck wrinkles, sagging skin, and signs of aging.
Pros
 Easy to use
 Includes multifunctional tubes
Cons
None

Price at the time of publication: $42.99
The TriPollar STOP X skin-lifting device feels gentle and comfortable on your skin and gives visible results from the first use. This RF device comes with a smoothing gel and helps reduce dullness, puffiness, improve fine lines, and wrinkles. It also features a temperature sensor that turns orange when the device reaches the optimal temperature. The electrodes in the device have a temperature range over 100°F to ensure even coverage. For best results, use this skin-firming device twice or thrice a week for 6-8 weeks and then follow up with maintenance treatment once every 2-4 weeks. Check out this reviewer's video on YouTube if you require more details about this facial massager!
Pros
 FDA-approved
 Clinically tested
 Includes temperature sensor
Cons
None
Price at the time of publication: $419.97
The Karloz 5 in 1 Multifunctional Facial Massager addresses multiple skin concerns like blemishes, aging signs, and dark spots. This device has five versatile modes – the clean mode (green light) reduces hyperpigmentation, improves skin tone, and stimulates blood circulation; the lift mode (yellow light)s stimulates lymphatic drainage and restores skin flexibility; the lead in mode (pink light) improves skin clarity; the anti-aging mode (red light) promotes collagen production and tightens sagging skin, and the remove acne mode (blue light) stimulates blood circulation and refines the skin pores. Each mode has a specific usage time (not more than 10 minutes).
Pros
 Five functional modes
 LED display/indicators
 Easy to use
 Rechargeable
Cons
None
Price at the time of publication: $59.99
This device has seven argon electrodes that oxygenate tissue-producing ozone to kill bacteria. It stimulates cell production and enhances cellular metabolism to address all kinds of skin issues. This high-frequency facial wand can tighten saggy skin and eliminate fine lines, revealing younger and healthy-looking skin.
Pros
 Includes seven electrodes
 Easy to use
Cons
None
Price at the time of publication: $117.9
This high-frequency facial device by Meifuly comes with seven different wands. The straight tube stimulates acupuncture points on the forehead, and the roller tube is for the whole body. The spoon tube is for the cheeks, and the spot tube is for the hard-to-reach areas like ears and nose. The set also includes a Y-shaped tube for the arms, neck, and knees, a mushroom tube for the cheeks and jaw, and a comb tube for the scalp and hair. Try this kit for 10 minutes thrice a week and get visible results.
Pros
 Easy to use
 Includes seven wands
 Value for money
Cons
None
Price at the time of publication: $45.99
Keep reading to understand the concept of high frequency facial machines, how they might help you, and check out the 7 best high frequency facial machines.
What Is A High-Frequency Facial Machine?
A high-frequency facial machine is an electrical tool used for treating common skin problems like acne, fine line and wrinkles, sagging skin, dark circles, and eye puffiness in a non-invasive way," explains Dr. Anna Chacon, a board-certified dermatologist.The high-frequency machine converts mild electrical current into energy that heats the electrodes. Each electrode has argon gas, and when this tube is rubbed on the skin, the cells get activated, resulting in the elimination of dead skin cells.
If you are wondering how a high frequency facial machine works, have a look at the next section.
How Does It Work?
Dr. Hadley King opines, "The idea is that these devices use an electrode to deliver targeted thermal energy to the skin." These machines come with high-frequency neon or argon-filled glass electrodes. While using the machine on the skin surface, a mild electrical current passes through the electrodes and emits a subtle glow and buzzing noise. The electrodes produce either a neon red/orange or violet/blue light, and these lights are meant to treat different skin conditions.
The high-frequency current on the skin also possesses healing properties to treat acne, skin lesions, sagging skin, and puffy eyes and may be effectively used over the entire body. High-frequency facials are considered a safe, gentle, and therapeutic approach to rejuvenate, restore, and heal your skin.
If you are looking forward to buying one for yourself, read the next section to learn about the factors to consider before buying a high-frequency facial machine.
Guide To Buy The Best High Frequency Facial Machine
A good high-frequency facial device should offer multiple benefits. For example, it should perform disinfection, promote skin recovery, reduce wrinkles, and promote blood circulation. Hence, look for a device that comes with different variations of electrodes and offers multiple benefits.
Portability is another factor that you should keep in mind. A portable version of a high-frequency machine is cost-effective and saves your time. You don't have to rush to the beauty salon repeatedly to get the treatment.
 Safety, Quality, And Ease Of Use
Check the safety of the device before buying one. Go for one that runs on low wattage to ensure safety and efficiency. Devices that run on high wattage are prone to internal damage and may not last long due to overheating. Also, ensure the device is easy to operate and comes with an instruction manual.
High-frequency machines are extremely gentle, safe, and are non-intrusive tools to address common skin concerns and ensure it is endorsed by medical professionals In the next section, we have listed some benefits of these machines.
Benefits Of A High Frequency Facial Machine
Though there are no studies to prove the efficacy of a high-frequency facial machine against acne, people found it beneficial for their condition. The device offers deep cleansing of the skin of acne-causing bacteria while making it more receptive to acne lotions, creams, and other skin treatment products.
 May Improve Enlarged Pores And Blackheads
The regular use of high-frequency facial machines offer pore refinement and can effectively improve the appearance of enlarged pores, soften the skin, control excess sebum production, and eliminate blackheads. The gentle spray of oxygen molecules produced by the high-frequency current clears dirt and grime from the pores.
A high-frequency facial machine can stimulate blood circulation that nourishes the skin's surface and renews the underlying cells. As a result, it provides your skin with a firm, youthful, and vibrant glow. It can also diminish the appearance of fine lines and support wrinkle reduction, tighten double chin and jowls, and improve the overall skin texture and tone.
 May Reduce Under-Eye Puffiness
The pulsating "oxygenation" action produced by high-frequency current promotes lymphatic drainage to help reduce swelling and facial puffiness. The mild currents also help the skin absorb skin care products more efficiently, thereby extending their effectiveness.
 May Reduce The Appearance Of Cellulite
With regular use, a high-frequency facial machine may offer visible results in the appearance of cellulite. However, you have to use it in conjunction with quality cellulite-reducing products and follow an active lifestyle. For years, the skin care industry has relied on this high-frequency oxygen molecule to aid in lymphatic drainage, gently exfoliate the skin, increase blood circulation, assist in the production of collagen and elastin, and promote healthy cell metabolism. The result is smooth, firm, and more refined skin.
 May Promote Healthy Hair Growth
The high-frequency current gently exfoliates the scalp, promotes local blood circulation, stimulates local glandular activity, and supplies heat to the area. This may improve the scalp's receptiveness to products and topical medication, keep it healthy, and promote stronger and healthy hair growth.
The high frequency creates a circulation enhancement rush in the target area and helps the under-eye cream penetrate deeper into the skin tissues. This action may help fade dark, under-eye circles to make your eyes look fresher and brighter.
High-frequency facial machines use lights at different wavelengths and microcurrents to address different skin issues. The devices also provide a natural lift to your skin and make it appear youthful. If you are looking for a portable device with multifunctional probes and better temperature control for cosmetic purposes, try the NewWay High Frequency Wand and the TriPollar Stop X. Both the devices are user-friendly. However, if you struggle with stubborn skin conditions like dark spots and blemishes, the Karloz 5 in 1 Multifunctional Facial Massager will be the best pick.
Why Trust StyleCraze?
The author of this article, Oyendrila Kanjilal, is a certified skin care coach. She consulted a top dermatologist to understand the benefits of using high-frequency facial massagers. Additionally, she conducted hours of research and went through thousands of reviews to pick the best devices for the readers.
Frequently Asked Questions
Does a high-frequency facial machine kill bacteria?
There is no scientific proof for the claim. However, it helps clear dirt and debris from the skin and may help maintain the skin's natural microbiome.
Does a high-frequency facial machine work for acne?
There are no studies to prove its efficacy against acne. However, anecdotal evidence suggests it may help calm inflammation and redness caused by acne.
Are high-frequency facial machines safe?
Yes. High-frequency facial machines are tested, safe, and effective in improving the skin's health. They are gentle, non-invasive treatments and tools that treat skin concerns and enhance its texture.
How often should you use high-frequency machines on your face?
Treat your skin with high-frequency machines daily to better maintain the skin's health. However, do not use the facial wand for more than 15-20 minutes on your face.
Is argon or neon gas better for high frequency?
Both gasses serve different purposes. If you are looking for a remedy for your aging signs, neon gas is recommended. Whereas, if you are looking to reduce your acne concerns, argon gas is better for high frequency.
How long does it take to see results from a high-frequency facial?
Usually, high-frequency facial starts to show its results between 12 to 24 hours of getting the therapeutic treatment. But, they have short-lasting results. But daily usage will reap more long-term benefits.
Recommended Articles