16 Best Acne Spot Treatments For Flawless Skin – 2023
Natural, gentle, and clinically-tested formulations that clear up your acne effectively. Zits popping up the night before an important event is a common horror story we have all experienced. Add some of the best acne spot treatments in your skin care kit, and do not let those pesky bumps take away your confidence. Acne spots are hard to get rid of and even harder when you try to eliminate them by squeezing or popping. Tears do not help either! Acne can be caused by clogged pores and various other factors that you cannot handle. Faulty diet, makeup residue, dirt, grime, excess oil, genetics, and even hormonal imbalance might aggravate the condition. Also, acne can occur as pimples and blackheads and leave dark spots on your skin.
However, pimples can be of two kinds. Pustules, as the name suggests, are bumps filled with pus. On the other hand, papules are red inflamed pimples. The acne spot correctors are highly effective on the first kind, but that cannot be said for the papules. The market is flooded with endless options for spot-corrector treatments. Therefore, getting your hands on the right and most suitable product may become an overwhelming task. That is why we have curated a list of the 15 products that have proven effective in spot-correcting. Swipe up to grab them today!
15 Best Acne Spot Treatments Of 2023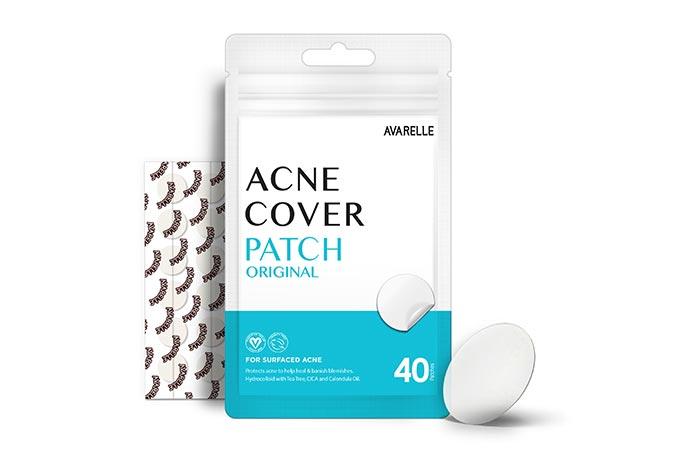 Do you feel helpless because of obstinate acne scars? Do try one of the best vegan acne spot treatments in the market that covers your blemishes invisibly. Made with cica, tea tree, calendula oil, and hydrocolloid technology, it blends seamlessly with your skin and shrinks zits overnight, even sucking out the pus it may have. These acne patches provide invisible coverage and thus can be worn outdoors as well. They are suitable for every skin, even sensitive skin, and every skin tone and do their job speedily without anyone being the wiser. This product comes in a pack of 40 with 3 different sized patches. It has an easy peel design that makes it all the more convenient so do try it out. Moreover, this product has not been tested on animals, so you can pick this one with your eyes closed.

Pros
Vegan
Natural ingredients
Cruelty-free
Drug-free
Cons
May not stick well on very oily skin
Have you ever noticed how pimples and acne seem to appear just before an important event, leaving you in complete panic? This hydrocolloid patch called Mighty Patch fights acne and promises to extract impurities, camouflage blemishes, and heal your skin. It's made with the highest quality hydrocolloid, which is a fluid absorbing gel, and draws out pus from your pimples. It reduces blemish size, speeds up the healing process, and protects your skin. This skin-purifying patch comes with a translucent matte finish and blends seamlessly into your skin making it almost invisible. These hydrocolloid patches are UV sterilized, non-toxic, and totally safe for your skin. Each box comes with 36 or 72 medium-sized patches and gives visible results in 6-8 hours. So, resist the urge to pop those pimples and try one of these patches to get a flawless, even skin tone.
Pros
Vegan
Cruelty-free
Drug-free
Non-drying
Propylene glycol-free
Paraffin-free
Alcohol-free
Paraben-free
Formaldehyde-free
Allergy tested
Cons
Does not work on blackheads
The Obagi Medical CLENZIderm M.D. Pore Therapy Acne Treatment is designed with 2% salicylic acid that unclogs the pores on your skin and removes any germs, dead skin cells, and sebum that can otherwise cause breakouts. This gentle pore-refining lotion is formulated to suit all skin types, especially oily and acne-prone skin. It even combats any future acne-causing factors and leaves your skin feeling refreshed.
Pros
Can be used daily
Refreshing formula
Suits all skin types
Gentle on skin
Dermatologically tested
Easy to use
Cons
None

Differin gel contains an acne-fighting retinoid called adapalene that plays a crucial role in the treatment of acne as it regulates skin cell turnover and reduces inflammation deep in the skin. What makes the retinoid, adapalene, so good is that it's gentler on your skin while still being very effective. Differin Gel renews skin resulting in clearer, smoother skin over a period of time and restores the skin's tone and texture. This acne spot treatment, not only clears but prevents blackheads, pimples, and whiteheads and effectively targets 2  primary causes of acne, which are inflammation and clogged pores. One of the best overnight acne treatments available, it helps reduce the risk of scarring and pigmentation and also supports skin renewal. In a clinical study, Differin gel showed up to 87% reduction in acne lesions in just 12 weeks.
Pros
Water-based formula
Oil-free
Alcohol-free
Fragrance-free
Non-comedogenic
Dermatologist-approved
Cons
May not be suitable for very sensitive skin
Aren't we all waiting for an acne treatment that works? This acne spot treatment lotion targets the blemishes on your skin while you sleep. It helps to draw out impurities and reduces the appearance of acne scars. This fast-acting formula contains thyme and salicylic acid, which exfoliates dead skin cells and prevents the pores from getting clogged as well as sulfur, which cleanses pores and absorbs excess oil, thus improving your skin texture. Calamine provides a cooling sensation and a soothing effect, while zinc oxide helps to dry up blemishes overnight. This simple, gentle, and effective skin care is suitable for all skin types and maybe the answer to all your acne problems, making it one of the best salicylic acid acne treatments.
Pros
Vegan
Cruelty-free
Phthalate-free
Paraben-free
Gluten-free
Sulfate-free
Cons
May not be suitable for very sensitive skin
This gel ranks among the best acne treatment gels and contains benzoyl peroxide, which is clinically verified as an acne medicine that reduces the size and redness of acne breakouts in just 2 hours. The effective gel formula not only treats pimples but also helps prevent breakouts in the future. It promises continuous improvement in skin texture and appearance and is the acne medication recommended the most by dermatologists, making it one of the best over-the-counter acne spot treatments for clearer skin. It is specially formulated for acne-prone skin to help manage acne scars and acne breakouts. You should cleanse your skin thoroughly before applying the gel, which you can apply 1 to 3 times daily.
Pros
Dermatologist-recommended
Suitable for acne-prone skin
Effective within 2 hours
Soothes skin
Clinically-proven
Cons
This salicylic acid acne spot treatment shows amazing results in just a day and even though it's oil-free, it doesn't over-dry your skin. This treatment dissolves oil and allows maximum acne medication to enter into your pores. It reduces swelling, redness, and pimple size in just 4 hours. Amazing, isn't it! It also contains witch hazel, a natural ingredient known as soothing the skin. This acne spot treatment removes dead skin cells which clog your pores and cause oil and bacteria to build up, causing acne. So, stop popping those pimples and try out this product.
Pros
Oil-free
No toxic chemicals
Contains salicylic acid and witch hazel
Suitable for all skin types
Cons
Have you been looking for a product that is stronger than your pimples? This top acne spot treatment has 10% benzoyl peroxide as well as ginger, chamomile, and calendula oil. Benzoyl peroxide delivers medication to affected areas, and can be used to relieve all types of breakouts. Ginger contains anti-inflammatory properties and reduces the redness and inflammation caused by pimples. The Terminator 10 formula is also infused with calendula oil and chamomile that helps soothe and calm the skin. It has a lightweight formula and does not leave a white residue while removing stubborn pimples, blackheads, and acne and prevents them from recurring.
Pros
Lightweight
Natural ingredients
No toxic chemicals
Dermatologist-recommended
Cons
Some may feel a slight burn if the product is left on for too long.
This top acne spot treatment is the most effective treatment for severe and cystic acne and is packed with natural ingredients like bentonite clay, tea tree water, witch hazel, peppermint water, spearmint water, spearmint essential oil, eucalyptus oil, pink grapefruit essential oil, lemon essential oil, tea tree essential oil, and aloe vera that calm the skin while eliminating acne. The skin-clarifying formula aids in removing toxins, unclogging pores, removing dead skin cells, reducing inflammation, and nourishing troubled areas. Suitable for all skin types. It is a good acne spot treatment that is gentle on the skin and frees it from pollutants, acne marks, large pores, helps balance oil production, and aids in reducing breakouts. Moreover, the product has not been tested on animals.
Pros
Organic
Hand crafted
Cruelty-free
Vegan
No GMOs
Paraben-free
Palm oil-free
Cons
May not work on hormonal acne
This 24-hour acne serum quickly dries pimples, prevents further breakouts, and is effective for both your body and face. It's one of the most effective treatments for severe and cystic acne and diminishes acne scarring, is effective as a spot treatment, controls excess sebum production, and prevents acne, and breakouts. It's highly recommended by dermatologists to treat blackheads, whiteheads, cystic acne, and hormonal breakouts within 24 hours. This benzoyl peroxide acne spot treatment unclogs pores without over-drying your skin and contains the purest form of glycolic acid and benzoyl peroxide to effectively reduce breakouts and scarring. The potent formula also has brightening effects that aid in boosting natural radiance. As a bonus, you can rest easy opting for this product as it has not undergone testing on animals.
Pros
Paraben-free
Sulfate-free
Fragrance-free
Gluten-free
Cruelty-free
Alcohol-free
Hormone-free
Formaldehyde-free
Radiance-enhancing formula
Dermatologist-recommended
Cons
May not be suitable for very sensitive skin
This 99.4% natural acne spot treatment cream contains acne-fighting salicylic acid derived from willow bark, which penetrates and opens clogged pores, reduces acne, and helps prevent further breakouts. It also contains beeswax, glycerin, jojoba seed oil, hops extract, honeysuckle flower extract, and soybean oil to name a few, which reduce and improve blemishes naturally. This dermatologically-tested cream has clinically shown to reduce and improve the appearance of blemishes without irritating the skin. Give your oily skin the best that nature has to offer with this natural, soothing cream that treats your acne problems.
Pros
Natural ingredients
Spot-minimizing formula
No animal testing
Paraben-free
Phthalate-free
Petroleum-free
Responsible sourcing
Recyclable packaging
Cons
This fast-acting acne treatment medication with microcrystal benzoyl peroxide offers emergency blemish relief from those unexpected and uninvited blemishes. This invisible spot treatment also contains allantoin that moisturizes and softens the skin. It penetrates deep into your pores to stop acne-causing bacteria and prevents new breakouts. The Proactiv acne spot treatment is safe for all skin types, and is specially designed to unclog pores and absorb excess oil from oily skin. Try this for clear skin to not only look great but to regain that confidence that reveals your true self.
Pros
Fast acting
No toxic chemicals
Dermatologist-recommended
Suitable for all skin types
Dermatologist-tested
Cons
May cause dryness in rare cases
The ACURE Incredibly Clear Acne Spot is a skincare product designed to target and treat acne. It is a spot treatment containing salicylic acid, an ingredient commonly used to clear up acne. This mild formula is non-irritating to the skin as it's infused with tea tree oil, which has anti-inflammatory and antibacterial properties that can help reduce redness and prevent further breakouts. Additionally, it contains willow bark extract which is a natural form of salicylic acid and helps unclog pores, reduce inflammation, and prevent future breakouts.
This product is intended to be applied directly to individual pimples or areas of breakout as needed and it is suitable for all skin types. In addition to the active ingredients, it also contains other natural ingredients such as chamomile, calendula, and aloe vera which help soothe and calm the skin. The product is free of parabens, sulfates, mineral oil, petrolatum, and silicone, and has not undergone testing on animals.
Pros
Organic ingredients
Prevents breakouts
Non-comedogenic
Reduces inflammation
Cruelty-free
Vegan
Easy to use
Paraben-free
Sulfate-free
Mineral oil-free
Petrolatum-free
Silicone-free
Suitable for all skin types
Cons
None

This fast acne spot treatment helps to clear blemishes and significantly reduces inflammation. Zinc oxide absorbs the excess sebum while this sulfur-based acne treatment quickly calms breakouts and helps prevent future breakouts. BHAs have shown proven efficacy in reducing the appearance of enlarged pores. In a clinical study, 94% of users showed remarkable improvement in blemishes within 2 days. It can be used to spot treat existing pimples or those that haven't yet surfaced. The clinically proven results show that this product can dry out existing acne, unclog congested pores, reduce redness, prevent future breakouts, absorb excess sebum, and minimize the appearance of pores. What more do you want?
Pros
Cruelty-free
No toxic chemicals
Dermatologist-created
Suitable for all skin types
Clinically-proven
Cons
May not be suitable for hormonal acne
Murad rapid relief acne spot treatment contains salicylic acid, which exfoliates your skin to clear pores, smoothens your skin, and reduces blemish size. Other ingredients are witch hazel, glycerin, horse chestnut seed extract, oat kernel extract, yeast amino acids, and shea butter, to name a few help repair the skin intensively. It promises to reduce blemish size and redness within 4 hours. Its patented pine and thyme inspired complex fights inflammation while balancing the oil and moisture of the skin. This doctor-developed product is very effective in treating acne, reducing inflammation, removing blemishes, and prevents further breakouts.
Pros
Paraben-free
Sulfate-free
Phthalate-free
Gluten-free
Cruelty-free
Formaldehyde-free
Mineral oil-free
Petroleum-free
Oxybenzone-free
Clinically-tested
Cons
This acne medication contains benzoyl peroxide, glycerin, and micro-exfoliating LHA or Lipo-Hydroxy Acid that targets the bacteria in acne. It not only reduces the number and severity of acne blemishes but also clears blackheads and whiteheads. This dual action treatment has shown to reduce acne by 60% in just 10 days and has been dermatologist-tested on sensitive skin. It can be used as an all-over treatment or a spot treatment. Its non-drying, oil-free, and fast-absorbing texture works wonders in treating the acne on your skin and also helps promote an even skin tone. You'll see visible results within 3 days of use, so don't let acne bring you down–try this product and face the world with blemish-free skin.
Pros
Oil-free
Non-comedogenic
Dermatologist-tested
Allergy-tested
Fragrance-free
Cons
May not be suitable for very sensitive skin.
*The prices provided in this article are based on the latest available information. However, they may vary due to changes in pricing by the seller and/or promotional offers.
When you're trying to fight acne scars, it is essential to get your hands on the best acne treatment that has shown proven efficacy and suits your skin requirements. It's important to keep a few things in mind so that you can make an informed choice.
How To Choose And Use Acne Spot Treatment
The best acne spot treatment product for you depends on many factors like your skin type, the severity of your acne, and your personal preferences. Here are some general guidelines which will help you to choose and use acne products.
Benzoyl peroxide: If you're not sure about which acne product to buy, start with the one that contains benzoyl peroxide as it's the safest bet. It kills bacteria causing acne, removes excess oil from the skin, and removes dead skin cells, which can clog the pores of your skin.
Salicylic acid: This ingredient helps prevent pores from getting clogged.
Alpha hydroxy acids: The 2 types of alpha hydroxy acids that are used in the best drugstore acne spot treatment products are glycolic acid and lactic acid. They remove dead skin cells and reduce inflammation of the skin. They also stimulate the growth of new, smoother skin and improve the appearance of acne scars.
Sulfur: Sulfur-based acne treatment helps in removing dead skin cells that clog pores and also supports effective oil control.
Start with lower strength acne products
If needed, increase the strength of the product you use and how often you use it, very gradually as it helps your skin to adjust to the treatment.
Use products with different active ingredients
As clinically verified acne ingredients work in different ways, it is helpful to use varying products and ingredients to treat stubborn acne. Applying one product in the morning and a different one at night can prevent skin irritation.
Treating acne with acne products takes patience and time. It may take up to 2 to 3 months of daily use of an acne product to see results. And sometimes acne may look worse before it gets better.
Experiment with what works
You may need to try different products with varying active ingredients before you find what suits your requirements. You may try performing a patch test to avoid any potential allergic reactions.
Uses Of Acne Spot Treatment
Wash problem areas twice daily with a gentle, non-abrasive cleanser.
Consider pore-clearing adhesive pads as they remove dirt, and oil and unclog the pores. But, don't use them more than once every 3 days.
Don't use too much. Apply just enough acne product to cover the problem areas and apply it only after cleansing the skin.
Use an oil-free, water-based moisturizer. This helps to prevent your skin from drying or peeling.
Avoid oily cosmetics, sunscreens, and hair products. Try to use products that are labeled water-based or non-comedogenic.
Don't pick or squeeze blemishes as it can cause infections or scarring.
Watch what touches your face. Keep your hair clean and make sure it stays off your face. Also, avoid resting your phone or hand against the side of your face.
Always follow directions on the product package.
Before using a product for the first time, check if you are allergic to it by conducting a patch test.
If you are using a cream, gel, solution, or lotion, apply a thin film of the medication to the affected areas once or twice a day and rub it in gently.
When using a product containing salicylic acid, wet the affected area and gently rub the cleanser into the skin for 10 to 20 seconds.
Dosage is based on your skin's condition and response to treatment. Do not use large amounts or apply this drug more often in the hope of quicker results. It won't help and the chance of side effects may increase.
If your condition persists or worsens, seek immediate medical help.
Why Trust StyleCraze?
Medha Deb, the author of this article, is a skincare enthusiast and likes to assist her readers in finding suitable products with ease. To this end, she went on a hunt for the best acne spot treatments and made a list of them with the help of thorough research. These listed products will take care of your skin woes and give you flawless skin by eliminating the acne spots.
Frequently Asked Questions
Does spot treatment for acne work?
Spot treatments help to reduce redness, swelling, and pain. They can also help to unclog the pores that are the cause of the acne to start with. Spot treatments only work for minor papules and pustules.
Should you rub in acne spot treatment?
If it's a spot treatment, you should dab it on with an applicator until it covers the blemish and wipes away the excess, If you are using foam, cream, gel, or lotion, apply it to the affected area as directed, usually once or twice a day. Apply a small amount of the product to the affected area and rub it gently.
Is acne spot treatment safe for pregnancy?
Azelaic acid is considered to be safe during pregnancy, according to the AAD. Generally, skin treatments containing clindamycin and erythromycin are considered to be safe. The safety of using benzoyl peroxide to treat acne during pregnancy hasn't been established.
Do spot treatments make acne worse?
Your skin may get worse initially, but it will get better! Spot treatments won't clear up your skin completely as they only work on individual pimples that have already formed and are visible.
How long should you leave acne spot treatment on?
At first, you should wash the preparation off after a few hours, but gradually try to increase the length of time on the skin. Creams and gels should be ideally applied about 15 minutes or so after washing the area with soap and water and gently drying with a towel.
How to get rid of pimples overnight?
Use products with salicylic acid as it prevents pores from getting clogged. Add spot treatment to your regular skin care routine. Try tea tree oil as it immediately reduces inflammation. You can also try a detoxifying mud mask or use a hydrocolloid patch. Aloe vera also works very well if there's inflammation. To strengthen your skin barrier and prevent further breakouts, use hydrating products. Do see a dermatologist if a pimple persists.
Recommended Articles