15 Best Acne Spot Treatments Of 2020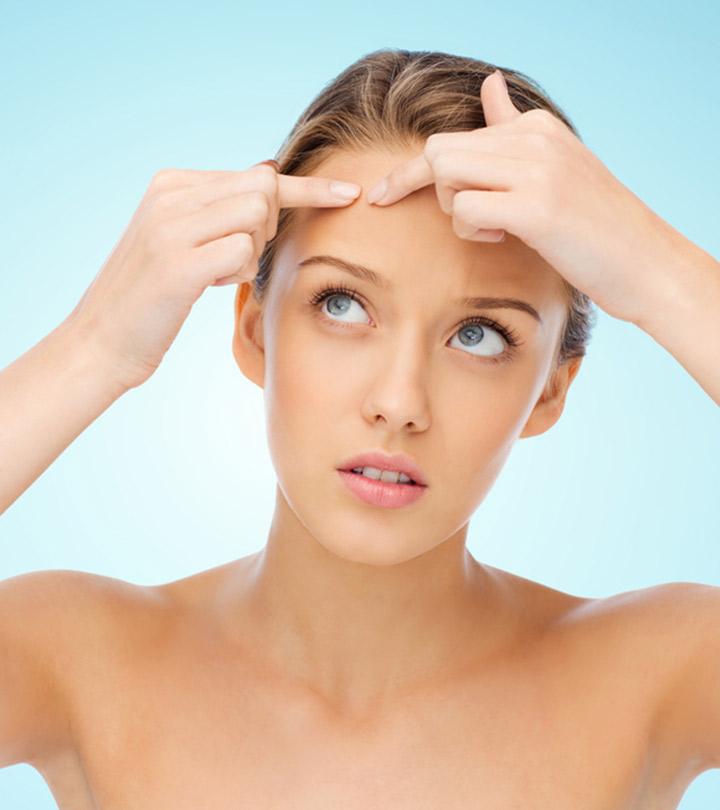 We may survive wars, but tell a person to go to work or even step out with that monstrous zit for a day, and it's like the world has come crashing down. The mental breakdown is real, but thanks to science and genius minds out there, these breakouts are not that panic-ensuing anymore.
The solution is – acne spot treatments that have made life easier, zits bearable, and is making acne vanish forever! If your acne troubles are nowhere nearing disappearing, then we've collated a list of the 15 best acne spot treatments of 2020 that not just we, even happy customers are rooting for!
So, without further ado, read on to know more.
15 Best Acne Spot Treatments Of 2020
A patch made in heaven, because the results are miraculous! It visibly reduces the stubborn and infuriating zits in 24 hours. Preventing you from picking or digging on it, these hydrocolloid-powered patches are small and thick but super effective in reducing acne and absorbing the pus. The best part is that they are almost transparent. A little bit of makeup on it, and you can step out with confidence!
Pros:
Guarantees results in 24 hours
Prevents picking and pulling
Removes dirt, pus, and other bacterial fluids
Clean and transparent patches
Cons:
Slightly thicker than other patches
Pesky pimples, gone overnight! Salicylic acid, sulfur, and zinc oxide in Mario Badescu Drying Lotion work while you sleep, drying the blemishes on the surface, and drawing out all the impurities. So, the next time you have a zit or whiteheads, we'd say sleep on it (after applying Mario Badescu Drying Lotion, of course!).
Pros:
Dries acne, pimples, and whiteheads
Strong and effective formula
Works overnight
Guarantees even-looking and clear skin
Cons:
May over-dry the skin
Some users experienced irritation, hence patch test recommended
It is strange how we let something as tiny as a zit control our mood for the day when using the right pimple patch can do the deed. Pimple patches from Mighty Patch are drug-free, have no drying formulas, are natural, skin-friendly, and the ideal way to conceal and heal pimples and acne spots. Its rapid healing formula works overnight and guarantees 50% better absorption due to its premium quality. All in all, it is a spot-on treatment that heals pimples and prevents picking too.
Pros:
Free from drug and drying ingredients
Natural, vegan, and skin-friendly
Guarantees 50% better absorption
Rapid healing formula
Strong adherence
Cons:
Not an overnight miracle
Not completely transparent
Move aside creams and patches, there's a new anti-acne therapy in town! With users going gaga over light therapy to zap those stubborn zits, here's a stick you can put your trust in. Neutrogena Light Therapy Acne Spot Treatment fights acne and minimizes breakouts without irritating your skin. Ideal for sensitive skin, it is easy-to-use, portable, and chemical-free. All you need to do is use it 2-3 minutes a day to ward those zits away.
Pros:
Chemically-tested for sensitive skin
Fights acne and minimizes breakouts
Easy-to-use and portable
Works without causing flakiness or irritation 
Cons:
Not suitable for severe acne problems
Not durable
No products found.
Oily skin customers, where y'all at? Here's an oil-free solution you'll definitely fangirl over. Control those breakouts and acne with Clean & Clear Advantage Acne Spot Treatment that dissolves oil, eliminates impurities, and soothes blemishes. Its intense and deep healing blend is made from witch hazel and salicylic acid that works against acne without over-drying the skin. Besides this, the brand has happy customers raving about clearer skin in just one day!
Pros:
Oil-free formula with witch hazel and salicylic acid
Guarantees clearer skin
No over-drying or irritation
Reduces size, redness, and swelling of pimples
Suitable for oily and combination skin
Cons:
It has fragrance
Not recommended for sensitive skin
How is it that on the most important day of our lives, we end up with a zit? This has become manageable with these incredible pimple patches from AUSLKA. These transparent, highly adhesive, and effective hydrocolloid patches absorb all the gunk, pus, and dirt within hours. Have an interview or a date? Fret not, a light make-up on these, and you can barely notice them. And while you enjoy your day, these will fight acne and breakouts to give you beautiful and clearer skin.
Pros:
Highly absorbent hydrocolloid patch
Provides full coverage
Waterproof and strong stick-on
Prevents itching, scarring, and blemishes 
Cons:
They are not completely transparent
Breakouts are not a happy sight. Treat it before they get worse by using Cosrx Acne Pimple Master Patch. Since pollution and germs in the air aggravate pimples, the best solution is to cover them. These concentrated patches act as a protective cover and remove impurities from the pores without over-drying. Ideal for those who work outdoors.
Pros:
Protects against pollution and viruses
Reduces swelling and redness
It does not over-dry
Make-up friendly 
Cons:
Not recommended for cysts
Does not work on smaller blemishes
[ Read – How To Use Cosrx Acne Pimple Master Patch ]
Have you had enough struggling with acne and pimples? Fight back with the Kate Somerville EradiKate Acne Treatment. It contains sulfur that works like magic against breakouts by eliminating impurities, exfoliating dead skin, and unclogging pores. Do not endure breakouts when this powerful lotion is out there, making all those annoying zits vanish. Along with zinc oxide that controls all the excess oil and BHA (Beta-Hydroxy Acids) that minimizes pores, it is a complete anti-acne package for you!
Pros:
Sulfur treatment
It unclogs pores, eliminates dirt, and exfoliates
Controls excess oil
Minimizes the appearance of large pores 
Cons:
The sulfur scent is overpowering
Overuse can cause drying
First things first, this is not a cream, it is a transparent gel. This means no stickiness! Guaranteeing fast relief, this super-strong formula with salicylic acid eliminates impurities and exfoliates the skin within 4 hours. The redness and swelling reduce while maintaining the natural skin barrier. Suitable for all skin types, it is free from all harsh chemicals like paraben, sulfates, phthalate, and gluten.
Pros:
Invisible gel with salicylic acid
Provides relief in up to 4 hours
Reduces rashes, redness, and swelling
Free from paraben, sulfates and all other harsh chemicals 
Cons:
Sometimes, no matter what you do, acne always comes back. The solution lies in eliminating the root cause. Differin Adapalene Gel 0.1 % Acne Treatment contains Rx-strength retinoid, an intense and strong formula that deep cleanses, regulates skin cell turnover, and reduces inflammation. It not only fights present acne but also reduces the chance of recurrence. And you know what makes it even cooler? It is incredibly gentle on the skin. Plus, it is recommended by dermatologists, so it's completely reliable.
Pros:
Eliminates the root cause of acne
Deep-action formula
Reduces inflammation
Gentle on skin
Backed by dermatologists 
Cons:
Results may vary on different skin types
Acne is not just a teen problem. People hitting middle age may face breakouts and pimples too. Peter Thomas Roth AHA/BHA Acne Clearing Gel is not just a deep-pore cleansing gel but has anti-aging benefits too. All thanks to salicylic acid that eliminates impurities, unclogs the pore, and reduces fine lines and skin discoloration. Clean and clear skin is now available in a bottle!
Pros:
Anti-acne and anti-aging benefits
Deep-pore cleansing gel
Reduces fine lines and skin discoloration
Oil-free and fragrance-free 
Cons:
The results are not instant and may take weeks
To combat severe acne and breakouts, believe in witch hazel and salicylic acid. The two work together synergistically not only to reduce pimples, acne, and whiteheads but also to ensure there is no recurrence. With Neutrogena Rapid Clear Acne Eliminating Spot Treatment Gel, you will be amazed by the results in just 8 hours. Reliable and wiping out blemishes invisible to the naked eye, there's no reason why one should not give this acne eliminating spot gel a try.
Pros:
Reduces acne in 8 hours
Reduces redness and inflammation
Unclogs pores and wipes out potential acne too
Clinically-tested
Cons:
Did you know too much Benzoyl peroxide leads to skin irritation, redness, and can worsen acne problems? However, this vanishing formula uses benzoyl peroxide in moderation (i.e., 2.5 %) to provide stellar results against acne. Without drying the skin, it deep cleanses pores, fights acne-causing bacteria, and also stops them from returning. Assuring long-lasting protection, Neutrogena On-The-Spot Acne Treatment though strong and super effective, is gentle on skin, oil-free, and non-comedogenic.
Pros:
5% benzoyl peroxide to fight acne and pimples
Oil-free and non-comedogenic
Treatment doesn't dry out the skin
Long-lasting protection
Cons:
Not recommended for very sensitive skin
Avoid sunlight
Skin irritation may occur
Overuse may cause drying
[ Read – Neutrogena On The Spot Acne Treatment Reviews ]
Picking, peeling, or unclogging pores by yourself may seem satisfying, but in the long run, it will either leave a mark or more breakouts. Hence, pimple patches to the rescue! These Acne Spot Dots from Peach Slices are a blessing for your acne-prone skin. Non-drying, fast-acting, translucent, and adhesive, these dots are beyond perfection. Infused with hydrocolloid formula, it protects, heals, and reduces inflammation in less than a day!
Pros:
Non-drying, fast-acting, and translucent stickers
Reduces inflammation and blemishes
Acts as a protective cover
It does not cause flakiness or irritation
Cons:
Results may vary across skin types
Here's one from the dermatologists! A tried, tested and trusted formula to get rid of those unpredictable breakouts. Though ProactivMD Adapalene Gel is a slow and steady fighter, it guarantees long-lasting results and protection. Making customers happy for over a decade, it is the first FDA-approved over-the-counter topical retinoid for acne treatment. Taking from 2 weeks to 3 months to show desirable results, one can be assured of acne-free skin in the long run. After all, good things take time, and ProactivMD is the best thing to have happened for acne-prone skin. 
Pros:
Developed and tested by dermatologists
Previously available by prescription only
Guarantees long-lasting results and protection
Cons:
Skin irritation may occur
How Does The Spot Treatment Work 
Spot treatments are potent formulas that target unpredictable breakouts. Be it acne or pimples, they stop the bacteria, reduce inflammation, swelling, redness, and also minimize the size of the pores. Some even dry out the zits, while some have salicylic acid that helps exfoliate and eliminate dirt that causes pimples. Spot creams, gels, or patches are beneficial when it comes to small zits and surface breakouts. However, they are not powerful enough to eliminate cysts and severe acne issues.
How To Choose The Best Spot Treatment?
It is easy. All acne spot treatments have active ingredients that are super effective against breakouts. These ingredients are:
Benzoyl Peroxide – The most effective of all, benzoyl peroxide eliminates bacteria-causing acne, pimples, reduces inflammation, and chances of pimples or acne returning. However, it's a strong ingredient, and overuse may cause drying. So, if your skin is very sensitive, you should not use it more than once.
Salicylic Acid – Nothing exfoliates like BHA. Salicylic acid exfoliates and removes dirt that causes pimples.
Sulfur – It is a drying formula that saturates pimples with whiteheads without affecting your skin's natural texture. However, overusing sulfur can dry out the skin too.
Differin – All those unclogged pores need exfoliation, and there's no better solution than Differin that deeply cleanses the pores and reduces chances of acne recurrence.
How To Use Spot Treatment Effectively?
When it comes to skin, let's not pretend to know-it-all. It is imperative to be aware of how to use and make the best out of these spot treatments. Firstly, they only work on pimples/acne that has formed fully and cannot be used all over the face. Also, over-using spot treatment can cause excessive drying or flaky skin. Use it as mentioned in the manual or according to your skin type. Using home remedies to cure pimples and acne may not give you long-lasting results. Hence, it's better to leave the work to the experts!
That's it, folks! The next time you wake up with a pimple, zap it with an acne spot cream, gel, or patch. On that note, we hope our list of 15 best acne spot treatments makes your acne-free experience a little less panicky than before. Have we missed out on any of your favorite brands, or do you have a suggestion about this post?
Write to us in the comments below!
Expert's Answers for Readers Questions
What is the most effective spot treatment?
That depends on the skin type. But any cream, gel, or patches with benzoyl peroxide, salicylic acid, sulfur, or Differin in it is deemed as most effective against breakouts and pimples.
What clears acne fast?
For instant relief, acne and pimple patches are the best. They not only deep cleanse, remove dirt but since they are translucent, one can use them with a little makeup as they are barely noticeable.
How to get rid of a pimple overnight?
Any gels or lotion with benzoyl peroxide or sulfur is ideal. They can dry out and eliminate the pus (pimples with whiteheads) overnight. However, avoid overusing it as it can dry your skin. There are several gels and pimple patches that offer instant relief overnight or within a few hours too.