10 Best Eye Creams For Sensitive Skin – 2021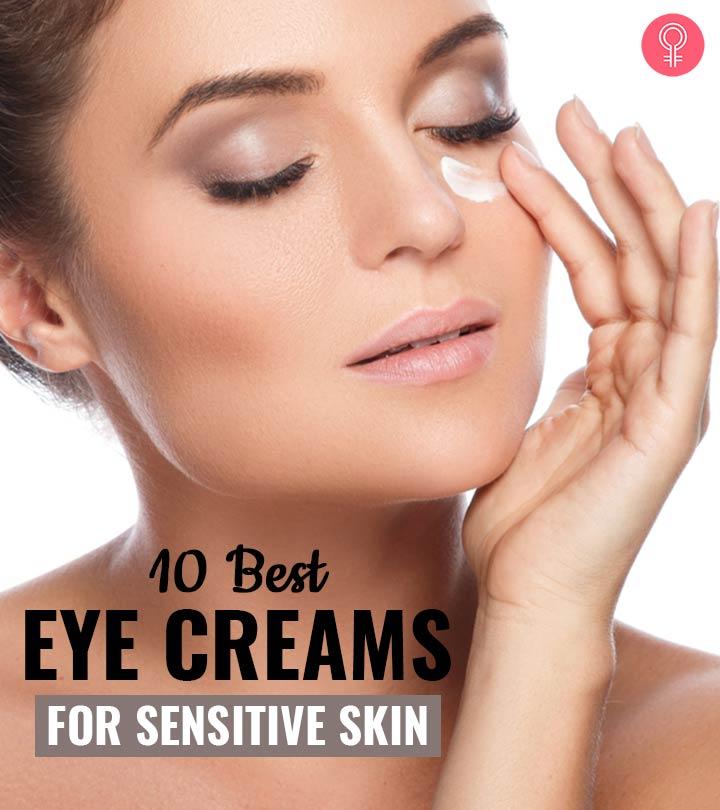 Eye creams are an integral part of your skin care regimen. They help in reducing the signs of premature aging such as fine lines, wrinkles, and crow's feet. Collagen production and availability decrease as the skin ages, leading to loss of skin elasticity and firmness. Harsh chemicals or sun damage can also age the skin, making it look dull and rough. This is more evident in the delicate area around the eyes. Dark circles, puffy eye bags, and dry skin under the eyes can all be treated with the help of a good eye cream. However, this can be a bit tricky if you have sensitive skin. Sensitive skin requires specially formulated eye creams that repair, restore, and protect the skin without causing any side effects such as irritation, itching, or redness.
To help you out, we have reviewed the 10 best eye creams specially formulated for sensitive skin. Keep reading to find out which eye cream you should invest in.
10 Best Eye Creams For Sensitive Skin
Eau Thermale Avene Soothing Eye Contour Cream is made with Avène Thermal spring water that soothes the sensitive skin around the eyes. This lightweight eye cream helps reduce under-eye puffiness and moisturize the area. It contains hyaluronic acid and vitamin E that hydrate the stressed and fatigued under-eye area. Hyaluronic acid plumps up the skin and locks in the moisture, leaving the skin feeling soft and supple. The antioxidants in this cream fight the free radicals that damage the skin. They also repair and rejuvenate the skin. This cream is hypoallergenic and suitable for all skin types. This 270-year-old brand is rooted in dermatology and hydrotherapy and popular for its skin care products for sensitive skin.
Pros
Relieves under-eye puffiness
Moisturizes the eye area
Non-comedogenic
Fragrance-free
Soap-free
Paraben-free
Cons
RoC Retinol Correxion Sensitive Eye Cream is specifically formulated with a mild concentration of retinol, keeping in mind the fragile skin around the eyes. The lower strength of retinol ensures less or minimal irritation to people with retinol sensitivity. This anti-aging eye cream reduces the visible signs of aging such as fine lines, crow's feet, puffy eyes, and dark circles. It also contains hyaluronic acid that nourishes and restores moisture to the skin. Regular use of this cream keeps your skin hydrated and plump. This non-greasy cream does not clog pores and is suitable for all skin types.
Pros
l Anti-aging formula
l Non-greasy
l Non-comedogenic
l Reduces wrinkles and fine lines
l Suitable for retinol-sensitive skin
Cons
May cause mild irritation
Burt's Bees Sensitive Eye Cream is clinically proven to hydrate the delicate and sensitive skin under the eyes. It reduces puffiness without causing any irritation or redness. This lightweight eye cream contains cotton extracts that help soften the skin and perk up tired eyes. Its gentle but effective formula helps restore moisture to the skin around the eyes. It is made with 98.9% natural ingredients and is safe to use as a night cream for the eyes. This sensitive skin eye cream is fragrance-free, hypoallergenic, and allergy-tested. It is recommended and approved by dermatologists and ophthalmologists. It has also won the seal of acceptance from the National Eczema Association.
Pros
Natural ingredients
Fragrance-free
Dermatologically tested
Hypoallergenic
Lightweight formula
Moisturizes the skin
Cons
May cause breakouts and dryness
Drunk Elephant C-Tango Multivitamin Eye Cream contains powerful antioxidants, plant extracts, replenishing ceramides, and soothing actives that restore the tired and fatigued under-eye skin. The combination of peptides, vitamin C, and cucumber extracts brighten and improve the firmness of the skin. They repair damaged skin and nourish it with soothing hydration. This brightening cream is gentle and improves the overall radiance of the skin. It can be incorporated into your morning and evening skin care routines.
Pros
Certified cruelty-free
Natural ingredients
Brightens the skin
Moisturizes the skin
Fragrance-free
Cons
Insufficient quantity
Expensive
Perricone MD products are formulated by board-certified dermatologist and anti-aging expert, Dr.Nicholas Perricone. This hypoallergenic firming eye cream reduces the appearance of wrinkles, fine lines, and dark circles. Its rich anti-aging formula for sensitive skin helps combat dryness and loss of firmness in the skin. It contains powerful ingredients like olive polyphenols, tocotrienols, and neuropeptides that calm and soothe the skin and fight the signs of aging. The rare extracts of hydroxytyrosol and oleuropein init are ideal anti-aging ingredients for sensitive skin. This is one of the best firming eye creams currently available.
Pros
Anti-aging formula
Tightens the skin
Fragrance-free
Paraben-free
Hypoallergenic
No synthetic dyes
Free from sulfates, phthalates, and mineral oil
Cons
Cetaphil Hydrating Eye Gel-Cream contains hyaluronic acid, licorice extract, and a vitamin complex. This nourishing eye gel-cream instantly hydrates the delicate skin around the eyes. Its light gel-like formula gets absorbed quickly and locks the moisture in the skin, leaving it soft and hydrated. The antioxidants in this eye creams protect the skin from free radicals and damage. They repair and restore the cells, revealing smooth skin. This deeply hydrating formula is hypoallergenic and does not cause irritation or redness. Cetaphil Hydrating Eye Gel-Cream is perfect for sensitive skin.
Pros
Provides intense hydration
Brightens the skin
Hypoallergenic
Gets absorbed quickly
Dermatologically tested
Cons
May cause breakouts or pimples
Clinique's Even Better Eyes Dark Circle Corrector hydrates and brightens the delicate skin around the eyes. This ophthalmologically tested eye cream is suitable for all skin types. Clinical tests over a period of 12 weeks have found that it can lighten dark circles by 30%. This lightweight eye cream is especially effective for sensitive skin. It comes with a cooling tip massager that helps in reducing puffiness and perks up tired-looking eyes. Regular use of this rich, luxurious eye cream helps in brightening the sensitive eye area.
Pros
Lightens dark circles
Reduces puffiness
Allergy-tested
Fragrance-free
Lightweight
Cons
Takes time to show results
The LilyAna Naturals Eye Cream refreshes the delicate eye area and makes it bright, lifted, and youthful-looking. It increases skin elasticity, minimizes the appearance of aging signs, and locks your skin's natural moisture. This eye cream is enriched with rosehip seed oil, rosemary leaf extract, hibiscus, provitamin A and B5, vitamin C ester, and vitamin E. The lightweight formula reduces under-eye dark circles, sagginess, puffiness, wrinkles, crow's feet, and dryness around the eyes.
Pros
Lightweight
Vegan
Cruelty-free
Paraben-free
Gluten-free
Fragrance-free
Phthalate-free
Sulfate-free
No colorants
Petroleum-free
Suitable for all skin types
Cons
None
La Roche Posay Hydraphase Intense Yeux Rehydrant Cream is formulated with hyaluronic acid that deeply hydrates the delicate eye area. It visibly diminishes the appearance of under-eye bags, puffiness, and dry skin. It has a light gel-like texture that soothes and moisturizes the skin. This hydrating eye cream gently infuses the skin with moisture and refreshes the tired and fatigued under-eye area. It is so light that it gets absorbed quickly and can be applied under makeup for that even skin tone.
Pros
Soothing formula
Paraben-free
Fragrance-free
Can be layered under makeup
Suitable for all skin types
Cons
Save Smoothing Eye Cream hydrates and rejuvenates your under-eye skin with nourishing plant-based ingredients. It contains a complex of prebiotics and probiotics that support your skin's natural microbiome. It protects and restores the skin barrier to give you healthy and radiant skin. It contains Bakuchiol, an antioxidant that has properties similar to the anti-aging retinol. Bakuchiol is a safer alternative as it does not cause irritation or dryness. It also contains bamboo bioferment that is a natural alternative to silicone. This smoothening eye cream reduces dark and puffy eye bags and keeps your skin young, healthy, and firm. Its vegan formula is suitable for all skin types and is gentle on sensitive skin.
Pros
Smoothens the skin
98% natural ingredients
Fragrance-free
Cruelty-free
Sulfate-free
Paraben-free
GMO-free
Cons
[ Also Try – Aroma Magic Under Eye Gel ]
The sensitive skin around the eyes needs special attention and care. Eye creams for sensitive skin are formulated with hypoallergenic and natural ingredients to reduce irritation and adverse effects. Have you tried any of these eye creams for sensitive skin? Let us know in the comments section below!
Recommended Articles