10 Best MAC Lipglasses You Should Own In 2023
Make your lips appear plump, smooth, and glossy with these highly pigmented lipglasses.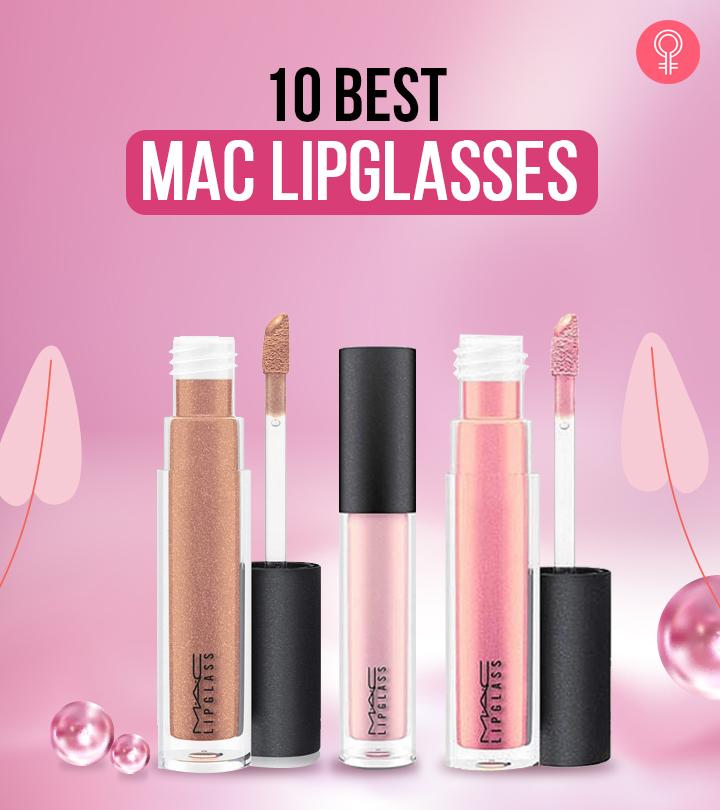 If you want to make your lips look fuller and more sensual, we think you should try using MAC lip glosses. Using the best MAC lipgloss can help your lips look shinier, plumper, and definitely more attractive. There are a variety of lip glosses offered by MAC, and all of them can help you achieve different looks for your lips. They're the best quality lip glosses and even provide highly pigmented and long-lasting colors that enhance the look of your lips. In addition, they offer a mirror-like transparent shine due to their glossy texture. Check out our list of the best 10 MAC lipglosses reviewed and compiled by our beauty bloggers.
10 Best MAC Lipglasses Available Right Now
MAC Lipglass in the shade Oh Baby is a pigmented and very shiny lip gloss. This tinted gloss can impart a subtle as well as a dramatic color to your lips, depending on how you wear it. Oh Baby is a medium-dark caramel brown with warm, reddish undertones and lots of gold shimmer and sparkle. It offers medium coverage and a high-gloss, glass-like sheen. Also, it spreads easily and is perfect for any occasion and mood. Take a look at this video to learn more about the product.
Price at the time of publication: $18.02
Oyster Girl is a soft baby pink Lipglass. This light, cool-toned pink shade is paired with a warm gold pearl shimmer. It offers semi-sheer to medium coverage that lasts for hours. This shiny Lipglass moisturizes your lips and is vanilla scented. Furthermore, it is versatile, as it can be blended with pink lipsticks to create an evening or weekend look.
Price at the time of publication: $20.67
MAC Lipglass in the shade Lovechild is a medium-dark plum-colored lip gloss. It has a warm undertone and copper shimmer that make it the perfect color for fall and winter. This Lipglass has a smooth texture and offers even coverage to your lips. It is also light-to-medium in weight. It never feels goopy, and it hydrates your lips over time. Also, it gives a natural look to your lips and lasts up to five hours. Watch this YouTuber's honest review to get a better idea about the product and its features.
Price at the time of publication: $19.83
Prrr is a peachy orange shade of MAC Lipglass. This peachy nude gloss with warm yellow undertones is perfect for medium skin tones. It is just the right amount of sticky, and it is lighter than the other Lipglasses in this range. This daily-wear shade has medium to semi-opaque pigmentation and can last up to four hours. Furthermore, it has a sponge tip applicator for quick, smooth, and even application.
Price at the time of publication: $21
MAC Lipglass in the shade Spite is a plummy brown lip gloss. This richly pigmented color looks great on a wide range of skin tones. It has subtle warm undertones that look flattering on all skin tones. This lip gloss goes on evenly and smoothly on your lips. It is easy to apply without a brush, and it gives your lips a creamy and glossy finish.
Price at the time of publication: $21
MAC Cremesheen Glass in the shade Boy Bait is a creamy and ultra-shiny lip gloss. This lip-finish product combines the creamy texture of a lipstick with the high shine of a gloss. It offers semi-sheer color coverage and is suitable to wear on any occasion. This light neutral beige with a warm undertone and pearl finish has a slight vanilla scent. It also lasts long on your lips. Its soft, comfortable, and non-sticky formula gives your lips a natural look.
Price at the time of publication: $19.71
Nymphette is a shimmery golden-pink Lipglass. It is a bright, light pink with a warm shimmer. It is extremely comfortable to wear. Its formula is smooth and moisturizes the lips over time. The easy-to-spread formula of this lip gloss lasts up to 4.5 hours. This shimmery pink gloss can be layered over pink lipsticks for a daytime look and deep berry shades for a nighttime look.
Price at the time of publication: $19.0
MAC Cremesheen Glass in the shade Rags To Riches is a very warm-toned mauve shade with a glossy finish. This light-medium dazzling color is suitable for most skin tones. It is easy to wear with any lip color and lasts up to five hours. This affordable shade provides exceptional shine with a crystalline iridescence. Its non-sticky, non-tacky, and lightweight formula moisturizes your lips.
Price at the time of publication: $16.85
Mac Tinted Lipglass in the shade C Thru is a peachy beige with a very mild shimmer. It was launched as a part of one of MAC's fall color collections. This milky beige nude with a pale white shimmer imparts a mirror-like shine to your lips. Its non-sticky formula offers full coverage. This high-shine lip gloss is perfect for a natural makeup look.
Price at the time of publication: $27.25
Lust is a muted coral Lipglass. This creamy deep nude lip gloss is pigmented enough to stand on its own. It offers a nearly opaque coverage with a warm brown undertone. The consistency of this gloss is thick and sticky and looks great over a nude lipstick. It lasts for hours and moisturizes your lips.
Price at the time of publication: $21.0
When it comes to makeup, a good lip glass is a key to bringing your entire look together. If you want to invest in a good lip glass, the ones from MAC stand a class apart. To make your search easier, we have compiled a list of factors to consider before purchasing the best MAC lipglass. Check them out now!
It is essential to consider your skin tone before buying the best MAC lipglass. Skin tones can be broadly divided into three types: fair, deep, and medium.
 Fair skin tones: Most fair skin tones bode well with subtle shades of color. Therefore, try to opt for nude or clear shades. If you plan to wear lipglass on a lipstick, match it accordingly to bring your look together.
Medium skin tones: Shades of nude, peach, orange, mauve and subtle reds work well for medium skin tones. However, you can also choose a clear lip glass for everyday wear. Deepti Sadhwani, a professional makeup artist, says, "Clear lipglass will work for all skin tones"
Deep skin tones: For most dark and deep skin tones, shades of berries, plums, and reds work well, as these colors often flatter your lips. It is best to avoid light or pale shades that may have a stark contrast to your natural skin tone.
Consider the finish you want in your lip glass. Most lip glasses come in different finishes. So, you can pick the finish based on your preference. For instance, glittery lip glasses, as the name suggests, have some glitter particles, which are perfect for special occasions. On the other hand, shimmery lip glasses offer a sheer finish and are best for moisturizing your lips You can opt for a satin finish or pearl finish.
Choose a lip glass based on your preference for the coverage. Lip glasses, in general, are not as opaque, but they offer some coverage to your lips. For instance, lip glasses with bold colors and a creamy finish have good coverage. In contrast, glittery lip glasses may not offer enough coverage.
With lips being highly sensitive, it is important to stay wary of certain ingredients that may cause potential irritation or inflammation. For example, check if the formula is free from parabens, sulfates, alcohol, phthalates, or dyes. Also, choosing a lip glass that is not heavily laced with fragrance is essential, as it may trigger allergies and redness.
Why Trust Stylecraze
Baishali Bhattacharya has a certification in makeup artistry and she is a die hard fan of MAC lipglasses. She never steps out of the house without carrying one in her purse. She has carefully compiled the list after going through many user reviews and the list includes some of her favorites too. She loves using these lipglasses because they are highly pigmented and your lips look shinier and plumper.
Frequently Asked Questions
What is the difference between lip gloss and lip glass?
Lip gloss has a creamy texture that adds a natural shine to the lips. On the other hand, lip glass has a slightly sticky texture that provides a glass-like shine to the lips.
Is Mac lipglass hydrating?
Yes, Mac lip glass is hydrating and nourishing. They make your lips soft and impart a glass-like finish.
Is Mac lip glass gluten-free?
Yes. Mac lip glass is gluten-free.
Is MAC lip glass vegan?
No. Mac Lip glass is not a vegan product.
Recommended Articles