15 Best Skin Care Routine Products For the 30s You Can Try In 2023
Stop all the early signs of aging and show off your supple, firm, and soft skin.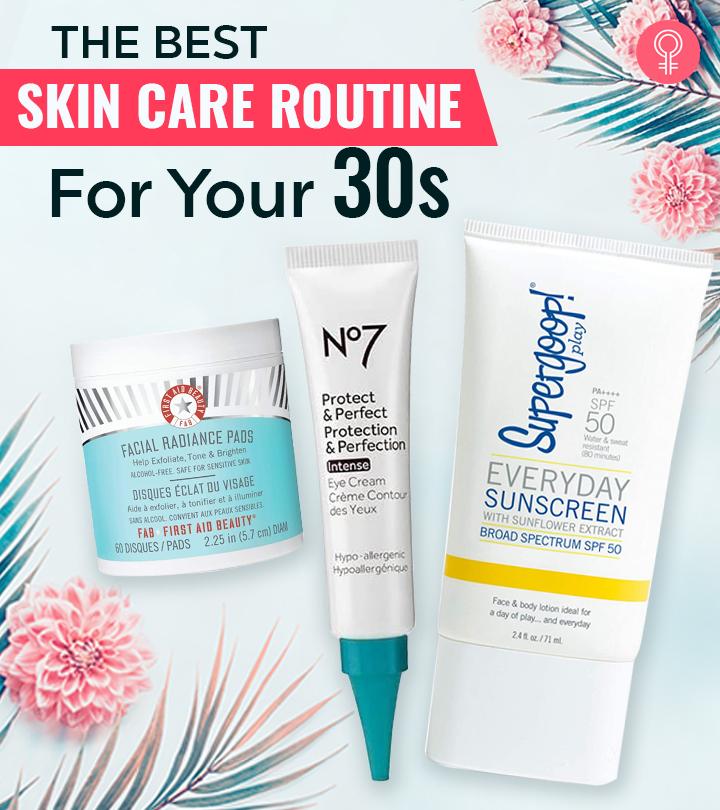 Your 30s are a time of great excitement and fun. However, it is also when your skin starts to show the first signs of aging. To combat this, you need only the best skin care routine for 30s that uses pamper-worthy products for that much-needed collagen build-up. You can avoid the feeling of despair and confusion just by loving yourself a bit more and making some remarkable changes. Let us help you by providing these 15 skin-loving products for your blazing 30s!
The Best Skin Care Routine For Your 30s – 15 Products For Beginners
If you are just starting out with skincare, you will find the less-is-more approach quite helpful. Taking care of your skin's moisture levels and protecting it from the sun is very important. You will find the following products quite helpful if you are a beginner in the skincare game.
The Neutrogena Ultra Gentle Facial Cleanser is ideal for sensitive skin and cleanses face well. It leaves the skin feeling moisturized and soft. The cleanser thoroughly removes excess oil, dirt, bacteria, and makeup. The product is a dermatologist-developed formula that contains minimal ingredients. The cleanser is hypoallergenic and non-comedogenic. The product is paraben-free and contains no artificial fragrances. This video review will help you learn more about the product.
Pros
Hypoallergenic
Non-comedogenic
Paraben-free
Fragrance-free
No artificial fragrances
Dermatologist-developed
Suitable for sensitive skin
Cons
May cause a slight burning sensation
Price at the time of publication: $8.09
The CeraVe Facial Moisturizing Lotion is an all-night hydrating lotion. It moisturizes the skin throughout the night. The lotion helps restore the protective skin barrier. It contains moisture-retaining ingredients. The lotion is formulated with hyaluronic acid and niacinamide, which calm the skin and help retain skin moisture. The lotion uses MVE controlled-release technology to replenish skin ceramides and offer long-lasting moisturization. The lotion is fragrance-free, oil-free, hypoallergenic, and non-irritating. It is ideal for normal to oily skin. This video will help you make an informed decision about your purchase.
Pros
Ideal for normal to oily skin
Restores protective skin barrier
Long-lasting moisturization
Fragrance-free
Oil-free
Hypoallergenic
Non-irritating
Cons
Price at the time of publication: $13.97
The Supergoop! Play SPF Lotion has a water-resistant formula. The sunscreen is great for everyday use and can be used on the face and body. It is fast-absorbing and lightweight and has a moisturizing effect. The sunscreen absorbs both UVA and UVB rays. It is water-resistant (and sweat-resistant) effect lasts up to 80 minutes. The sunscreen absorbs easily and can be used in all weather conditions. Watch this video to get a detailed review of the product.
Pros
Fast-absorbing
Lightweight
Absorbs UVA and UVB rays
Water- and sweat-resistant up to 80 minutes
Good in all weather conditions
Moisturizing
Cons
Price at the time of publication: $22
Intermediate
Now that you have gained some knowledge and experience in skincare, you can start using and experimenting with new products. You can start focusing on products that pay attention to specific issues like fine lines or an uneven skin tone, which are common issues in the 30s. The products in this list address specific skin concerns. Hence, you can add them to your skincare routine according to your preference.
The Living Libations Cleansing Oil will help you achieve radiant skin. It is an all-in-one body and face product. It helps cleanse, tone, and moisturize the skin. The product is suitable for all skin types and contains all-natural ingredients. These ingredients help you achieve a glowing and gorgeous complexion. The product is free of parabens and sulfates. It is also cruelty-free.
Pros
All-in-one body and face product
Makes skin radiant
Suitable for all skin types
All-natural ingredients
Paraben-free
Sulfate-free
Cruelty-free
Cons
None

Price at the time of publication: $30
The Kiehl's Calendula Herbal Extract Alcohol-Free works great for oily and normal skin types. The toner gently cleanses the skin. It does not use any harsh or synthetic drying agents. It soothes skin and improves skin texture. The toner is formulated with calendula, burdock root extract, and allantoin.
Pros
Alcohol-free
No harsh chemicals
No synthetic drying agents
Soothes skin
Improves skin texture
Cons
Price at the time of publication: $27.04
The First Aid Beauty Facial Radiance Pads are daily treatment pads. They contain the right amount of lactic and glycolic acids that safely exfoliate, tone, and brighten the skin. These pads work great with all skin types. Regular use of these pads smoothens skin texture. These pads are ideal for daily use. They contain cucumber and Indian gooseberry that helps tone the skin. The lemon peel and licorice root leave skin looking bright. The pads are free of alcohol and artificial fragrances. They also are non-comedogenic.
Pros
Exfoliate and brighten skin
Smoothen skin texture
Alcohol-free
Gluten-free
Soy-free
No artificial fragrances
Non-comedogenic
Vegan
Cons
Price at the time of publication: $36.0
The InstaNatural Vitamin C Serum is a daily facial anti-wrinkle serum. It works as a dark spot corrector for the face. It also helps clear and minimize clogged pores, breakouts, blackheads, and acne. The serum also minimizes the appearance of sunspots, discoloration, redness, and hyperpigmentation. The hyaluronic acid in the serum deeply hydrates and plumps the skin. The serum also promotes the production of collagen that reduces the signs of aging.
Pros
Clears clogged pores
Corrects dark spots
Hydrates skin
Reduces aging signs
Suitable for sensitive skin
Cons
May cause an allergic reaction
Price at the time of publication: $32.0
Advanced
When you reach the advanced level, you get to use skincare products that are target specifically for this age. Products that target areas like eyes or neck are often added to the routine. Hence, once you have achieved a regular skincare regimen, you can start using the following products.
The Biologique Recherche P50V is a medium-strength all-in-one toner, balancer, and exfoliating lotion. The lotion is enriched with vitamins. The lotion removes dead cells and impurities on a daily basis. It helps purify and regulates sebum secretion. The lotion also helps in balancing the pH of the skin.
Pros
Suitable for daily use
Regulates sebum secretion
Helps balance skin pH
Cons
Price at the time of publication: $164.98
The Boots No7 Protect Perfect Advanced Intense Eye Cream is a great anti-aging product. It targets the appearance of fine lines and wrinkles around the eyes. The eye cream helps achieve smoother, younger-looking skin. It is formulated with concentrated ingredients that reduce the appearance of dark circles and puffiness.
Pros
Reduces fine lines and wrinkles
Reduces dark circles
Moisturizes skin
Cons
None
Price at the time of publication: $19.99
The Glo Skin Beauty Retinol Smoothing Serum helps reduce the signs of premature aging. The serum minimizes the appearance of fine lines, pores, and texture irregularities. These results are achieved due to retinol, glycolic acid, and other natural brighteners. The serum works well with all skin types, excluding sensitive skin. The serum helps even out skin texture and leaves skin feeling smoother and softer. It is perfect for nighttime use.
Pros
Suits most skin types
Helps even out skin texture
Perfect for nighttime use
Cons
Not suitable for sensitive skin
Price at the time of publication: $64
The Patchology Hydrate FlashMasque Sheet Mask is great for hydrating and moisturizing your face. It replenishes dry, dehydrated, and fatigued skin with the help of hyaluronic acid, vitamin B5, and betaine. The sheet mask takes just 5 minutes to provide the much-needed moisture to skin and ease skin tension. The hyaluronic acid in the mask hydrates skin and improves its elasticity. The Vitamin B5 softens, smoothens, and moisturizes the skin. Betaine retains skin moisture.
Pros
Hydrating and moisturizing
Replenishes dry, dehydrated skin
Improves skin elasticity
Retains skin moisture
Cons
May cause allergic reactions
Price at the time of publication: $30
The SK-II Facial Treatment Mask is a luxurious facial mask. The mask has an indulgent concentration of pitera in a single application. It revitalizes, comforts, and provides intense hydration to the skin. The mask replenishes dehydrated skin and leaves it refreshed and cool. One packet of the SK-II Facial Treatment contains 10 facial masks.
Pros
Moisturizing
Revitalizes and comforts skin
Provides intense hydration
Cons
None
Price at the time of publication: $88.88
The Slip Queen Silk Pillowcase absorbs less face cream when compared to a cotton pillowcase. This helps keep the skin moisture and other valuable face products where they should stay. The silk pillowcase has an anti-sleep crease that reduces friction. This allows the skin to glide along with the pillow and reduces pressure on creased skin. The pillowcase is made with soft and durable silk. It also is machine-washable.
Pros
Absorbs less face cream
Keeps skin moisturized
Reduces pressure on creased skin
Soft and durable
Machine-washable
Cons
None
Price at the time of publication: $85.25
The HydraTint Pro Mineral Sunscreen can also be used as a tinted moisturizer. The sunscreen contains a unique air pollution shield that defends against environmental offenders and free radicals. The product also prevents unwanted pigmentation of the skin that occurs due to heat exposure. The sunscreen also contains titanium dioxide 8.9% and zinc oxide 3.4% that makes the skin glow. It is water-resistant up to 40 minutes after application.
Pros
Moisturizing
Defends against environmental aggressors
Prevents skin pigmentation
Water-resistant up to 40 minutes
Lightweight
Cons
None
Price at the time of publication: $77.11
The Reserveage Nutrition Antioxidant Supplement is an age-defying formula. It supports the body's youthful essence. The product's formula supports longevity, heart, and cellular health. The supplement is paleo-friendly and vegan. It also is free of gluten, soy, sugar, and preservatives. The supplement is designed to activate the body's longevity gene and supports antioxidant protection against aging and free radical damage.
Pros
Paleo-friendly
Vegan
Gluten-free
Soy-free
Sugar-free
No preservatives
Promotes longevity
Supports antioxidant protection
Natural ingredients
Cons
None
Price at the time of publication: $59.99
Why Trust StyleCraze?
Oyendrila Kanjilal, the author, is a certified skin care coach. She knows the ins and outs of skin care and believes self-care is the best way to improve your mood and skin. So, she has conducted an extensive study on how to keep your skin healthy once you cross 30. She suggests these skin-loving products to make your skin soft, supple, and healthy.
Frequently Asked Questions
What is an ideal skincare routine for a 30-year-old?
• Try this simple skincare routine if you are 30+ years old.
• Avoid over-exfoliating your skin.
• Use a gentle facewash or body wash without chemicals.
• Add eye serums or creams for healthy skin under the eyes.
• Use skincare products enriched with hyaluronic acid or retinol.
• Apply sunscreen daily.
What happens to your skin in your 30s?
When you are 30 years or older, cell renewal weakens, and the level of skin cell regeneration tends to slow down. The collagen and elastin reserves also begin progressively breaking down, resulting in a loss of elasticity and natural shine.
How can you stay beautiful in your 30s?
• Practice these habits to keep your skin healthy as a 30-year-old.
• Keep your face moisturized.
• Drink plenty of water.
• Maintain a healthy diet.
• Exercise regularly.
• Avoid overdoing make-up.
• Use high-quality, harsh ingredients-free skincare products only.
• Invest in an anti-aging face and eye cream.
Does your face change when you are in your 30s?
Yes, facial skin quality significantly changes when you are in your 30s. You'll start noticing wrinkles, loose volume in your cheeks, and your skin will also get more easily damaged from sunlight.
Is 30 too old to start skincare?
No, skin care is beneficial at any given age. So, starting a skincare routine in your 30s will surely benefit your skin and make it look more youthful. However, early 20s is the best time to start a proper skincare routine.
Do I need retinol in my 30s?
Yes, you can add retinol-based skincare products to your skincare routine, which help eliminate fine lines and wrinkles effectively.
Recommended Articles