13 Best Night Creams For 30s For Each Skin Type
Revitalize and hydrate your skin overnight and wake up with a younger looking glow!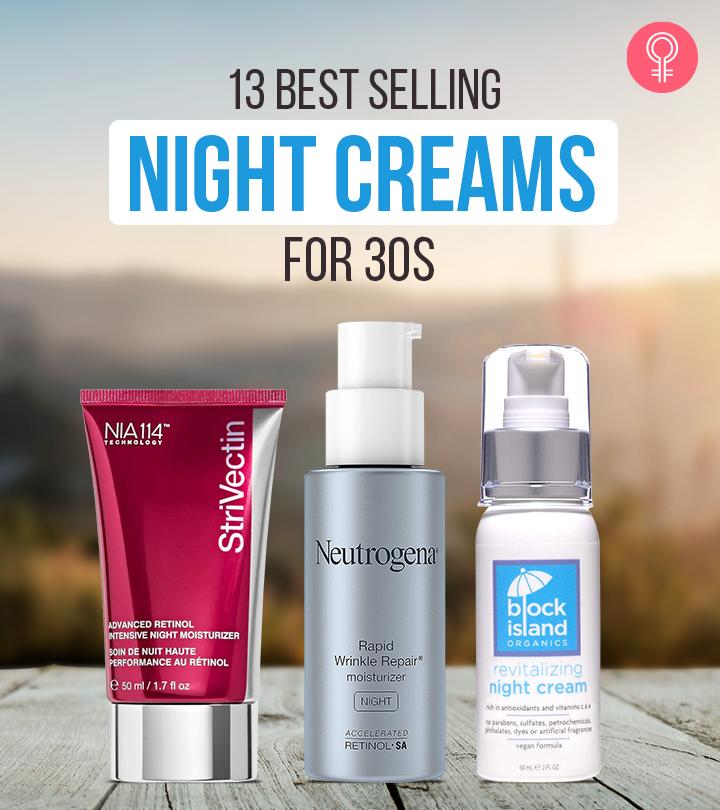 When it comes to using anti-aging skin care, the sooner you start, the better it is for you. If you are in your 30s and have not started using an anti-aging cream, then it's time you do. The best night cream for the 30s will renew your skin overnight and allow your skin to heal quicker. As you start aging, your skin starts showing fine lines and wrinkles. An anti-aging bream will improve the overall appearance of the visible signs of aging on your skin. To help you find the best night cream for the 30s, we have curated a list of some of our top picks. Read on to know more!
13 Best Selling Night Creams For Your 30s
The CeraVe Skin Renewing Night Cream works like an overnight moisturizer. It is formulated with a peptide complex, which helps to reduce the signs of aging. The cream improves elasticity and reduces wrinkles and fine lines. Hyaluronic acid in the formula retains the skin's natural moisture and gives the skin a refreshed look in the morning. The cream is infused with three essential ceramides, which restore and maintain the skin's natural protective barrier. This restorative cream is suitable for all skin types. If you are still unsure about this night cream from CeraVe, you can take a look at this YouTuber's review.
Key Ingredients: Biomimetic Peptides and Ceramides
Pros
Fragrance-free
Non-greasy
Non-irritating
Non-comedogenic
Phthalates-free
BPA-free
Dermatologist-recommended
Cons
None

The Neutrogena Rapid Wrinkle Repair Night Moisturizer contains retinol and hyaluronic acid that are known for their powerful wrinkle reduction properties. These ingredients help to reduce fine lines, crow's feet, forehead and cheek wrinkles, and dark patches. The cream also contains a glucose complex which helps with the anti-aging process. The restorative night moisturizer works overnight to give the skin a younger and rejuvenated look in the morning. This clinically-tested cream is suitable for all skin types and is ideal for everyday use. You can check this elaborate review for more information on this anti-aging night cream from Neutrogena.
Key Ingredient: Retinol
Pros
Lightweight formula
Paraben-free
Sulfate-free
Alcohol-free
Paraffin-free
Allergen-free
Dermatologically-approved
Cons
Expensive
Contains silicon
The RoC Correxion Sensitive Night Cream is formulated with a mild blend of retinol and hyaluronic acid which helps reduce the signs of aging. It is specially formulated for retinol-sensitive skin and first-time users. The cream works overnight and improves the appearance of wrinkles, fine lines, crow's feet, and balances uneven skin tone. Hyaluronic acid in the formula restores essential moisture in the skin, keeping it hydrated and plumped. The cream lifts and firms the skin, leaving it looking younger.
Key Ingredients: Retinol
Pros
Lightweight
Non-greasy
Non-comedogenic
Fades dark spot
Chemical-free
Dermatologist- recommended
Cons
The DHC Extra Nighttime Moisture has a skin-renewing formula that revitalizes the skin. The facial moisturizer makes the skin supple and smooth overnight. The rich creamy texture is instantly absorbed into the skin and offers deep moisturization, especially for extremely dry skin and dull skin. This cream is enriched with botanical extracts, vitamins, and antioxidants which soothe the skin. The olive oil, vitamin E, and squalene in the formula keep the skin hydrated and restores the natural moisture barrier, while the hydrolyzed collagen promotes skin elasticity and cell regeneration.
Key Ingredients: Organic olive oil, Vitamin E, Hydrolyzed collagen, and Squalane
Pros
Lightweight
Paraben-free
Fragrance-free
Colorant-free
Cons
None

The StriVectin Advanced Retinol Intensive Night Moisturizer provides overnight support to the essential building blocks of the skin. It contains retinol that helps improve cell regeneration to firm the skin and improve its elasticity. It also diminishes the appearance of fine lines and wrinkles. The cream is powered with patented NIA-114 technology which minimizes retinol sensitivity. The copper tripeptides, hyaluronic acid, and plant lipids in the formula rehydrate the skin, locking in moisture and protecting it against environmental aggressors.
Key Ingredients: Retinol
Pros
Smoothens skin texture
Improves visile firmness
Cons
The dermalogica Sound Sleep Cocoon has a gel-like texture that transforms skin overnight. The tamarind seed extract in the formula keeps the skin soft and hydrated, while the French lavender, sandalwood, and patchouli oils work overnight to provide healthier and refreshed-looking skin in the morning. The cream also contains Persian silk tree extract that reduces age signs and restores vitality, while the Wu-Zhu-Yu extract improves skin radiance. You can also check this review video on YouTube to understand more about the final results and tester's experience after using this effective night cream from Dermalogica.
Key Ingredients: Persian Silk Tree, Tamarind seed, and Wu-Zhu-Yu extracts
Pros
Gluten-free
Cruelty-free
Paraben-free
Vegan
Artificial fragrance-free
Cons
The Vinoperfect Dark Spot Correcting Glycolic Night Cream has a gentle formula that reveals glowing, fresh, and radiant skin in the morning. This dark spot correcting night cream is powered with time-released glycolic acid, papaya extract, and vine sap viniferine. All these star ingredients offer gentle exfoliation, reducing pigmentation and acne scars. This dermatologist recommended cream is safe for the most sensitive skin and has a subtle fragrance of sweet orange, mandarin, bergamot, and citrus tree bark.
Key Ingredients: Patented Viniferine, Glycolic Acid, Natural Papaya Enzyme
Pros
Tightens pores
Non-comedogenic
Paraben-free
Mineral oil-free
Cruelty-free
Dermatologically tested
Cons
None
The Murad Resurgence Retinol Youth Renewal Night Cream claims to reduce aging signs in just two weeks. The dermatologist-approved formula contains fast-acting retinol that minimizes the appearance of wrinkles and age lines. It offers clinically-proved results to promote visibly firms the skin and evens the skin tone, boosting radiance and making the skin more vibrant and youthful. The resurgence cream renews the cells with its Retinol Tri-Active Technology. The hyaluronic acid in the formula infuses hydration in dehydrated skin and visibly plump and minimize dryness.
Key Ingredients: Retinol
Pros
Parabens-free
Sulfates-free
Phthalate-free
Gluten-free
Mineral oil-free
Cruelty-free
Petrolatum-free
Formaldehyde-free
Oxybenzone-free
Cons
The Hyaluron-Filler by Eucerin is a unique blend of molecular hyaluronic acid, dexpanthenol, and glycine saponin, which visibly plumps the skin to reduce wrinkles and fine lines. High molecular hyaluronic acid maximizes the hydration level and smoothens the outer layers of the skin and the low molecular hyaluronic acid in the formula easily penetrates the skin, targeting deeper wrinkles. Glycine Saponin in the formula promotes skin cell rejuvenation and dexpanthenol supports skin regeneration.
Key Ingredients: Hyaluronic Acid
Pros
Non-comedogenic
Non-sticky
Pleasant fragrance
Gets easily absorbed
Cons
Expensive
Contains phenoxyethanol
The NeoStrata Resurface High Potency Cream has an exfoliating formula that contains 18% glycolic acid (AHA), polyhydroxy acid (PHA), antioxidants, and vitamin E. These star ingredients diminish fine lines, wrinkles and boost collagen synthesis. This cream regenerates cells and repairs damages caused by UV rays, keeping the skin healthy.
Key Ingredients: Glycolic acid and Lactobionic acid
Pros
Non-comedogenic
Artificial fragrance-free
Oil-free
Cons
Contains parabens
Expensive
The Mario Badescu Seaweed Night Cream is a luxurious nighttime moisturizer that perfectly complements your nighttime skincare routine. Its non-greasy formula penetrates the skin deeply to improve elasticity and firmness while providing intense hydration for a healthy, youthful-looking complexion. With its blend of natural ingredients, this popular night cream helps to reduce the appearance of wrinkles and fine lines while also protecting from environmental stressors. Combining seaweed, collagen, and elastin helps to improve skin tone and texture, while sodium hyaluronate helps boost moisture levels. By incorporating this night cream, you wake up to brighter, firmer, and more hydrated skin!
Key Ingredients: Seaweed Grains, Hyaluronic Acid, Bladderwrack Extract, Collagen
Pros
Natural ingredient
Lightweight
Fast-absorbing
Non-comedogenic
Non-greasy
Skin brightening
Suitable for all skin types
Cons
The Bluelene Revolutionary Anti-Aging Night Cream targets aging skin concerns. This cream is enriched with Methylene Blue, a supercharged antioxidant that helps to smoothen wrinkles, reduce sunspots, and hydrate the skin while stimulating collagen production. This professional-grade cream reduces under-eye puffiness and gives an even skin tone. The patented formula stimulates skin cell turnover and helps increase elastin and collagen production, thereby making the skin firmer, brighter, and more youthful.
Key Ingredients: Methylene blue
Pros
Reduces dark circles
Cruelty-free
Retinol-free
Paraben-free
Mineral oil-free
Cons
The block island organics Revitalizing Night Cream contains certified organic ingredients. It has a lightweight, non-greasy formula loaded with antioxidants like vitamins E and C. These ingredients revitalize the skin by fighting free radical damages. It also contains cocoa butter, aloe vera, jojoba, and rosehip oils to nourish the skin and make it soft and supple. The formula provides deep hydration without clogging the pores and locks in the moisture without leaving any residue. This moisturizer works wonders for the skin at night and is suitable for all skin types.
Key Ingredients: Cocoa Butter, Rosehip, Avocado, and Marigold extract
Pros
Vegan
Paraben-free
Gluten-free
PABA-free
Sulfates-free
Phthalates-free
Silicone-free
Cruelty-free
Cons
None
*The prices provided in this article are based on the latest available information. However, they may vary due to changes in pricing by the seller and/or promotional offers.
Once you reach your 30s, having a good night cream in your skin care routine is significant to your overall skin health. It is important to choose anti-aging creams that minimize the signs of aging while strengthening your skin barrier. However, due to the sheer amount of options available, it is easy to get confused about which cream to buy. Given below are a few factors that will help you determine the best night cream for your skin type.
How To Choose The Best Night Cream For Your Skin Type In Your 30s
1. Skin Type
You need to choose a scientifically formulated night cream that addresses your skin concerns instead of aggravating them. So, before picking a night cream for yourself, it is important to understand your skin type.
Contrary to popular belief, oily skin type needs hydration just as much as dry skin does. Choose a lightweight, non-comedogenic, and oil-free night cream that provides a touch of instant hydration without the greasy feel. Ingredients like hyaluronic acid and glycerin keep your skin hydrated during the night for a glowy appearance in the morning.
If you have dry skin that is prone to irritation, having a night cream in your arsenal is crucial. Choose a replenishing cream that will provide relief from inflammation, irritated skin, and dry patches, and restore your skin's moisture levels throughout the night. Look for a mix of ceramides, green tea, and peptides to support your skin barrier and combat the signs of aging.
This skin type is oily in the T-zone and drier everywhere else, and comes with its own set of challenges. Look for light and soothing skincare formulas with hyaluronic acid, aloe vera, allantoin, and ceramides for a healthy boost of hydration.
2. Ingredients To Use
Check the ingredient list to determine the right night cream for your skin. Make sure that there are no allergens or sensitizing ingredients, which may hamper your skin. Choose super hydrating ingredients like hyaluronic acid, sodium hyaluronate, ceramides, and squalane for their proven efficacy. A mix of ingredients like snail mucin and allantoin also soothes the skin and combats signs of aging.
Look for key anti-aging ingredients like retinoids and peptides to improve collagen and minimize the appearance of fine lines and wrinkles. In addition, antioxidants like vitamin E and resveratrol protect the skin from UV rays and free radical damage.
3. Ingredients To Avoid
Ensure that your night cream does not contain any synthetic fragrance, phthalates, and parabens to avoid any potential irritation. Additionally, avoid using mineral oil or petrolatum based night creams, especially if you have oily or combination skin. These may clog your pores and result in breakouts.
Why Trust Stylecraze
Shiboli Chakraborti is a certified coach and product writer specializing in the skin and hair care niche. She understands the challenge of finding the right products that suit your skin without any side effects. She focuses her efforts on researching, comparing, and compiling product lists that will enhance people's lives. Her review process involves aggregating consumer reviews across various e-commerce websites. In this article, she writes about the best night creams to apply in your 30s when you might begin to show signs of aging.
Frequently Asked Questions
Is a night cream necessary after your 30s?
Yes. When you hit your 30s, the skin starts losing collagen and causes fine lines and wrinkles. Night creams help hydrate, repair, and reconstruct the skin to improve cell turnover and prevent the signs of aging.
What should we apply to face at night?
If you are looking for home remedies, apply raw cold milk on the face, leave it overnight, and wash your face in the morning with cold water to make your skin glow naturally. For better and wholesome results, you can apply one of the premium professional formulas from our list above.
Is night cream and moisturizer the same?
Night creams and moisturizers are two different products. Unlike moisturizers, night creams must be applied in the evening before you go to bed because night creams regenerate and repair the damage caused during the day. Moisturizers are, on the other hand, suitable for wearing under makeup to keep your skin moisturized and hydrated throughout the day.
Is it OK to use anti-aging products in your 30s?
Yes. You can start using anti-aging products in your 30s to prevent the signs of aging caused due to decrease in collagen production. These products contain antioxidants that help delay aging for some time.
Recommended Articles
Best Night Creams For Dry Skin That You Must Try