15 Best Non-Slip Neoprene Dumbbells With Reviews
Lift your weights easily with these sweat-free, durable, and colorful dumbbells.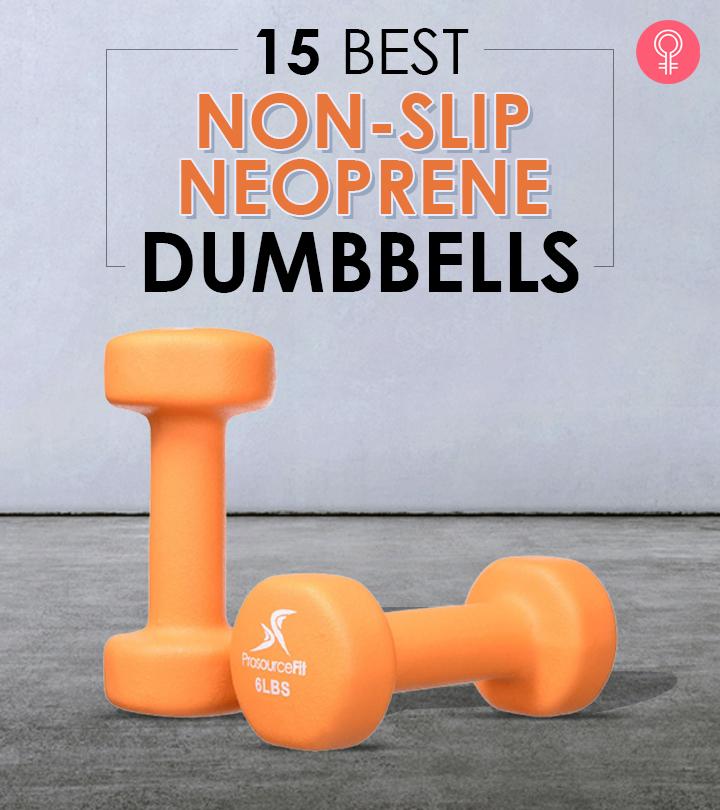 Sweating is annoying, especially when you are lifting weights. In addition, it is bothersome to wipe off your hands every time you lift some weights or dumbbells. Thus, you need to look for the best neoprene dumbbells that offer a good grip even when you sweat while lifting them. These dumbbells are made of neoprene, a synthetic polymer material. They follow a special process where the cast iron core is dipped into neoprene. These dumbbells offer an excellent grip and comfort, ensuring that you put your reps effectively. If you are looking for a pair of neoprene dumbbells, check out our list of the best 15 of them below!
15 Best Non-Slip Neoprene Dumbbells
The Amazon Basics Neoprene Workout Dumbbell is ideal for fitness classes and well-equipped home gyms. It includes two green dumbbells weighing five pounds each and can be best used for resistance training. The neoprene coating offers a secured, non-slip grip. This product also helps protect floors and gym carpets while making the dumbbells great for an outdoor workout. The hexagonal shape of the dumbbells prevents them from rolling away during circuit training and helps you keep them safely inside the gym.
Pros
Sturdy design
Improves resistance training
Offers non-slip grip
Protects the floors
Suitable for outdoor workout
Suitable for beginners
Does not roll away
Cons
None
The GYMENIST Neoprene Dumbbells are available in 9 weight options, ranging from 1 to 12 pounds. Their weight is printed on their end caps, and they are color-coded as well. The soft neoprene material protects your hands against calluses. In addition, their hexagonal shape keeps them from rolling. This set of dumbbells is great for doing lightweight exercises and suitable for beginners.
Pros
Anti-roll design
Ideal for home and commercial use
Color-coded
Cons
None
Price at the time of publication: $16.99
If you want to achieve strong abs, toned back, and sculpted arms, the Neoprene Dumbbell Pairs by Day 1 Fitness is a perfect choice! These dumbbells are suitable for aerobics, cardio, yoga, and strength-building. They come in user-friendly designs as the durable neoprene coating offers a comfortable grip and protects your hands against calluses. The anti-rolling hexagon design helps you keep them safe inside the gym. These weights can be used in orthopedic therapy to help improve stamina and muscle mass. The high-quality cast-iron core does not break or bend even after repeated use. These dumbbells are suitable for beginners and available from 1lb to 20lbs.
Pros
Affordable
Sturdy cast-iron build
Anti-roll design
Prevent calluses
Suitable for orthopedic therapy
Portable
Require minimal storage space
Include a 30-day refund policy
Cons
None
The Yes4All Hexagon Neoprene Coated Dumbbell is durable and less prone to breaking, bending, or splitting. These weights also come with printed weight numbers on the end caps that help in easy identification. The contoured, non-slip handles offer a comfortable grip. The hexagonal design prevents the weights from rolling away. You can use these weights to train your abs, shoulders, and back while improving your overall stamina and weight. The user-friendly design is perfect for travel and can also be considered for outdoor use.
Pros
Sturdy design
Does not bend
Non-slip grip
Contoured handles
Anti-roll design
User-friendly
Suitable for travel
Cons
The Valeo Neoprene Hand Weights are perfectly designed for toning and shaping your muscles. They also are suitable for aerobic training. This classic dumbbell set features a cast-iron core and comes in classic black color. Its thick neoprene coating offers a secure, comfortable grip. It also protects the floor from any scratches. You will also receive a useful exercise wall chart with this purchase.
Pros
Anti-roll design
Exercise wall chart included
No scratches
Cons
Grip could be large for some
Price at the time of publication: $15.95
The Bintiva Neoprene Dumbbells are made from high-quality cast iron and coated with non-slip neoprene to protect hands from calluses while providing a firm and comfortable grip. The color-coded dumbbells are suitable for most fitness workouts. They are available in 5 vibrant colors and weight options. The hexagon-shaped dumbbells do not slip or roll, making them a convenient option to add to your home workout routines.
Pros
Color-coded
Prevents calluses
Ideal for most workouts
Easy grip
Cons
None
Price at the time of publication: $14.99
The RitFit Neoprene Dumbbells come in weights ranging from 1 to 20 pounds. They are made from cast iron and are chemical-free. They display the weight numbers on their end caps for easier identification.
The anti-slip neoprene coating and ergonomic handles offer an easy grip. Their hexagonal heads keep the dumbbells from rolling on the floor. They do not scratch the floor or cause dents.
Pros
Anti-roll design
Chemical-free material
No scratches
Cons
Price at the time of publication: $59.99
The Portzon Neoprene Dumbbells can help one tone their arms, shoulders, and the back. Their premium material coating offers excellent grip. It also prevents calluses. Their hexagonal heads keep them from rolling on the floor. Their solid cast iron adds to their strength and durability.
Pros
Anti-roll design
Wear- and tear-resistant
Cons
None
Price at the time of publication: $36.99
The TELK Neoprene Dumbbells are made of a soft, durable neoprene coating that offers a contoured grip. These unisex dumbbells are perfect for strength training, yoga, aerobics, and improving bone density and muscle-to-fat ratio. You can use them for group workouts, power walks, muscle strength building, assuaging stress, bodybuilding, and physical therapy.
The weight options include 1, 2, 3, 5, and 8 pounds. Their oblong shape keeps them from rolling on the floor. The neoprene coating protects your floor. The dumbbells are compact and can be stored easily.
Pros
Cons
Price at the time of publication: $12.19
The YuniMuse Neoprene Dumbbells are made from ASTM A48 Grade 20 grey cast iron and non-slip neoprene materials to provide maximum comfort and safety. It is available in vibrant colors and six different weights from 2 to 10 lbs. These are perfect for building the core, arms, back, abs, legs, and chest.
Pros
One-year warranty
Anti-slip design
Durable
Cons
None
Price at the time of publication: $34.52
The Nice C Adjustable Neoprene Dumbbells give you a chemical-free exercise experience. Their neoprene coating allows you a tight grip. This 11-pound dumbbell set comes with adjustable five-in-one weight options with removable weight bars. The dumbbell ends can be easily opened and the preferred weight bars can be added or removed based on your workout needs. You can adjust the weight from 2.2 to 11 pounds.
Unlike many dumbbells that call for numerous purchases, the Nice C is an all-in-one kit that lets you do multiple workouts. It comes in an attractive black-purple color. It also features an upgraded and curve-shaped handlebar that helps prevent muscle degeneration and improves coordination.
The dumbbells are beneficial for improving cardio health, boosting muscular stamina, improving muscle mass, and enhancing endurance.
Pros
Cons
Price at the time of publication: $56.09
The Fitness Alley Neoprene Dumbbells come in different weight options ranging from 2 to 20 pounds. These multifunctional dumbbells suit best for power walks, bodybuilding, group workouts, and muscle strengthening. Their hexagonal heads keep them from rolling.
These dumbbells are available in various colors, including bright purple, light pink, violet, yellow, green, orange, dark blue, magenta, gray, and maroon.
Pros
Anti-roll design
Various colors
Cons
Neoprene may peel off if exposed to moisture
Price at the time of publication: $18.99
The Poecent Neoprene Dumbbells are effective for building attractive biceps. Their premium quality neoprene ensures a non-slip grip and also offers protection against calluses. The dumbbells help you tone and shape your arms, back, and shoulders. Their hexagonal heads keep them from rolling.
The solid cast iron core adds durability, strength, and consistency to the dumbbells. Their firm design prevents them from breaking or bending despite overuse.
Pros
Protects from calluses
Anti-roll design
Cons
None
The Tru Grit Neoprene Coated Hex Shaped Dumbbell is made of alloy steel and coated with neoprene which minimizes noise and prevents typical wear and tears. The hexagon design prevents the dumbbell from rolling down unnecessarily, making it easier to use and stack for storage. These weights help strengthen your arms and shoulders. They provide a secure grip with ergonomic handles that prevents you from dropping these weights during heavy training.
Pros
Minimizes noise
Wear- and tear-resistant
Anti-roll design
Portable
User-friendly
Ergonomic handle
Cons
The Body Sport Neoprene Dumbbell helps strengthen and tone your muscles, speeds up metabolism, and builds endurance. The neoprene coating is durable and offers a secure grip. The product has a solid metal construction and is latex- and rust-free. Its hexagonal head keeps it from rolling.
Pros
Anti-roll design
Rust-free
Latex-free
Cons
Sold only as a single dumbbell
Price at the time of publication: $7.5
These are the top neoprene dumbbells available on the market. The following buying guide helps you make a better purchase decision.
What To Consider Before Buying Non-Slip Neoprene Dumbbells
Stands: You should always opt for a neoprene dumbbell set with a rack or stand. Ensure the stand is not too wobbly. Avoid cheap plastic materials.
Size: Most dumbbell brands offer several weight options. Choose as per your experience level and fitness goals.
Style: The key attraction of neoprene dumbbells is their style and vibrant colors. Choose a color that matches the aesthetics of your workout area.
Price: Choose neoprene dumbbell sets that come at a reasonable price tag. There is no point in buying expensive hand weights if you are not an athlete or a professional weight lifter.
Why Trust Stylecraze
The author, Aditi Naskar, has a diploma in health and wellness and an in-depth understanding of fitness products. In this article, she highlights the best neoprene dumbbells that offer excellent grip and comfort, even when you are sweating. Her review process involves extensive research into the features and benefits of each option, along with an aggregation of consumer reviews across multiple online platforms.
Frequently Asked Questions
Do neoprene dumbbells cause cancer?
The chemical name of neoprene is polychloroprene, which is a polymer of chloroprene. Though chloroprene is said to cause cancer, it does not imply that the polymer will cause cancer. Hence, neoprene dumbbells do not cause cancer.
Neoprene or vinyl dumbbells – which are better?
Neoprene dumbbells are better than vinyl weights. The former is known for its smooth, soft coating and matte finish. Though vinyl is smooth, it becomes slick if wet. Vinyl dumbbells are also more susceptible to cracking and splitting.
Are neoprene or metal dumbbells better?
Metal dumbbells are long-lasting and available at lower prices, while neoprene dumbbells have a smoother surface and are easier to use. They offer a better grip while working out and do not damage the floors if dropped accidentally.
What is a neoprene dumbbell?
Neoprene dumbbells have a cast iron core dipped in various neoprene colors, a synthetic polymer.
What are neoprene dumbbells used for?
Neoprene dumbbells are used for their color-coordinated, wide weight range, safe usability, and aesthetics.
How heavy do neoprene dumbbells go?
Neoprene dumbbells are available at 20lbs weight.
Can I build muscle with neoprene dumbbells?
Yes, to a certain extent. Neoprene dumbbells are good for toning muscles and adding resistance to your workout but do not build large muscles.
What size dumbbells should a woman use?
11lbs is a good weight for a woman to begin her fitness journey.
Recommended Articles